Corned beef hash with chipotle chiles and Irish bacon
When I lived in Austin, I worked with a woman who loved to celebrate St. Patrick's Day. She was a quiet lady and I was a little surprised at her enthusiasm. But she explained that her husband, a doctor with Irish roots, was continuing his family's long tradition of having a corned beef supper.
As she described her gathering, it sounded so genteel and elegant—the opposite of what I had come to expect from St. Patrick's Day. But as lovely as that evening was, she said her favorite part was the morning after. "We take the leftovers and make corned beef hash," she said. "It makes for a fine breakfast."
Now, corned beef hash wasn't in my regular rotation. Matter of fact, I didn't even try it for the first time until I was an adult. Growing up I'd been familiar with the dish, but my impression was that it was a strange canned food and something to be avoided.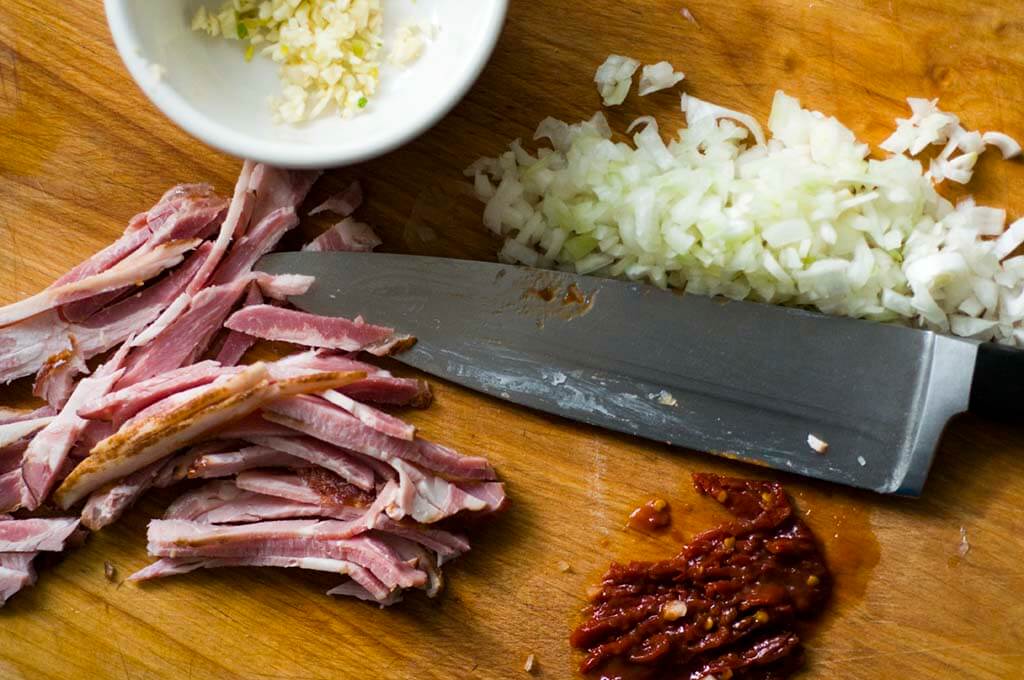 Soon after my conversation with my co-worker, I found myself visiting an old Texan friend in Northern California. We went out for breakfast one morning and she ordered the corned beef hash. As I was mulling over the menu she suggested I follow her lead. When I expressed my doubts she said, "It's brisket and potatoes. You'll like it."

And she was correct. So it's curious it's taken me so long to revisit the dish, especially as it's frequently seen on New York diner menus. This week, however, I decided to pursue it when my butcher had freshly brined briskets on hand. (Though in the future, I would like to make my own corned beef from scratch.)
Making corned beef hash is not difficult. You simply take cooked corned beef, potatoes, onions, garlic, and peppers and cook them all together. The hardest part is the chopping, though you could certainly use a food processor to make the job even simpler. Most recipes call for bell pepper, but I substituted chipotle chiles instead. And to make it even more lively, I also threw in some smoky Irish bacon. It was a good decision.
After the hash comes together, it's typically topped with an egg. I followed suit, though I also added some chopped cilantro and then served it with flour tortillas. Biscuits or Irish soda bread would be a good choice, too.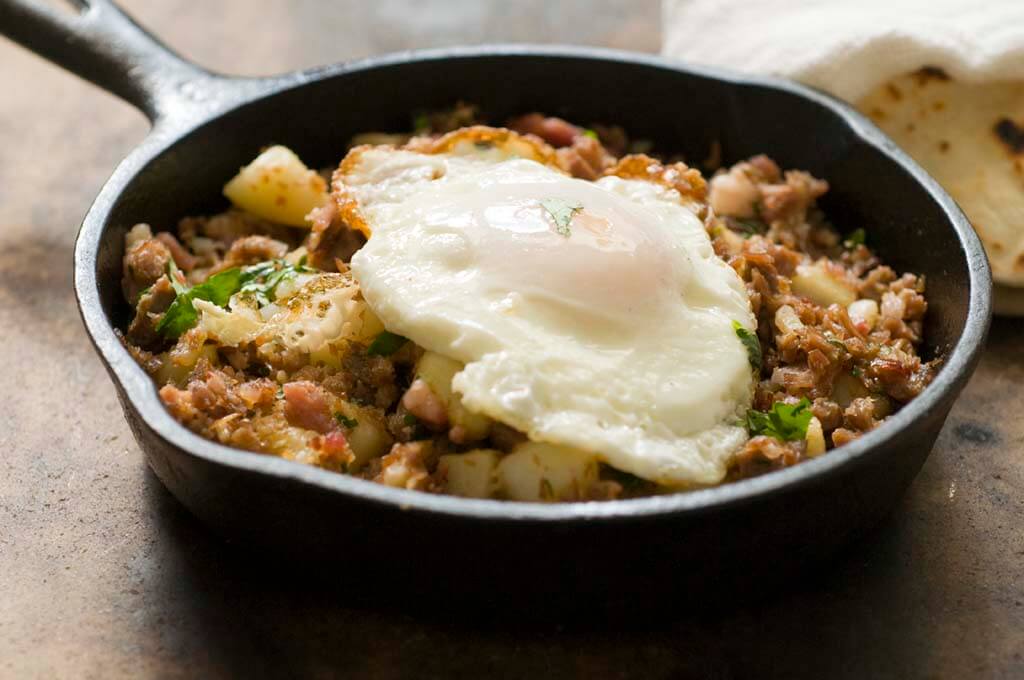 For some, St. Patrick's Day is the sort of day where you might not feel too good the morning after. In this case, a hearty breakfast can be good medicine. And if you have leftover corned beef, this spicy, satisfying hash is just what the doctor ordered.
Corned beef hash with chipotle chiles and Irish bacon
Ingredients
1

large Russet potato, peeled and diced into 1/4″ cubes

2

tablespoons

vegetable oil or bacon grease, divided

1/2

medium yellow onion, diced

2

cloves

garlic, minced

1 or 2

chipotle chiles in adobo, finely chopped

2

cups

about 3/4 pound cooked corned beef, finely diced

4

slices

Irish bacon, diced

Salt

Pepper

Chopped cilantro, for garnishing

4

large eggs

Warmed flour tortillas, for serving
Instructions
Place the potatoes in a pot and cover with water. On medium heat, bring the pot to a boil and then boil for 3 minutes. Drain and rinse the potatoes.

In a large skillet, heat 1 tablespoon of the oil on medium-low heat. Add the onion and cook until translucent, about 5 minutes. Add the garlic and chipotle chile and cook for 30 more seconds. Stir in the potatoes and while stirring occasionally, cook until they are tender and just beginning to crisp, about 5-7 minutes.

Add to the skillet the diced corned beef and diced Irish bacon. While occasionally stirring, cook until the corned beef and bacon are warm, fragrant, and well combined with the potatoes, about 3-5 minutes. Taste and add salt and pepper. Garnish with chopped cilantro and remove from the heat.

Meanwhile, in another skillet, heat up the remaining 1 tablespoon of oil and working in batches, fry 4 eggs to your desired preference. (I tend to work both skillets at once, but if you want to make the eggs after the hash, you can reheat the hash before serving if it gets cold). To serve the hash, top with fried eggs and serve with warm tortillas.