Tomato pie with bacon and jalapeños
On my refrigerator is a photo my mom sent me from last Thanksgiving. It's a shot of a long wooden table that's been topped with an array of pies. There are cream pies, pecan pies, fruit pies and chess pies. They're not perfect, as the crusts may have rough edges and the meringues don't always form even peaks. But this is what tells you that these are pies that have been made by hand, with love. There's nothing better than homemade pie.
At family gatherings, pies are usually the way we conclude our meals, but lately I've been thinking about ways to incorporate pies into the beginning and the middle of the meal, as well. Tomatoes are not only at their peak right now, but it's also starting to cool down outside—baking tomatoes into a pie just seems right.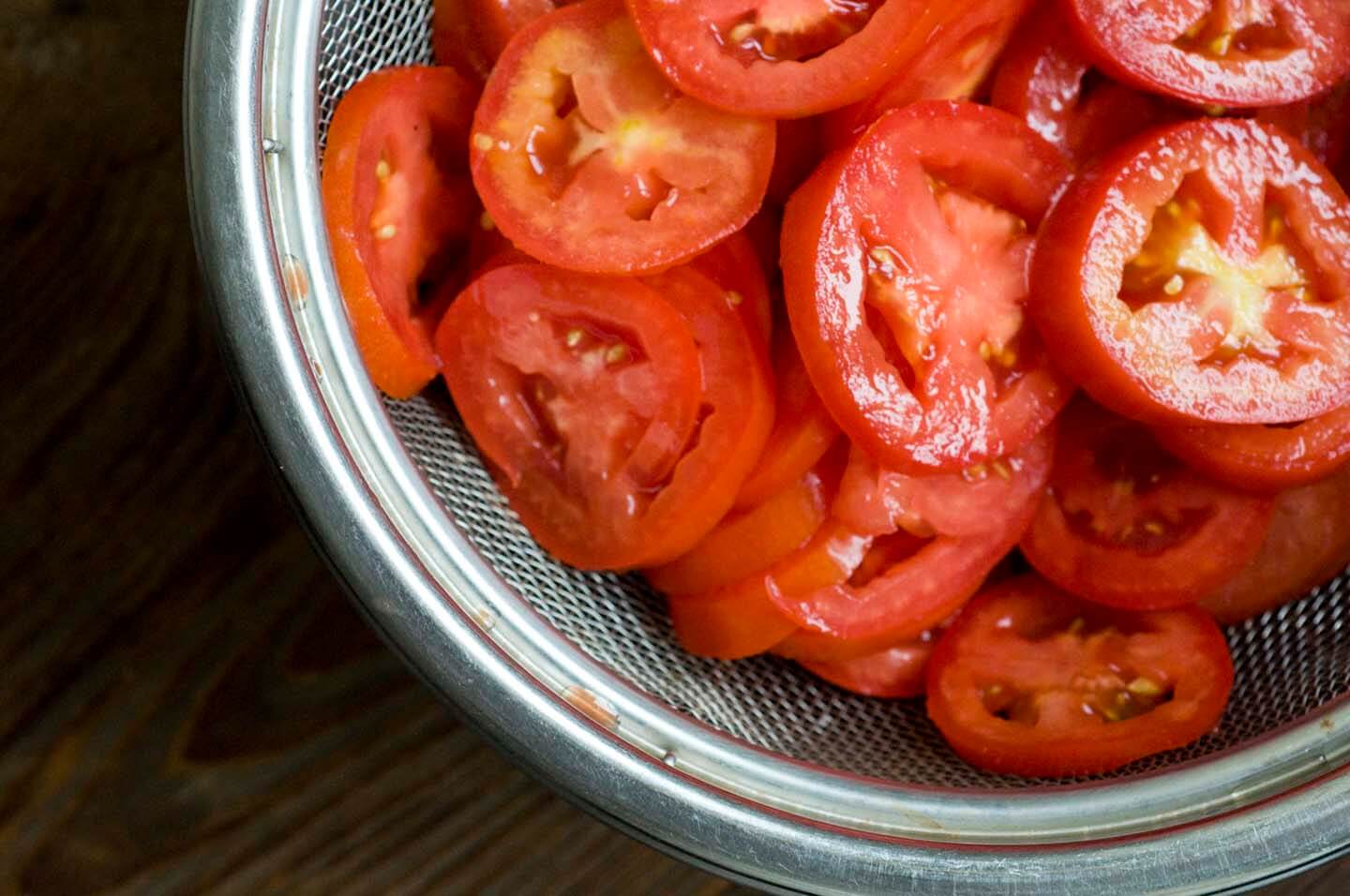 There's a classic Southern tomato pie recipe that calls for an abundance of mayonnaise. This is not it. While that's a fine pie, it's always felt like a side player to me and I wanted something heartier—a pie that could take center stage.

To reach this goal, I first decided to bake my pie in a deeper dish. I used a large cast-iron skillet, but a regular deep-dish pie pan would work as well. I also gave the pie a cornmeal biscuit crust, which is substantial enough to support the pie's layers but soft and tender enough to absorb some of the tomato's juices, too.
Adding lots of bacon seemed like a good idea, as it's a natural partner with tomatoes. And there are also jalapeños, which give the pie an additional bite, along with pepper Jack cheese, which holds it all together.
The end result is a hearty, satisfying slice that works well as a main dish. Though if you wanted to cut it into smaller slices it could be a starter or a side dish instead. You could almost say it's a little bit like a deep dish pizza, though to me, it still feels like a pie. And while it's best served warm, straight from the oven, it's still good at room temperature, which also makes it a great travelling dish for your next potluck.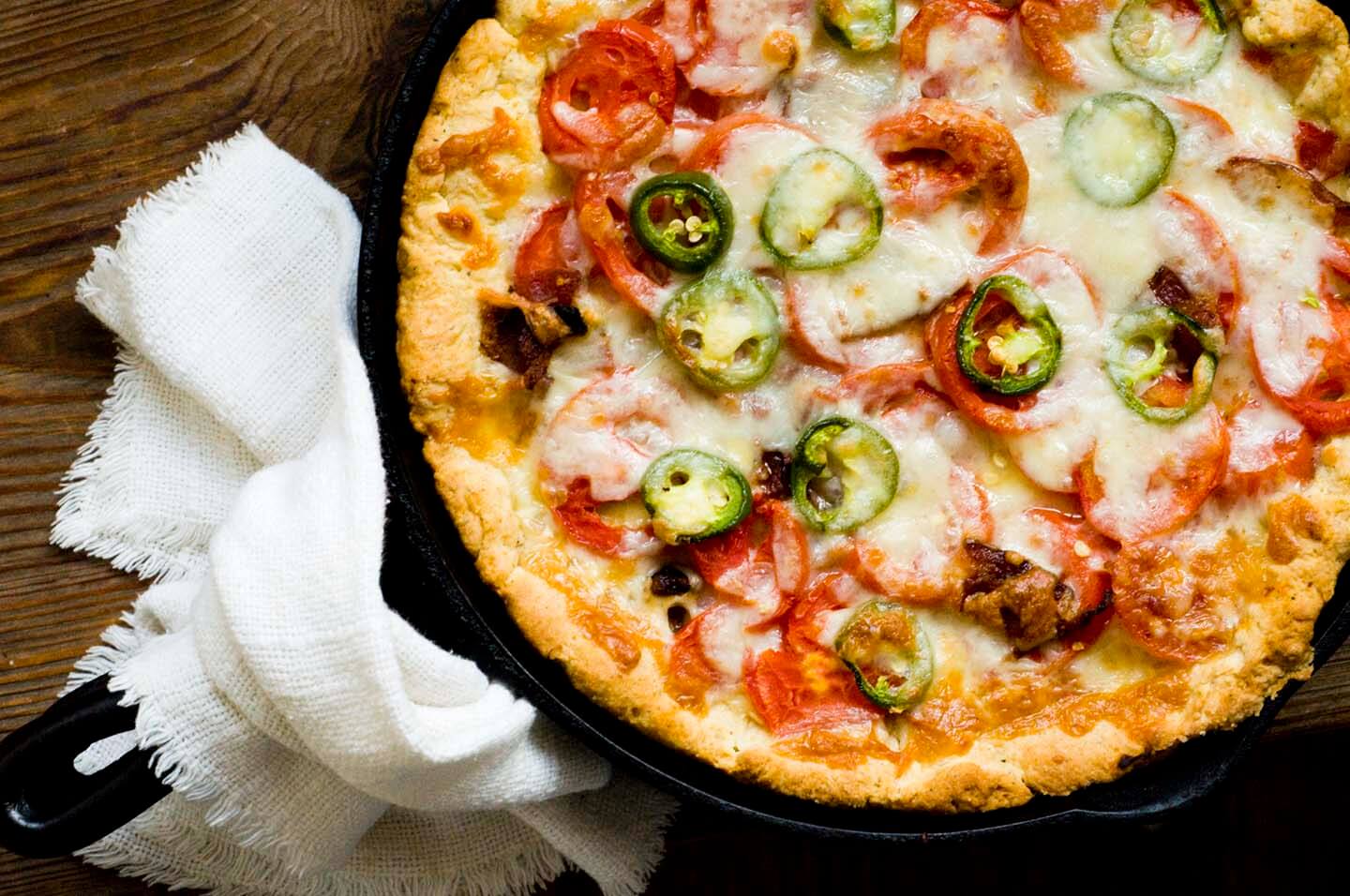 Because it's baked, you could make this pie with those hothouse tomatoes you find at the store when they're no longer in season. But I recommend making it now, as it will be at its best with ripe tomatoes that are plump with juice and full of flavor. Plus, there's nothing better than homemade pie.
Tomato pie with bacon and jalapeños
Ingredients
For the filling:
1 1/2

pounds

plum tomatoes, sliced

1

teaspoon

kosher salt

3

cups

12 ounces pepper Jack cheese, shredded

4

cloves

garlic, minced

1

jalapeño, seeded and sliced

8

ounces

cooked bacon, diced
For the crust:
1 1/2

cups

all-purpose flour

1/2

cup

cornmeal

2

teaspoons

baking powder

1/4

teaspoon

baking soda

1/4

teaspoon

kosher salt

1/4

teaspoon

black pepper

8

tablespoons

unsalted butter, chilled

3/4

cups

buttermilk
Instructions
Place the sliced tomatoes in a colander and then place the colander in a mixing bowl. Toss the tomatoes with the salt, and allow them to sit at room temperature for 30 minutes to extract some of the juices.

Meanwhile, to make the crust, stir together the flour, cornmeal, baking powder, baking soda, salt and pepper. Cut into the flour the chilled butter, until the flour has a crumbly, pea-like texture. Stir in the buttermilk and mix until well combined. On a lightly floured surface, turn out the dough and roll it out into it's about an 11-inch circle.

Preheat the oven to 350°F and lightly grease a deep-dish pie pan or a large cast-iron skillet. Gently lift the dough and place it into the pan, working the dough until the pan is evenly lined with the crust. (Unlike regular pie crusts, I don't do anything fancy with the top of the crust since it's puffier than most as it's a biscuit crust, I simply make sure it goes to the top of the pan.)

To fill the pie, sprinkle half of the cheese along the bottom of the crust. Layer in the tomatoes, garlic, jalapeño slices and bacon, topping with the remaining cheese.

Line a baking sheet with foil or parchment paper and place the pie pan on top. (This is to catch any juices if it boils over.) Slide the sheet into the oven and cook the pie uncovered for 30 minutes or until the crust and cheese are lightly browned and the pie is bubbling.