Chocolate pecan sticky bars
About this time eleven years ago, I took a plane trip to Texas. It was my first flight after 9-11 and everyone was still shaky about air travel. Many of my friends advised me to postpone my trip, as they thought it was too soon to fly and were concerned about what might happen. But I had longtime plans to be in Houston to celebrate my mom's birthday, and despite my fears and anxiety it was an occasion that I did not want to miss.
This year, I found myself back in Texas on her birthday. Last week I was in Abilene for the West Texas Book Festival, and when I learned that I'd have a layover in Dallas, I decided to extend it from a few hours to a few days so I could see my family. But as soon as I made those plans, I started feeling anxious. The airline I was on was experiencing problems, which made returning on time a shaky proposition. I began to worry.
Now, at this point I had a choice—I could fret about my plans and make myself miserable, or I could just let it go and enjoy the precious time I was spending with my family. As I did eleven years ago, I opted to stay the course. And it was the right decision as we ended up having a landmark time.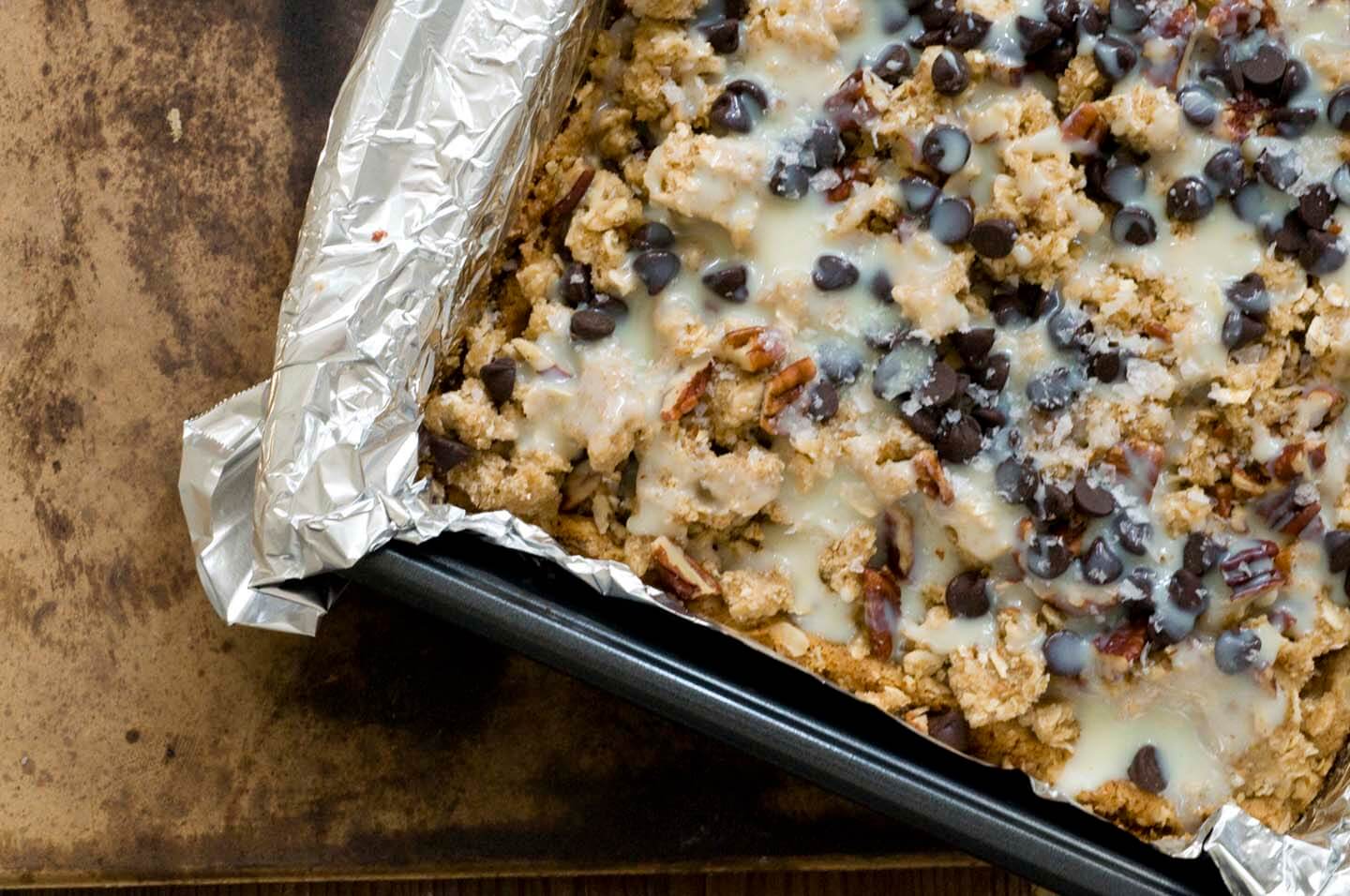 Sometimes I tend to over analyze events, but I do think the lesson I learned this trip was important. I often get so wrapped up in my working life that I find it hard to pause and savor those rare moments shared with those special people in my life.

When I was growing up, I had a laid-back friend who measured the importance of every decision by asking the question, "Will this matter in five years?" And it's true—in five years I would probably not recall the content of my working day if I'd opted to return early to New York. But in five years I'll definitely remember the fine time my family and I had in honor of my mom's birthday. We cooked, we sang and we ate slices of pie—it doesn't get much better than that!
I'd like to tell you more about my trip and soon I will. For now, however, I'll leave you with a plate of chocolate pecan sticky bars—gooey layers of chocolate and pecans sandwiched in an oatmeal cookie crust. I think you'll like them.
These are adapted from Lou Lambert's recipe for Carmelita bars, though I cheated a bit and swapped out the caramel for sweetened condensed milk. That said, the sweetened condensed milk caramelizes as it bakes, so it's a fair exchange. I also added cinnamon and sprinkled flaked sea salt on top for a salty kick.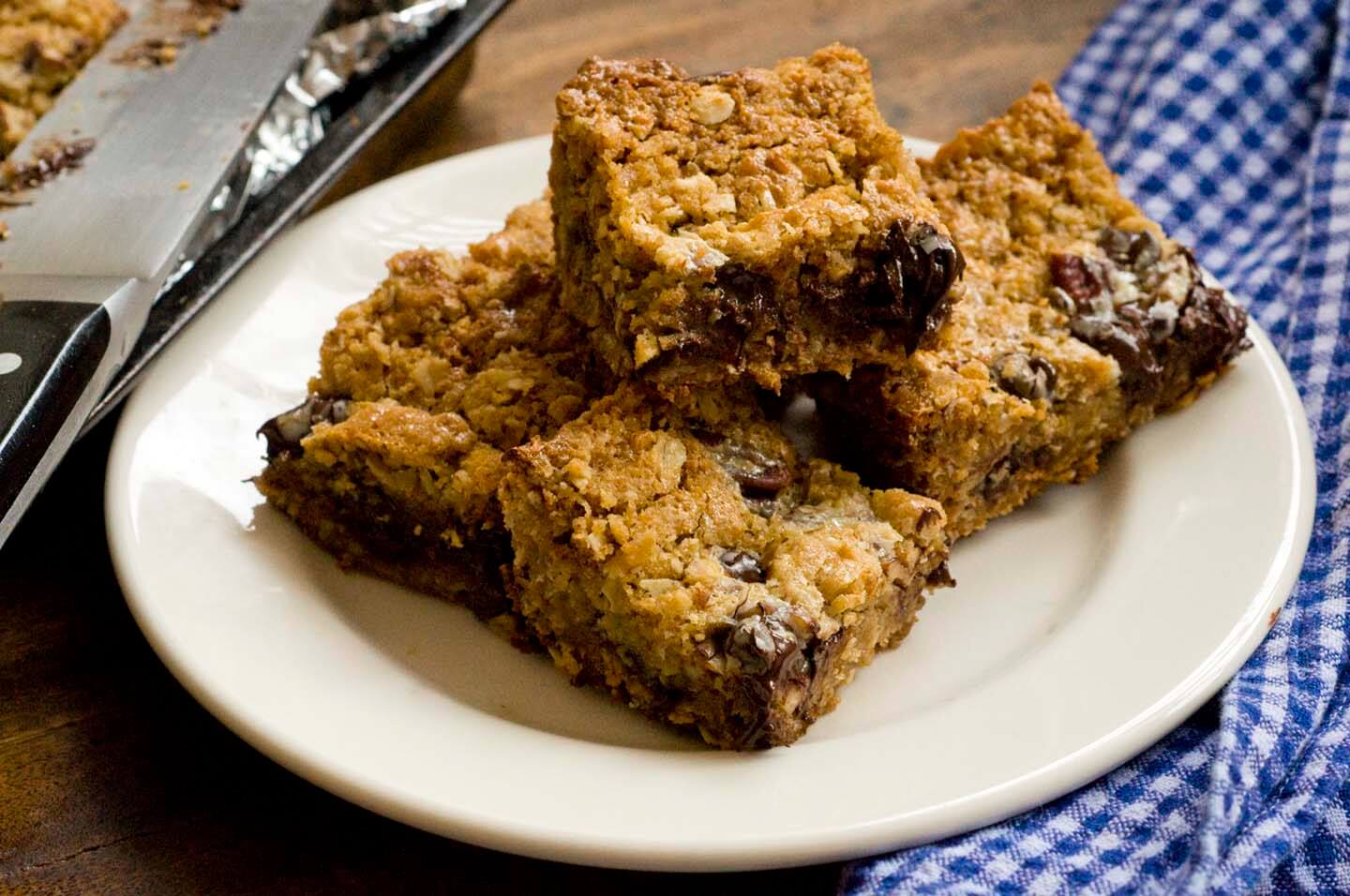 These chocolate pecan sticky bars were baked for my mom's birthday, as they travel well and she has quite the sweet tooth. That said, neither a trip nor a birthday is required to make these. Nope, all you really need is a simple desire to show those you love just how much you care.
Chocolate pecan sticky bars
Ingredients
1

cup

2 sticks unsalted butter, room temperature

1 1/4

cups

brown sugar

1 1/2

cups

all-purpose flour

1 1/2

cups

rolled oats

3/4

teaspoon

baking soda

1/4

teaspoon

kosher salt

1/4

teaspoon

ground cinnamon

1

14-ounce can sweetened condensed milk

1

cup

semi-sweet chocolate chips

1

cup

chopped roasted pecans

1/4

teaspoon

flaked sea salt (optional)
Instructions
Preheat the oven to 350°F and fully line a 9-inch square pan with foil, leaving the ends draped over the edge. To insure the bars do not stick, either use non-stick foil or lightly grease the foil.

To make the bars, cream together the butter and the brown sugar until smooth. Whisk together the flour, oats, baking soda, salt and cinnamon, and then stir into the butter and sugar mixture until well combined. Take half the dough and pat it into the bottom of the pan and bake uncovered for 15 minutes.

Remove the pan from the oven, and pour over the oatmeal cookie base half of the sweetened condensed milk, half of the chocolate chips and half of the pecans. Crumble the remaining oatmeal cookie dough into the pan and then pour over it the rest of the sweetened condensed milk, chocolate chips and pecans.

Return the pan to the oven and bake for 30 minutes or until the edges are set and the bars are lightly browned. If using, sprinkle the flaked sea salt on top immediately after removing from the oven. Cover the pan and place in the refrigerator for at least 4 hours so the bars can continue to harden. To serve, lift the Carmelita bars out of the pan before slicing.