Hatch chile chocolate chip cookies
Hatch chiles in New York are rare. Some seasons you'll see them, but last summer there were none to be found. Just when I thought this year might be the same, I finally spotted the elusive peppers. And while at almost three dollars a pound they would be considered expensive by other place's standards, they were quite the bargain for New York so I filled a large bag with my bounty.
Last week, I was in Texas doing research and it was during the height of the Hatch celebration there. Since I'm the kind of person that enjoys walking around the grocery store, I found myself visiting at least one every day and it was fun seeing all the creative ways that Hatch chiles could be used.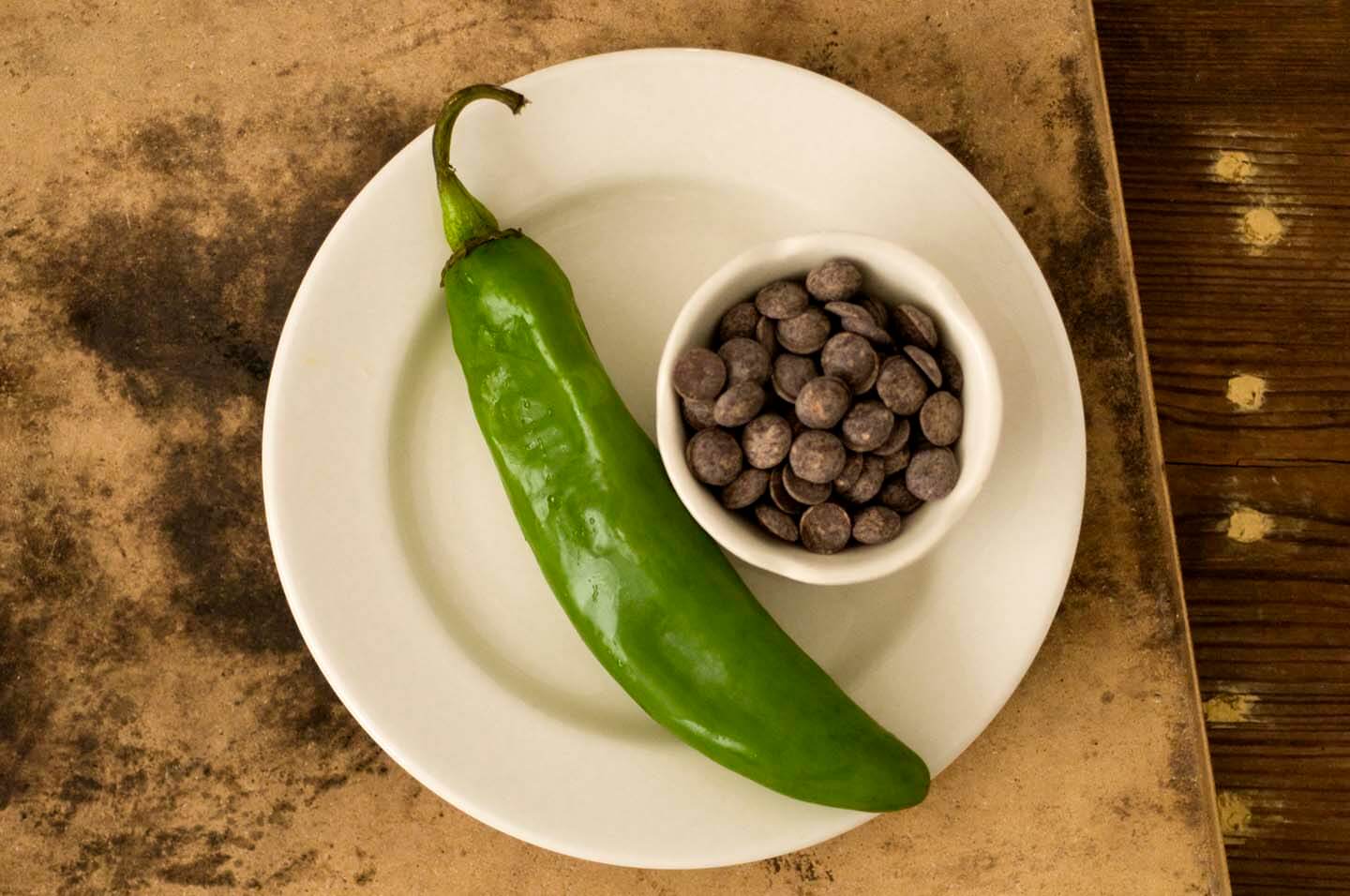 On my last night in Texas, as I was telling a friend about my visit to Central Market she asked if I'd tried the Hatch chile chocolate chip cookies. Unfortunately, I had missed them so I decided to stop at an HEB on the way to the airport to see if they had any there. (I also wanted to pick up some more of the Hatch chile flour tortillas, as we'd finished all the ones I'd previously bought.)

The next morning, I arrived just before HEB opened at six. Even though it was still dark outside and the streets were quiet, there was a small gathering of people out front waiting to shop. I was surprised I wasn't the only customer, but since it was the first day of school some surmised the others might be picking up last-minute supplies. No matter—I was there for cookies and tortillas. But the bakery had neither, so I flew back to New York empty handed.
Because I already had a recipe for the Hatch chile flour tortillas, I knew I'd be fine on that front. But I still wanted to see how green chiles tasted in chocolate chip cookies. I began searching for recipes and ideas but there wasn't much available. Finally, I found one attributed to Melissa's Produce. And with my surplus of Hatch chiles, I decided to try it.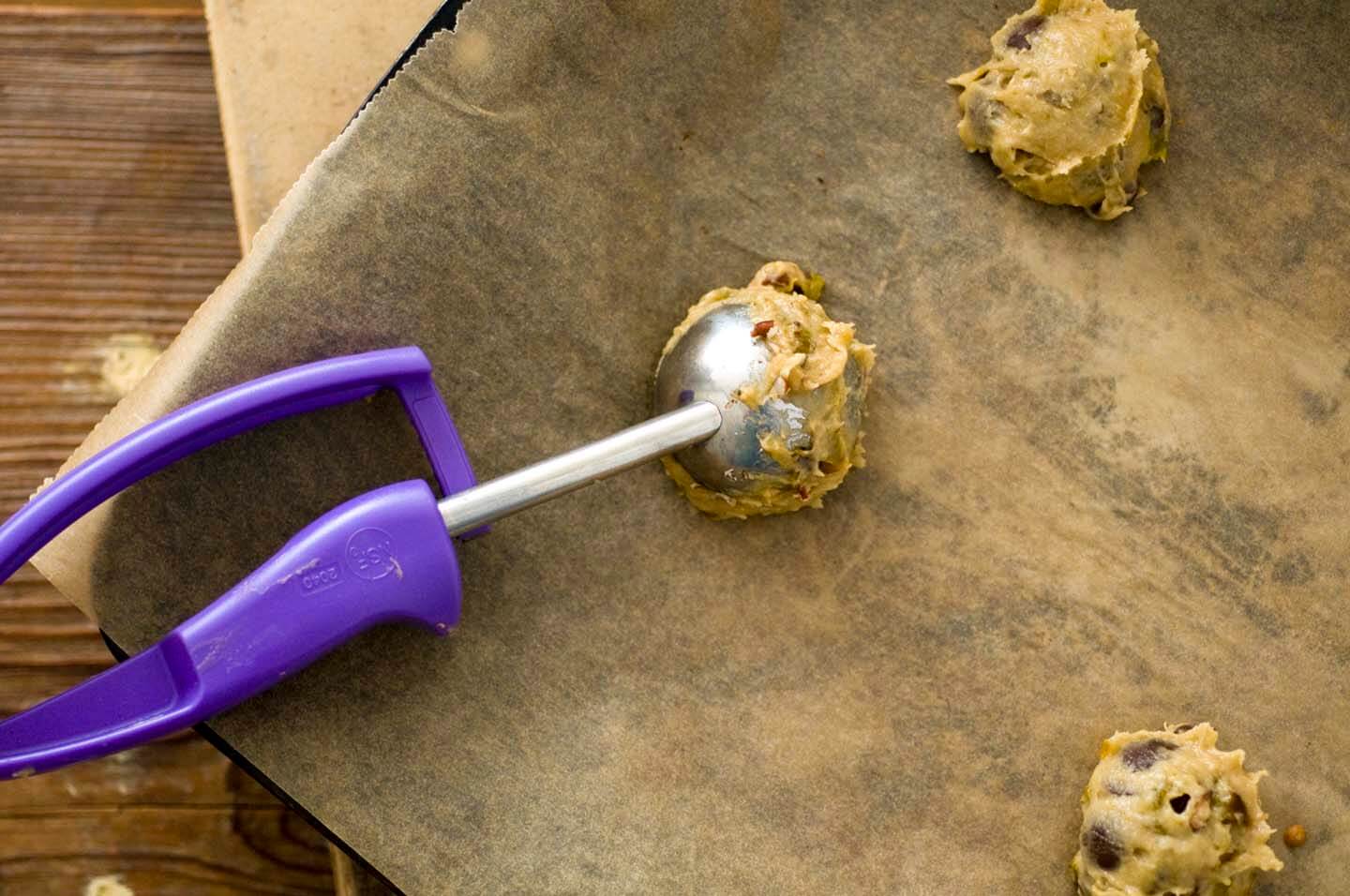 Now, I've made cookies with dried chiles such as ancho, chipotle, and cayenne, and I've found they lend an earthy heat that tends to have more of a slow burn. But I'd never made a cookie with fresh chiles, so I was curious how assertive they would be. I discovered that the flavor of the chiles was more bright and pronounced than with dried, but it didn't dominate and was instead more of an accent.
As for the heat, it could be sharp but it didn't linger. Its level depended on the chiles and how many were used. If the chile was hot, a little went a long way. But if it was mild, you might want to use more in order to get the full impact. The best way to determine this would be to try the chiles before including them in the dough.
The cookie itself was more chewy than crisp, which worked well as a thin one wouldn't be substantial enough to hold the chiles. Because I like a little crunch in my cookies, I also threw in some pecans but they were excellent on their own, too.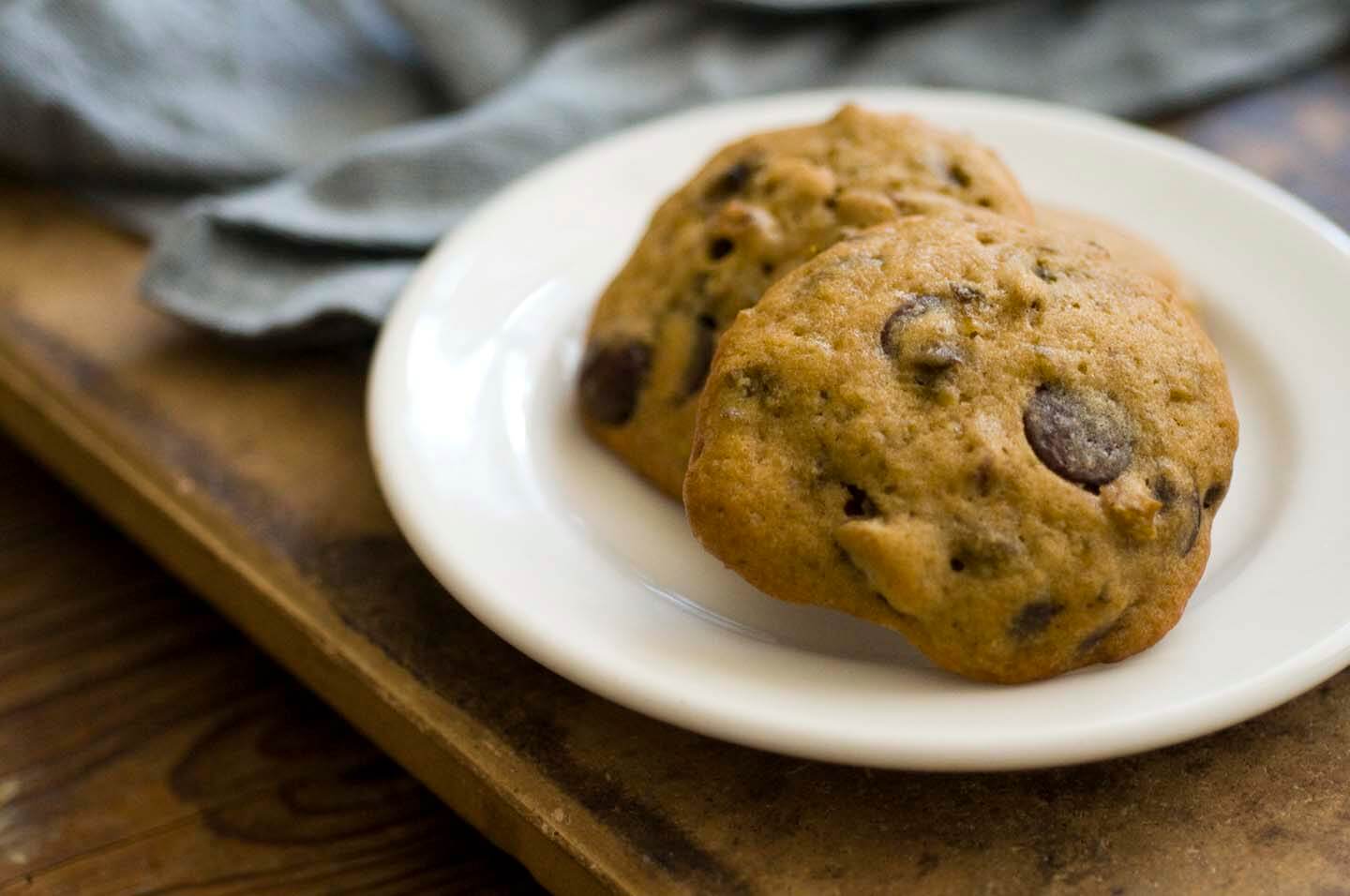 If you love chiles, after one bite you'll soon crave that pop of heat along with the rich butter and chocolate. These are good with a cup of coffee for a sweet snack, or if you're going to a gathering they travel well and will be warmly received. Though no one really needs an excuse to eat a cookie. So no matter how you serve them you'll find these hatch chile chocolate chip cookies are a fine way to celebrate the season. And yes, they were well worth the wait.
Hatch chile chocolate chip cookies
Ingredients
2

Hatch or Anaheim green chiles

8

tablespoons

butter, softened

1/2

cup

granulated sugar

1/2

cup

brown sugar

1

large egg

1

teaspoon

vanilla extract

1 1/2

cups

all-purpose flour

1/2

teaspoon

baking soda

1/2

teaspoon

ground cinnamon

1/2

teaspoon

kosher salt

1

cup

semi-sweet chocolate chips

1/2

cup

roasted chopped pecans
Instructions
Roast the Hatch or Anaheim chiles under the broiler until blackened, about 5 minutes per side. Place the chiles in a paper sack or plastic food-storage bag, close it tight and let the chiles steam for 20 minutes. After the chiles have steamed, remove from the bag and rub off the skin. Remove the stems and seeds from both the chiles and finely dice.

(You may want to test the chiles to see how hot they are. If you find they're too hot, you can use less of the diced chiles in the cookie, reserving the rest for another use.)

Preheat the oven to 350°F and line a baking sheet with parchment paper.

Cream the butter, granulated sugar, and brown sugar until smooth. Add the egg and vanilla and beat until creamy.

Whisk together the flour, the baking soda, cinnamon, and salt. Add the dry mixture to the liquid mixture. Stir until well combined and then stir in the diced chiles, chocolate chips, and roasted pecans.

Roll the dough into walnut-sized balls, place on the sheets 2-inches apart and bake for 11-14 minutes or until the edges are just beginning to brown. Cool on a rack. Repeat with the remaining dough.
Notes
If you want a mild cookie, only use 1 chile but if you seek more heat, feel free to use 2. If you don't have fresh, you can substitute either 2 ounces green chiles, drained, for 1 fresh, or 4 ounces green chiles, drained, for 2 fresh chiles. Room-temperature dough will yield a flatter, chewier cookie, while chilled dough will yield a thicker more cake-like cookie. They're both delicious.