Frito pie is a Texas icon. This tangle of corn chips topped with chili, jalapeños, cheese, and onion is a staple at football games, church suppers, school lunches, and perhaps even your own kitchen. It's certainly a favorite of mine and I never pass up an opportunity to enjoy one either when I see them out in the wild or have some extra chili and Fritos around.
Now, a few years ago someone mentioned to me that Frito pie was not from Texas but instead came from New Mexico. This, of course, gave me pause. Not only are the chips from Texas but so is the chili. Not to mention, the dish itself is so deeply embedded into our culture it just seemed impossible that it could be from anywhere else.
A little research lead me to discover that the first published mention of it was in an Abilene, Texas newspaper in 1947. This was enough tangible proof for me of its heritage, and as my grandparents had told me stories of eating Frito pie in the 1940s as well, I know that it was popular with Texans at that time.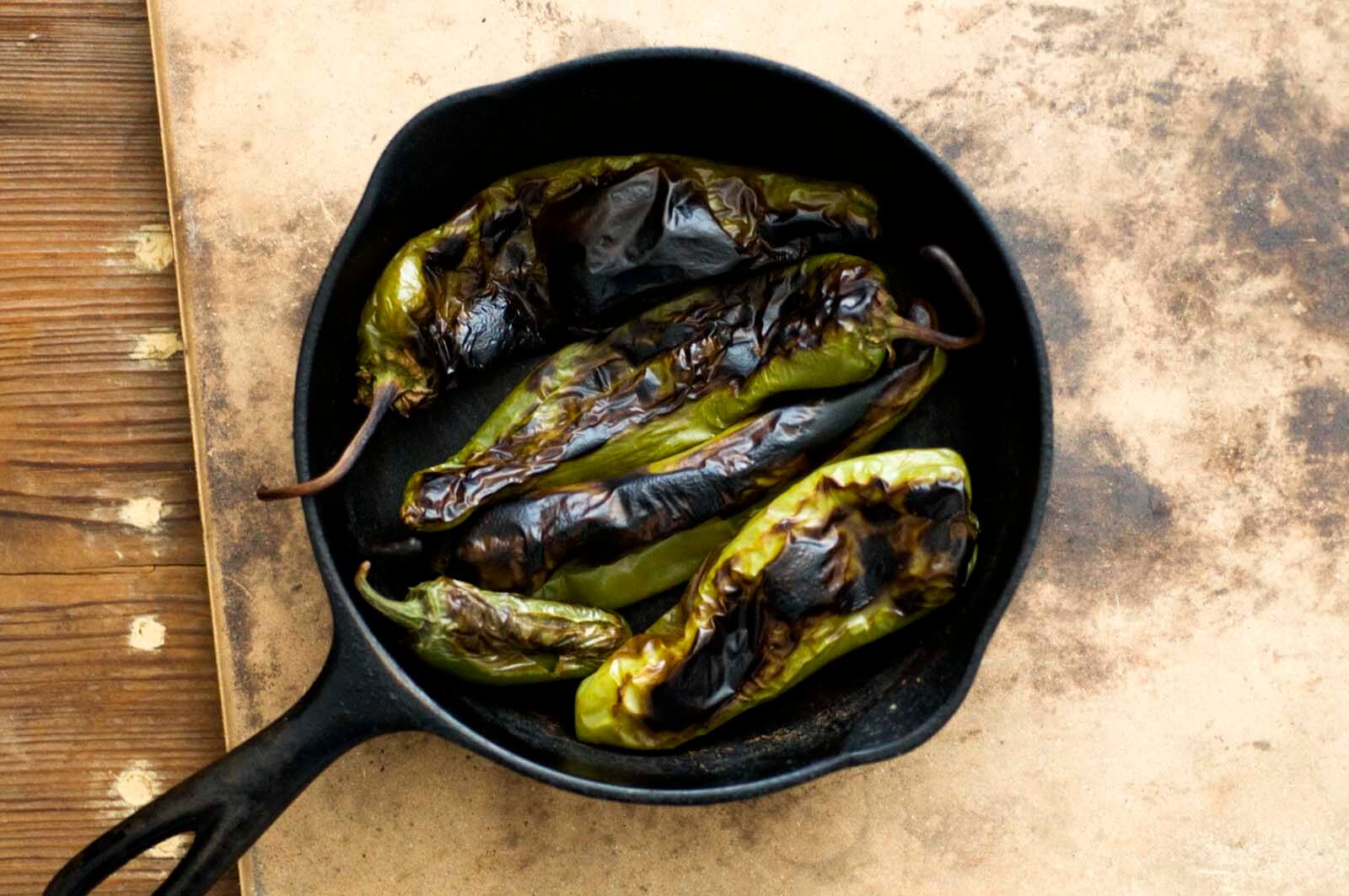 But after more digging I found that it was mentioned in a New Mexico newspaper in 1948. So it seems that the folks in New Mexico have been enjoying Frito pie almost as long as Texans, and it became clear why someone might think that it originated there.
What's interesting, however, is that much like New Mexican cuisine varies from Texan cuisine, they also serve their Frito pie not quite the same way we do. For instance, instead of the pie being topped with a hearty red chili, in New Mexico you'll often see it with a green chili instead. And it's not even a chunky stew but instead more of a salsa that may have a bit of meat in it, though sometimes it will instead have beans or perhaps no protein additions at all. In New Mexico, the long green chile that forms the backbone of the salsa is the true star.
With this in mind, when I had a hankering for a green chile Frito pie, instead of making a proper New Mexican green chili stew I looked for green chile recipes that were more of a condiment rather than a separate dish. After some digging, I came across a recipe in the Rancho de Chimayo Cookbook by Cheryl and Bill Jamison that was just what I sought—a green chile sauce with a dash of beef that the authors recommended for smothering on enchiladas and burritos. I figured a Frito pie would work well with it, too.
The recipe called for long green chiles to be stewed with some aromatics, along with a small portion of ground beef. When I cooked it, I made a few changes such as increasing the amount of onion, using fresh garlic instead of powder, and adding some cumin and oregano, which I'd seen used in other New Mexican green chilie salsa recipes. I also doubled the amount of ground beef the recipe suggested since I had the notion that the topping on a Frito pie should be rich with meat.
While the flavor of the green chile sauce turned out terrific, surprisingly the extra meat I included got in the way of enjoying the bright and lively nature of the fresh chiles. So I made it again and used the quantity in the original recipe, and this time the sauce tasted just right. As promised, this green chile sauce isn't a standalone dish but is made to be paired with things. And indeed it was excellent ladled onto a bed of Fritos.
For serving, I garnished my green chile Frito pie with onions, Monterey Jack, sour cream, jalapeños, and cilantro, which made the dish's combination of flavors echo my beloved enchiladas verdes, except with a bit more crunch. It might have been different than the Frito pie I was used to, but it was still familiar and welcome. I loved it.
Besides having a different flavor profile, I also found it's lighter than one topped with a heartier red chili. This, of course, isn't an issue as it simply makes it easier to eat more. So I happily enjoyed another serving. And if you like green chiles, I have a feeling you will, too.
Green chile Frito pie
Ingredients
Ingredients for the green chile salsa:
12

fresh Hatch or Anaheim green chiles

2

jalapeño chiles

1/2

pound

ground beef, preferably coarsely ground

1/2

teaspoon

kosher salt

1/2

teaspoon

pepper

1/2

medium yellow onion, diced

2

ripe plum tomatoes, seeded and chopped

4

cloves

garlic, minced

4

cups

water

1/2

teaspoon

ground cumin

1/2

teaspoon

dried oregano
Ingredients for the Frito pies:
4

cups

Fritos

1

cup

4 ounces shredded Monterrey Jack or Muenster

1/4

cup

diced onions

1

jalapeño, sliced

1/2

cup

sour cream, for serving
Instructions
If using fresh green chiles, roast the Hatch and jalapeño chiles under the broiler until blackened, about 5 minutes per side. Place the chiles in a paper sack or plastic food-storage bag, close it tight and let the chiles steam for 20 minutes. After the chiles have steamed, remove from the bag and rub off the skin. Remove the stems and seeds from both the chiles and finely chop.

In a Dutch oven on medium-low heat, add the ground beef, salt, and pepper. While occasionally stirring, cook until the beef has browned, about 10 minutes. Add the onions and tomatoes, and while occasionally stirring continue to cook until the onions have softened and the tomatoes are beginning to release some juices, about 5 minutes. Add the garlic and cook for 30 more seconds. Stir in the diced chiles, water, salt, cumin, and oregano, turn the heat down to low, then while occasionally stirring cook uncovered for 30 minutes. Taste and adjust seasonings (I usually add another 1/2 teaspoon of salt).

To assemble the green chile Frito pies, evenly divide the Fritos among 4 to 8 bowls, then top with the green chile salsa, cheese, onion, and sliced jalapeños. Serve with sour cream on the side.
Notes
If you don't have access to fresh green chiles, you may substitute 16 ounces canned green chiles or 2 cups frozen green chiles, thawed. Drain and rinse them before using and be careful when adding salt since they may already have been salted, too.