Last week I found myself with a surplus of chicken livers. This doesn't occur very often in my kitchen, so at first I wasn't sure what to do. But I shouldn't have worried as I soon decided frying them up and dipping them in cream gravy would be the best way to use up what I had.
Fried chicken livers are a classic Texan dish, but you don't see them very often these days. Perhaps your grandmother made them when you were young, but it's only on rare occasions that I spot them on restaurant menus or even in someone's home kitchen. And this is a shame as these crunchy nuggets always hit the spot.
While I was pondering fried chicken livers, I thought back to the last time I had them. It was two years ago in the East Texas town of Silsbee when I was on tour for my last book. After my event we went to get lunch at The Cottage, which was a happy place filled with comfortable furniture and friendly people who jumped from table to table visiting with each other. Dining there was like being in someone's home.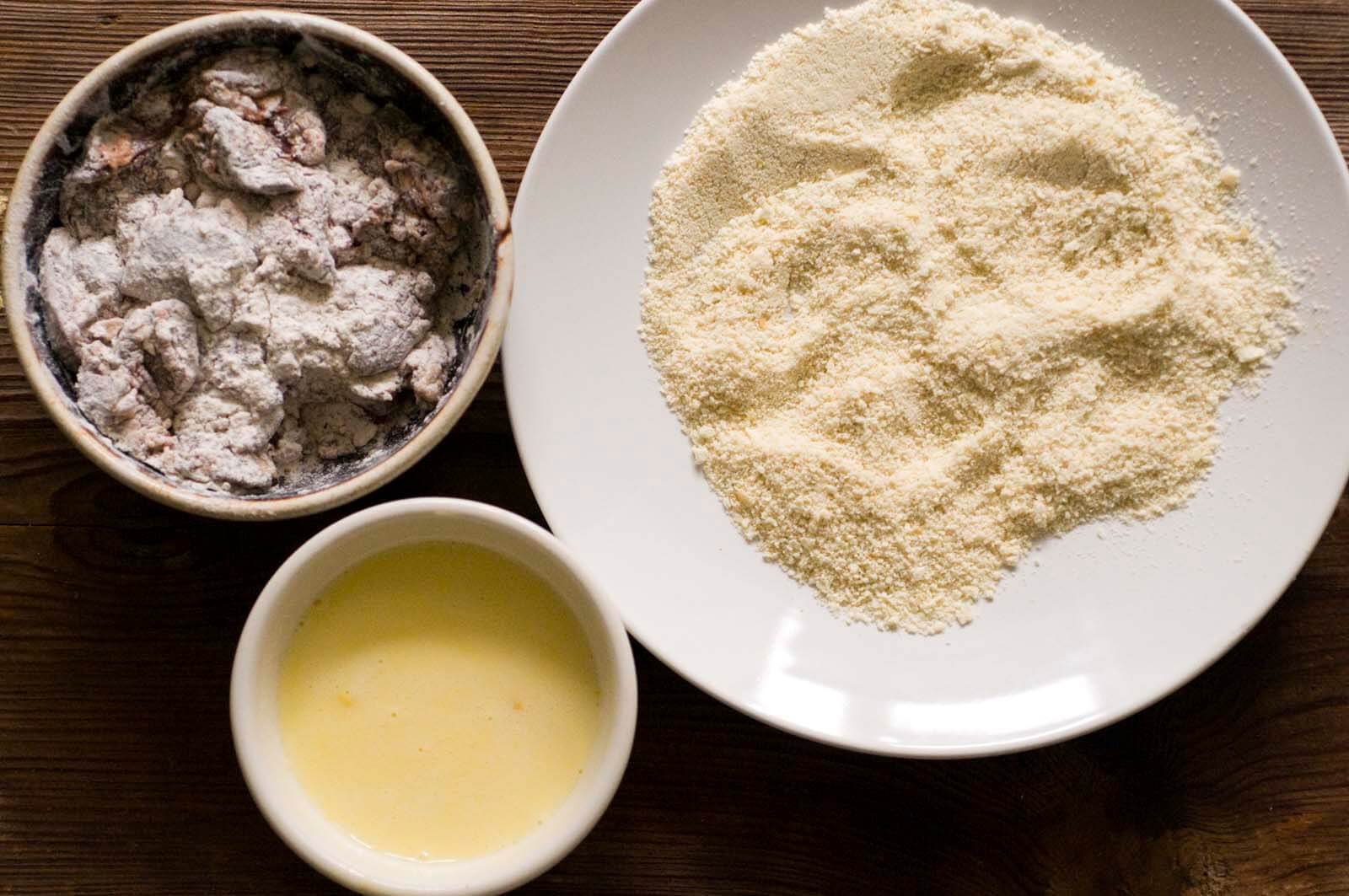 The owner, Flo, is famous for her hamburgers and hand-cut fries, which were indeed very good. But when I spotted fried chicken livers on the menu, I ordered a round of these for the table, too. They arrived along with a side of cream gravy (that's the preferred dipping sauce though I've known some to go with buttermilk dressing or even ketchup), and we all picked up a piece, dipped it in gravy, and savored the crisp texture and lush flavor. It was a fine beginning to a hearty meal out in the East Texas woods.

Now I realize that not everyone likes liver and I can understand that—I'm not fond of beets, for instance, and shake my head with wonder whenever someone tells me that they love them, as I just don't see their appeal. That said, for those of us who are fans of the rich, mineral-like flavor of this tender meat, finding it in fried form is perhaps not its highest expression (I reckon that would be some fancy pâté), but it is a satisfying one, and just may be my favorite way to prepare them.
Making fried chicken livers is much like making chicken-fried steak, as there is an egg wash along with a double dredge. For my final dip, I like to use finely crushed saltines as they add an extra crunch to the batter, which I find is necessary as the meat encased is so soft you need a strong fortress surrounding it to give it heft.
Frying the chicken livers can be a bit dangerous, as there's lots of water in the meat which reacts intensely with the hot oil. I suggest that you keep your arms covered and wield a spatula with a long handle for turning and such. Now don't be too frightened of the pops, as they don't last long and by the time that particular batch of fried chicken livers is done they will have completely subsided. Though know that they will return when the next round hits the oil so it's good to be prepared—I don't want anyone to get hurt!
Once the livers are done, you make a batch of cream gravy. If your frying oil tastes good, you can use that. But if it's too bitter or burnt than I like to spoon out a dollop of fat from my reserve of bacon grease I keep in my refrigerator for situations such as these. While there's nothing wrong with getting fancy with your cream gravy, I'm fond of a classic rendition with perhaps a few shakes of hot sauce for additional punch.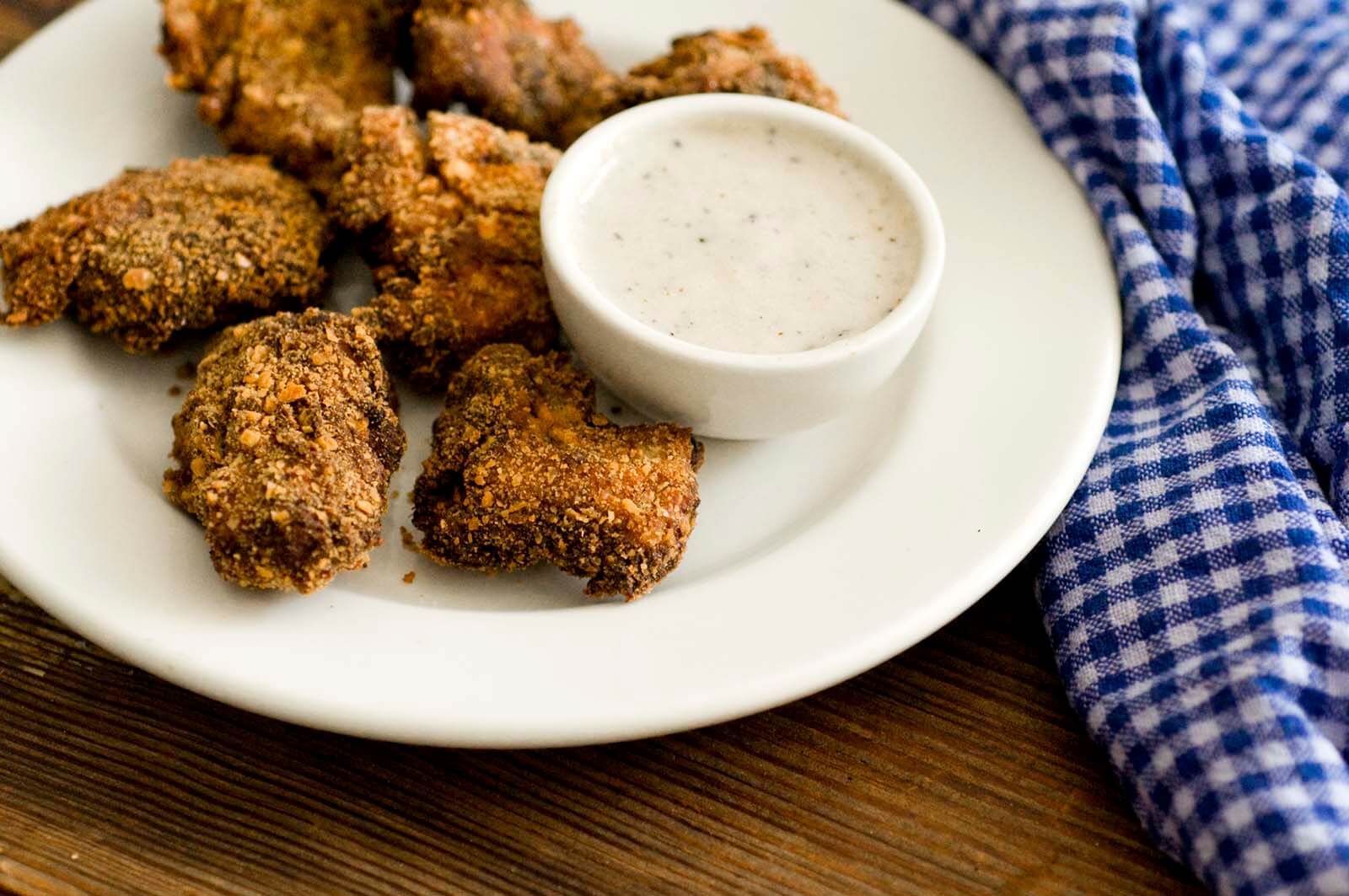 Once the gravy is made, you bring it all to the table and everyone takes a piece and dunks. It's creamy, crunchy, and good. They are extremely rich, so I can never eat as many as I'd hoped. If there are any leftovers, however, they reheat well in the oven. And then you can experience the joy of fried chicken livers and cream gravy all over again.
Fried chicken livers
Ingredients
1

pound

chicken livers

cut into bite-sized pieces

1 1/2

cups

buttermilk

1

cup

all-purpose flour

1

teaspoon

sea salt

1 1/2

teaspoons

black pepper

1/4

teaspoon

cayenne

2 1/2

cups

finely ground saltine cracker crumbs

2

large eggs, beaten

Oil, for frying

Cream gravy, for serving
Instructions
In a large bowl, soak the chicken livers in 1/2 cup of the buttermilk for 1 hour.

Meanwhile, to prepare for breading the livers, mix the flour, salt, black pepper, and cayenne in a large plastic food-storage bag. In a bowl, whisk together the eggs with the remaining 1 cup of buttermilk. Place the saltine crumbs on a plate.

Once the livers have soaked, drain them (discarding the soaking buttermilk) then lightly season them with salt and pepper. Place the chicken livers in the flour bag and shake until they are well coated. In batches, dip the flour-coated livers into the eggs and then lightly dredge in the saltine crumbs. Place cracker-coated livers on a large plate or sheet. Repeat until all the livers are coated.

In a large cast-iron skillet, heat 1/2 inch of oil on medium-high heat until it reaches 350°F, about 5 minutes. If you don't have a thermometer, you can test the temperature by sticking a wooden spoon into the oil. If it bubbles around the spoon, it should be ready for frying. Line a sheet pan with paper towels.

Fry the livers for 5 minutes or until brown and crisp, turning once. (When you place the livers into the skillet, be careful, as there may be excessive popping of the oil.) Depending on the size of your skillet will probably have to fry them in several batches. Drain on paper towels. Serve warm with cream gravy.
Notes
While I like to keep it simple, adding other spices and herbs to the flour mixture, such as sage, garlic powder, and chili powder, are also very good