The first time I ate pizza with my New York friends, I learned that Texans have a special relationship with buttermilk dressing. When the pizza arrived, I pulled a jar out of the refrigerator, grabbed a slice of pizza and drizzled some of the creamy, tangy dressing all over it.
"What are you doing?" said my friends.
"You don't put buttermilk dressing on your pizza?" I said.
"No! That's disgusting!" said my friends.
I shrugged and then continued to eat my buttermilk-dressing soaked pizza. And it was good.
When it comes to buttermilk dressing, Texans don't just stop at pizza. We, of course, put it on our salads. But we also use it as a dip for our steak fingers, onion rings, fried okra, cheese fries and leftover fried chicken, among many other things.
Buttermilk dressing has long been a popular staple in a Texan's larder. Its presence harks back to a time when dairy was ubiquitous and cheap, so it made sense to craft a dressing out of buttermilk and eggs rather than oil, which was scarce.


In the 1960's, buttermilk dressing became branded as ranch dressing, but I prefer to call it by its proper name, especially as the stuff you buy in a bottle has almost no relationship to what you can make at home. And yes, buttermilk is indeed the star.

I was reading recipes for buttermilk dressing from almost 100 years ago, and back then it was a boiled dressing made with eggs, vinegar, buttermilk, herbs and spices. In the late 1930's, however, both vegetable oil and commercial mayonnaise became more available and so people started using those ingredients to make their buttermilk dressing instead.
I have to say that the latter method is how I've been making my buttermilk dressing for years as it takes minimal effort to achieve maximum flavor. But I was curious about the boiled method. My grandma has no fond memories of the boiled dressing my great-grandmother made and perhaps the use of mayonnaise indeed marks progress. That said, I decided to make a batch of buttermilk dressing the truly old-fashioned way.
In researching recipes, I discovered that Craig Claiborne (the longtime New York Times food editor and fellow Southerner) also found his mother's boiled dressing distasteful. No matter, I decided to persevere in making a batch.
Well, after boiling together a concoction of eggs, apple-cider vinegar, mustard, cayenne, buttermilk, and butter, I was left with a thick, acidic custard that smelled so bad I had to throw open the windows and leave my apartment for a spell. (Note to self: if both your grandma and Craig Claiborne hate something, you will probably hate it, too.)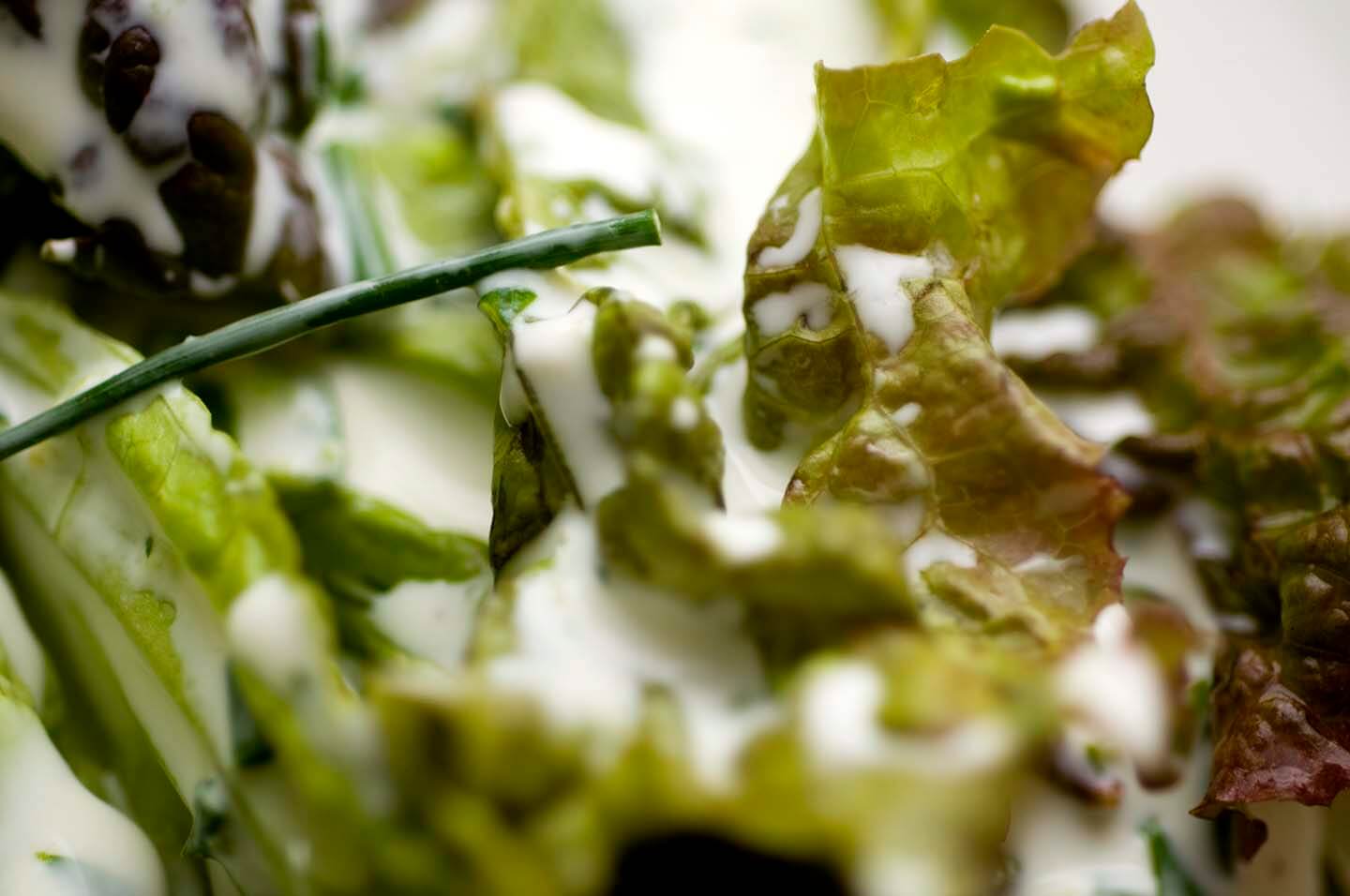 So indeed, progress has been made by the advent of widely available commercial mayonnaise. And thankfully, making buttermilk dressing is a snap, which means that you can have it whenever the occasion arises. So go on, what are you waiting for? You just know that slice of cold pizza sitting in your fridge needs an embellishment, and nothing makes leftovers, fried foods, or salads sing like a good dose of creamy, tangy, spicy buttermilk dressing.
Buttermilk dressing
Ingredients
1/4

cup

mayonnaise

1/2

cup

sour cream

1/2

cup

buttermilk

1

tablespoon

freshly squeezed lime juice

1

clove

garlic, minced

1

Serrano chile, seeded and finely diced

1/4

cup

chopped cilantro

1

teaspoon

chopped fresh chives

1/8

teaspoon

cayenne pepper

Salt

Black pepper
Instructions
Stir together the mayonnaise, sour cream, buttermilk, lime juice, garlic, Serrano pepper, cilantro, chives, and cayenne. Taste and add salt and pepper.
Notes
I like my dressing on the thinner side, so if you prefer it thicker use 1/2 cup of mayonnaise. And if you don't want it to be so spicy, feel free to omit the Serrano or substitute a jalapeno pepper instead. Also, you can use parsley instead of cilantro if you're one of those "Cilantro tastes like soap people, I won't be insulted.