When I asked my family how they make their potato salad, they all provided recipes that called for similar ingredients: chunky, unpeeled potatoes (either red new, brown russet or Yukon gold potatoes), green onions, celery, hard-boiled eggs, sweet pickles, mustard, and mayonnaise. And if you're on my dad's side of the family, you stir in some Durkee's as well.
This is the potato salad that always graced the table at our family barbecues—a thick mouthful that was soft and crunchy, tangy and sweet. But as I asked friends that hail from other regions of the country how they make their potato salads, their recipes sounded shockingly similar.
My family assured me, "Yes, this is how we do it."
But is it particularly Texan?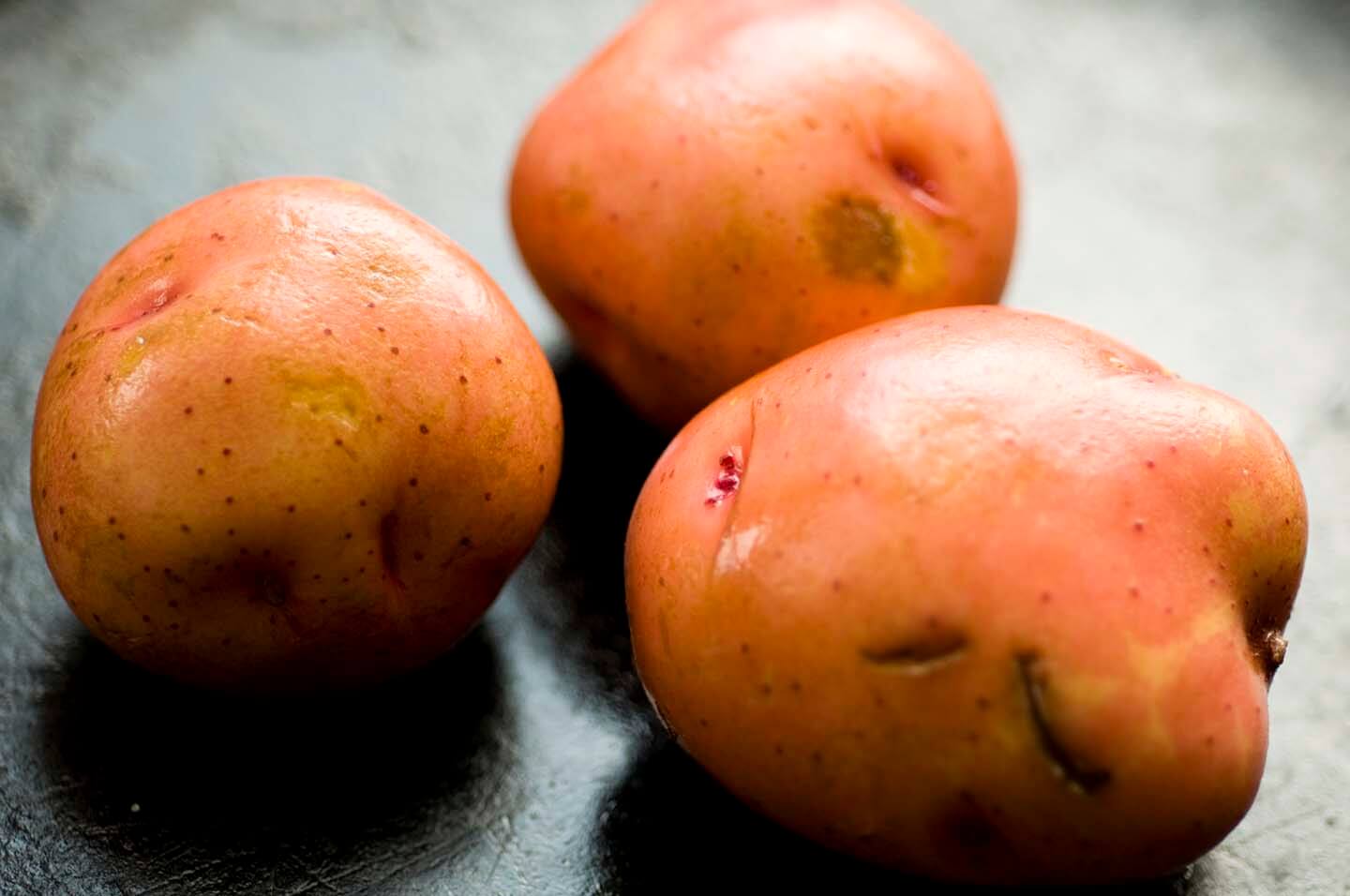 People say it's the mustard that makes a potato salad a Texas potato salad, but doesn't everyone use mustard? Perhaps we just use more.

Of course, we also eat a lot of German potato salad in Texas. This concoction, most commonly found in the Hill Country, is usually served warm (though it's also delicious cold). It's a mix of red new potatoes, bacon, green onions, mustard, and vinegar—with nary a dollop of mayonnaise to be found.
Sure, mustard is a quintessential Texas condiment. But so are pickled jalapenos. And why aren't these in a Texas potato salad? Heck, even my mom—who is the queen of pickled jalapenos and its juice—doesn't add it to hers. "Why not," I asked. She didn't have an answer, but insisted that sweet pickles are a key ingredient that compliments the other flavors.
Even though I'm no fan of sweet pickles, apparently I've been eating them in my potato salad my whole life without complaint, so I could see her point. But I still felt that a Texas potato salad needed jalapenos. So I compromised and made a batch of bread and butter jalapeno pickles and added that instead.


I love it when I have a hunch and it's proven correct. And yes, these bread and butter jalapenos were a wonderful balance—sweet enough to be pleasing to the tongue yet fiery enough to make my lips tingle. Bread and butter jalapeno pickles were just what I needed to perk up my potato salad and make it my Texas potato salad.
But enough about me, what does Texas potato salad mean to you?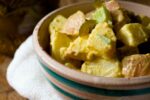 Texas potato salad with bread and butter jalapeño pickles
Ingredients
Ingredients for the bread and butter jalapeño pickles:
6

jalapeños, sliced

1

cup

apple cider vinegar

2

tablespoons

sugar

1

tablespoon

kosher salt

1

teaspoon

mustard seed

1/2

teaspoon

whole cloves

1/2

teaspoon

whole allspice

1

cinnamon stick
Ingredients for the potato salad:
2

pounds

red new potatoes, cubed

1

tablespoon

kosher salt

1/4

cup

apple cider vinegar

2

celery stalks, diced

2

green onions, diced (green part only)

1/4

cup

bread and butter jalapeños, diced

1/4

cup

yellow mustard

1/4

cup

mayonnaise

1/2

teaspoon

paprika

1

teaspoon

bread and butter jalapeno pickle juice

Black pepper
Instructions
To make the bread and butter jalapeños, pack the sliced peppers into a pint-sized jar.




Place the vinegar, sugar, salt, mustard seed, cloves, allspice, and cinnamon stick into a pot and bring to a boil, then pour over the jalapenos.




Let cool (about half an hour), then cover and refrigerate. The jalapeños will be ready in 2 hours.




To make the potato salad, in a large pot, cover the potatoes with cold water, add the salt, bring to a boil and cook until tender, about 15 minutes. Should be tender but not mushy.




Drain potatoes and rinse in cold water. Toss with the vinegar and let cool in the refrigerator for half an hour.




After the potatoes have cooled, gently stir in the celery, green onions, jalapeños, mustard, mayonnaise, paprika, and jalapeño pickle juice. Taste and add salt and black pepper, if desired.