Cool off with hot jalapeno pickles
If you're of a certain age, you may remember a time when along with chips and salsa, you also got free corn tortillas, pats of butter and hot pickle relish served to you at your local Tex-Mex restaurant.
You'd see this in classic Dallas places such as El Fenix or El Chico, and in Houston establishments such as Molina's. The hot pickle relish, also known as escabeche, was made up of jalapenos, carrots and cauliflower and it was tart, fiery, crunchy and yes, very refreshing.
There's been a lot of bad news about jalapenos lately, namely those from Mexico. And while I'm glad they pinpointed the source of the salmonella, it didn't give me much confidence in buying jalapenos at the grocery store, especially when their origin was unknown.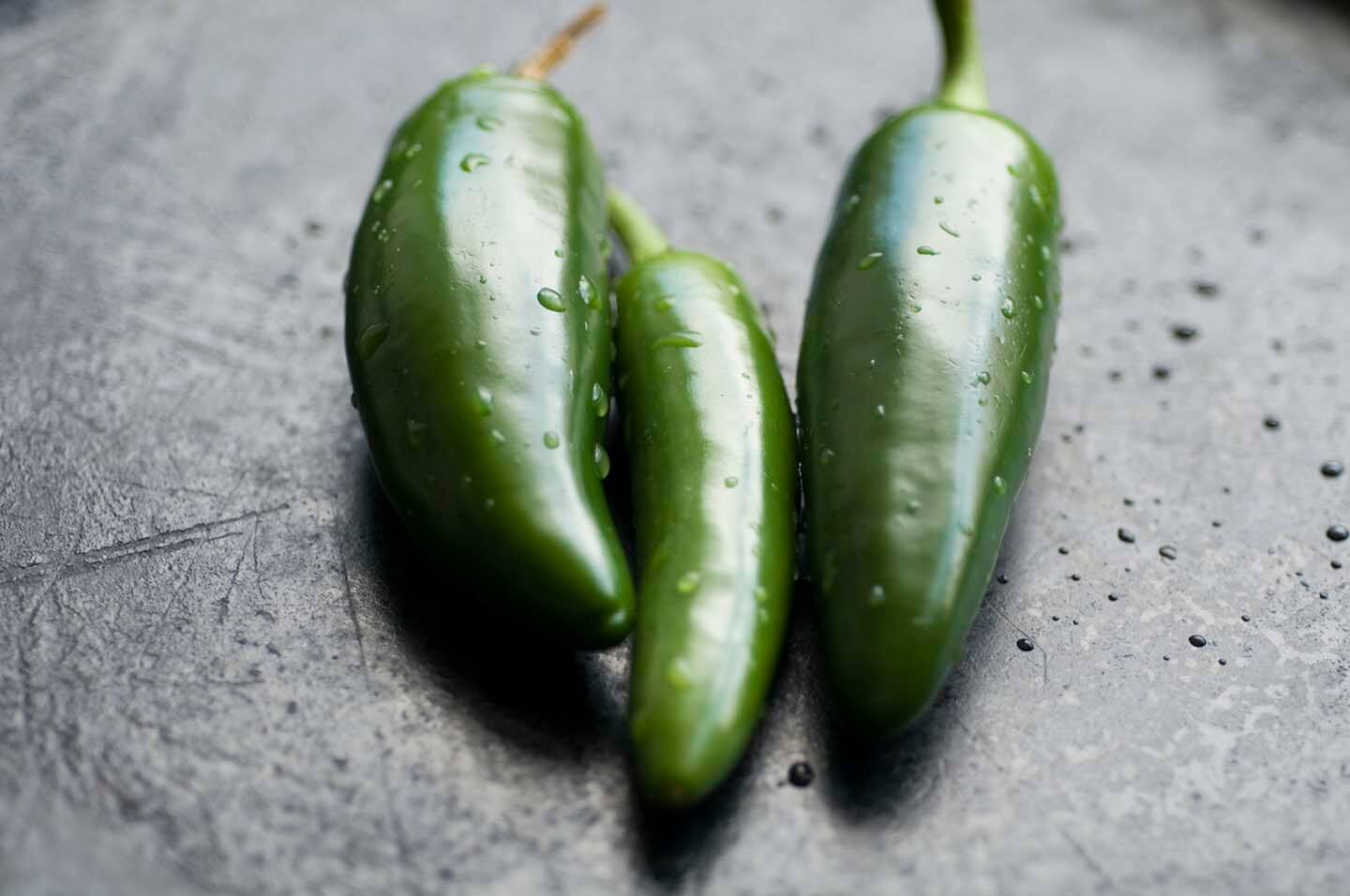 Earlier in the summer I bought a jalapeno plant and it produced two tiny peppers, until it started shedding all of its leaves working its way toward a slow death. I have since nursed it back to health and it now has a few blossoms, which if all goes well could mean more jalapenos. Very local and very fresh! But my one plant isn't enough to keep me satisfied.
I eat a lot of jalapenos so I am pleased they are now in season and I can find them in abundance at my local farmer's market. Last weekend, one of the Union Square farmers had a gorgeous display of jalapenos and serranos and I went nuts, buying over a pound. I also picked up some cauliflower, carrots, onions and garlic and because my refrigerator can only hold so much, decided that I should make some pickles.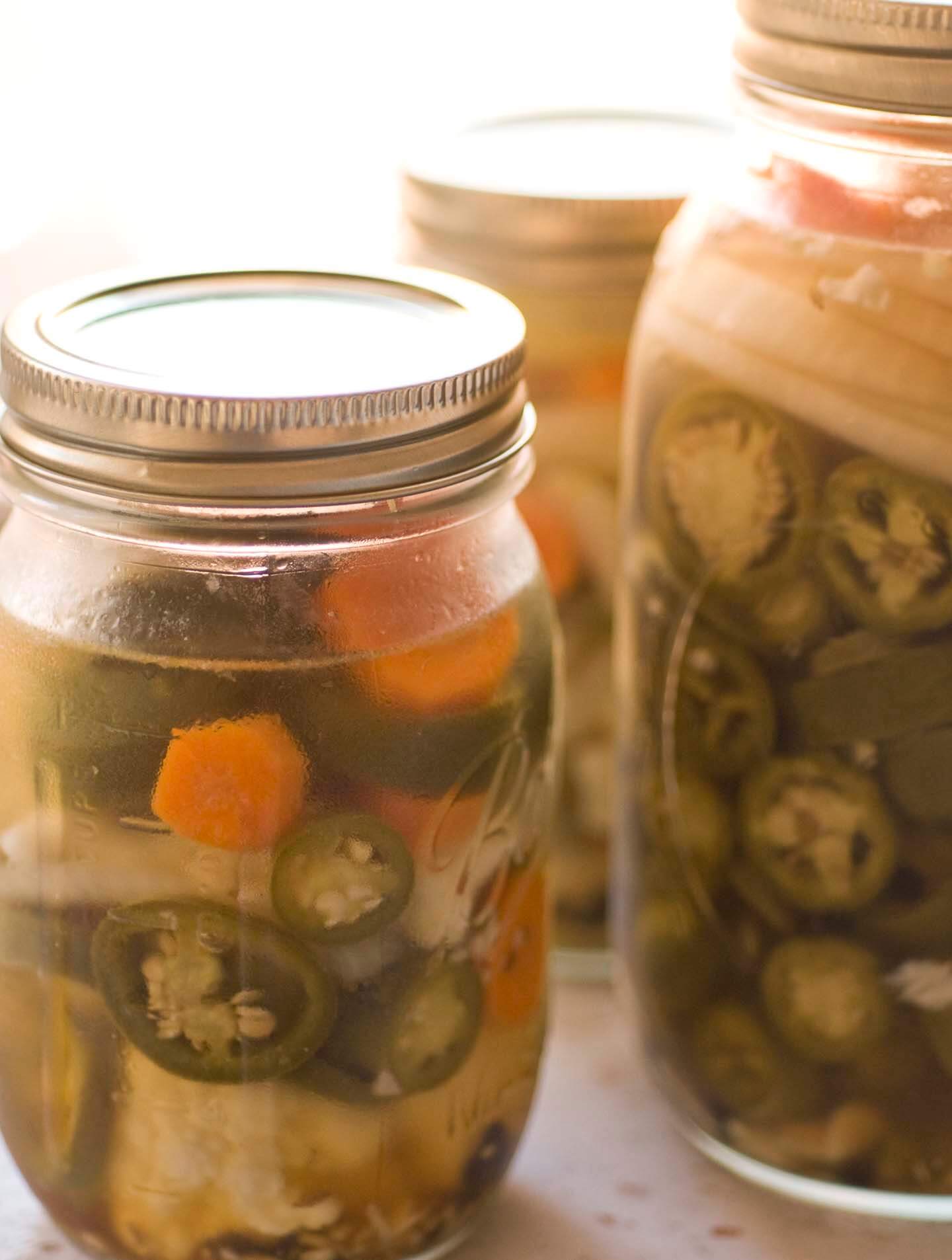 I made my first batch of pickles last summer and for these pickled jalapenos I pretty much followed the same technique, except I briefly cooked my vegetables before placing them in the jars and adding the brine. They also didn't take a week to marinate—by the next day they were already tangy and juicy—ready to be added to nachos, placed on a cheeseburger or just nibbled on their own.
It's a shame you don't see hot pickled jalapeno relish in Tex-Mex restaurants more often, especially since its piquancy really wakes up your appetite. But thanks to the bounty of the season, I now have enough pints to last me—for at least a couple of weeks.
Pickled jalapenos (escabeche)
Ingredients
1

pound

jalapeños, cut into rings

1

small head cauliflower, cut into florets

3

carrots, peeled and cut into rings

1

small onion, cut into rings or slivers

6

cloves

garlic, minced

1

tablespoon

canola oil

6

teaspoons

kosher salt

6

teaspoons

peppercorns

6

teaspoons

cumin seeds

6

sprigs cilantro

2 1/2

cups

white vinegar

Water

Six sterilized pint jars
Instructions
In a skillet, cook the peppers, carrots, cauliflower, and onion in the oil on medium heat for 5-7 minutes or until onion is clear and vegetables are softened.

In each jar, place the equivalent of 1 teaspoon minced clove, 1 sprig of cilantro, 1 teaspoon kosher salt, 1 teaspoon peppercorns, and 1 teaspoon cumin seeds.

Divide pepper mix between the jars. Add 1/2 cup of vinegar to each jar and then fill the rest of the jar with water, leaving 1/2 inch at the top. Add a dash of salt. Seal and then give jar a good shake.

Refrigerate overnight and they should be ready within 24 hours. Will keep in the refrigerator for a month.