Baked jalapeño pimento cheese dip
To mark the Super Bowl each year, I like to prepare dishes that reflect each team. This year's players are from Colorado and North Carolina, so I pondered making Denver omelets, ham biscuits, or pulled pork sandwiches for the game, but none of those really called out to me. Since it's also the fiftieth anniversary of the Super Bowl, for inspiration I looked towards the past.
First, I called my grandma and asked her if she remembered the first Super Bowl. "If the Cowboys weren't playing then I probably didn't watch it," she said with a laugh. So I studied Texas newspapers and cookbooks from the late 1960s to see what was considered appropriate party food at that time.
Chile con queso was already a popular snack, as were nachos. A variety of dips were also present at most gatherings—with onion, cottage cheese, bacon almond, shrimp, and clam dips getting the most attention. I also read about unique concoctions such as chicken liver and onion dip and bologna ka-bobs, but for some reason those are no longer in style.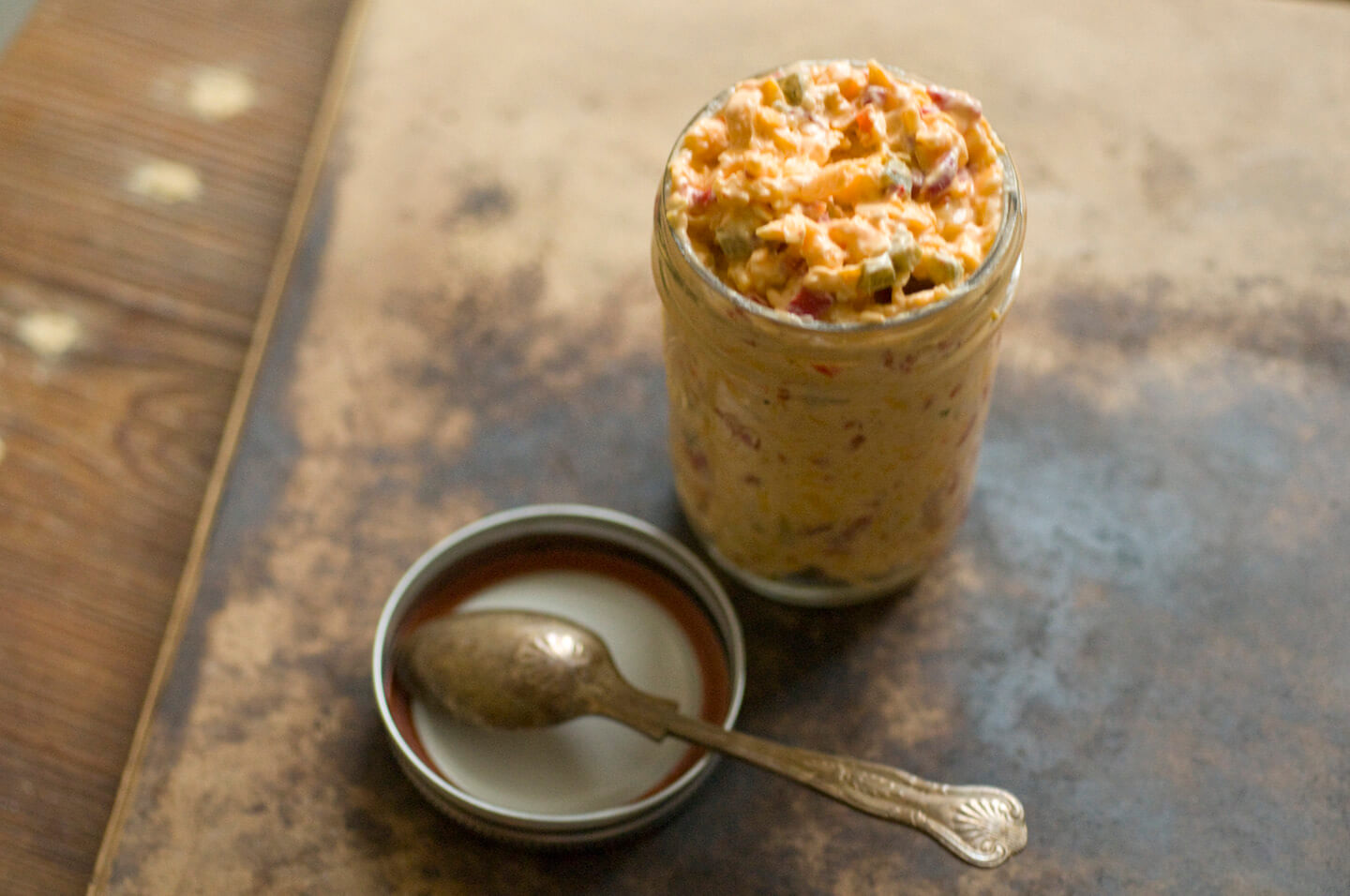 One dish, however, kept appearing in my research—pimento cheese. Back in the day, pimento cheese not only made frequent appearances on restaurant menus but was also served at home, too. This year's game has been called the Southern bowl, and since pimento cheese has been called the pate of the South, I decided it would be a wonderful thing to share.
Pimento cheese, which is a creamy mix of cheddar, piquant peppers, and mayonnaise, has long been a favorite of mine. In both my books and on this site, I have several recipes for pimento cheese, but I wanted to do something different.
Then I discovered baked pimento cheese, which is exactly what it sounds like—you take pimento cheese and let it hang out in the oven until it's molten and hot. To me it sounded like a pimento cheese skillet queso—something any Texan can rally behind. My decision was made.
To ensure my baked pimento cheese would cook evenly and not turn into a puddle of grease, I took a lead from my New Year's Day queso compuesto and went with cream cheese as the binding ingredient instead of mayonnaise. For the pimentos, I used the jarred variety, as their unique quality is particular to the dish.
To steer the pimento cheese even more to the Tex-Mex side, I swapped in Colby-Jack cheese for the usual cheddar. For heat and tang, I threw in some pickled jalapeños and jalapeño pickle juice. And even though the cream cheese did an excellent job of holding everything together, I folded in a couple of spoonfuls of mayonnaise, as it is traditional, after all.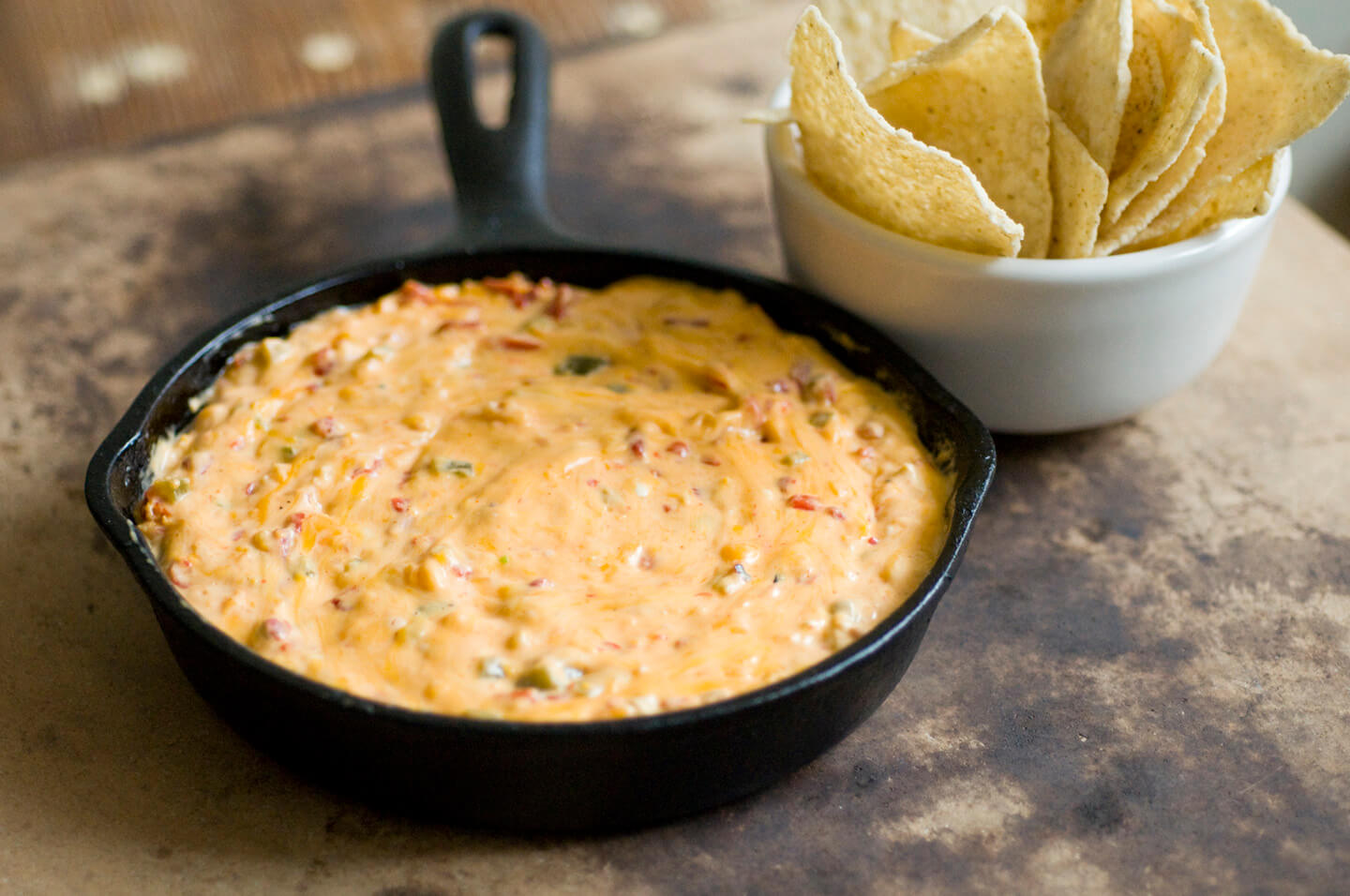 The pimento cheese tasted fine as it was and could easily be served cold. But I had my heart set on something warm and yielding, so I scooped it into a skillet and slipped it into the oven. After a few minutes, it emerged from the heat victorious. It was creamy, spicy, and a perfect match for tortilla chips. Indeed, chile con queso's Southern cousin had arrived!
Baked jalapeño pimento cheese dip
Ingredients
4

ounces

cream cheese, room temperature

8

ounces

2 cups Colby-Jack cheese, shredded

2

tablespoons

mayonnaise

4

ounces

jarred pimento chiles, drained and diced

2

ounces

(2 whole chiles) or 1/4 cup sliced pickled jalapeños, diced

1

tablespoon

jalapeño pickle juice

1

teaspoon

finely grated yellow onion

1/4

teaspoon

cayenne

Salt

Tortilla chips, for serving
Instructions
Preheat the oven to 350°F.

Stir together the cream cheese, Colby-Jack cheese, mayonnaise, pimento chiles, pickled jalapeños, jalapeño pickle juice, onion, and cayenne until well blended. Taste and add salt, if needed.

Spoon the pimento cheese into an 8-inch cast-iron skillet or 1-quart baking dish, and bake uncovered until soft and warm, about 15 minutes. Serve immediately with tortilla chips.