New Year's Day queso compuesto
A year or so ago, I was visiting Texas in August and stopped by my grandma's farm to say howdy. She asked if I was hungry, as she'd just cooked up a pot of black-eyed peas. How could I refuse? We sat down at the table and ate big bowls of the freshly picked peas along with Swiss chard cooked with bacon and warm cornbread slathered in butter. It was a fine late-summer feast using up the bounty of her garden.
Now, this time of year people start thinking more about black-eyed peas, greens and pork as they're required eating for good fortune in the New Year. A meal such as the one I shared with my grandma would not be out of place on New Year's Day. But these foods for us are an essential part of life and we eat them all year long, not just on January 1.
This isn't to say, however, that I won't be having black-eyed peas, greens, and pork on Sunday. But I like to take a little license with these ingredients and take them on a journey to a new place.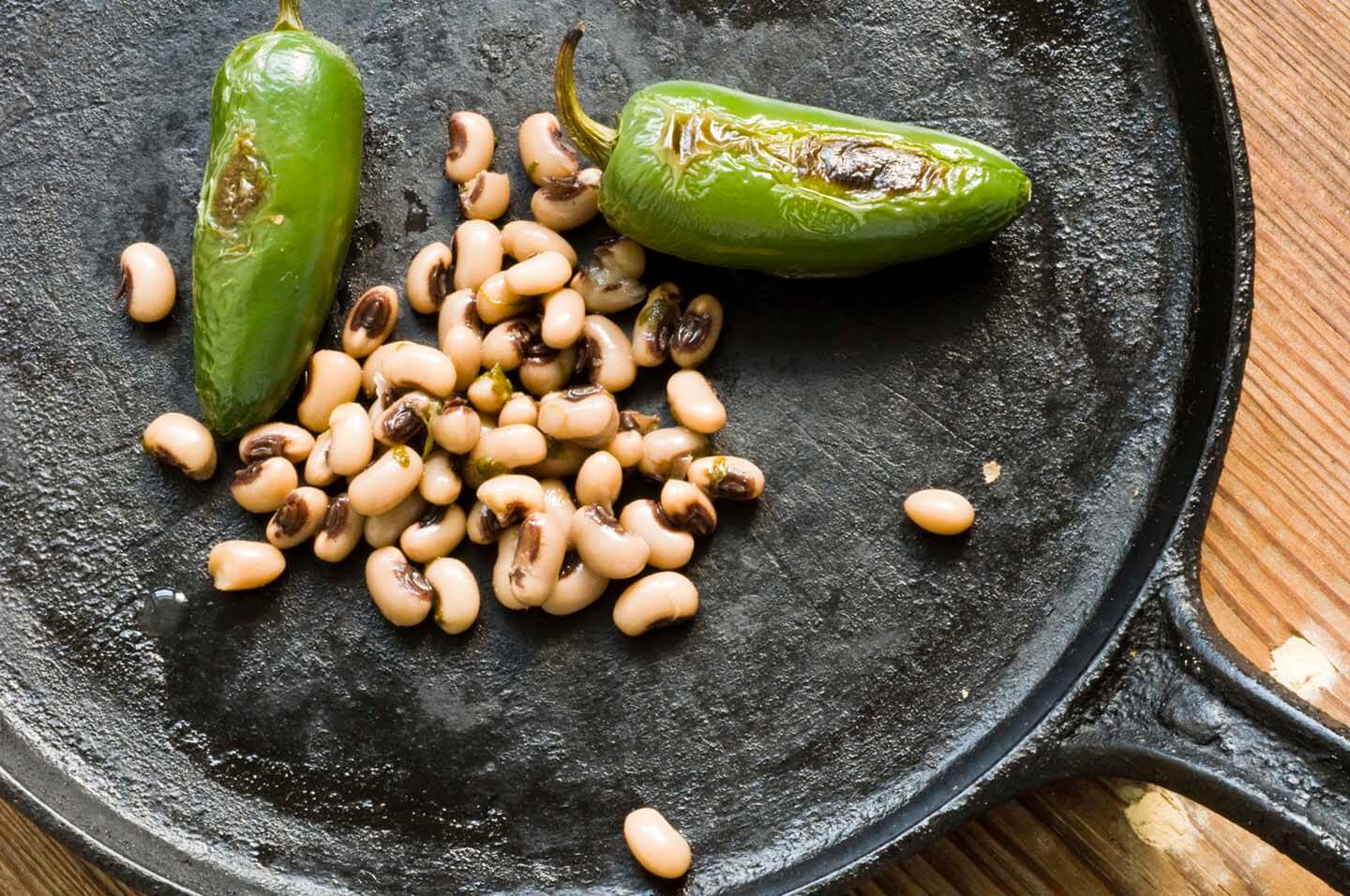 And that's how I arrived at my New Year's Day queso compuesto.
The last time I was dipping into a queso compuesto, I asked myself, "What would this taste like with Mexican chorizo, black-eyed peas, and collard greens?" Was it kind of crazy or kind of good? I decided to find out.
For those of you wondering what the heck is queso compuesto, let me explain. Queso the dish is melted cheese mixed with chiles—hence it's official name, chile con queso. (The word "queso in Spanish means cheese.)
In Texas, this melted cheese is usually of the yellow processed variety, though sometimes we make queso with non-processed cheese instead. Queso compuesto then takes this bowl of queso and makes it better by adding stuff such as taco meat, refried beans, guacamole, and pico de gallo. It's one outrageous dip.
Now, melted cheese goes with just about anything savory. And earthy black-eyed peas, smoky collard greens and spicy Mexican chorizo are good friends, too. But for some reason I worried that combining these three with melted cheese would be a bit much. I shouldn't have—this dip lasted about a minute and even people who think they don't like black-eyed peas couldn't get enough.
Of course, if you're not a fan of black-eyed peas, chorizo or collards, you can make endless substitutions—though I have to say that it is fun combining Southern comfort with Tex-Mex, plus I guarantee that your guests will be very impressed with this twist on a classic.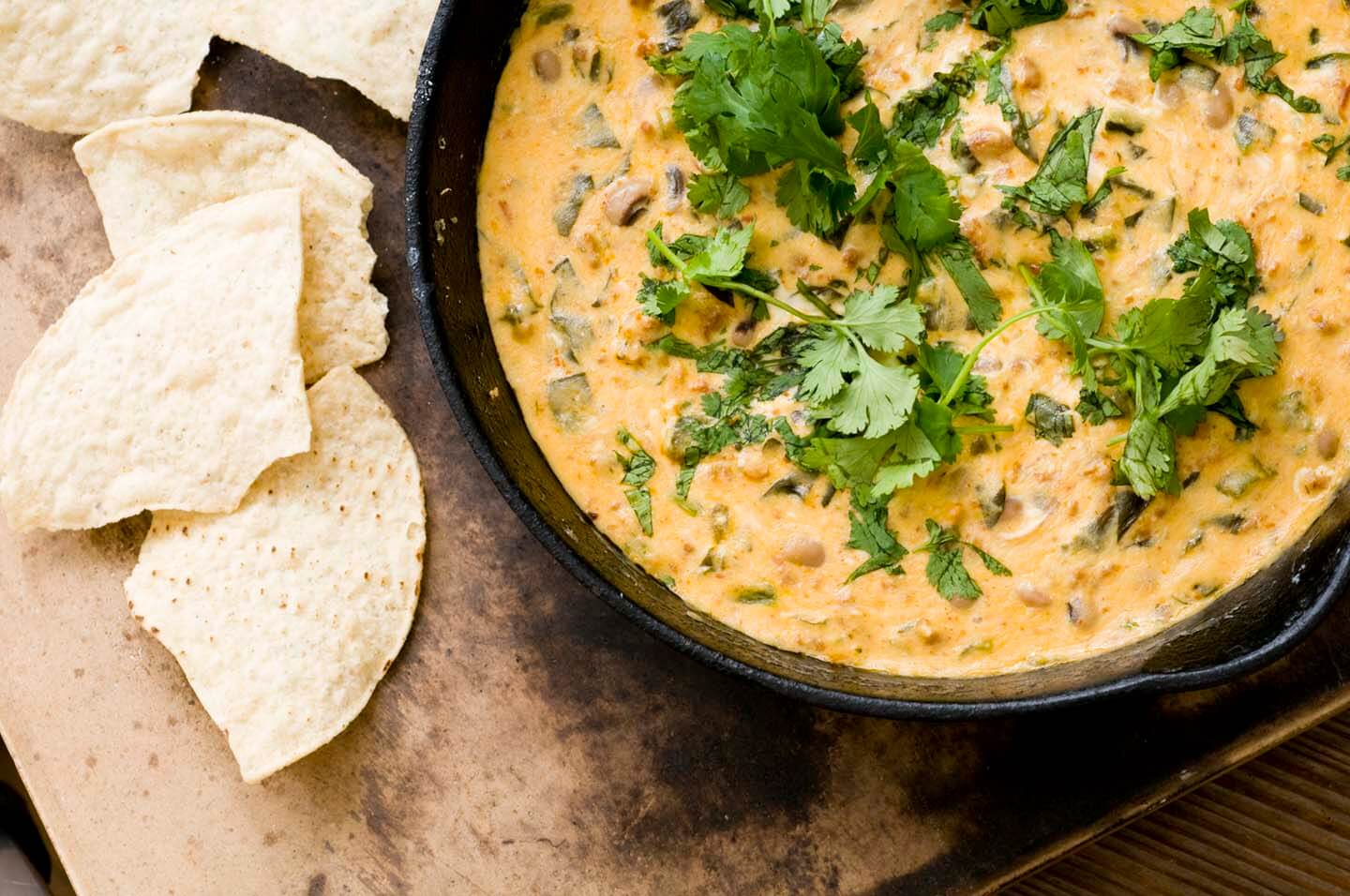 This queso compuesto might just be my new favorite way to begin a new year, especially if you're gathering with friends and family and want something to keep them occupied while you work on the main meal. And sure, it may be a little decadent and go against those resolutions, but don't worry—salads and soups will still be around on January 2.
Happy New Year! May it be filled with lots of love and joy.
New Year's Day queso compuesto
Ingredients
6

jalapeños

1

tablespoon

vegetable oil

1/2

pound

Mexican chorizo, removed from any casing

1/4

medium onion, diced

2

cups

cooked collard greens, drained and finely chopped

2

cups

cooked black-eyed peas drained or 1 (15-ounce) can of black-eyed peas, drained

8

ounces

cream cheese, cubed

4

cups

(1 pound) shredded Muenster

1/2

cup

half-and-half

1

teaspoon

lime juice

1/2

cup

chopped cilantro

Salt, to taste

Tortilla chips, for serving
Instructions
First, to roast the jalapeños, place under the broiler for 10 minutes until blackened, turning once. Leaving on the darkened skin, dice the chiles.

Preheat the oven to 375° F. In a large oven-proof skillet, such as a cast iron skillet, heat the oil on medium low and add the Mexican chorizo and onion. While stirring occasionally to break up any large chunks of chorizo, cook until the chorizo and onions are cooked through, about 5-8 minutes. Remove the skillet from the heat and if you like, drain off any excess grease.

Stir into the skillet the diced jalapeños, black-eyed peas, and collard greens. Evenly distribute on top the cubed cream cheese and shredded Muenster then pour in the half-and-half. Bake uncovered until the cheese is bubbling, about 15-20 minutes. Remove from the oven and gently stir to combine everything. If you'd like a little tang, you can squeeze in some lime juice. Garnish with chopped cilantro and add salt to taste. Serve warm tortilla chips.

To keep the dip warm, you can place on a chafing dish, in a slow cooker or in a fondue pot.