The first time I recall having brisket, it wasn't the smoked hunk of beef that many people associate with Texas. No, instead it was an oven brisket prepared by my grandmother. While normally our pot roasts were made with chuck along with lots of potatoes and carrots, this roast of brisket had been slowly cooked in a tomato-based sauce. It was tender, juicy, and delicious.
Recently, a friend in New York was lamenting that their briskets never tasted anything like the briskets they ate at home. I asked what was the problem and he said that he didn't have a yard and therefore he didn't have a smoker, and without those two things his brisket wasn't as he wanted it to be.
Being in the same situation I know how he feels, yet there are plenty of oven briskets being made in Texas, too, so it's never been that much of an issue for me. As long as you can reconcile that the two slabs of beef will not taste the same, then you can appreciate the unsung glories of a brisket not cooked outside on a smoker but instead slowly roasted in an oven.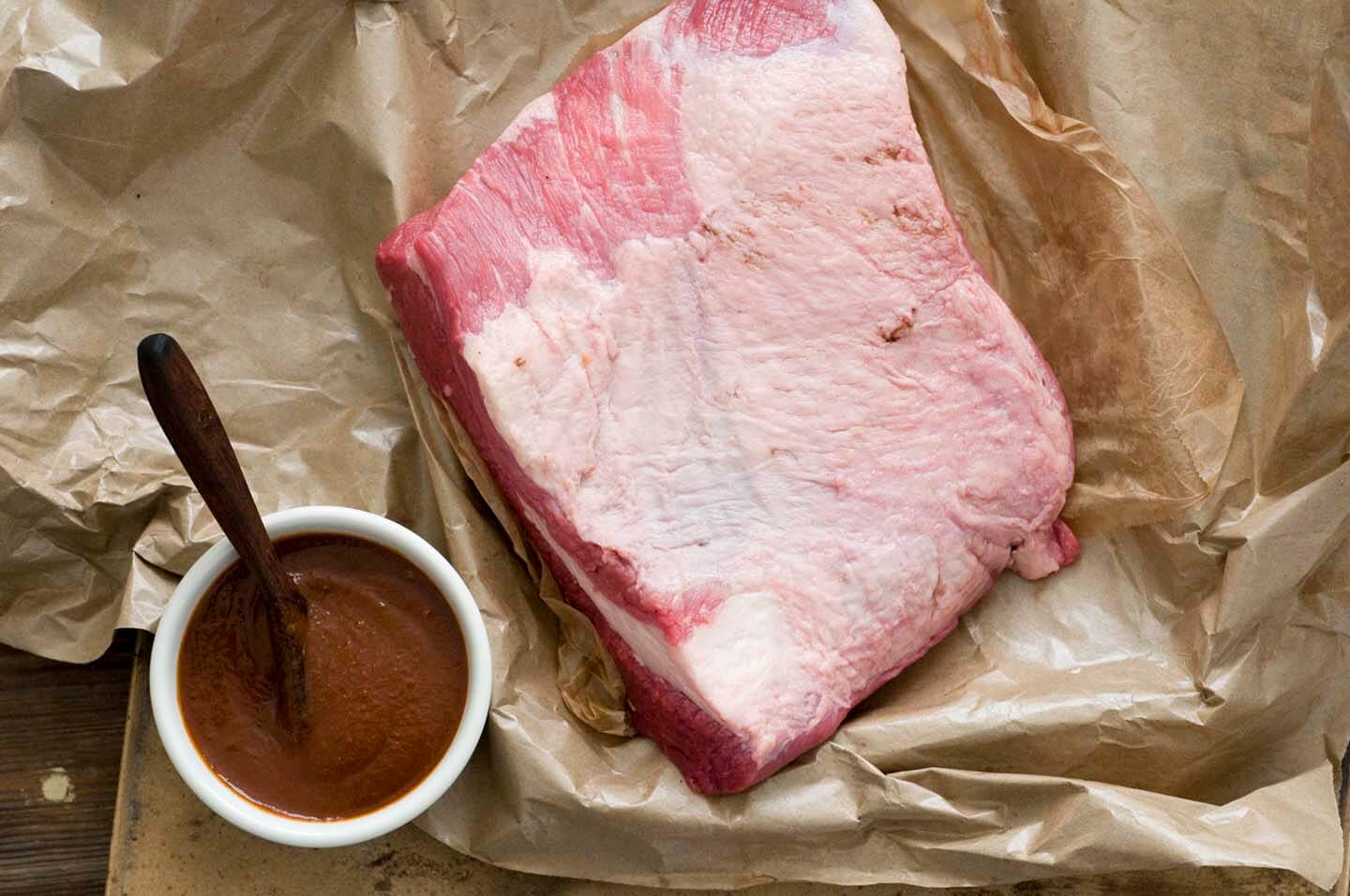 While I'm a fan of thick, juicy slices of brisket served with mashed potatoes, sometimes when I make a brisket in the oven, I'll shred the beef and then use it in tacos, enchiladas, or nachos. I have several different ways that I like to prepare brisket, though I recently slowly cooked my brisket in a smoky, sweet sauce made from Dr Pepper and chipotle chiles and it turned out superb.

There's a famous oven brisket recipe that's made from Coca-Cola, onion-soup mix, and chili sauce. My pulled brisket is a take on that, yet I've made my sauce with Dr Pepper instead of Coke, and used real onions, along with some garlic, molasses, ketchup, spices, and chipotle chiles for added heat.
While I was starting a bit more from scratch with this recipe, it's not difficult. First I made the Dr Pepper sauce, which is simply throwing a bunch of things into a blender. Then I placed the brisket in a roasting pan, covered it in the sauce, tightly covered the pan, and let it hang out in a low oven for a few hours.
After a couple of hours, an inviting aroma took over my entire home. It took tons of will power not to open the oven and take a peek, but I continued to busy myself with other things as the brisket slowly cooked and became tender in both its own juices and that Dr Pepper sauce.
When I finally pulled the brisket out of the oven, I let it rest while reducing the pan juices. Then I shredded the brisket with two forks, poured in the reduced pan juices and let the two mingle together to create a spicy, savory, and juicy plate of pulled beef. (That said, if I'd been more inclined to serve this Dr Pepper brisket in a more traditional sliced manner, I'd would have let it rest overnight in the refrigerator before slicing, and then served it with the pan juices on the side.)
If you make this, know that the mountain of pulled brisket will be staggeringly delicious. To serve it, I like to slip mine into fresh tortillas and top with onions, jalapeños, and cilantro for a smoky, sweet Tex-Mex take on the classic chopped beef sandwich. Though you can also use the pulled beef in enchiladas, on nachos, on buttery Texas toast, in queso, in enchiladas, or on a bun. It's an easy-going protein that is happy just about anywhere you introduce it.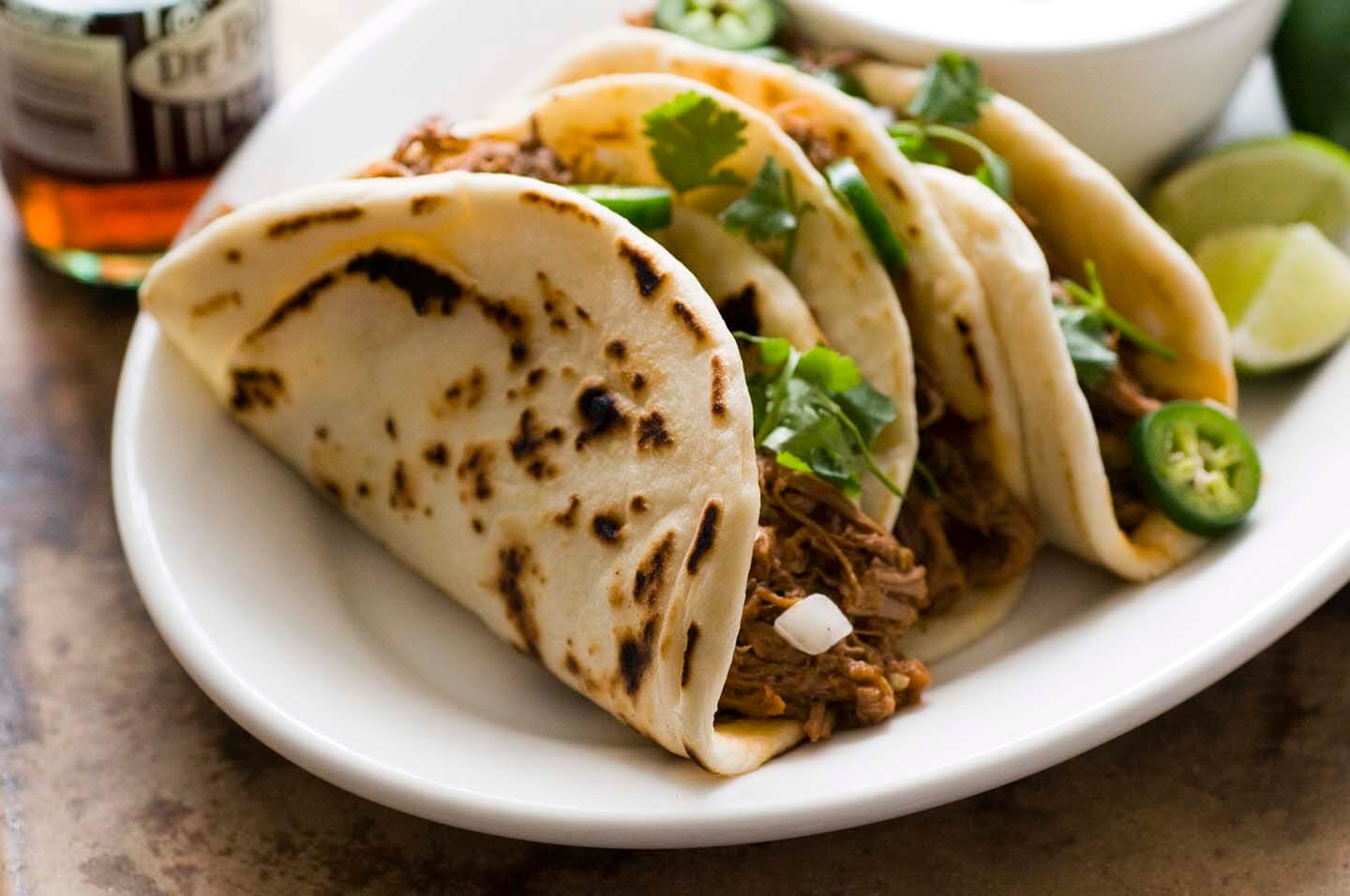 Like most meat-eating Texans, I am a huge fan of smoked brisket. There are plenty of reasons why this glorious piece has received so much praise. But at the same time, I am not opposed to eating brisket cooked in the oven. For most people, it's a lot more accessible, and yes, while it doesn't taste the same what comes off the smoker, it's still a royally delicious way to cook beef.
Dr Pepper pulled brisket
Ingredients
1

4 pound brisket, first cut

1

tablespoon

kosher salt

1

tablespoon

black pepper

1/2

small onion, chopped

4

cloves

garlic, chopped

2

chipotle chiles in adobo sauce

1/2

cup

Dr Pepper, not diet, preferably made with cane sugar

1

cup

ketchup

2

tablespoons

yellow mustard

1

tablespoon

molasses

1

teaspoon

Worcestershire

2

teaspoons

smoked paprika

Pinch

of ground cloves
Instructions
Sprinkle the brisket on both sides with salt and pepper, place in a roasting pan fat side up, and allow to come to room temperature.

To make the sauce, place in a blender or food processor the onion, garlic, chipotle chiles, 1/4 cup of the Dr Pepper, ketchup, mustard, molasses, Worcestershire, smoked paprika, and ground cloves. Puree until smooth, and add salt and pepper to taste.

Preheat the oven to 250°F. Lift up the brisket and pour half the sauce into the bottom of the pan. Place the brisket, fat side up, on top of the sauce, pour in the remaining 1/4 cup of Dr Pepper, then pour the rest of the sauce over the brisket.

Cover the pan tightly with foil. Place the pan in the oven and cook 5 hours or one hour and fifteen minutes per pound. At this point, you'll want to test it to see if it's fork tender. To do this, remove the pan from the oven and carefully pull back the foil as a lot of steam will escape. If you can easily stick a fork into then it's done. If not, continue to cook it covered until it is fork tender, checking it every 20 minutes.

Once done, remove the pan from the oven, peel back the foil, and gently lift the brisket out of the pan into a large mixing bowl or baking dish, so when you shred it you won't lose any juices. Allow the brisket to rest for 30 minutes.

Meanwhile, pour the pan juices from the roasting pan into a pot, turn the heat up to high and reduce in half, about 20 to 30 minutes. (If you have a splatter guard, I recommend using it. Also, I don't strain the fat, but feel free to do this if you prefer.)

Once the pan juices have reduced and the brisket has rested, shred the brisket in the large bowl with two forks. Pour the sauce over the brisket and toss well to combine. Add salt and pepper to taste. I also usually add another teaspoon or so of smoked paprika for an additional smoky burst.

Serve the pulled brisket with warm tortillas and salsa for tacos. You can also put it on buns, use it for nachos, or throw some into a bowl of queso.