This summer, after an afternoon of shopping at North Park in Dallas, a friend and I got into her car and realized we were hungry. As we pondered our nearby dining options, my friend suggested Mia's. I agreed that was a fine choice and a decision was made.
For those unfamiliar with Mia's, it's a beloved Tex-Mex restaurant and a Dallas institution. It's in a small, rambling structure on Lemmon that is comprised of several small rooms adorned with bright oil-cloth clad tables that quickly fill up with hungry and happy diners, eager to enjoy the kitchen's simple yet well-made array of Tex-Mex classics.
While the menu has all the usual suspects such as nachos, tamales, and queso, the restaurant is most famous for its brisket tacos. The tacos, which are made with slowly braised shredded brisket that's packed into warm tortillas, either corn or flour, with melted Monterey Jack, onions, and poblano chile strips, are perfection and that's what my friend and I ordered that night.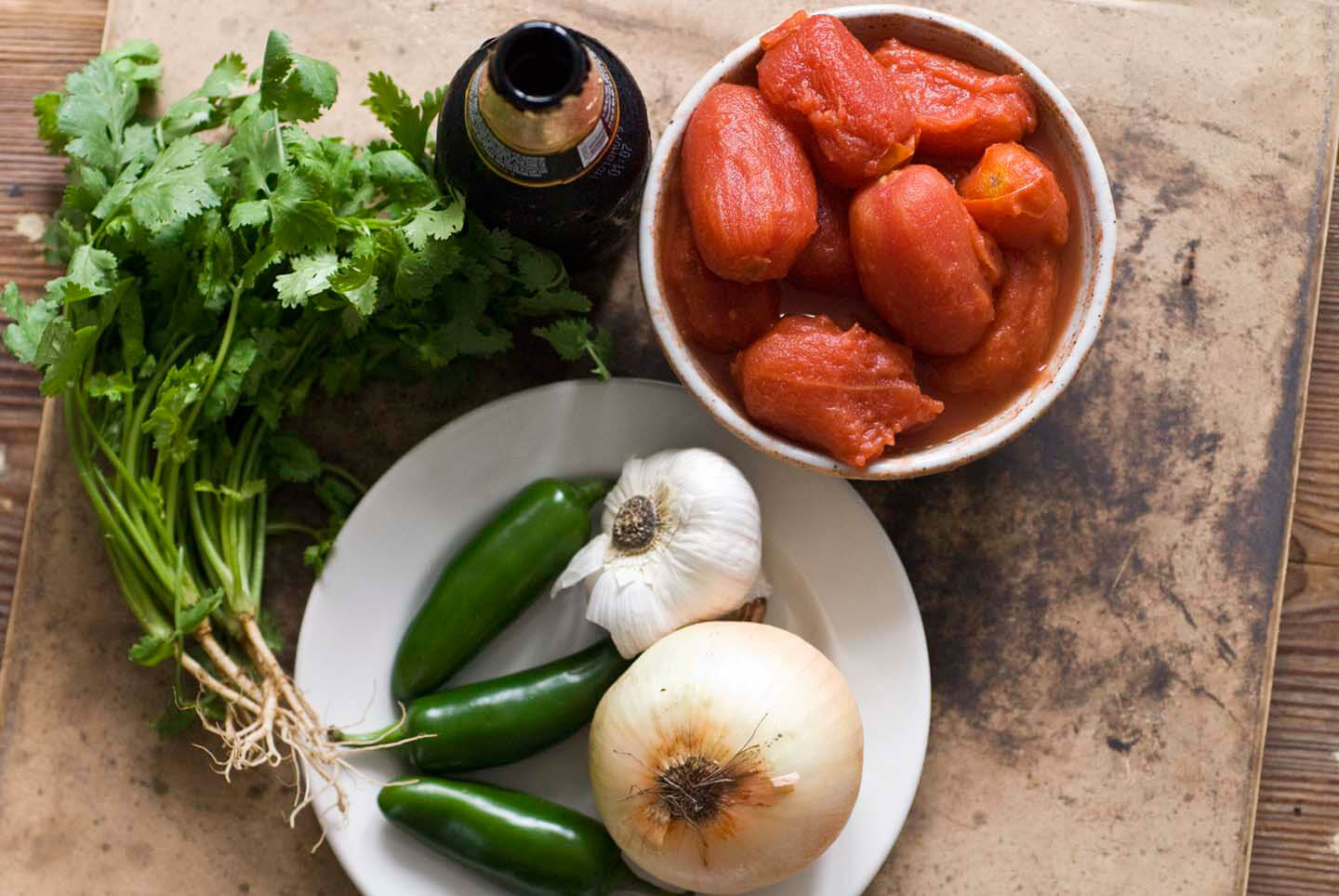 That said, Mia's and other Dallas-area Tex-Mex restaurants also use their tender, juicy brisket in another dish—brisket enchiladas. The first time I had these enchiladas, it wasn't at Mia's but instead at Manny's Uptown, which is something of a spin-off from Mia's, as owner Manny Rio is the brother to Mia's owner, Anna "Mamma Mia" Enriquez. As such, there are some similarities in the menus.
Manny's brisket enchiladas are stuffed with succulent braised brisket and smothered in a tomato-based salsa and a blanket of melted cheese. While classic Texas enchiladas are traditionally prepared with a dried-chile gravy, the fresh and flavorful tomato salsa used with the brisket enchiladas makes for a good foil to the rich meat and cheese since it's both tangy and light.
When I returned to New York and was thinking about my Dallas Tex-Mex experience, I regretted not ordering the brisket enchiladas so decided to recreate some at home. Brisket is abundant in the early fall, so I grabbed a roast and then made a salsa with tomatoes, jalapeños, onions, garlic, and cilantro. I kept most of the salsa for the enchiladas but poured some over my meat along with a cup of beer, then slowly cooked the brisket until it was tender to the touch.
For the enchiladas, I shredded the meat and stuffed it into corn tortillas along with some diced onion. I bathed them in the salsa, covered them with cheese, and baked them until fragrant, molten, and bubbling. A handful of diced onions and tangy pickled jalapeños on top completed the hearty dish. While I made the filling from scratch, you could easily use leftover brisket for the enchiladas, too. If a chuck roast is more economical, that could be substituted as well.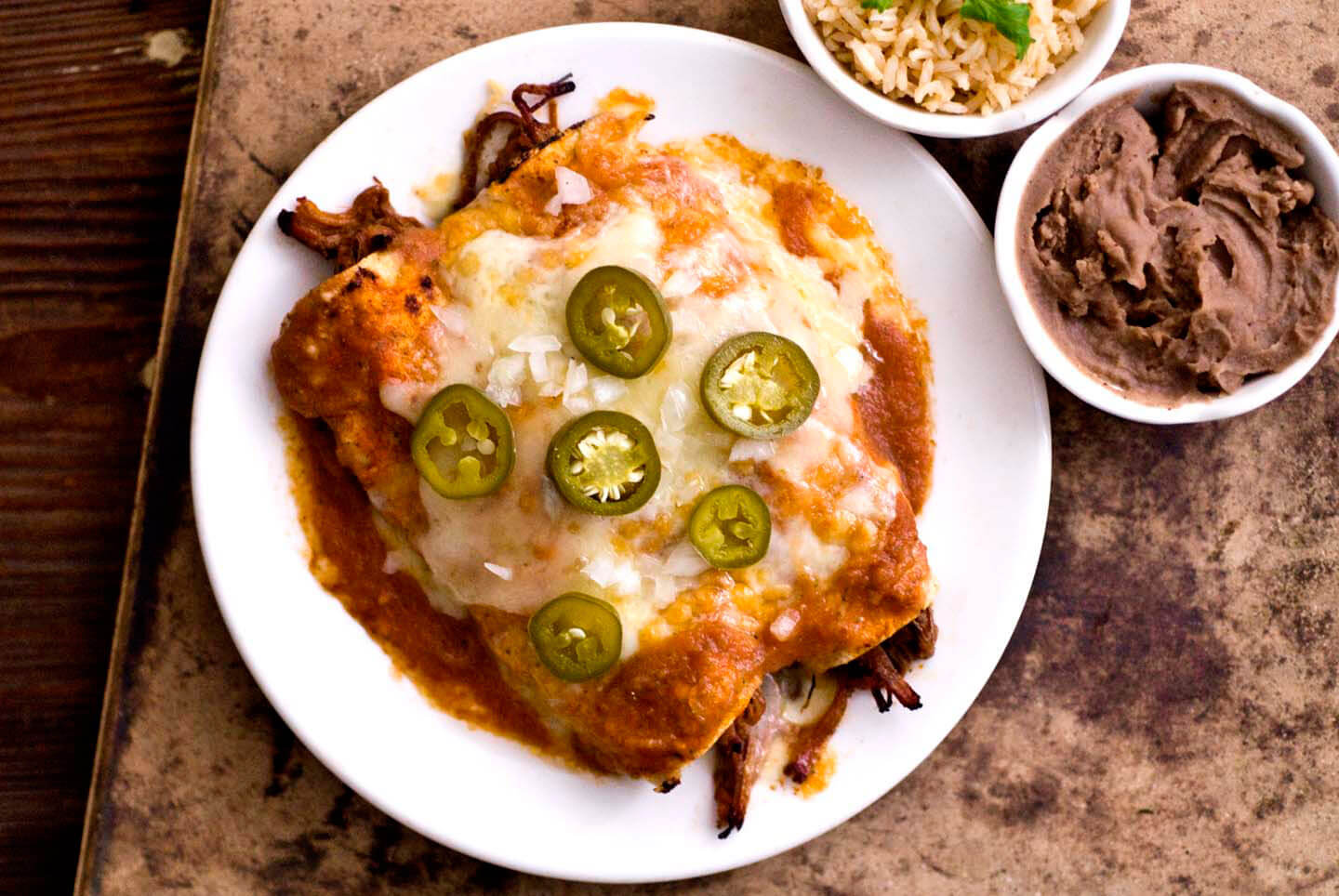 The results were comforting and good and a fine way to celebrate brisket. While I was no longer in Dallas, my plate of enchiladas was a fine reminder of home.
Brisket enchiladas
Ingredients
For the salsa and brisket:
4

jalapeños, seeded and cut in half

6

cloves

garlic, peeled

½

medium yellow onion, cut in half

1

(28-ounce )

can whole tomatoes

½

cup

cilantro

1

tablespoon

ground cumin

Kosher salt

Black pepper

1

2-pound

brisket, from the flat

1

cup

dark Mexican lager
For the enchiladas:
1

tablespoon

vegetable oil

12

corn tortillas

8

ounces

(2 cups) Monterey Jack, shredded

½

medium yellow onion, diced

Sliced pickled jalapeños, for serving
Instructions
Preheat the oven to 250°F.

In a saucepan, place the jalapeños, garlic, and onion. Cover with water, bring to a boil, then simmer for 7-10 minutes or until the pot contents are softened. Turn off the heat and with a slotted spoon, remove the pot contents and place in a blender along with 1/4 cup of the cooking water.

To make the salsa, place the tomatoes in the blender with the cilantro and cumin. Puree until smooth and add salt and black pepper to taste. You should have 4 cups. If more, that's fine, but if less, add more of the cooking water until you have 4 cups.

Pour ½ cup of the salsa into the bottom of a baking dish. Lightly salt and pepper the brisket on both sides, and place fat-side up in the baking dish. Pour another ½ cup of the salsa on top of the brisket then pour over the brisket the beer. Cover the dish with foil and bake for 5 hours or until fork tender.

Once the brisket is cool enough to handle, shred with two forks and toss the meat with ¼ cup of the cooking liquid.

To make the enchiladas, preheat the oven to 350°F and pour ½ cup of the salsa into the bottoms of a large baking dish. In a skillet, heat up the oil on medium-low heat. One at a time, heat up the tortillas in the hot oil until soft and pliant and then keep them wrapped in a cloth or tortilla warmer until all the tortillas are heated.

Lay a tortilla on a plate or clean cooking surface and add about 1/4 cup of beef and about a tablespoon of the diced onions. Roll the tortilla and place in the greased baking dish. Repeat with remaining tortillas. Evenly pour the sauce over the enchiladas and top with the grated cheese. Bake for 15 minutes or until cheese is lightly browned and bubbling. Serve topped with pickled jalapeños and remaining diced onions.
Notes
If you want to make this with leftover brisket, you will need about 3 cups of shredded or chopped meat. A chuck roast can be substituted for the brisket, though you'll want to reduce the cooking time in half.