Chile relleno casserole, El Paso style
When I first read the recipe for chile relleno casserole I found in my family's stash of cards, I was struck by the instruction to use a one-inch layer of cheese on top of chiles already bathed in eggs and milk. How much is that, I wondered? When I posed the question to others, I soon learned that it was about eight cups of cheese, which translates to two pounds. As much as I love creamy dishes, it all seemed a bit much. So my quest for a chile relleno casserole continued.
Now, for those unfamiliar with chile rellenos, they are peppers that have been stuffed with cheese, which are then battered and fried. Long green chiles or poblanos are the chiles most often used (though I did read about a Texas restaurant in the 1970s that made its with bell peppers, which is simply wrong), and other proteins such as meat, seafood, or refried beans can be added, too.
Chile rellenos are incredibly delicious but they require a ton of work, and during the week, messing with a batter and a hot skillet of oil may be more than one wishes to tackle. Yet, they're incredibly satisfying, which is why I was hoping to find a baked version that reduced some of the effort. While there is no shortage of green chile casseroles, each one I read had an emphasis on the dairy, like my family's. The thing I love about chile rellenos, however, is its celebration of the pepper with the batter and stuffing serving to enhance the chile, not mask it.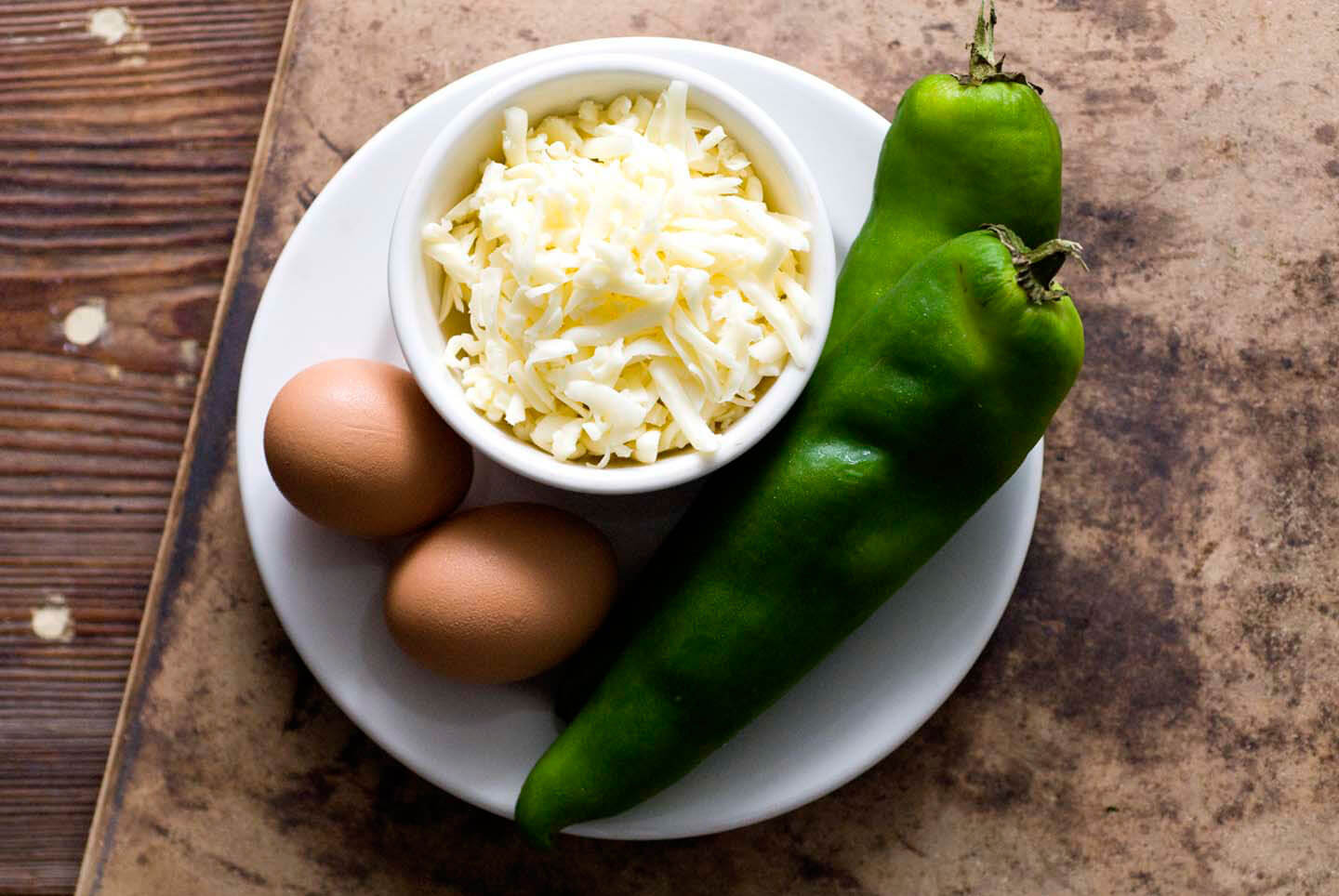 On a recent afternoon, however, I was flipping through the El Paso Junior League's fine cookbook Seasoned with Sun, and I spotted a baked chile recipe that read very close to the classic rendition of the dish. For instance, the traditional battering of the chiles is with eggs that have been separated, beaten, then folded into each other. Likewise, chile rellenos are often served with a simple tomato salsa. This El Paso casserole included both of these hallmarks. Cheese was also present, of course, but not in excess. The recipe sounded promising, so I took it for a spin.
The ingredients were few and after roasting the chiles (though I believe canned whole chiles would work well, too), it had you cook canned tomatoes with aromatics and spices, layer the chiles with cheese and the salsa, then make the egg batter and spoon it evenly on top. After a time in the oven, the dish comes out browned and bubbling. You then slice it and serve.
As I tucked into a hearty wedge of gooey cheese, tender chiles, bright salsa, and a light, puffed topping, I was struck by how much it resembled its more complicated fried namesake. The cheese and chiles were at the center of the dish, with the salsa and batter adding the right amount of contrast. It was excellent and considering how quickly it came together, I didn't miss frying the chiles at all.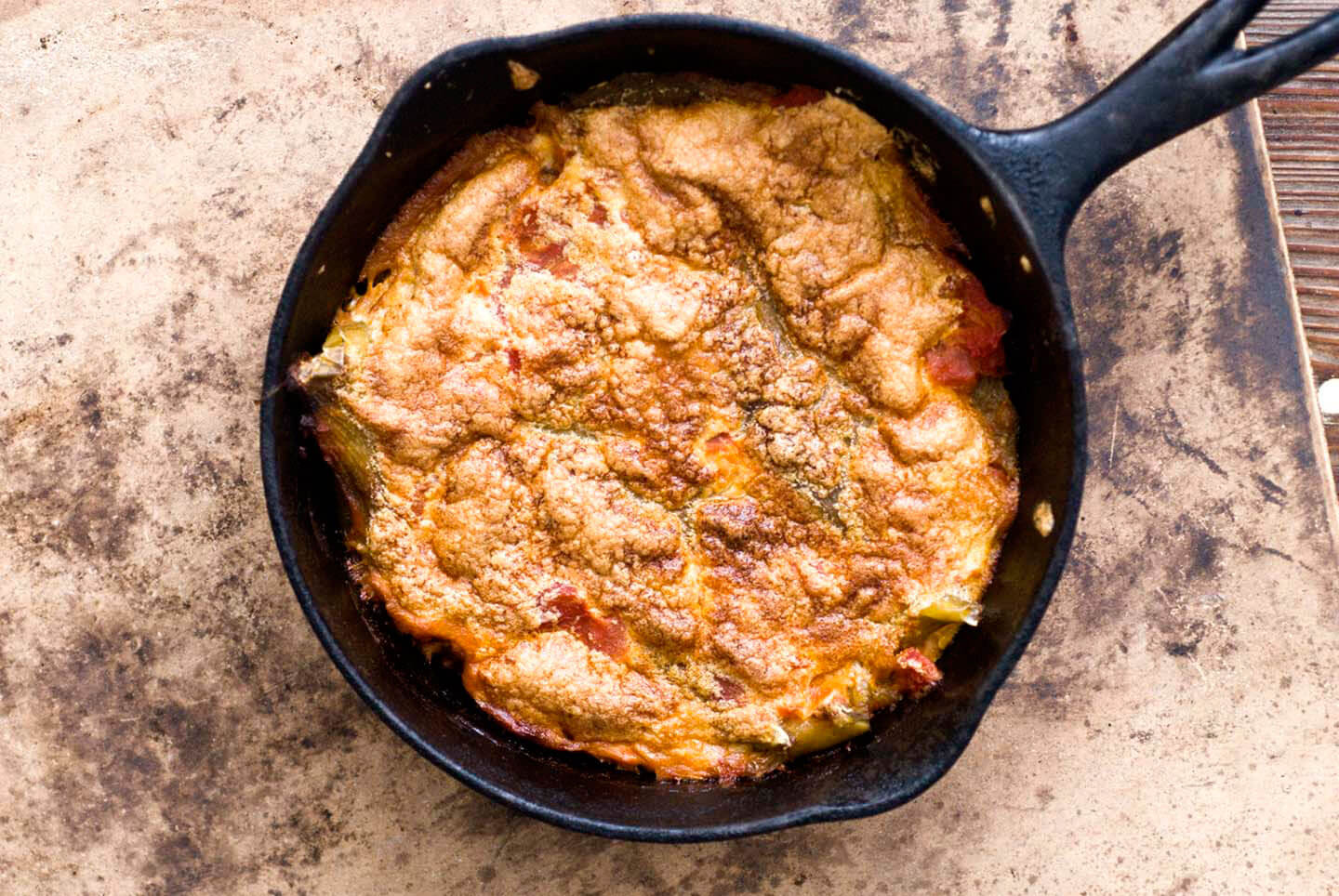 If you have the time, chile rellenos are a fun project, but on a busy night you want something delicious that requires little thought. This El Paso take on a chile relleno casserole is an excellent example of this type of meal, and will be a welcome addition to your dinner rotation.
—————
Would you like more Homesick Texan? Well, I've started offering additional recipes for paid subscribers to help with the costs of running the site. While I'm not taking anything away, if you'd like to support Homesick Texan and have access to exclusive, never-seen-before subscriber-only posts, please consider becoming a member; annual subscriptions are as low as $25. Thank you for reading, your consideration, and your support!
—————

Chile relleno casserole, El Paso style
Ingredients
10

long green chiles such as Hatch or Anaheim

2

tablespoons

unsalted butter

½

medium yellow onion, diced

2

cloves

garlic, minced

1

(14.5-ounce)

can stewed tomatoes, chopped

1

teaspoon

ground cumin

Salt

2

large eggs, separated

8

ounces

(2 cups) Monterey Jack, shredded
Instructions
First you'll need to roast the chiles. Place the chiles under the broiler until blackened, about 5 minutes per side. Place the chiles in a paper sack or plastic food-storage bag, close it tight and let the chiles steam for 20 minutes. Take the chiles out of the bag and gently rub off the skin. Remove the stem and seeds, then slice the chiles from top to bottom to open them up.

Preheat the oven to 350°F. Grease a large cast-iron skillet or a 2 ½ quart casserole dish with 1 tablespoon of the butter.

To make the salsa, heat the remaining tablespoon of butter in a pan on medium-low heat then add the onions. While stirring occasionally, cook until softened, about 5 minutes. Stir in the garlic and cook for 30 more seconds.

Pour into the pan the tomatoes, and add the cumin. While stirring, cook for 10 minutes, then taste and add salt. Turn off the heat.

To make the batter, whip the egg whites until so stiff that when you tip the bowl they do not move. Beat the yolks and lightly season with salt, then gently fold the whites into the yolks and gently stir until combined.

To assemble the casserole, pour half the salsa into the bottom of the pan. Place on top half the chiles, laying them flat, then evenly cover the chiles with the shredded cheese. Place on top the remaining chiles, laying them flat, then pour over the remaining salsa.

Gently spread the batter evenly over the casserole, then bake uncovered until brown and bubbling, 40-45 minutes. Serve warm.
Notes
To substitute with canned green chiles, use 2 4-ounce cans of whole green chiles, drained. You can also substitute with poblano chiles, if you prefer.