Firecracker fried chicken
For warm-weather gatherings, some like to grill burgers, while others smoke briskets. But for as long as I can remember, my mom's side of my family has made batches of fried chicken their summertime main dish of choice.
This tradition harkens back to their farming roots. While there were cattle at my grandma's homestead in Melissa, they were used mainly for dairy. For dinner, it was the chickens that were served instead.
Indeed, one of my favorite recipes is my great-grandma's method for fried chicken. When my grandma shared it with me, the first step was to go out into the yard and find a chicken. It doesn't get more basic than that!
And because her fried chicken was shared on the Fourth of July the year that my grandparents were married on July 5th, it has been associated with Independence Day ever since.
Now, my great-grandmother's recipe not only involved a fresh chicken but also used lard for the frying oil. A cold-water brine helped the meat stay juicy, and it was coated with flour that was simply spiced with pepper and salt. This is one traditional way to prepare fried chicken in Texas.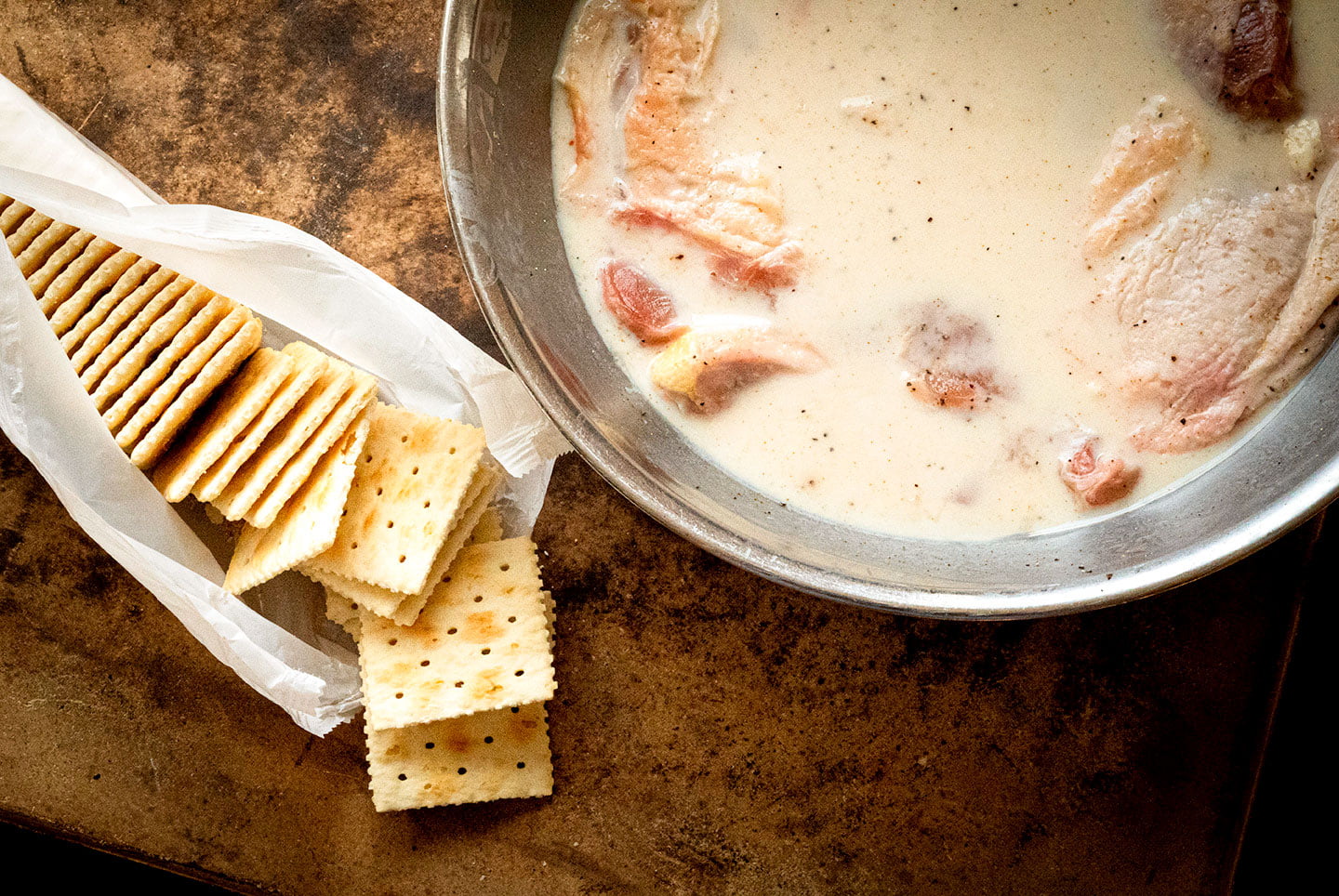 That said, I learned of others that bread their birds in crushed saltines. We've been known to do that, too, such as with these fried chicken livers. But even though I'm prone to experiment with my fried chicken, such as with this Vietnamese style or this Indian style, I hadn't used crackers yet and wanted to give them a try.
At first, after crushing the saltines I tried dredging the meat without any liquid adhesive, but the crackers didn't stick very well. Next I used an egg wash, which greatly improved matters of adhesion, but it still wasn't perfect. Something was lacking in taste.
As I was working through my method, the name "Firecracker fried chicken" popped into my mind. There's a spiced cracker recipe known as firecrackers, which takes saltines and seasons them with powdered ranch dressing, herbs, spices, and red pepper, much like seasoned oyster crackers.
Using that as my foundation, I brined my chicken in buttermilk seasoned with salt, pepper, and cayenne to not only make it more tender but also to give it some flavor. After it had rested, I coated it in flour and then dipped the pieces in an egg and buttermilk wash.
The final coating was finely crushed saltines, which I seasoned with garlic, dill, oregano, lemon pepper, and cayenne. The idea was that all the ingredients, from the brine to the cracker coating, would make this chicken reminiscent of firecrackers, thus living up to its name.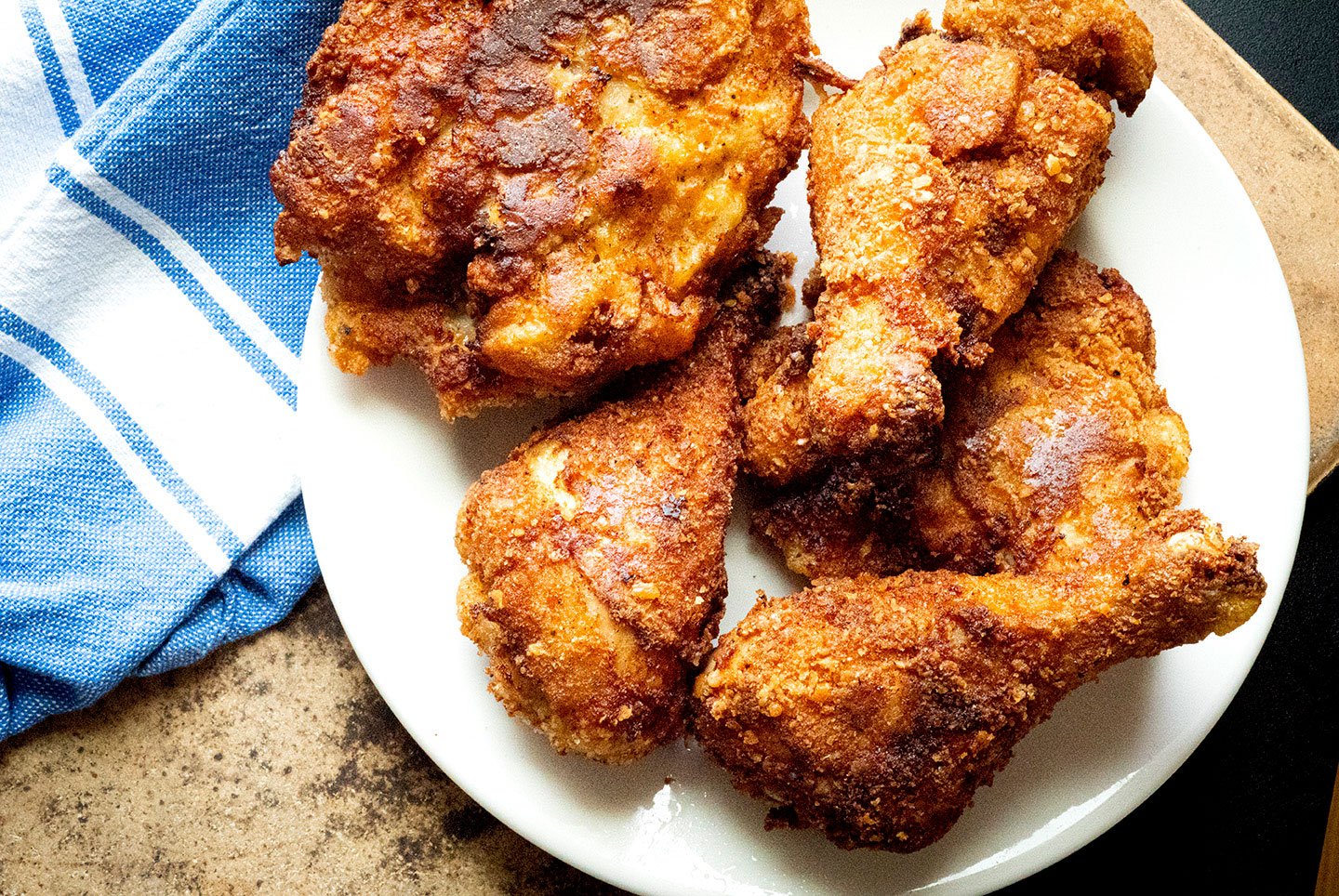 Indeed, the cracker crust not only adhered, but the generous shake of spices gave it a tangy kick. There was fire and there were crackers, and a new fried chicken tradition for Independence Day was now born.
—————
Would you like more Homesick Texan? Well, I've started offering additional recipes for paid subscribers to help with the costs of running the site. While I'm not taking anything away, if you'd like to support Homesick Texan and have access to exclusive, never-seen-before subscriber-only posts, please consider becoming a member; annual subscriptions are as low as $25. Thank you for reading, your consideration, and your support!
—————
Firecracker fried chicken
Ingredients
For the marinade:
2

cups

buttermilk

2

tablespoons

kosher salt

1

teaspoon

black pepper

1/2

teaspoon

cayenne

1

(3.5-pounds) chicken, cut into 8 pieces leaving the bones and skin (or the equivalent in parts)
For the breading:
2

sleeves saltine crackers (about 80 crackers)

1

teaspoon

garlic powder

1

teaspoon

dill weed

1

teaspoon

oregano

1

teaspoon

black pepper

1/2

teaspoon

cayenne

1

cup

all-purpose flour

2

large eggs

1

cup

buttermilk

Safflower oil, for frying
Instructions
To make the marinade, in a non-reactive large bowl, stir together the buttermilk, salt, pepper, and cayenne. Place the chicken in the bowl and toss to coat, working the marinade under the skin. Store covered in the refrigerator for 2-12 hours.

After the chicken has marinated, line 1 sheet pan with parchment paper and another with paper towels.

To make the breading, place the saltines, garlic powder, dill weed, oregano, black pepper, and cayenne in a blender or food processor, and blend until fine crumbs are formed. Pour the crumbled saltine mixture into a mixing bowl.

Place the flour on a plate. And in another large bowl, whisk together the eggs and the buttermilk.

To bread the chicken, take each piece from the marinade, shake off any excess, then dredge it evenly in the flour. Next, dip into the egg and buttermilk mixture, shaking off the excess. Finally, dip the chicken into the saltine mixture until well coated. Place each breaded piece of chicken onto the parchment-lined sheet, repeating the process until all the pieces are coated.

Allow the pieces to sit at room temperature for 1 hour. Discard the marinade.

To fry the chicken, in a large heavy skillet heat on medium 1 inch of oil to 300°F. Working in batches, place the chicken pieces in the oil, skin side down, cover the skillet, and cook for 6-7 minutes.

Remove the cover, gently turn over the chicken with tongs or a wooden spoon and continue to cook uncovered for 6-8 minutes or until both sides are golden brown.

For the most accuracy, stick an instant-read thermometer in the largest piece, and check that it's 150°F. If so, place the fried chicken on the paper towel-lined sheet to drain. If not, continue to cook for a couple more minutes. Repeat for the remaining pieces, using the same oil.

Serve the chicken warm.
Notes
It's best to use a thermometer when making fried chicken to ensure accuracy, but if you don't have one, you can test the oil temperature for readiness after 5 minutes of heating by sticking a wooden spoon into it. If the oil bubbles around the spoon, then it's ready. Keep a close watch on the oil to make sure it doesn't get too hot!