Jalapeño and beer brined pork chops
"Are you familiar with the pork chop theory?" asked food writer Virginia Willis. I admitted that I was not. "Let me explain," she said. And then she did.
Before I tell you about the pork chop theory, however, let me just say that that illuminating conversation was just one of many I had last week in Austin while attending the International Association of Culinary Professionals annual conference. This gathering, which draws large crowds (over 800 were in attendance this year), is not one that I would normally be attracted to as I prefer smaller events. But when I saw that the conference was going to be held in my home state I knew that I had to attend.
While I'm still processing all that I learned, one thing that gave me joy was seeing first-time visitors to Texas fall in love with our great state. Despite the triple-digit temperatures, the conference attendees took to the Austin streets on foot and on bikes—sampling barbecue, tacos and ice cream, among many other excellent dishes on offer. In between sessions, people would gather in groups and compare notes about where they'd eaten that day—insisting that if one hadn't been to a favorite place yet they must go soon. It made me smile to see people flush with discovery.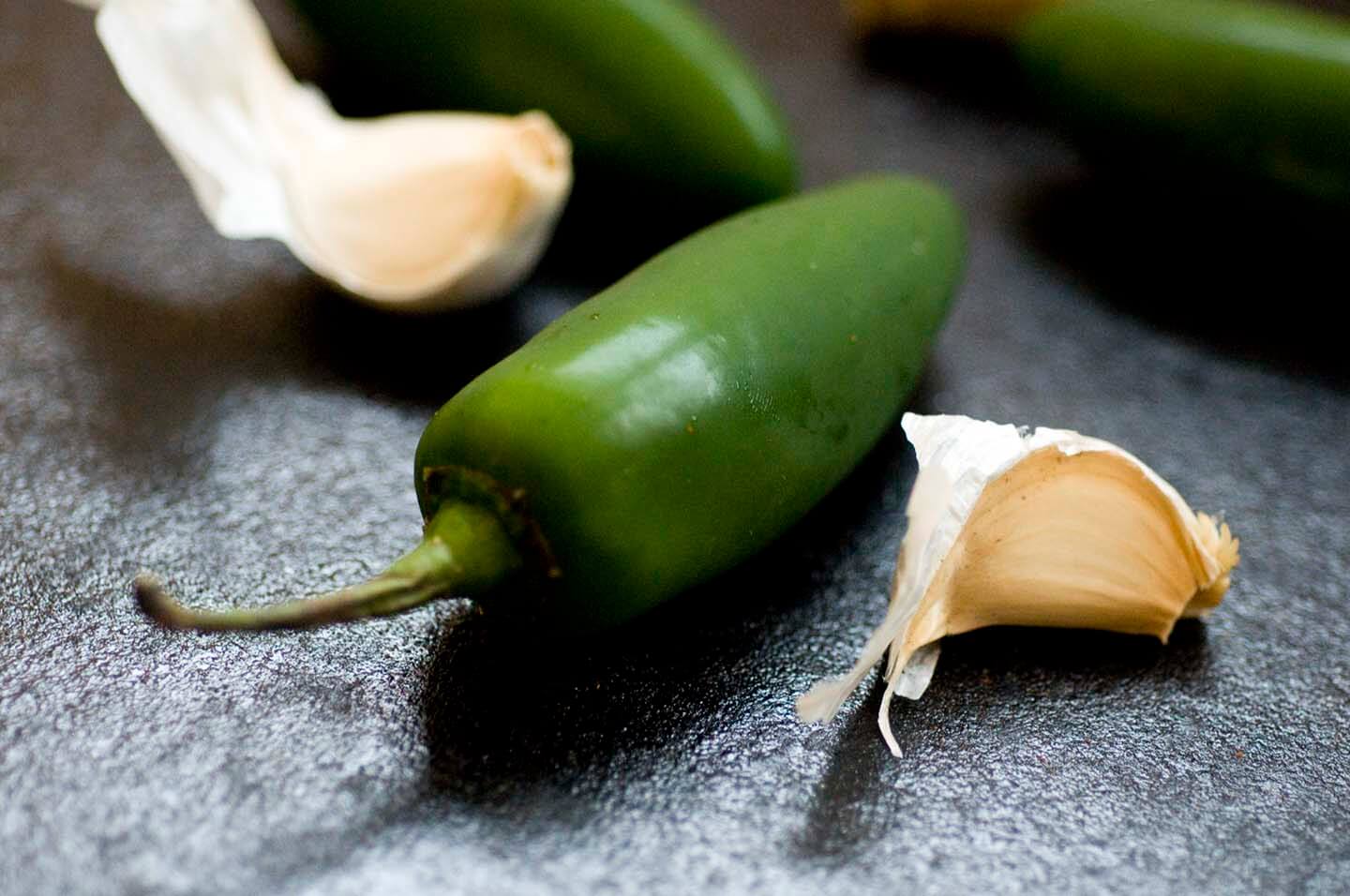 But besides the thrill of seeing people fall in love with my home state, the conference also gave me an opportunity to connect with far-flung friends that I usually communicate with only online. Sure, I've had many substantive conversations with friends over email, Twitter or Facebook, but there's something to be said about the power of meeting in person and sharing a hug and a meal.

One such meal was held at Lambert's, a downtown Austin restaurant that specializes in upscale Texan home cooking and barbecue. The temperature had dropped, so we sat on the patio enjoying a gentle breeze coming off of Lady Bird Lake. While spearing our forks into large plates filled with ranch style beans, collard greens, sausages, ribs, and, yes, pork chops, we talked about community, sharing and giving thanks—the foundations for healthy relationships with both friends and colleagues.
Which leads me back to Virginia Willis and the pork chop theory. Willis, a veteran author, was giving me tips about what to expect when my book is published, emphasizing how all authors can help each other. To illustrate her point, she quoted Nathalie Dupree who came up with the pork chop premise.
According to Dupree, if you cook one pork chop in a pan on high heat it will burn. But if you cook two pork chops in a pan, the chops will cook evenly as each chop's fat will feed the other. As Willis has written, "It's the ultimate in giving, sharing, and developing mutually beneficial partnerships and relationships. It's not about competition, it's about sharing the fat, sharing the love."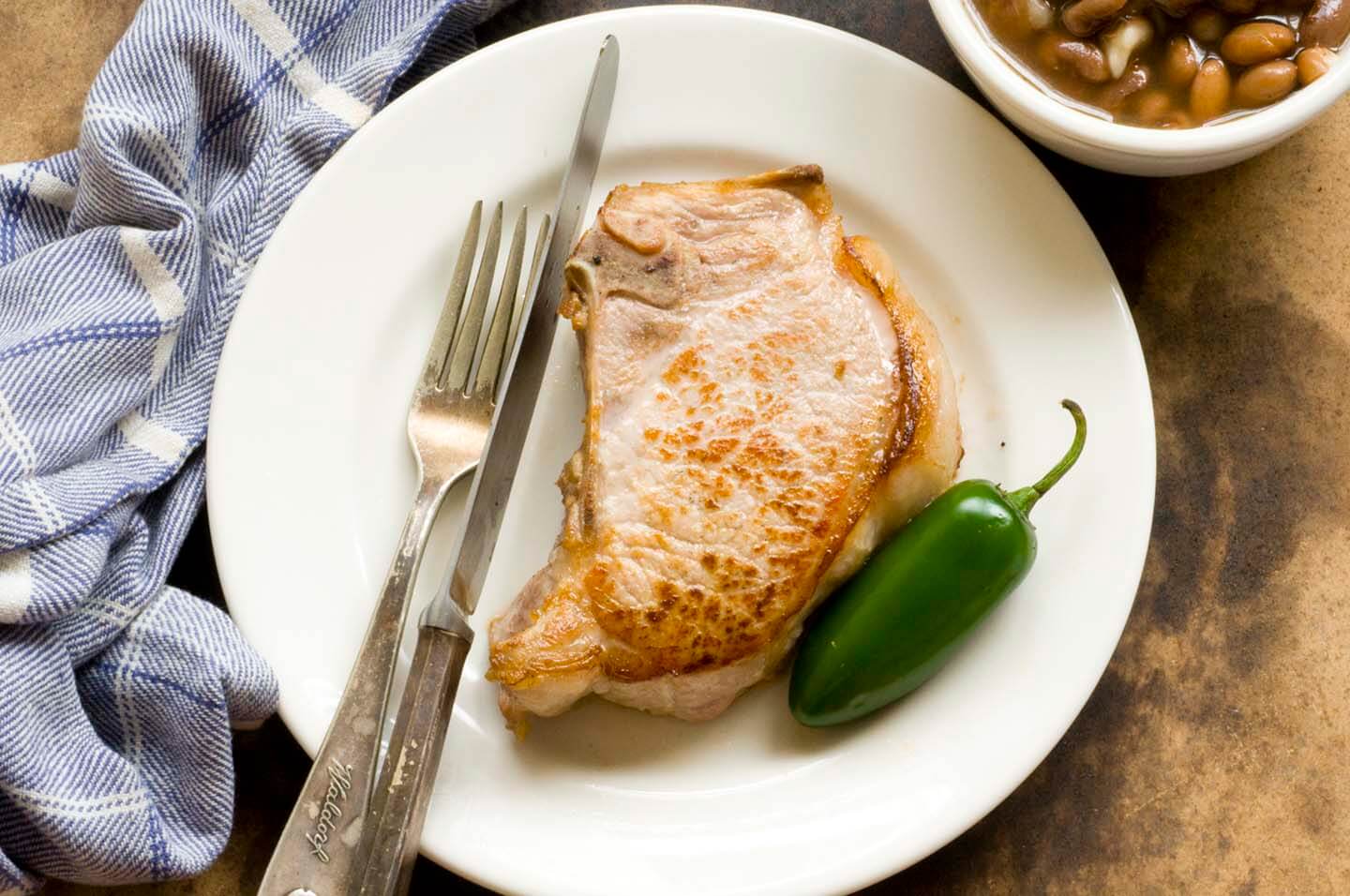 With that, I leave you with these jalapeño and beer brined pork chops. The fiery, flavorful brine makes for a tender and juicy chop, which can be pan fried, roasted or thrown on the grill. I like to serve them unadorned, but they would be also be terrific with a splash of green sauce or pico de gallo. But no matter how you serve them, just be sure to share the fat and share the love!
Jalapeño and beer brined pork chops
Ingredients
4

jalapeños, cut in half, lengthwise

6

cloves

garlic, chopped

2

tablespoons

kosher salt

1

teaspoon

black pepper

1

tablespoon

brown sugar

2

tablespoons

lime juice

1/4

cup

cilantro

1

(12-ounce)

bottle o Mexican lager

4

medium, about 6-ounces each bone-in pork chops

1

teaspoon

vegetable oil
Instructions
In a large, non-reactive container or food-storage bag, mix together the jalapeños, garlic, salt, pepper, brown sugar, lime juice, cilantro, and beer. Place the pork chops in the container and then add cold water until the chops are covered, about two cups. Place the container in the refrigerator, and let the pork chops marinate for at least 4 hours.

To cook the pork chops, remove from them from the refrigerator and bring to room temperature, about 30 minutes. Preheat the oven to 350 degrees. In a large ovenproof skillet, heat up the vegetable oil on medium heat. Remove the pork chops from the brine, shaking off any excess. Place the pork chops in the skillet, and cook on each side for 5 minutes. Place the skillet in the oven, and cook the pork chops for 15 minutes, uncovered, or until a meat thermometer reads 145° F. Allow to rest for 10 minutes before serving.

Alternatively, you can cook them on the grill about 10 minutes per side, or until a thermometer reads 145° F. Allow to rest for 10 minutes before serving.
Notes
If you don't want to use beer, ginger ale or cider would be a good substitute.