A friend was in town visiting from Mexico City last week, and we'd planned to get together and cook. Unfortunately, circumstances prevented us from hanging out, and so she said to me, "You need to come to Mexico!"
Indeed, I do.
My last trip to Mexico City was a couple of years ago, and while I ate myself silly all over town, my favorite meals were held at El Califa, a taqueria that was close to where I was staying. I had both my first and last meals at El Califa—along with a couple more in between—as their tacos are fresh and wonderful.
El Califa is a taqueria that specializes in tacos made with tender pieces of grilled steak or thin, juicy slices of al pastor pork. I love al pastor tacos but recreating them in my own kitchen has eluded me, primarily because they're traditionally made with pork that's been cooked on a vertical rotisserie, which is a tool I have not been able to recreate in my home.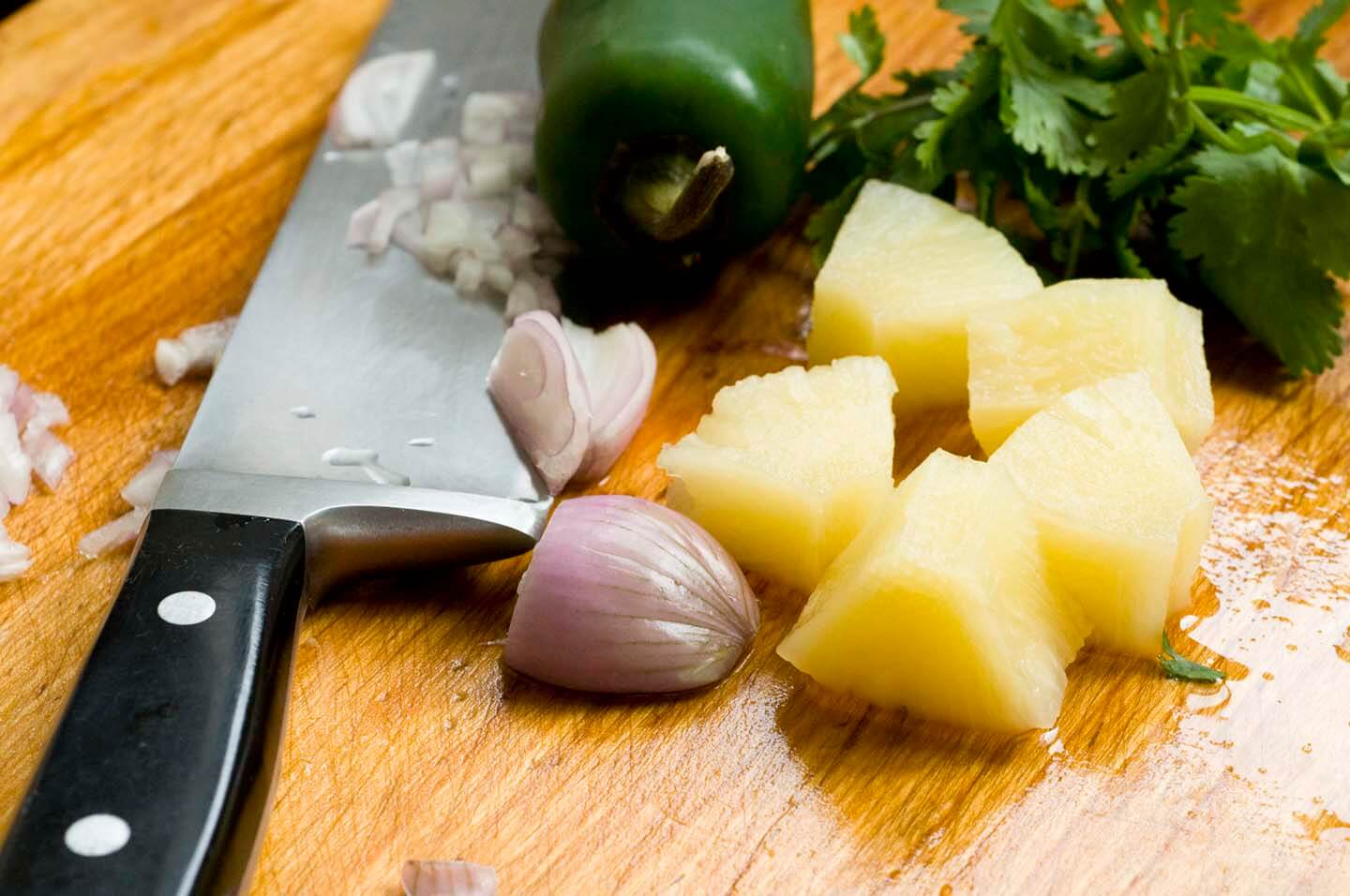 So imagine my pleasure when I saw El Califa's al pastor tacos get a shout out in Joe Yonan's new book, Serve Yourself. Now, if you don't know Joe Yonan, you should. He's the food editor of the Washington Post who's won many James Beard awards. His writing is heartfelt and charming, and his recipes are always inviting. But perhaps more importantly, Joe is a homesick Texan who grew up in San Angelo and went to school at the University of Texas.
The book is called Serve Yourself because it's intended to be a cooking-for-one cookbook. Joe's philosophy is that even if you're eating along, this doesn't mean you have to eat soulless, sad meals from a microwave. Besides a host of recipes that have been scaled down to one or two servings, he offers tips on how to store leftovers, such as half an avocado or half a jalapeño. That said, his recipes could be easily upsized for more portions.
Besides the al pastor tacos, Serve Yourself also has recipes for cheese enchiladas covered in his proper Texan chili, which does not include either beans or tomatoes. Yonan also pays homage to the classic taco salad we all grew up eating (though it was known as bean salad in my house, and Texas salad in his), updating it with a bit of feta and a cilantro vinaigrette. His food, while obviously influenced by his Texas upbringing (he has a whole chapter on tacos), also shows a love of sweet potatoes, Asian flavors, fresh vegetables, pizza, bacon, and cheese.
But what about those pork tacos? He calls them Pastoral Tacos, as they're not technically al pastor tacos, but instead a hybrid of the grilled steaks and the marinated pork tacos he ate at El Califa. To make them, you take pounded pork cutlets and marinate them in a simple pineapple juice and vinegar solution that's been made smoky and earthy with pimentón and ancho chile powder. While the pork marinates, he has you whip up a quick pineapple salsa, which when paired with the pork, makes for a combination that's tangy, spicy and slightly sweet.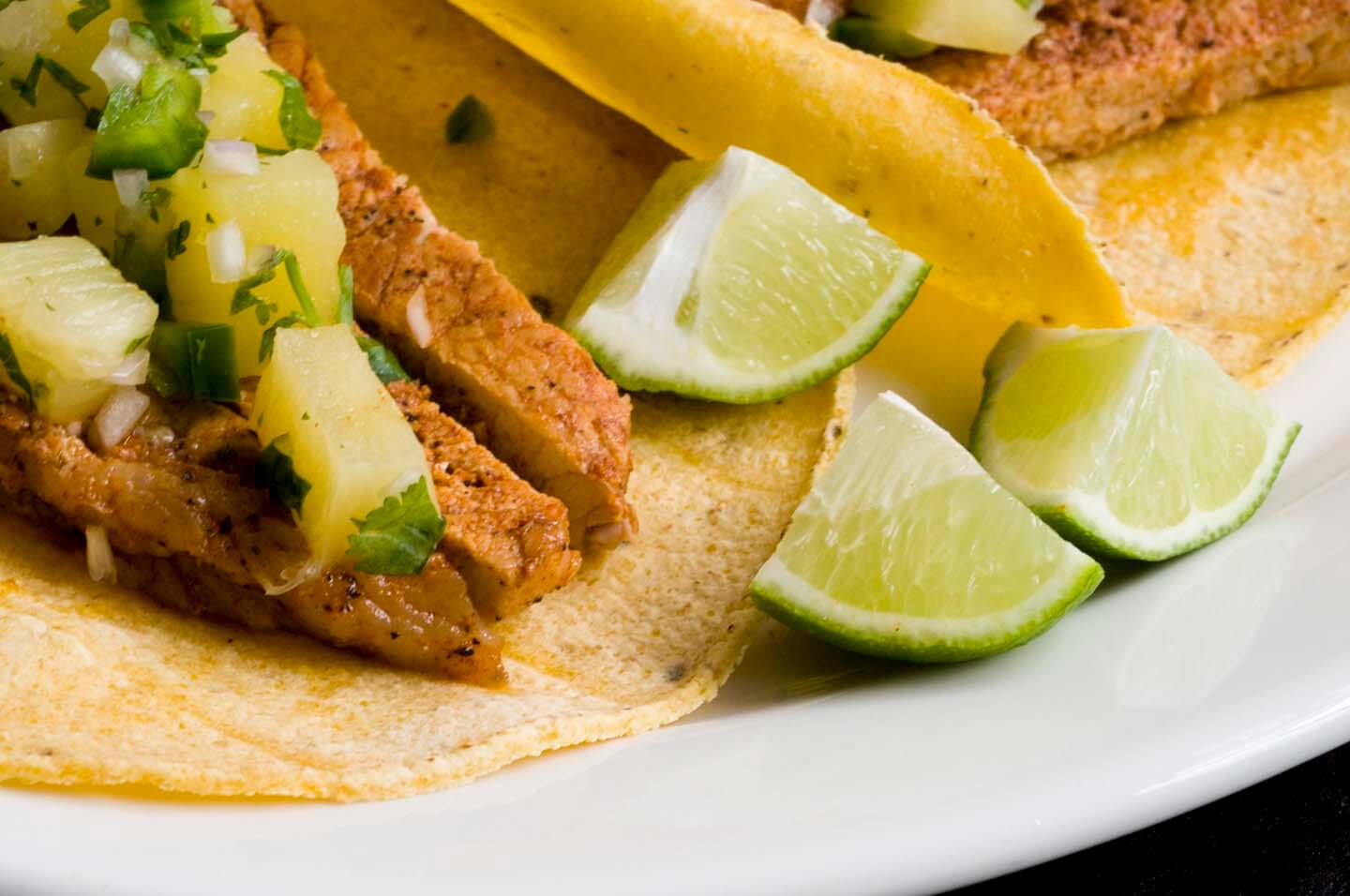 When I made the tacos, they came together in little time, making for a quick, weeknight supper. Joe suggests serving the tacos as whole cutlets, but I preferred cutting them into strips. An added bonus to this method is that served with rice and beans, there was enough pork to feed two. And while they aren't exactly the rotisserie meat offered at taquerias, these Pastoral Tacos are so moist and flavorful, I don't think you'll mind at all.
Pastoral tacos
Ingredients
3

2-ounce pork cutlets

1

tablespoon

white vinegar

2

tablespoons

fresh pineapple juice

1/4

teaspoon

pimentón, smoked Spanish paprika

1/2

teaspoon

ancho-chile powder or red pepper flakes

1/2

teaspoon

kosher salt, plus more to taste

1/2

teaspoon

black pepper

1/2

cup

fresh pineapple chunks cut into 1/4-inch cubes

1

shallot, diced

1

tablespoon

chopped cilantro

1/2

medium jalapeño chile, seeds and stems removed, diced

Juice from 1/2 lime

1

teaspoon

extra-virgin olive oil

Corn tortillas
Instructions
Place each pork cutlet between two pieces of plastic and pound until they're 1/8 of an inch thick. Place the cutlets in a plastic food-storage bag.

Mix together the vinegar, pineapple juice, pimentón, ancho-chile powder, salt and black pepper. Pour the marinade over the pork, seal the bag and give it a good shake to coat the meat. Let it marinate for 10 minutes to 1 hour unrefrigerated.

While the pork is marinating, for the salsa toss together the pineapple chunks, shallot, cilantro, diced jalapeño and lime juice. Add salt to taste.

To cook the pork, heat up the oil in a large skillet on medium-high heat. Take the cutlets from the marinade, shake off any excess and add to the skillet. Cook for 2 minutes on each side, or until lightly browned and cooked throughout. Turn off the heat, and allow the cutlets to rest for a minute. Add salt to taste.

Warm up the corn tortillas. Place the pork—either left in a cutlet or cut into strips—in a tortilla, and top with the pineapple salsa.