Sweet potato salad with cranberries and pecans
"What are you cooking this week?" asked my grandma. I told her I was making sweet potatoes. "They're good for your eyes!" she said.
My grandma loves her sweet potatoes, as does most of my family. I, however, only eat them when they're mashed or pureed as in soups or pies. Other preparations—such as sweet potatoes with marshmallows or sweet potato fries—are just a bit too much for me. I can't explain it.
But at my cousin's wedding in August I had a revelation. My cousin Lisa, like everyone in my family, loves to cook. And when her daughter Sarah announced her wedding, Lisa said, "I'm catering it." It was a huge party and preparing a dinner for so many folks was a herculean task, but Lisa gathered up her friends and with their help she pulled it off with grace and elegance.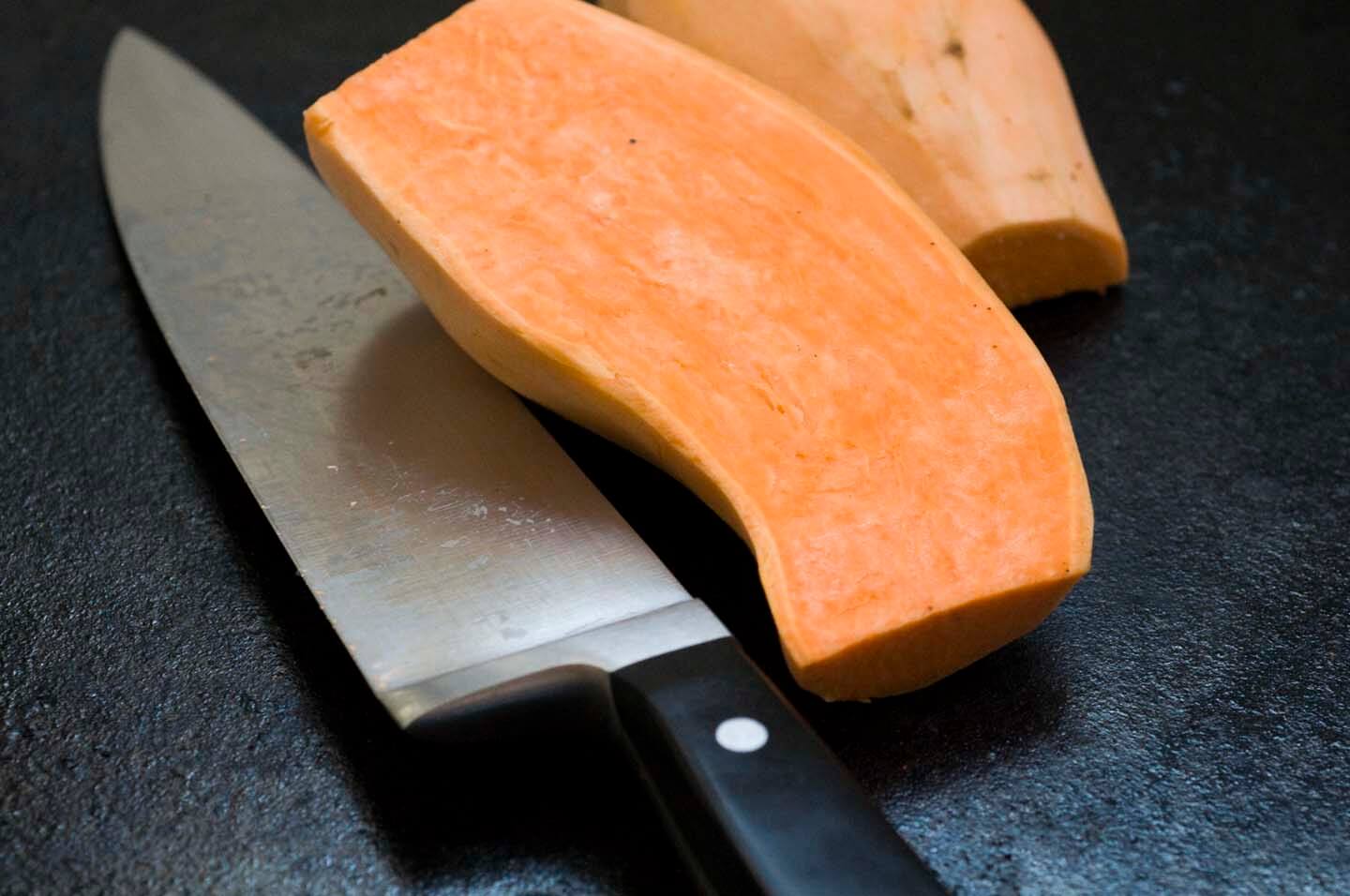 It was a fine feast made all the better because it was prepared with love. Everything was delicious, but there was one salad that stood out on a table overflowing with goodness. The salad was nutty, creamy, earthy yet sweet and was the sort of dish that made you pause because you weren't quite sure what you'd eaten, but you quickly took another bite because you knew you wanted more. I couldn't figure out exactly what it was, but I loved it anyway.
Then it hit me.

"Wait. Are these sweet potatoes?" I asked the people sitting at my table. My mom said that they were. "But it tastes so good and I don't like sweet potatoes!" I said. She agreed that it was one incredible dish. In fact the whole table was chatting about this simple salad comprised of sweet potatoes, crunchy pecans and tart dried cranberries tossed in a curry-laced dressing. It was quite the surprise.
The next day, I insisted that Lisa give me the recipe. It turned out to be one of her friend's recipes and she promised to send it to me. "This would be perfect for Thanksgiving!" I said.
Now, while this is a cold salad, sweet potatoes, pecans and cranberries are in season and this dish still says autumn to me. Even if you're the kind of person that often finds sweet potatoes a bit cloying I know you'll enjoy this.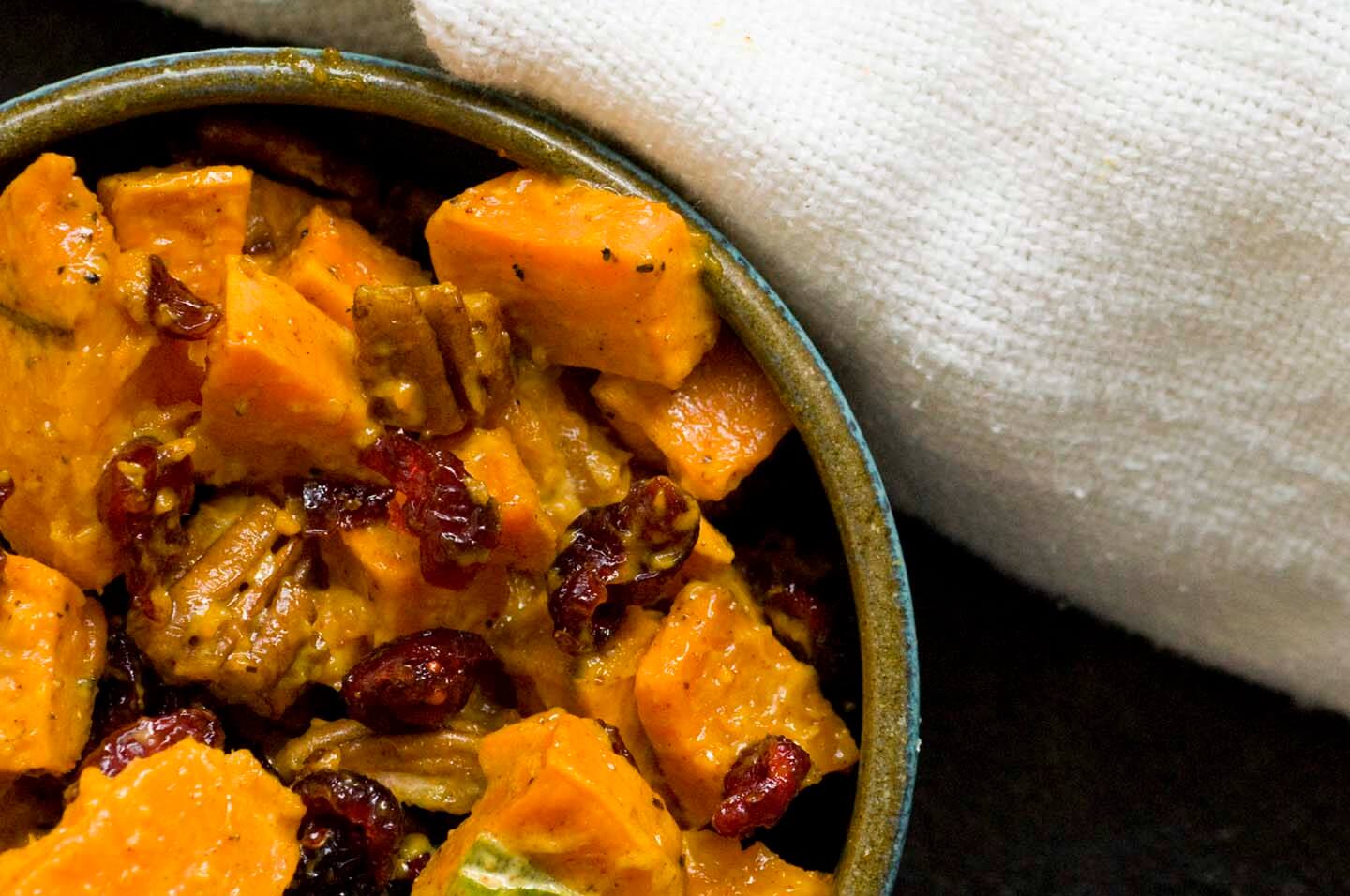 Plus, as my grandma says, sweet potatoes are good for your eyes!
Sweet potato salad with cranberries and pecans
Ingredients
4

pounds

sweet potatoes, about 2 or 3 large, peeled and cut into 3/4-inch cubes

1/2

cup

mayonnaise

2

teaspoons

curry powder

1

teaspoon

coarse-ground mustard

2

green onions, sliced

1

cup

dried cranberries

½

cup

roughly chopped pecans, lightly toasted

Salt and pepper to taste
Instructions
Preheat the oven to 350 degrees and lightly grease a baking sheet. Place the cubed sweet potatoes on the sheet and bake until cooked but firm, about 35-40 minutes.

In a large bowl, whisk together the mayonnaise, curry powder and mustard. Stir in the green onions, cranberries, pecans and cooked sweet potatoes. Adjust seasonings and add salt and pepper to taste. Chill for at least 3 hours before serving.
Notes
My cousin adds 1 tablespoon of brown sugar when she makes this, but I find it's plenty sweet with the sweet potatoes and cranberries. If you want it to be sweeter, you might try it that way.