Tomato and cucumber salad with cornbread croutons
My first experience with panzanella, or bread salad, was at a late summer outdoor gathering many years ago in Texas. At the time, I was a little suspicious of the salad, as I thought that the large chunks of bread would be strange and soggy as they mingled with the juicy tomatoes and crisp cucumbers. But actually, it turned out to be brilliant. If you're the kind of person who enjoys sopping up oil and vinegar with crusty bread, then this was your kind of dish.
When I heard about cornbread salad, my assumption was that it would recreate that Italian tomato and cucumber salad that I loved, with cornbread croutons standing in for the day-old bread. When I finally encountered it, however, I discovered that the Southern dish known as cornbread salad is usually layers of beans, corn, tomatoes, cheese, mayonnaise and, of course, crumbled cornbread served in a large, glass bowl.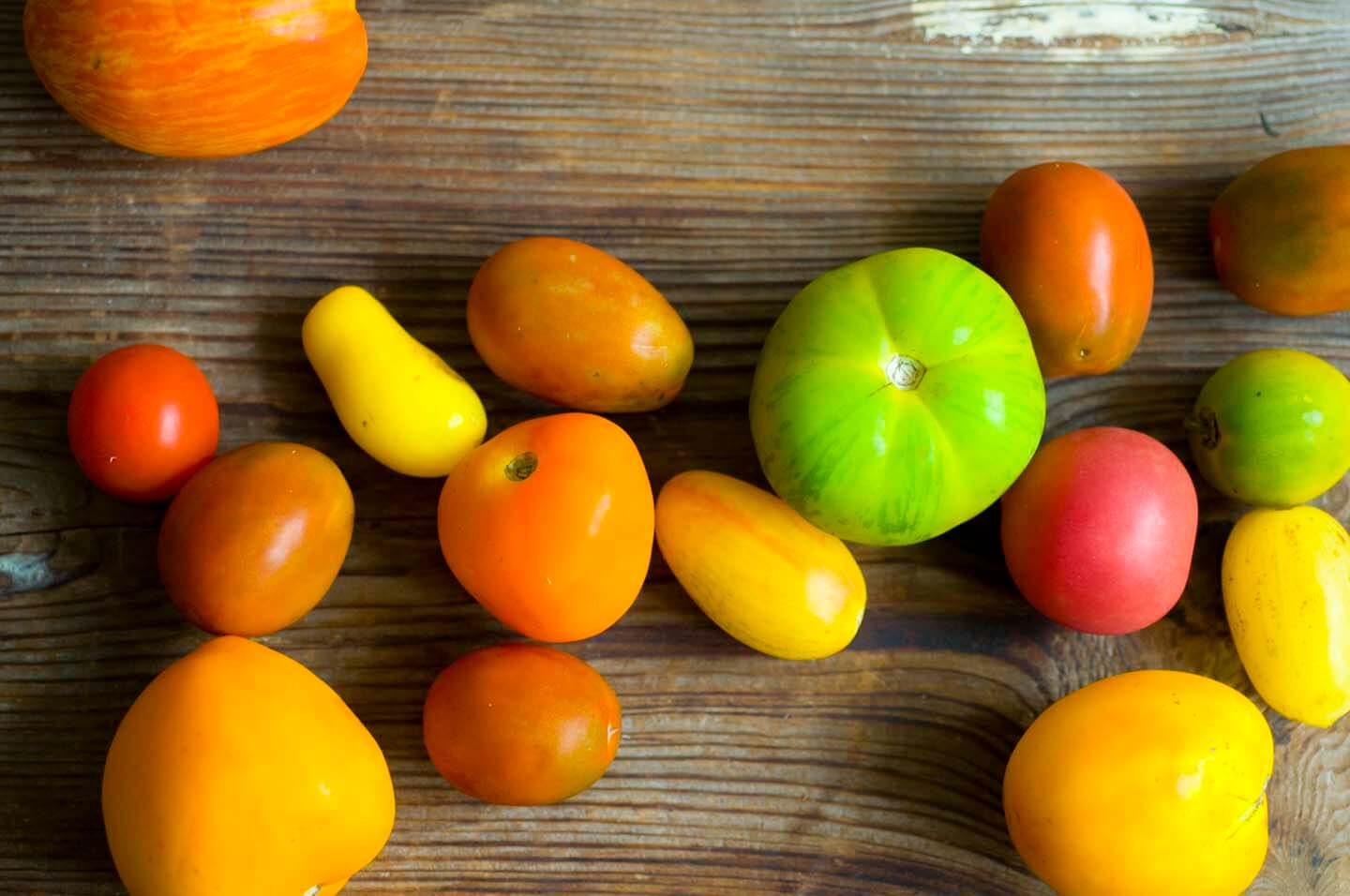 That cornbread salad was good, but not exactly what I had in mind. Because of the heat, I was in the mood for something less rich that could showcase the glory of summertime tomatoes. My ideal salad would be lightly dressed tomatoes and cucumbers tossed with a handful of cornbread croutons.

While doing some reading, I stumbled upon a Frank Stitt recipe that almost created the salad I had been thinking about. It was the classic panzanella with only one change—he used cornbread instead of yeast bread. This was a good starting point, but I decided that if I was going to use cornbread I might as well make the rest of the salad taste Texan, too.
To make the transformation, I replaced the bell peppers with jalapeños, the basil with cilantro, and made a simple vinaigrette with just olive oil, lime juice, cumin and cayenne. For my salad, I went with colorful heirloom tomatoes because they remind me of the tomatoes my grandma grows at her farm. (Though if you don't have access to heirloom tomatoes, any ripe in-season tomato will work just as well.) And to make the salad a bit more decadent, I showered the tomatoes and cucumbers with salty Cotija cheese. It all came together beautifully.
But the final piece of the dish—the cornbread croutons—ended up being a bit trickier. On my first attempt, I added them when the salad was marinating, but they soon turned to mush. After some experimenting, I learned the best way for them to stay solid was to add them right before serving. The cornbread croutons will still soak up some of the dressing, but they take on the bright fire of the jalapeños, which is always a welcome thing.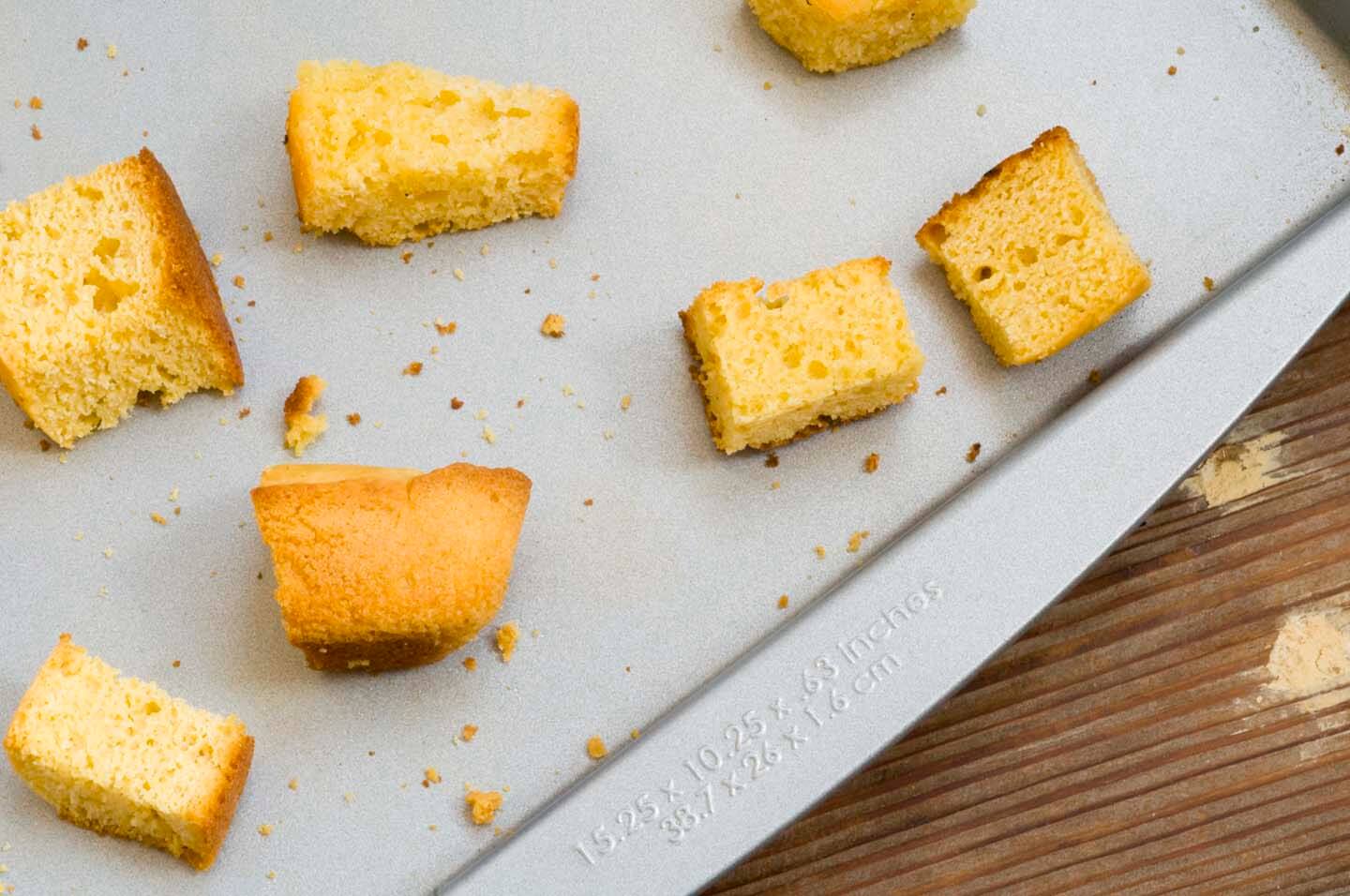 While cornbread is what inspired this salad, it's the juicy, sweet tomatoes that are the true star. Besides the fresh flavors, what I love about this salad is how quickly it comes together, making it great for either a barbecue or a weeknight supper. But if you decide to make this, much like pico de gallo, you'll want to make it now when tomatoes are at their best and brightest.
Tomato and cucumber salad with cornbread croutons
Ingredients
1

cucumber, peeled and cubed

1

teaspoon

kosher salt, plus more to taste

2

pounds

ripe tomatoes, seeded and cubed

2

cloves

garlic, minced

1/8

medium red onion, diced (about 2 tablespoons)

2

jalapeños, seeded and diced

1/4

cup

chopped cilantro

1

tablespoon

lime juice

2

tablespoons

olive oil

1/2

teaspoon

ground cumin

1/4

teaspoon

cayenne

4

cups

cubed, 1-inch cornbread (preferably day old)

1/4

cup

crumbled Cotija cheese
Instructions
Sprinkle the cubed cucumber with 1 teaspoon kosher salt, and allow to sit refrigerated for at least 45 minutes so some of the liquid can be extracted.

Meanwhile, combine tomatoes, garlic, onion, jalapeños and cilantro. Whisk together lime juice, olive oil, cumin and cayenne and stir into tomatoes. Marinate in the refrigerator for 30 minutes.

Preheat the oven to 350 degrees. Arrange cornbread cubes in a single layer on a baking sheet. Bake uncovered for 15- 20 minutes, or until dry and crisp.

Drain the cucumbers and toss with the tomatoes. Adjust seasonings and add salt to taste. (Wait to salt the salad until after adding the cucumbers because the cucumbers will be salty.) Top with crumbled Cotija cheese, and serve with cornbread croutons on the side, since the croutons will get soggy if they sit in the salad for too long.