Jalapeno pecan cornbread dressing
The act of stuffing a roasted fowl—be it chicken, duck, or turkey—reaches back to the Roman Empire. The idea is that the mixture of breadcrumbs, nuts, fruits, and meats will be greatly enhanced by the juices that flow from the bird as it cooks.
This is true, though, in more recent times, people have taken to cooking their stuffing outside the bird for safety reasons, since if the bird's juices don't cook all the way within the stuffing, one could get sick. When the blend of stuffing ingredients is prepared separately, it's known as dressing.
Some have posited that Southerners, including Texans, are more inclined to serve dressing over stuffing. Though in my experience, it's less the preparation method that determines the dish's name, but rather what people are more used to calling it. For instance, even when I was in New York, most made this Thanksgiving dish apart from the turkey, though it was still called stuffing. Yet, the only vessel it had stuffed was a baking pan.
When looking at old Texas Thanksgiving recipes, they were more precise in their naming, with stuffing always cooked inside the turkey (or duck, which was also a popular Thanksgiving roast for Texans in the 1800s); dressing was prepared separately. What is interesting, however, is how little the recipes for a Texas-style dressing (or stuffing) have changed since that time.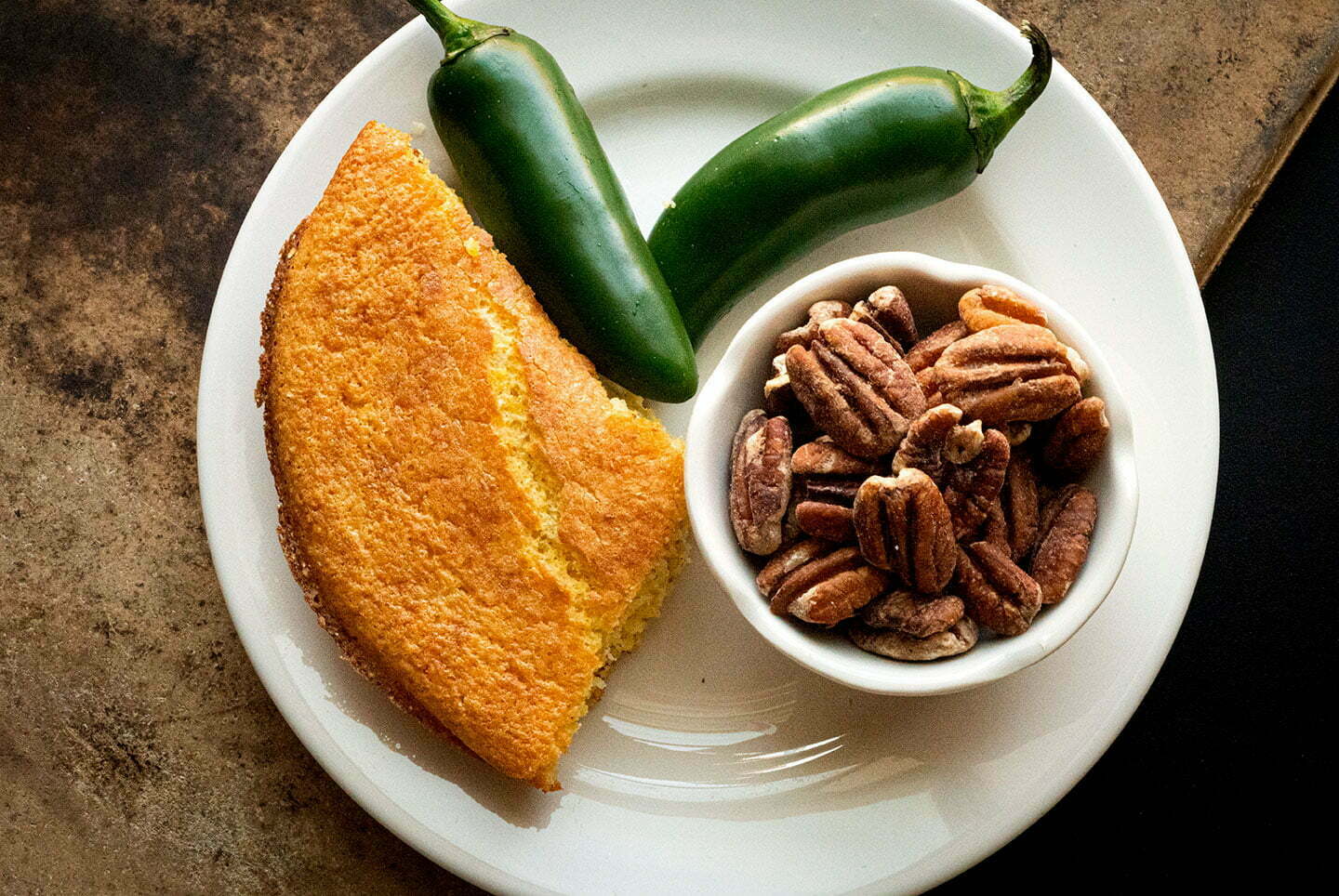 Most Texan dressings begin with cornbread, though plenty are augmented with wheat bread, too. The pieces of bread are at least a day old so they'll be dry enough to absorb the liquids included. Celery and onions are added for flavoring, along with herbs such as sage, thyme, and parsley. Paprika is also a common ingredient.
In the 1800s, oysters were often included along with chestnuts. By the middle of the 20th Century, however, the oysters were gone and the chestnuts had been replaced by the Texans state nut, the pecan.
Sometimes people included sausage or bacon, and of course, many years later, tamales were also enjoyed in cornbread dressing. Fresh fruit such as apples and dried fruits such as cranberries added sweetness. Though pops of fresh corn and green chiles are common, as well.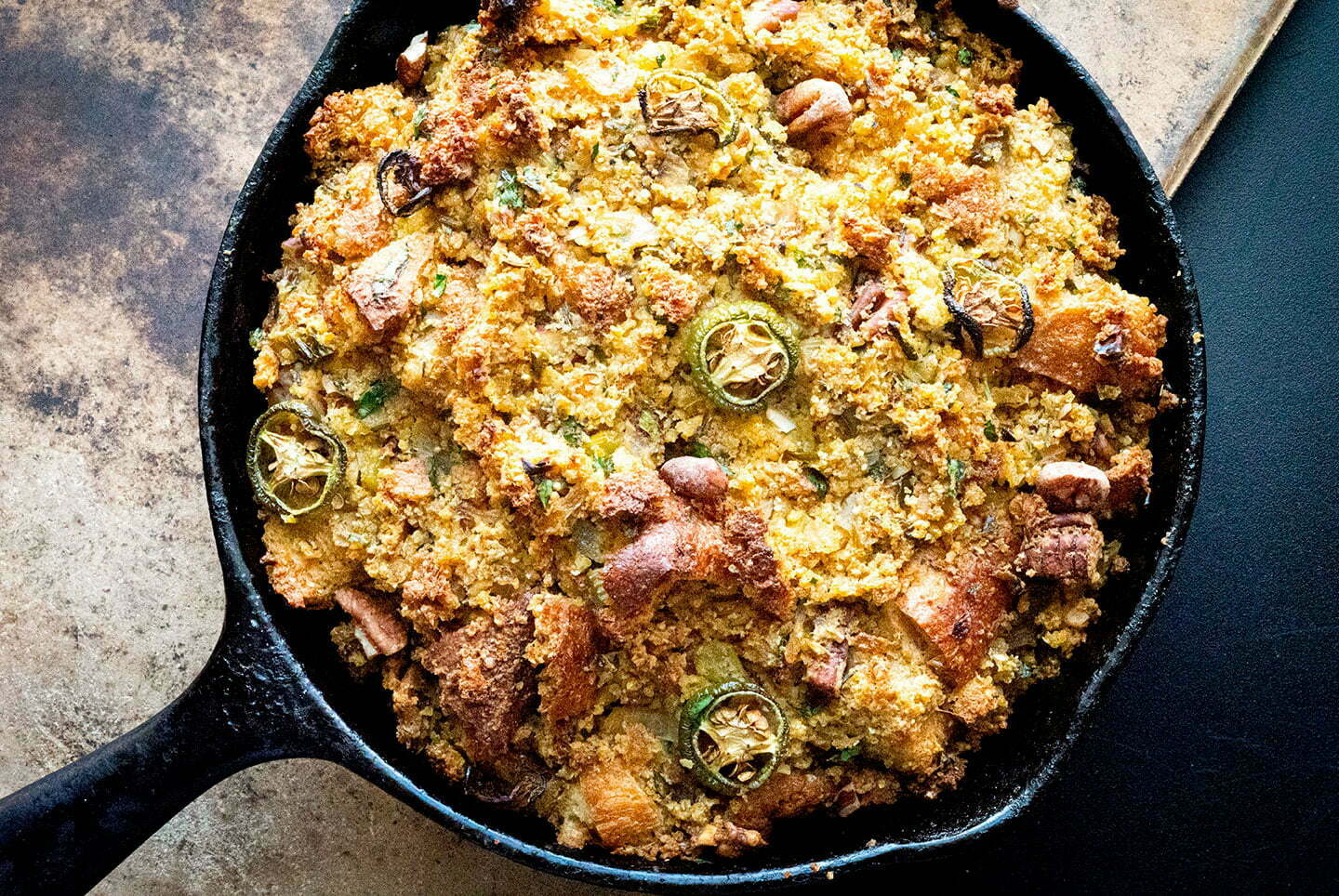 As you can see, there are many ways to make a Texas-style dressing. Here's one that I enjoy, which skews more traditional, though the jalapeños give it a lively pep. I've kept it without meat, though chorizo, sausage, or even bacon would be good. And while the only fruits included are the peppers, dried cranberries would give it not only some brightness but a jolly pop of color, too.
—————
Would you like more Homesick Texan? Well, I've started offering additional recipes for paid subscribers to help with the costs of running the site. While I'm not taking anything away, if you'd like to support Homesick Texan and have access to exclusive, never-seen-before subscriber-only posts, please consider becoming a member; annual subscriptions are as low as $25. Thank you for reading, your consideration, and your support!
—————
Jalapeño pecan cornbread dressing
Ingredients
1 ½

pounds

day-old, unsweetened cornbread, diced (about 8 cups)

½

pound

day-old white bread, diced (about 2 cups)

8

tablespoons

(1 stick) unsalted butter

1

medium yellow onion, diced

4

ribs celery, diced

4

fresh jalapeños, seeded and diced

4

cloves

garlic, minced

2

tablespoons

fresh parsley

1

tablespoon

dried sage

1

teaspoon

dried thyme

1

teaspoon

paprika

4

cups

chicken or turkey broth

1 ½

cups

chopped roasted pecans

1/4

cup

chopped pickled jalapeños

2

tablespoons

pickled jalapeño juice

Salt

Pepper

2

large eggs, beaten
Instructions
Preheat the oven to 350°F.

Place the diced cornbread and white bread in a large mixing bowl.

In a large cast-iron skillet, melt the butter on medium-low. Add the onion, celery, and jalapeños, and while occasionally stirring, cook until softened and fragrant, about 5-7 minutes. Stir in the garlic and cook for 30 more seconds.

Stir in the parsley, sage, thyme, and paprika until well blended. Turn off the heat, then scrape the seasoned aromatics into the bowl with the pieces of bread.

Pour the broth into the skillet and swirl it around to get any remaining aromatics then pour into the bowl with the pieces of bread. Add to the bowl the pecans, pickled jalapeños, and pickle juice, then stir until the dressing ingredients are well blended. Taste and adjust seasonings, adding salt and pepper to taste.

Stir into the dressing the beaten eggs until well blended, then either return the dressing to the skillet or place into a greased 9x13 baking dish. Bake uncovered for 50 minutes to 1 hour or until browned on top and set.
Notes
For the cornbread, this recipe yields the correct amount. For my bread, I used a quarter of a baguette. If your bread is fresh, you can place it on a sheet pan and dry it in the oven while it heats for 20 minutes before proceeding with the recipe. While I kept this batch simple, add-ins such as fresh corn, dried cranberries, bacon, or sausage would be welcome if you wish to gussy it up further!