Chipotle cranberry sausage balls
Behold the sausage ball. It's not the prettiest treat on the appetizer table but it's certainly one of the more popular. Indeed, I dare anyone to stop eating after popping one of these savory morsels into their mouth. Nope, if you've had one sausage ball then I'm going to assume that you've had at least two and perhaps even three. They go down easy and invite you to try at least one more.
For those of you not familiar with the sausage ball, if you are looking at the photo above in all its ugly glory, you may be thinking that I've lost my mind. As I said, they're kind of lumpy and odd. But it's not always about looks. And with the sausage ball—it's what's on the inside that counts.
If you grew up in Texas or the South, then chances are you spent some time making sausage balls with a loved one as a kid. I know that I did, as my grandma and I would produce batch after batch before people came over for special occasions.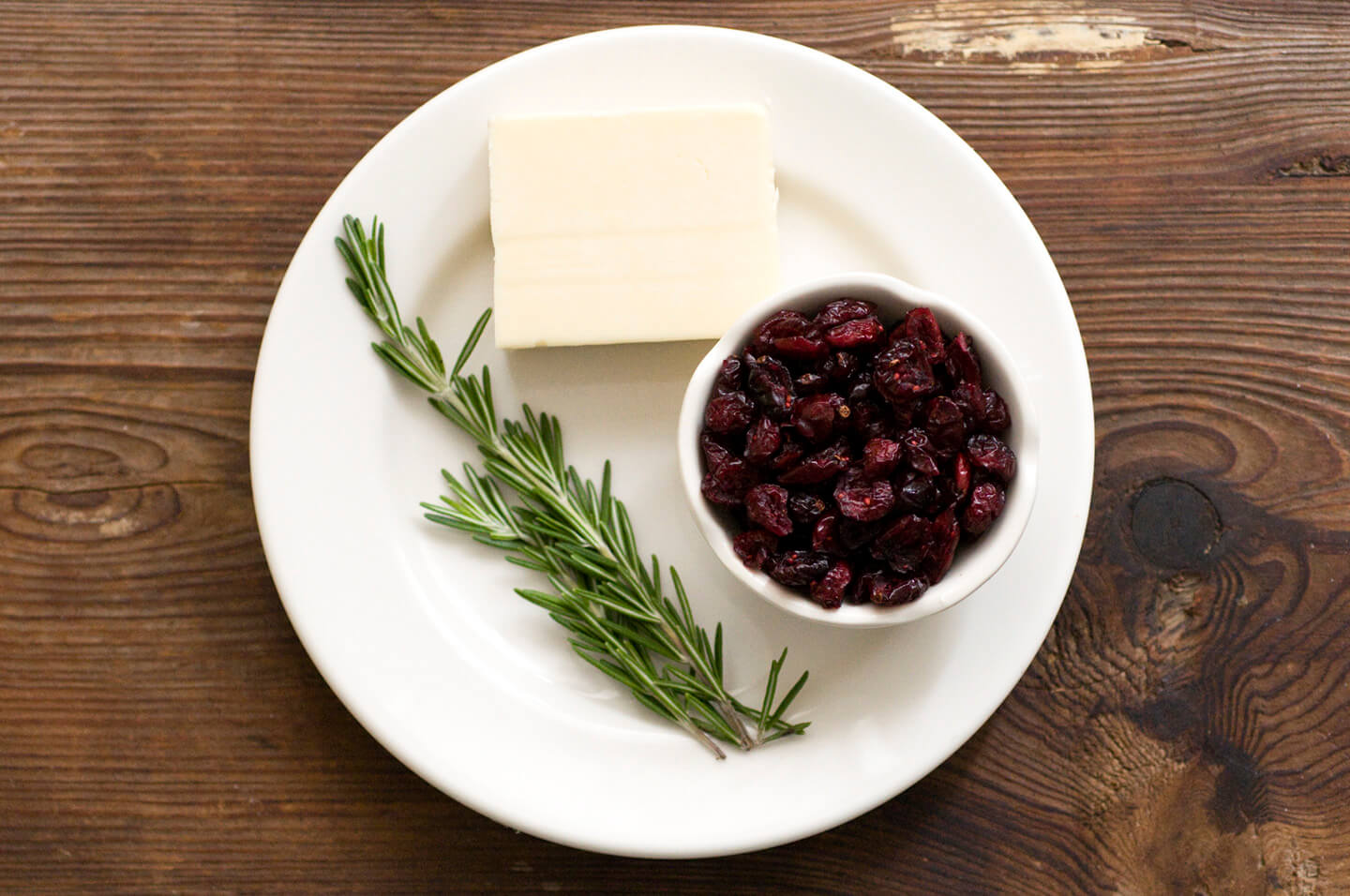 To prepare the basic sausage ball, you take a pound of breakfast sausage, spoonfuls of biscuit mix, and a handful of shredded cheddar cheese. You mix it all together, preferably with your hands, and then form the meaty, cheesy dough into little balls. After a few minutes of baking in the oven, they're done.

What's interesting about them is they don't have the texture of a meatball nor do they have the texture of a biscuit. The sausage ball occupies this strange middle ground that is known only to itself and there is really no other snack like it. If you've never had one, they only way to experience it is to make your own.
Now, I'm still a fan of the original recipe. Much like using Velveeta and Ro-Tel for queso, sometimes the simplest path to good eating is indeed the best. Though since it's were about to begin the holidays and with the basic method being so malleable and open for interpretation, I've made a few changes that make my holiday sausage balls a little more fancy.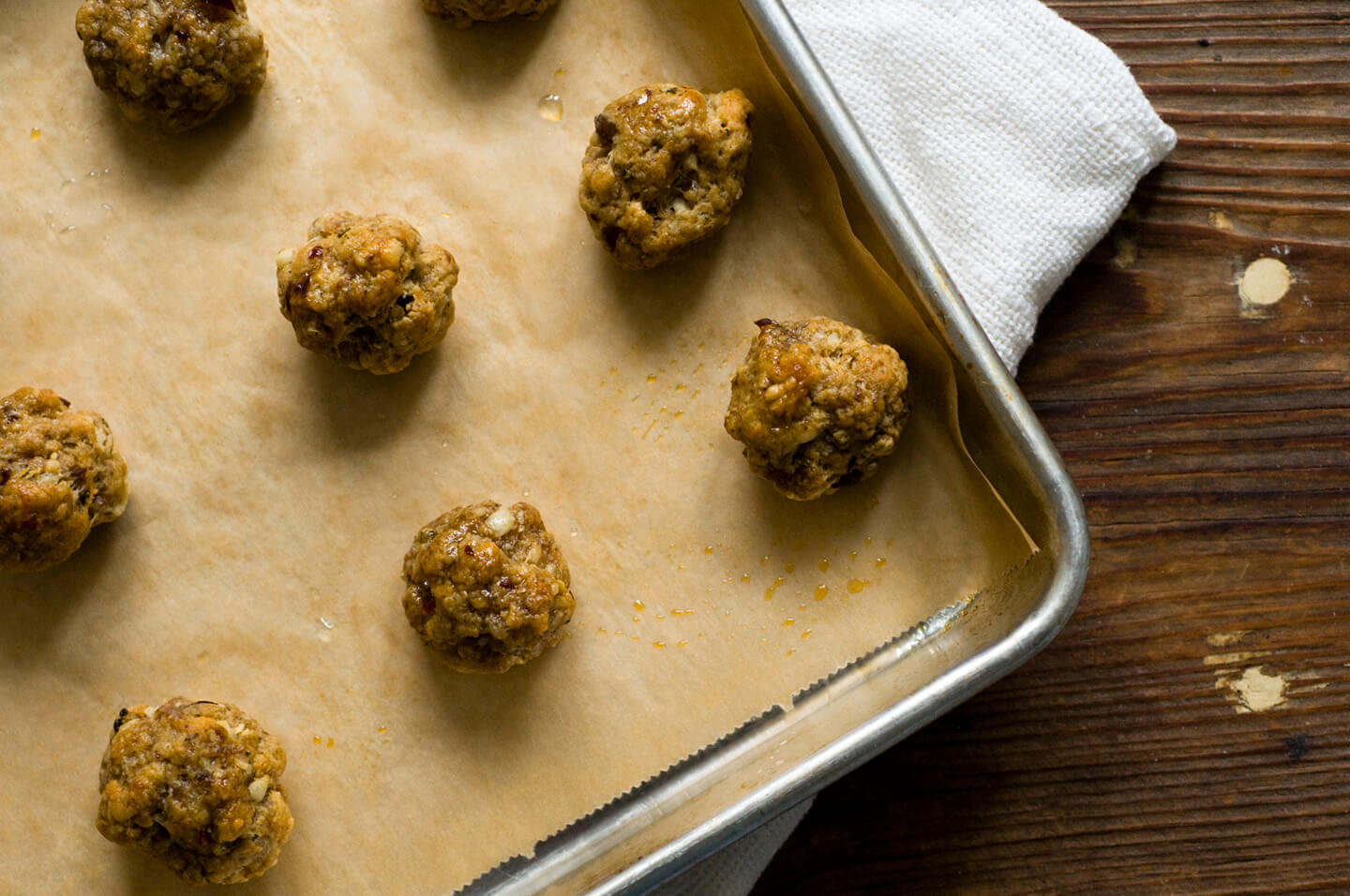 First, I've gotten rid of the biscuit mix. A few years ago I learned it's not necessary, which was a revelation. Instead you can use the basic components of biscuit mix—flour, baking powder, and salt—and then, if you're feeling extra wild, you can even make throw in some cornmeal, a trick I recently learned from Garden & Gun's The Southerner's Cookbook.
Also, you can make your own breakfast sausage. Of course, if you're in a place with excellent country-style breakfast sausage, you may decide to skip this step. But I live in the land of links, not patties, which means I've been making my own breakfast sausage for years.
Because it's the holidays, I decided to make a special-edition breakfast sausage with finely chopped cranberries and chipotle chile powder for a sweet and smoky touch. While it's not necessary, it is very good if you're so inclined. For the cheese, I swapped out the yellow cheddar for sharp white cheddar because I love its nutty flavor. And finally, I added a bit of fresh rosemary, as its piney notes are welcome this time of year and go well with the smoky chiles.
Of course, you can craft your sausage balls any way you like since they're extremely flexible. Perhaps you could use Mexican chorizo instead of breakfast sausage, or you may consider using pepper Jack or smoked cheddar cheese or even throwing in some diced jalapeños. Anything goes with sausage balls, which is one of the reasons why they're so fun.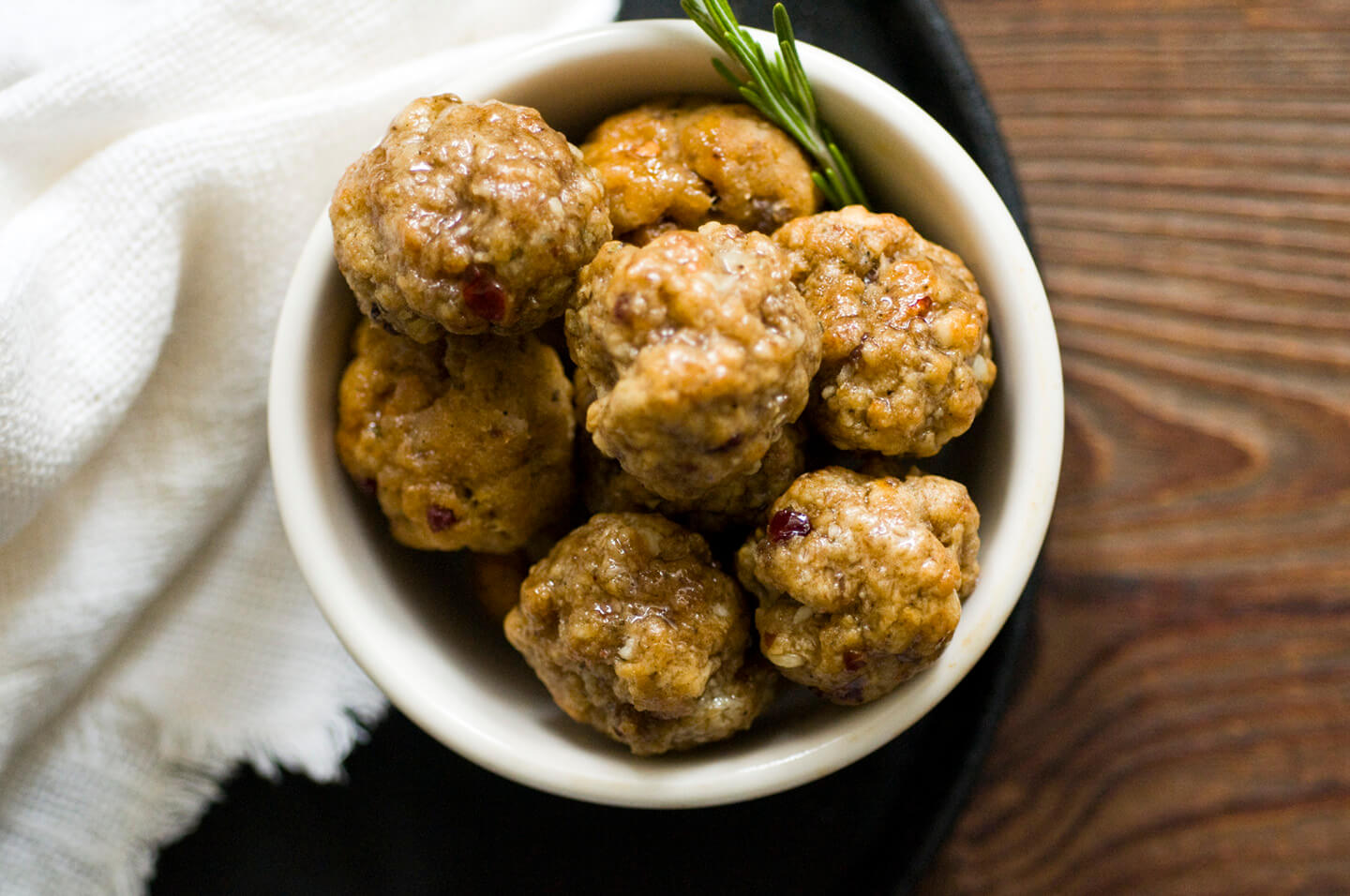 The important thing, however, is to make them, especially if it's been a while since they graced your table. I know you and your loved ones will be thankful to have them in your presence again. Though you should be aware that they will go fast, so you might consider doubling the batch. People are smitten over sausage balls and as such, I've never met anyone who can stop at only one.
Chipotle cranberry sausage balls
Ingredients
Ingredients for chipotle cranberry breakfast sausage:
1

pound

ground pork

2

tablespoons

dried cranberries, finely chopped

1

teaspoon

dried sage

1/2

teaspoon

kosher salt

1/2

teaspoon

brown sugar

1/2

teaspoon

dried thyme

1/2

teaspoon

chipotle chile powder

Pinch

nutmeg

Pinch

cayenne
Ingredients for sausage balls:
1 3/4

cups

all-purpose flour

1/4

cup

cornmeal

1

teaspoon

baking powder

1

teaspoon

finely minced fresh rosemary

1/2

teaspoon

dried sage

1/4

teaspoon

kosher salt

Pinch

cayenne

2

tablespoons

unsalted butter

well chilled

2

cups

8 ounces finely shredded sharp cheddar cheese

1

pound

chipotle cranberry breakfast sausage

2

tablespoons

whole milk, plus more if needed
Instructions
To make the sausage, in a large mixing bowl stir together the pork, cranberries, sage, salt, brown sugar, thyme, chipotle chile powder, nutmeg, and cayenne. To test the flavors, heat up a small skillet on medium-low heat and add smidge of vegetable oil. Add a marble-sized ball of the sausage to the skillet and heat it for about 4-5 minutes, flipping once. Turn off the heat and when cool enough to handle, taste the sausage. Make any spice adjustments as desired. The sausage can be used immediately or stored covered in the refrigerator for 4 days.

To make the sausage balls, preheat the oven to 350°F and line a baking sheet with parchment paper.

Whisk together the flour, cornmeal, baking powder, rosemary, sage, salt, and cayenne until well combined. Work in the butter with a pastry blender or your hands until well distributed. Stir in the cheese, sausage, and milk, and then mix until well combined. The dough should be soft enough to form into small balls, though if it's too dry, you can add more milk a teaspoon at a time until the dough can be easily shaped.

Scoop out a tablespoon of the dough and then roll it into a round ball. Place the balls 1/2-inch apart on the baking sheet, and bake for 15-20 minutes or until the sausage is cooked and the cheese has melted. Serve warm.
Notes
If you want the cranberry and chipotle flavors but want to make this super easy, you can use pre-made breakfast sausage and then add the diced cranberries and chipotle chile powder to the sausage ball mix.