Pecan cobbler with sorghum syrup
If you stop at a barbecue joint or at a catfish shack in small towns across Texas, more than likely one of your dessert options will be pecan cobbler. Its appeal is wide yet you don't see it often offered on larger city menus, which for me makes it all the more of a down-home dessert.
Now, you may be asking yourself, "What exactly is pecan cobbler?" I was wondering the same thing myself recently when a reader asked me for my best recipe. See, as much as my family loves its cobblers and our pecans, we've never served pecan cobbler. Nope, our pecan dessert of choice is a gooey custardy slice of pecan pie.
A little research was obviously in order. First, let's talk about cobbler. When I think of cobbler I think of a filling, usually fruit, that has a crust on top. It can be a pie-like crust, a cake-like crust or a biscuit-like crust. But the key to a cobbler is that the crust and the filling intermingle usually with an equal ratio of crust to filling.
The majority of the pecan cobbler recipes I saw, however, had a pecan-pie filling on top of a piecrust. Perhaps I'm missing something, but I failed to see how this was any different from pecan pie, except perhaps that the cobbler was baked in a square baking pan instead of a pie pan.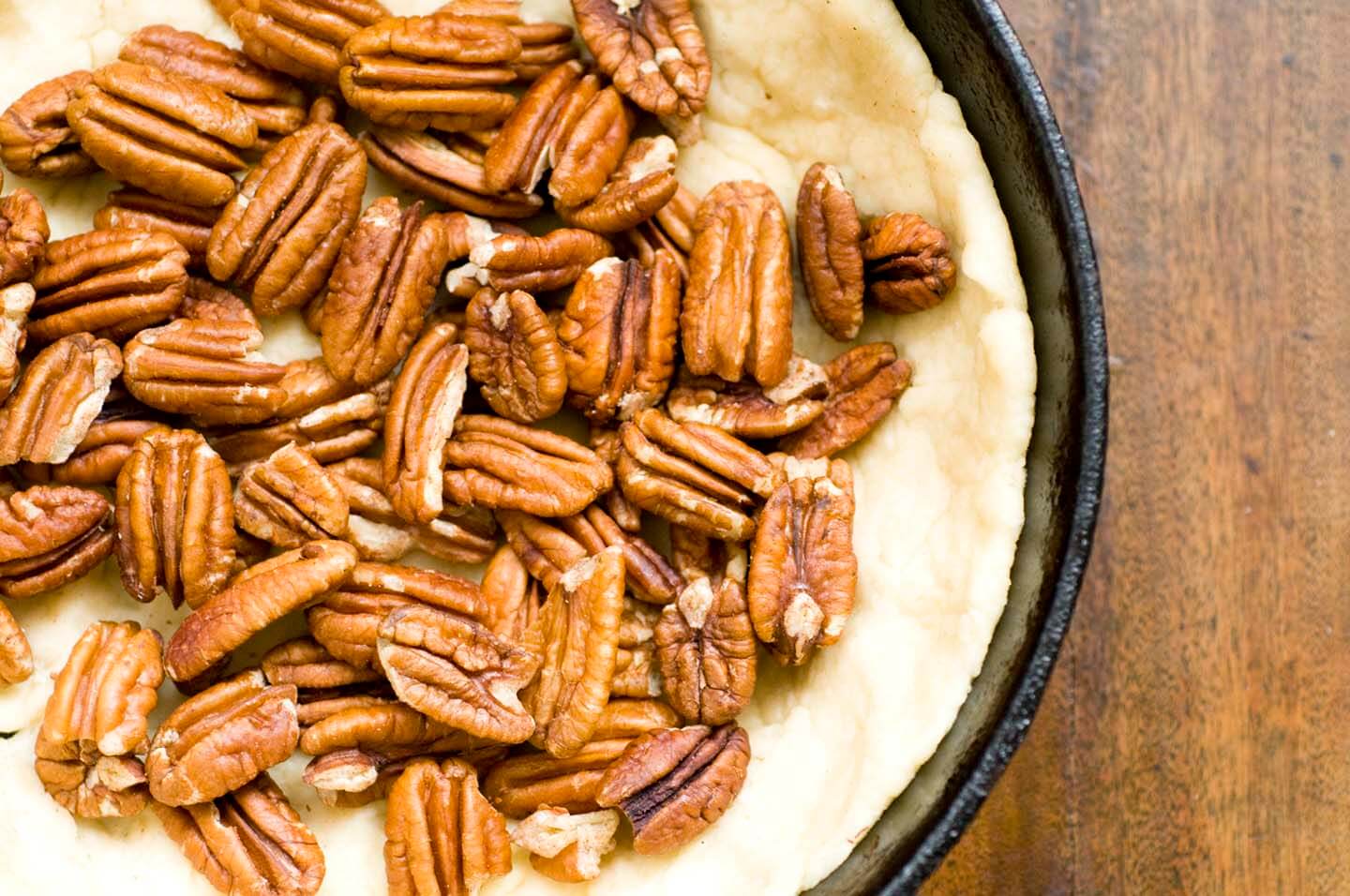 My search continued. I then spoke to a friend who has eaten much pecan cobbler and he assured me that that those recipes appeared to be wrong—the crust should indeed be soft and fluffy, like a biscuit. After a little more digging, at last I discovered a recipe on Texas Monthly's recipe swap. It was there that I found a woman who did make hers with a biscuit base and so I used that as a starting point for my adaptation.

As I've been finishing up my book, I've been reading many of my family's letters. I came across one from my great-grandma where she talks about my grandpa making sorghum syrup with his father and brothers. While pecan cobbler wasn't a dish my family made, in a nod to my heritage I decided to bake cobbler with sorghum syrup instead of the usual Karo syrup so often found in pecan pie.
Now, if you've never had the pleasure, sorghum syrup has a buttery, slightly burnt flavor that reminds me of caramel (or a bowl of Wheat Chex doused in honey, which was my favorite breakfast when I was in the 5th grade). It's nowhere near as bittersweet and strong as molasses but sorghum syrup can be assertive. Paired with pecans, however, and the sorghum syrup brings out the best of this warm sweet nut—making the two together a natural team.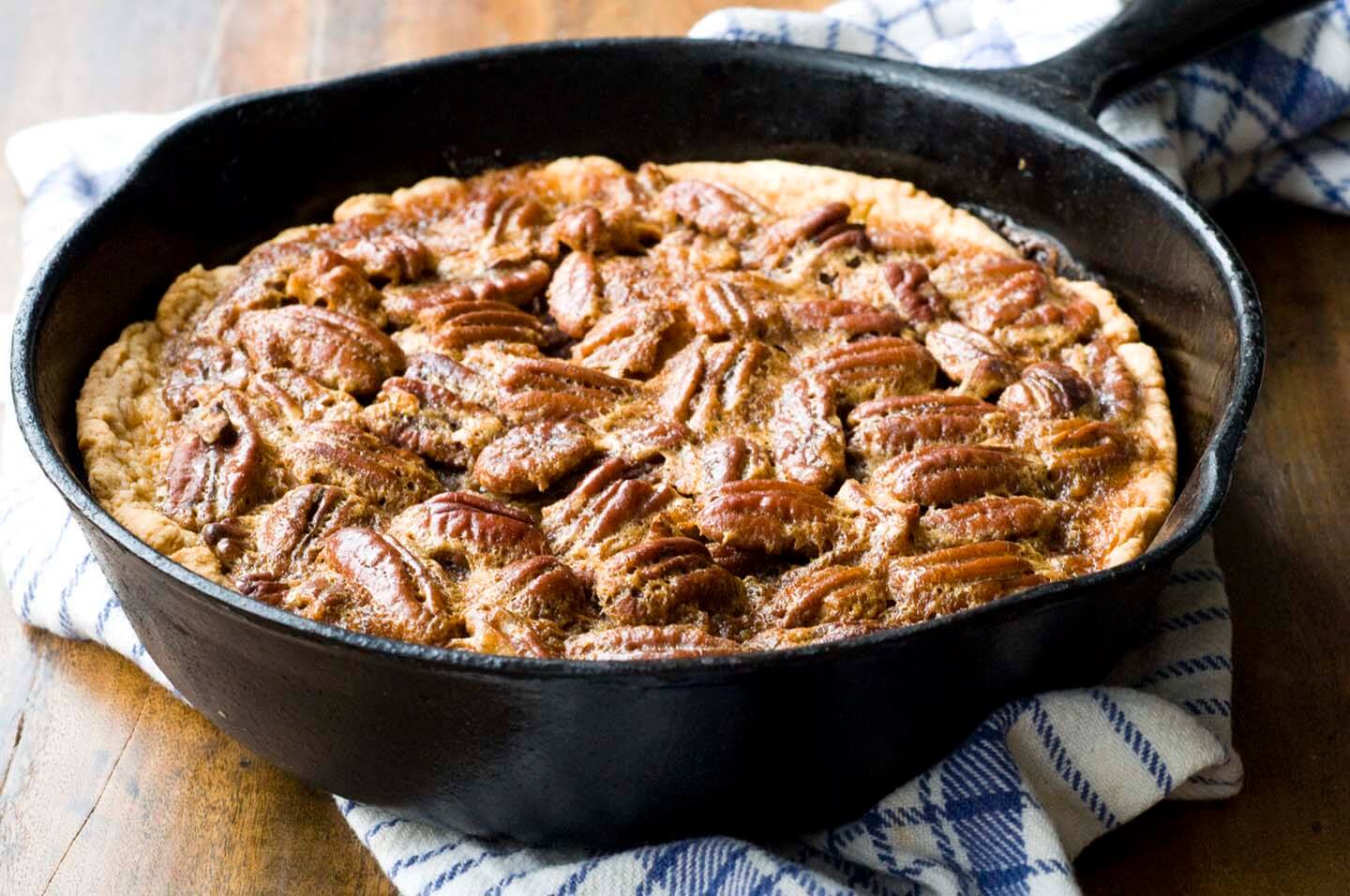 So how about that pecan cobbler? Well, when I tucked into my first (and yes, there was more than one) bowl I was reminded of pecan sticky buns or capirotada. And when topped with a sweet cool dollop of whipped cream, it was the ultimate in cold-weather comfort. Now, pecan cobbler won't replace my love of pecan pie. But it doesn't have to, as pecan cobbler is more than capable of standing alone. And, as always, small-town Texas barbecue joints and catfish shacks have done something right.
Pecan cobbler with sorghum syrup
Ingredients
Crust ingredients:
1 1/2

cups

all-purpose flour

1

tablespoon

granulated sugar

1/2

teaspoon

sea salt

1 1/2

teaspoons

baking powder

4

tablespoons

1/2 a stick butter, chilled

1/2

cup

half and half
Filling ingredients:
4

large eggs

2

tablespoons

half and half

3/4

cup

brown sugar

4

tablespoons

1/2 a stick butter, melted

1

cup

sorghum syrup

1/2

teaspoon

cinnamon

1/4

teaspoon

sea salt

1/2

teaspoon

vanilla extract

1 1/2

cups

pecan halves
Instructions
Preheat the oven to 350 degrees and grease a 9×9-baking dish or a large cast-iron skillet.

Mix together the flour, sugar, salt and baking powder. Cut the butter into pieces and work it into the flour mixture with your hands or a pastry blender until it resembles pea-sized crumbs. Stir in the half and half, mixing until a bit loose and sticky. Pour dough out on a floured surface and knead for a minute. Roll until 1/8-inch thick and then press into the bottom of the baking dish or skillet.

To make the filling, mix together the eggs, half and half and brown sugar until well blended. Stir in the melted butter, sorghum syrup, cinnamon, sea salt and vanilla extract and stir until smooth and well blended. Place the pecans on top of the crust and then pour the filling over it. Bake uncovered for 40-45 minutes or until the custard is set. (Be sure not to overcook the cobbler, however, as it can become dry.)

Serve warm topped with whipped cream or vanilla ice cream. And if you like the combination of sweet and salty, I highly recommend a light sprinkling of Maldon sea salt flakes on top as well.
Notes
You can buy sorghum syrup at many farmers markets and specialty stores. If you choose, however, you can substitute in equal amounts Lyle's Golden Syrup or Karo.