Bacon pecan cinnamon roll biscuits
Around midnight, I heard a knock at my bedroom door. "Are the biscuits done?" asked my grandma. I told her the batch I had made after she went to bed were indeed ready to be reheated in the morning. When she didn't reply, I got out of bed to see if she had heard me. I opened the door but she wasn't there, so I went looking for her and found her in the kitchen pinching off a piece of biscuit from its storage container. She took a bite, smiled, and said, "I couldn't wait until morning. These are oh, so good!"
When I travel, I usually prefer other people to cook. But when it comes to biscuits, I am always happy to bake up a batch. Most folks will have on hand the necessary ingredients and they are not difficult to prepare. Making biscuits is a fun thing and the small amount of effort always yields much joy.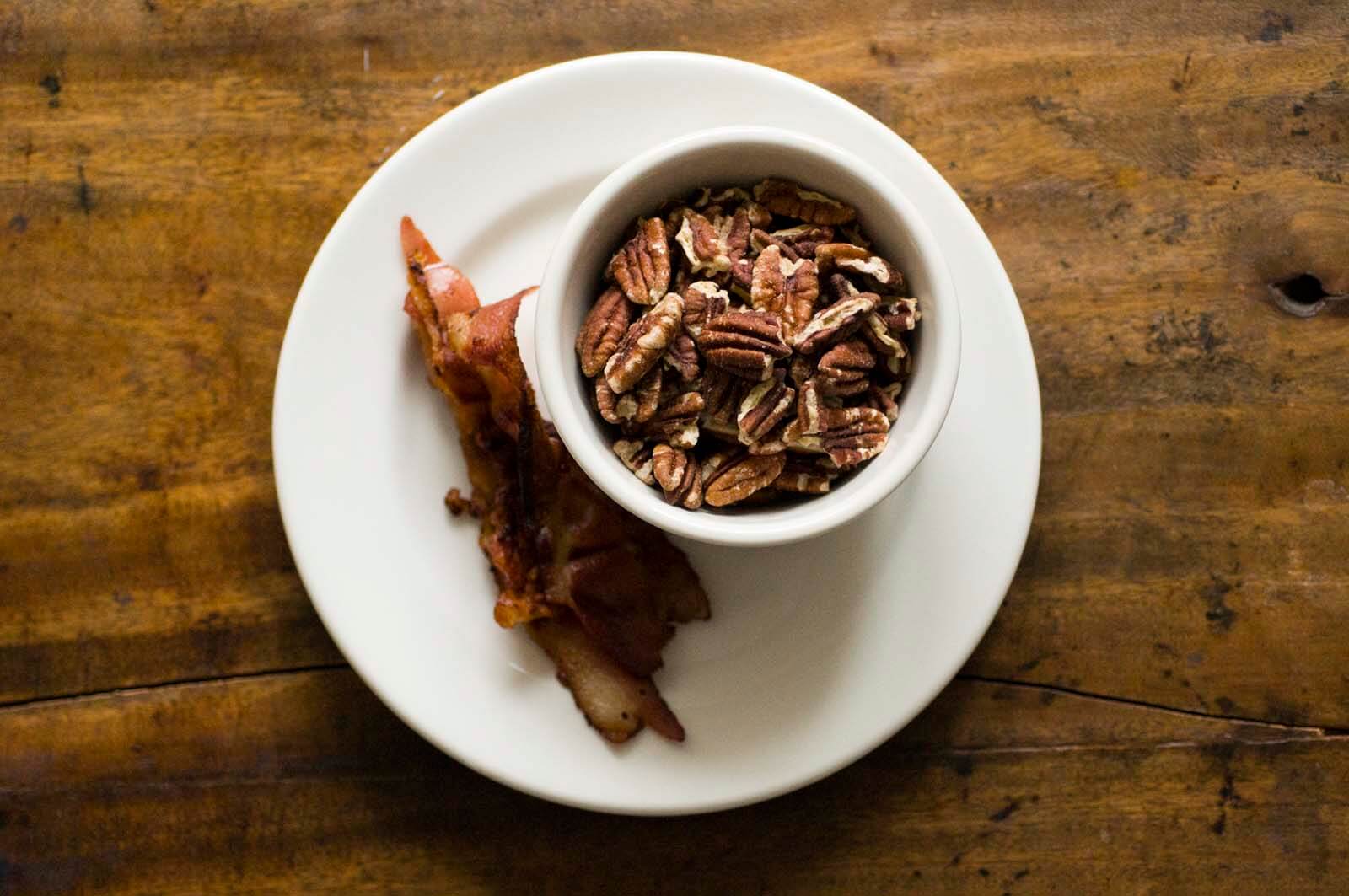 My basic biscuit recipe is my most popular, as it's a fine vehicle for honey or homemade jam. But I also like to adapt with whatever I have on hand. This has led to jalapeño cheddar biscuits, sweet potato biscuits, and tomato, cheddar, and bacon biscuits. And that's just the ones that I've shared here, as there are quite a few more variations that I've made. A biscuit, while superb on its own, is an excellent blank canvas.
That night in Texas, I had made for my grandma a new biscuit variation, which I am calling bacon pecan cinnamon roll biscuits. Yes, the name is something of a mouthful, but my grandma is correct: they are oh, so good.
They came about when I found myself with an abundance of bacon and sweet, Texas pecans that my mom had sent. Because I kept hearing about cinnamon rolls made with biscuit dough instead of the usual yeast dough, combining the bacon, pecans, and cinnamon into one decadent pastry just felt right.

Would you like to try them? Here's how. First you make a basic biscuit dough, then you fry up some bacon and crumble it. After you have your dough you roll it out, spread butter, sugar, cinnamon, pecans, and the bacon generously throughout the center. Then you roll it up, slice it into rolls and bake. You are now 15 minutes or so away from the easiest, quickest cinnamon rolls you've ever had.
Are they as good as yeast-based cinnamon rolls? I think so, though I admit that they are a bit different, as biscuit dough is more rich and flaky than a risen roll, though these are not bad attributes at all. There is so much butter and sugar these are quite tender and delicious on their own. But since icing is a must for cinnamon rolls, I top these with a layer of sweet, creamy frosting spiked with more cinnamon.


If you're the sort to have leftovers (though I doubt you will) these keep in the refrigerator for a day or so. You can heat them up but I've found they're not bad cold. And if you make them for loved ones you're visiting, be aware they might not be able to wait until morning, as they are oh, so good.
Bacon pecan cinnamon roll biscuits
Ingredients
For the biscuits:
2

cups

all-purpose flour

2

tablespoons

granulated sugar

1

tablespoon

baking powder

½

teaspoon

kosher salt

8

tablespoons

unsalted butter

¾

cup

half and half
For the filling:
4

tablespoons

unsalted butter, room temperature

2

tablespoons

granulated sugar

2

teaspoons

ground cinnamon

6

ounces

bacon, cooked and crumbled

½

cup

chopped pecans
For the frosting:
1

tablespoon

unsalted butter, room temperature

1

tablespoon

whole milk

3/4

cup

powdered sugar

1/2

teaspoon

vanilla extract

¼

teaspoon

ground cinnamon

Pinch

salt
Instructions
Preheat the oven to 450° F and lightly grease a baking sheet or a 10-inch cast iron skillet.

To make the biscuits, stir together the flour, sugar, baking powder, and salt. Cut the stick of butter into pieces, and work into the flour mixture with your hands or a pastry blender until it resembles pea-sized crumbs. Add the half and half, stirring until it's loose and sticky.

Place the dough on a lightly-floured surface and knead it for a few seconds until it comes together. Roll the dough out into a large rectangle, about 13×9 inches, with the long side facing you. (Make sure you can lift the dough. If it's sticking, add more flour underneath.) For the filling, spread the softened butter onto the dough, leaving a ½-inch border around the edges. Stir together the sugar and cinnamon then evenly sprinkle over the butter. Top the cinnamon-sugar with the crumbled bacon and pecans.

Starting on one of the long sides, roll the dough and pinch ends to seal. Cut off 12 1-inch slices from the rolled dough, and place the sliced rolls close together into the baking dish. Bake uncovered for 15-17 minutes or until lightly browned.

To make the frosting, stir together the powdered sugar, butter, milk, vanilla, cinnamon, and salt until smooth. If it seems too thick, thin it with more milk. Spread onto rolls when they come out of oven. Serve warm.