A friend and I were comparing notes about our favorite childhood treats. As I was raving about my grandma's chocolate pie, my friend said, "So how's your grandma's chocolate gravy?" Huh? Chocolate gravy—is that like mole, I asked. Nope, it's spooned on biscuits, she said. I had to admit that I'd never heard of chocolate gravy; clearly I'd been deprived.
Curious why I had been denied the joys of chocolate gravy all my life, I called my grandma and demanded an explanation. "Why don't you make chocolate gravy?" I asked. She replied, "Because I don't know what it is."
I see. Apparently, my grandma was in the dark on this secret as well. My only consolation? At least I wasn't alone.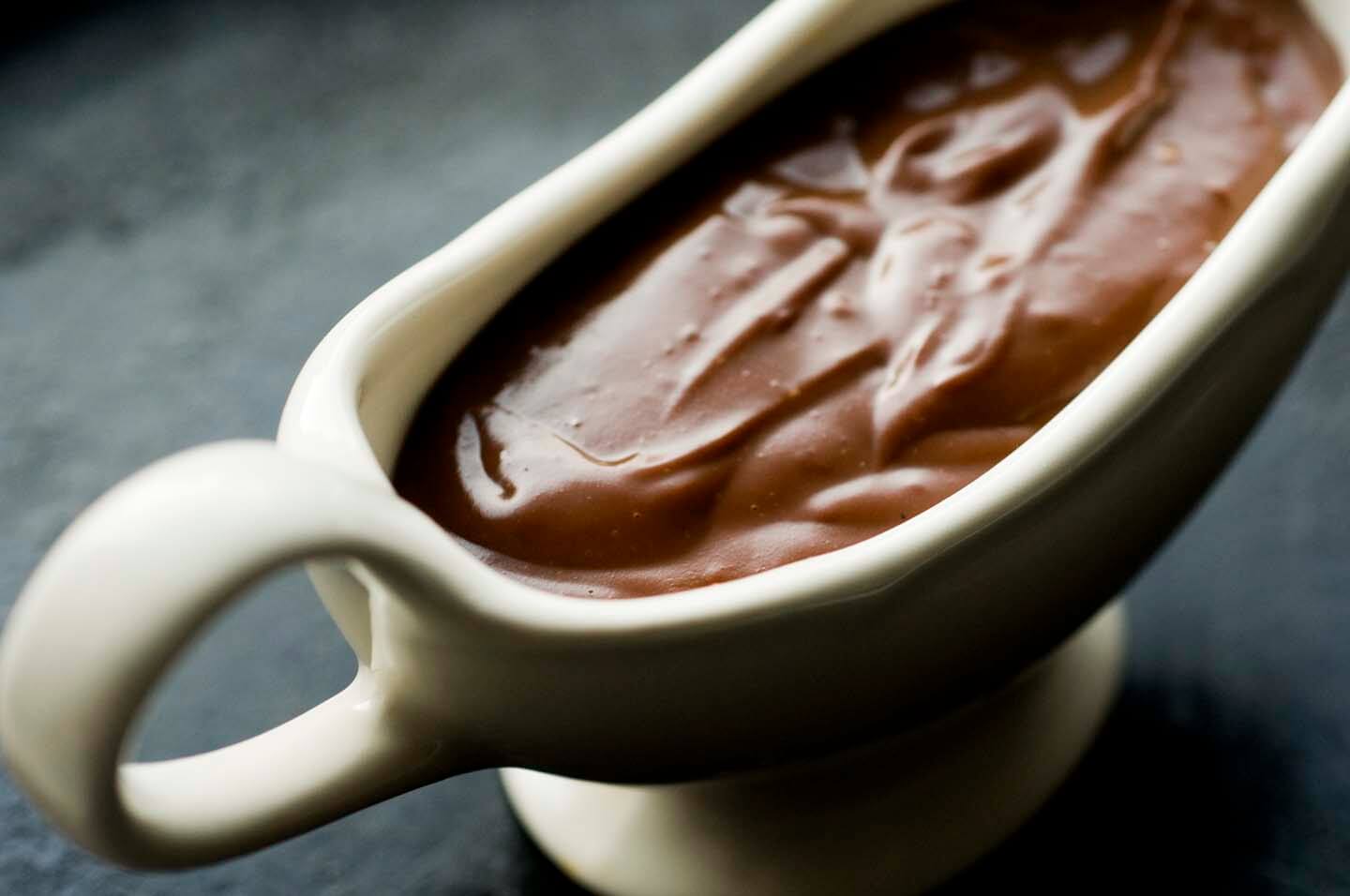 So what's the provenance of chocolate gravy? Because I know everything, I assumed that if I hadn't heard of it, then it must not be Texan.
I was wrong.

I poked around and not only had my friend—a long-standing Texan—grown up eating it within slapping distance of Dallas, but other Texan friends had been eating it all their lives as well. I heard chocolate-gravy stories from friends as far west as Midland and as far south as Houston. Though friends who had grown up in Arkansas, Tennessee and Georgia had also indulged, so it's not particular to just Texas. But no matter, my family had been missing out on a very good thing.
I needed to make up for lost time. A little research revealed that there hadn't been much chocolate-gravy recipe evolution over the years. The biggest schism I found in the chocolate-gravy community was whether to use milk or water as your liquid. I was surprised that no one had thrown some chipotle or bacon into their gravy, but actually this pleased me as it proved that chocolate gravy was indeed a classic that didn't need any tinkering. But enough about thinking, it was time to eat.
I made my first batch and it was a deep, dark concoction—smooth, creamy and thick. I sliced a biscuit in half and plopped some chocolate gravy on each half. My first bite revealed this gravy's pleasures. Its pudding-like consistency is pure comfort on a cold, winter morning. And while biscuits are in no way virtuous, their texture and heft prevents the gravy from sliding into total decadence, which is important as this is a breakfast treat after all, not dessert.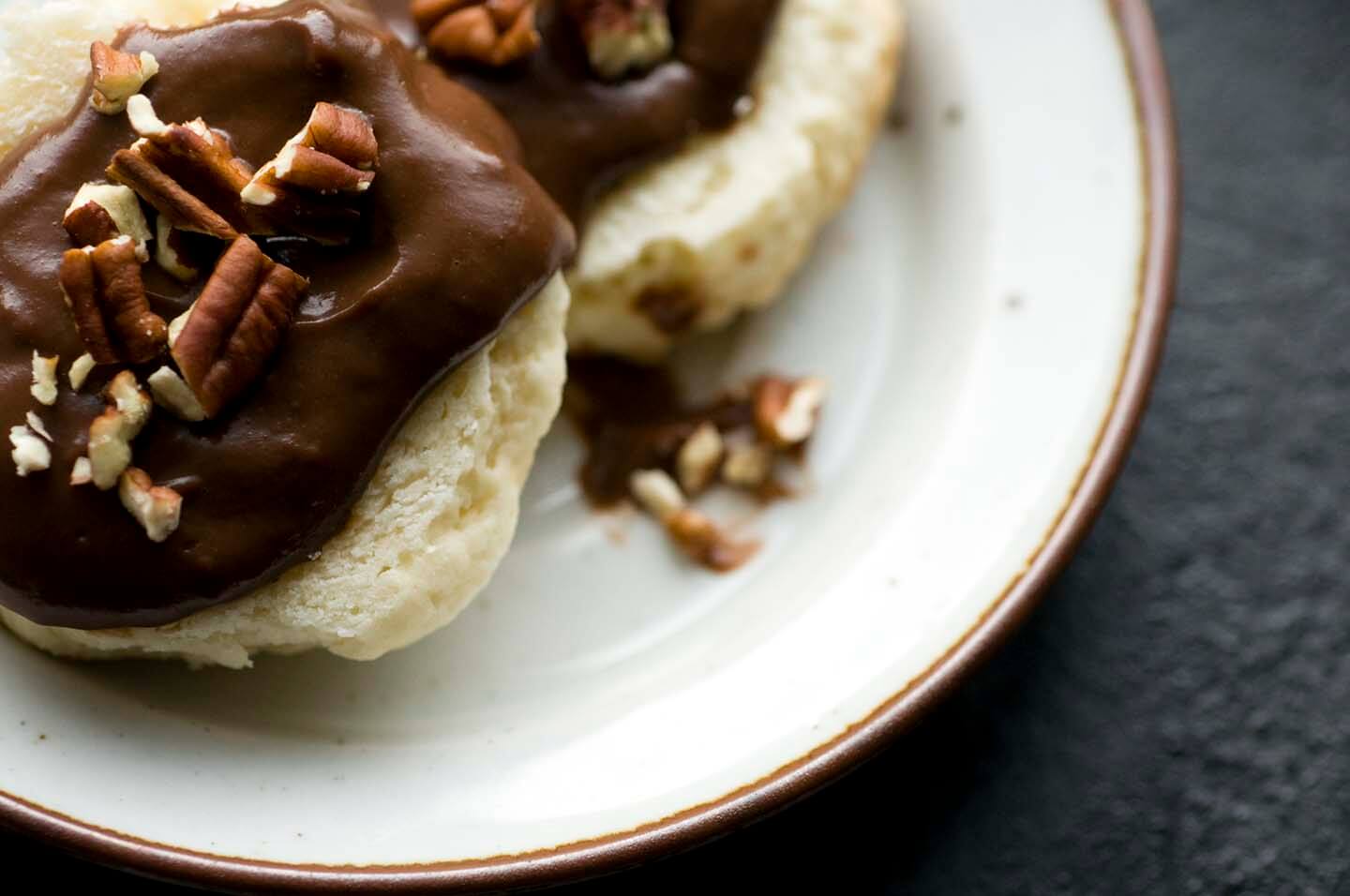 Does chocolate gravy and biscuits replace my beloved chocolate pie? No, but I certainly wouldn't pass up an opportunity to pass an occasional morning with it poured on top of a biscuit. And am I the only one who didn't grow up eating this? No matter, I am very, very pleased to finally make its acquaintance.
Chocolate gravy
Ingredients
3/4

cup

sugar

1/4

cup

all-purpose flour

1/4

cup

cocoa powder

1/4

teaspoon

kosher salt

1/2

teaspoon

ground cinnamon

2

cups

whole milk

1

teaspoon

vanilla extract

1

tablespoon

unsalted butter

Biscuits, for serving
Instructions
Mix together in a pot the sugar, flour, cocoa powder, salt and cinnamon (can sift if it's too lumpy). Add the milk and while stirring cook on medium heat until it thickens. Stir in the vanilla and butter and serve immediately with biscuits.
Notes
As you can see in the photos I topped mine with some chopped pecans. If you're not a purist, I highly recommend this; hazelnuts would be delicious as well. And if you're feeling extra spicy, go ahead and throw in a pinch of Cayenne or chipotle powder!