Mexican chocolate brownie ice cream
Memory is a strange thing. For years I've been obsessed with a chocolate brownie ice cream that I ate when growing up in Houston. It was made by Blue Bell and I used to pull the half gallon out of the freezer, scoop out a big bowl, and then sit on a stool at the kitchen counter eating it in the afternoon on summer days. But I hadn't seen it for years and wasn't quite sure that it was real or not.
When I was nine and moved to Houston from Dallas, I had Blue Bell ice cream for the first time. It was the late 1970s and Blue Bell was strictly a Houston-area brand, so I'd never heard of it until my parents came home from the grocery store with the signature gold-rimmed half-gallon tub and explained that Blue Bell was the preferred ice cream in Houston. For some reason, I was dubious at first (in Dallas, for store bought we'd eaten Braums and Haagen Dasz) but after my first bowl I was a convert. Blue Bell was sweet, cool, and refreshing—it was very good.
Back then, there weren't too many flavors available. Homemade vanilla was popular, as was chocolate chip, cookies and cream, and my favorite—that chocolate ice cream with little pieces of brownies swirled throughout the base. While having ice creams packed with other stuff is common now, in the 1970s it was a novelty. And so each time your spoon dug up one of the small pieces of brownie in the chocolate base, it was like finding a secret treasure.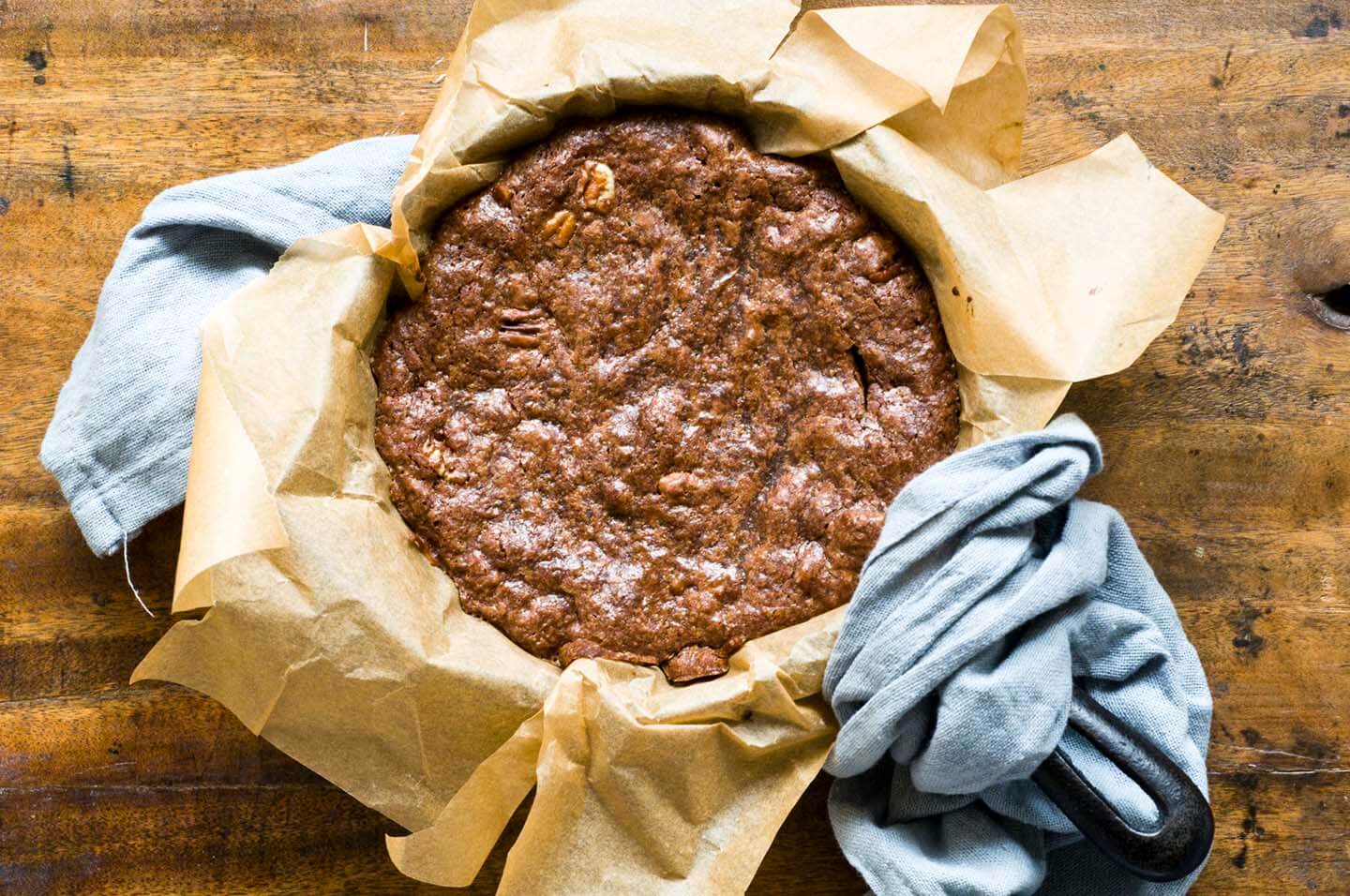 Here's the thing, however. I haven't been able to find any record of this exact flavor anywhere and when I asked several friends if they recalled it they said that they did not. For some reason, I failed to ask my mom, but finally I did and received the answer I'd been seeking. "It was chocolate on chocolate," she said, being a huge chocolate fan and all. "Of course, we ate it!"

Mom assured me that she did indeed often buy that particular flavor of Blue Bell, though like myself she couldn't remember the exact name. She then went on to talk about other brownie flavors that Blue Bell had made, the same ones that I'd seen, as well. They're not the same, she conceded, but the chocolate brownie ice cream of my memory did exist.
These days, poor Blue Bell isn't doing so well. I hope they get their problems solved soon, as they are greatly missed by many. That said, making ice cream at home isn't difficult. And in a fit of nostalgia recently, I made a batch of a chocolate ice cream stuffed with brownies, though I updated the recipe with some spices for a little added punch.
In my chocolate ice cream there is lots of cinnamon, vanilla, and a hint of cayenne—flavors common to Mexican hot chocolate. As for my brownies, which are fudgy, buttery, and rich, I threw in some ancho chile powder for additional earthy heat. Since I didn't need that much brownie, instead of baking a full recipe in a 9-inch pan, I baked a half recipe in a 4-inch skillet. You can also use muffin tins, too. (Though you should know that these brownies are pretty incredible in their own right, so if you feel inclined to double the recipe I doubt they will go uneaten!)
The brownies are then cut into small bites and gently stirred into the ice cream after the chocolate custard has been churned. Stick it into the freezer for a few more hours so the flavors can meld, and then pull out your spoons and get ready to enjoy one stupendous chocolate frozen dessert.
Recollections are often hazy and what one person thinks is truth another may question if it even happened. For years I'd been thinking about that Blue Bell chocolate brownie ice cream. When I could no longer find evidence of this particular flavor, I was convinced that perhaps I'd been wrong and my mind was faulty.


Fortunately, I'm glad that I was mistaken. While that particular ice cream is no longer available, its memory inspired me to make my own. Sometimes when you revisit the past, what you encounter isn't as good as you recalled. But I'm pleased to say that this Mexican chocolate brownie ice cream is even better than I could have anticipated. It's a sweet way to cool off on a hot day and I look forward to making new memories while sharing it with my family and friends.
—————
Thank you so much for the well wishes about my return to blogging! It means the world to me. Even though I didn't post here for a few months, I was still active in other social media outlets. To keep up with my recipe testing and trips to Texas, I invite you to follow me on Instragram, Facebook, and Twitter. And I've started adding my recipes to Pinterest, too.
Instagram: https://instagram.com/homesicktexan
Facebook: https://www.facebook.com/homesicktexan
Twitter: https://twitter.com/homesicktexan
Pinterest: https://www.pinterest.com/homesicktexan/
—————
Mexican chocolate brownie ice cream
Ingredients
Ingredients for the ice cream:
1/2

cup

heavy cream

2 1/2

cups

half and half

3/4

cup

brown sugar

1/2

cup

unsweetened cocoa powder

1

tablespoon

ground cinnamon

Pinch

of cayenne

1/2

cup

semi-sweet chocolate chips

4

egg yolks

1

teaspoon

vanilla extract
Ingredients for the brownies:
2

ounces

bittersweet chocolate

chopped

4

tablespoons

unsalted butter

1/2

cup

granulated sugar

1

teaspoon

ancho chile powder

1/2

teaspoon

ground cinnamon

1/4

teaspoon

kosher salt

Pinch

cayenne

1

teaspoon

vanilla extract

1

large egg, beaten

1/4

cup

all-purpose flour

1/4

cup

chopped pecans
Instructions
To make the Mexican chocolate custard base, in a pot whisk together the cream, half and half, brown sugar, cocoa powder, cinnamon, and cayenne until very well combined. (The cocoa powder may form lumps so just keep whisking until they're gone.) Add the chocolate chips and while occasionally stirring, cook on medium-low heat until warm and the chocolate chips have melted, about 4-5 minutes. Do not let it come to a boil.

While the base is heating, beat the egg yolks with the vanilla. Once the base is warmed, pour 1/4 cup of the base into the beaten eggs, stir until well combined, and then pour the egg mixture into the pot.

While stirring, continue to heat on low for 3 minutes or until the base gets slightly thick. Do not let it come to a boil. It's ready when it coats the back of your spoon. Cool covered in the refrigerator for at least 4 hours.

While the custard is cooling, make the brownies. Preheat the oven to 350° F and either line a 4-inch oven-proof skillet with parchment paper, or line 6 cups in a regular-sized muffin tin with parchment cups.

In a pot, on low heat melt the chocolate and butter, while occasionally stirring. Stir in the sugar, ancho chile powder, cinnamon, salt, cayenne, and vanilla extract. Mix in the eggs until well combined, and then add the flour and pecans, stirring until a smooth, thick batter is formed.

If using a skillet, spoon the batter into the pan. If using a muffin tin, fill each hole 2/3 full. Bake uncovered for 20-25 minutes, or until the edges are set. Allow to completely cool for at 30 minutes before cutting the brownies into about 1/2-inch bite sized pieces. Store in the refrigerator until time to churn the ice cream.

After everything has chilled, prepare the custard per your ice-cream manufacturer's instructions. When the ice cream has churned, spoon it into a freezer-safe container then gently stir the brownie pieces into the ice cream. You can serve the ice cream immediately but it's better if you let it harden in the freezer for at least 4 hours.