Blueberry buttermilk pie ice cream
First, let me say that it's not my usual style to eat a whole pint of ice cream in one sitting, let alone contemplate how long it would take to make another batch of this particular flavor so I could have more of it that same evening. Yet the other night I did just that with this refreshing new flavor I'd made—blueberry buttermilk pie ice cream.
Now, before I explain how I found myself on the couch scraping the edges of my container with my spoon in an attempt to get the every last bit of ice cream, let me say that this flavor was inspired by many things—namely pie and ice cream. Of course, with a name like blueberry buttermilk pie ice cream you're probably nodding your head and saying, "Of course it was." But here's the thing—I set out to make a pie but ended up with ice cream. How often does that happen?
A few weeks ago, I spotted a recipe for blueberry buttermilk pie. Like all buttermilk pies, it was a custard-based dessert made with buttermilk, eggs, and sugar, but this one was dolled up for summer with a couple of handfuls of blueberries added to the mix. It sounded lovely. That said, this time of year when it's sweltering outside, I prefer to eat cold things instead of hot. So instead of baking a pie, I wondered how the combination would taste if I turned it into ice cream instead.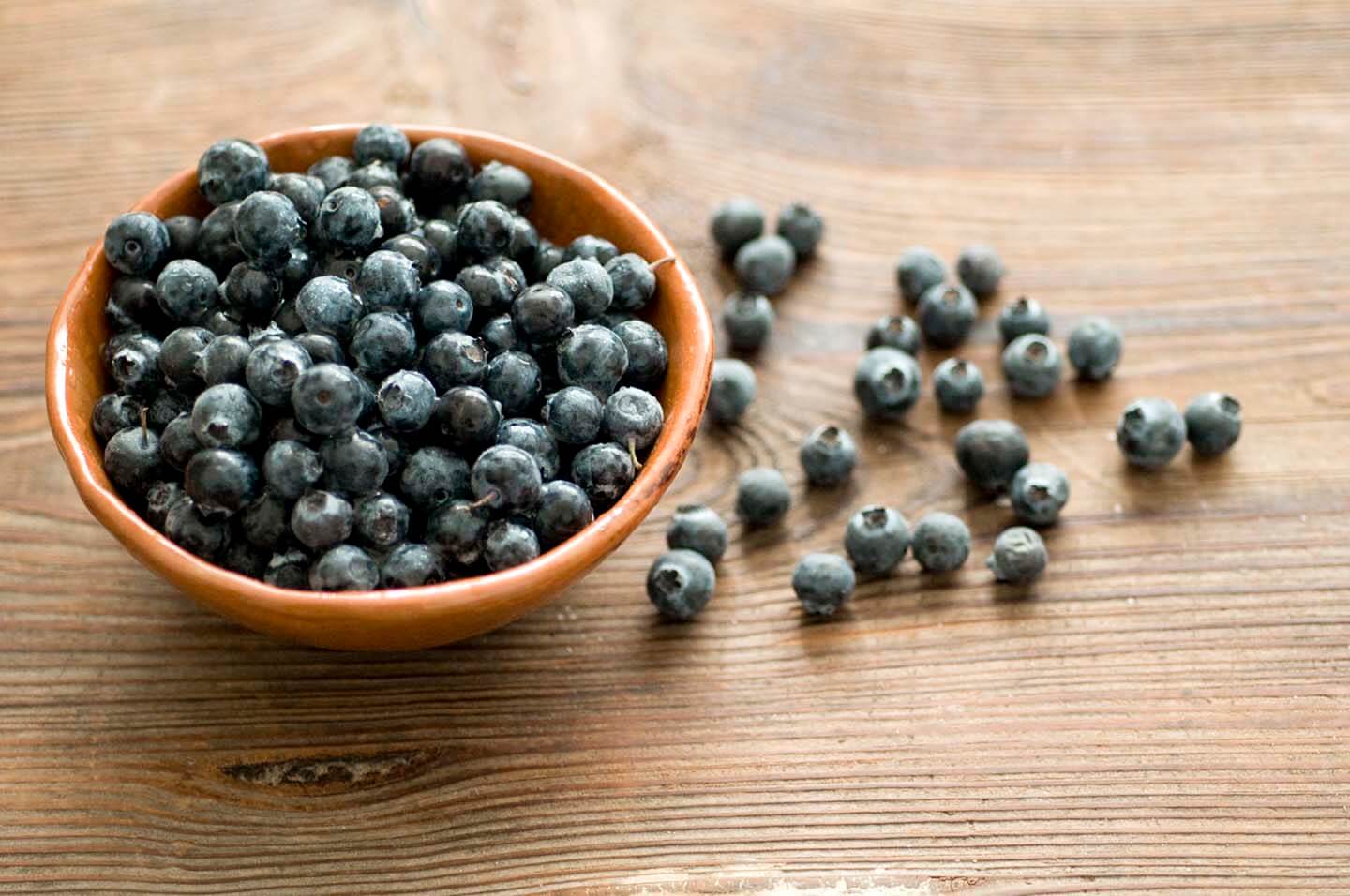 It took a couple of experiments, but ultimately my hunch proved correct. Sweet and juicy blueberries, tangy buttermilk, and cinnamon-sugar flecked pieces of piecrust all frozen into a creamy cool treat make this a very satisfying summertime dessert. Not to mention, you don't have to worry about having your oven on for hours. And when it's this hot outside, that can be the very best thing.

Preparing the ice cream is a cinch. Yes, you'll have your oven on for a few minutes to bake the piecrust and there is also some time spent over the stove making the base and the blueberry filling, but don't worry, it's not so bad. The worst part is waiting for the base to chill so you can finally churn it into ice cream. When experimenting with the recipe, I waffled between blending the berries into a puree or leaving some of them whole, and I highly recommend the latter, as the frozen berries pop with sweet, concentrated blueberry flavor. It's very refreshing.
When I was a kid, one of the highlights of my family's Fourth of July celebration was the anticipation of a big batch of freshly made homemade ice cream. Sure, we had half-gallons of Blue Bell in the freezer, but because it was a special day a special batch of ice cream was in order.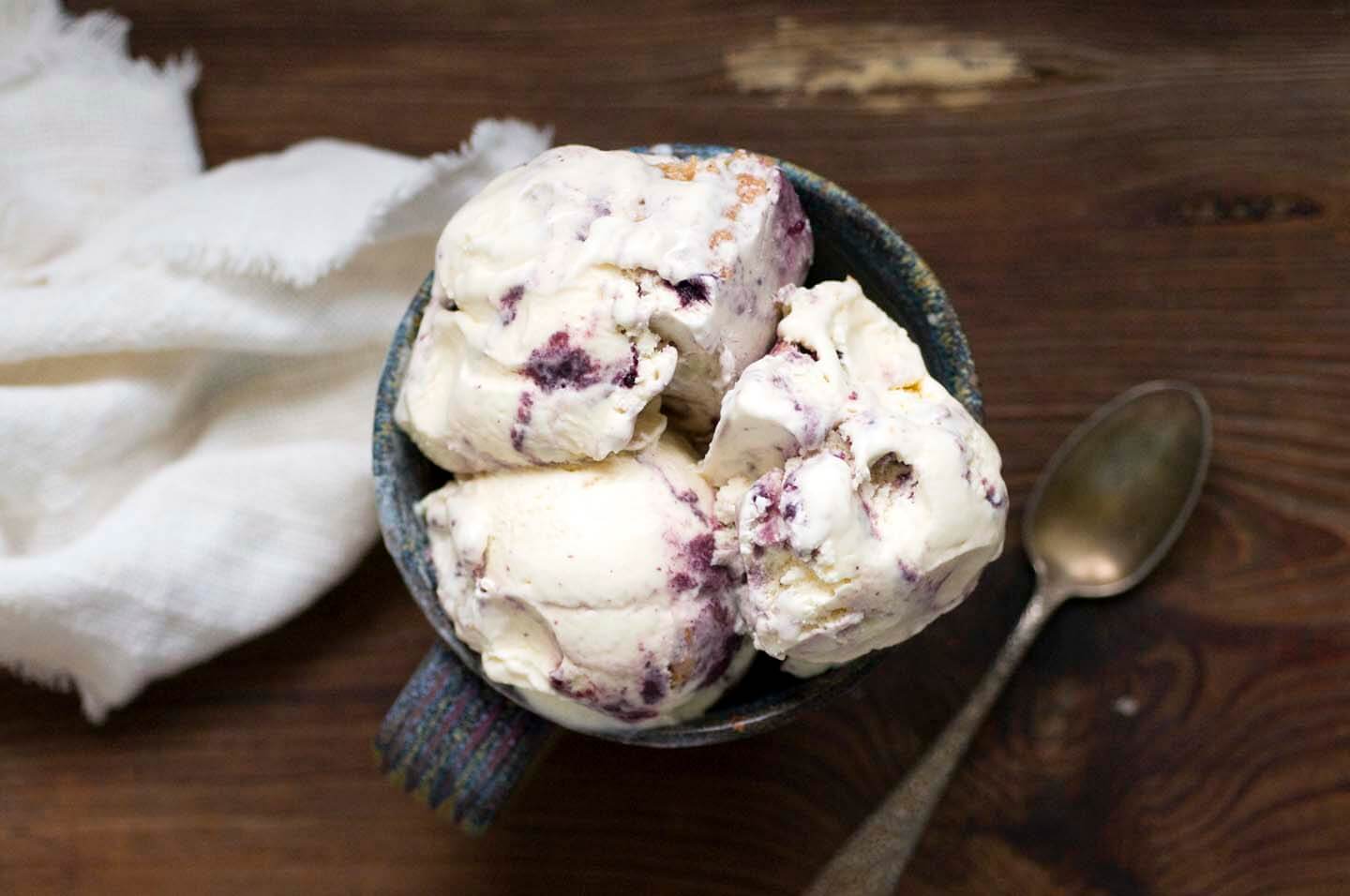 While I may be far from home, I've continued this tradition in New York. And yes, this blueberry buttermilk pie ice cream will be a welcome addition to my holiday table this year. That is, if I can keep myself from eating all of it first.
Blueberry buttermilk pie ice cream
Ingredients
Ingredients for the buttermilk ice cream::
1 1/2

cups

heavy cream

1 1/2

cups

buttermilk

3/4

cup

sugar

4

large egg yolks

1

teaspoon

vanilla extract
Ingredients for the blueberries:
1

cup

blueberries

1

tablespoon

lemon juice

1/4

cup

sugar

2

teaspoons

all-purpose flour

1/4

teaspoon

ground cinnamon
Ingredients for the pie crust pieces:
1/2

cup

of flour

Pinch

of kosher salt

2

tablespoons

vegetable oil

1

tablespoon

whole milk

1/2

teaspoon

sugar

1/4

teaspoon

cinnamon
Instructions
To make the custard base, in a pot cook the cream, buttermilk, and sugar on medium low heat until warm, about 3 minutes. Do not let it come to a boil.

While the base is heating, beat the egg yolks with the vanilla. Once the base is warmed, pour 1/4 cup of the base into the beaten eggs, stir until well combined, and then pour the egg mixture into the pot.

While stirring, continue to heat on low for 3 minutes or until the base gets slightly thick. Do not let it come to a boil. It's ready when it coats the back of your spoon. Cool covered in the refrigerator from 4 hours.

While the custard is chilling, in a pot, stir together the blueberries, lemon juice, sugar, flour, and cinnamon. On low heat, while occasionally stirring, cook the berries until the sugar has melted, and the juices are running and beginning to thicken, about 5 minutes. As the berries are cooking, gently smash some of the berries with the back of the spoon though leave some of the berries intact. Remove from the heat and chill for 4 hours.

To make the piecrust, preheat the oven to 350°F. Mix together the flour, salt, oil, and milk until well combined. Let it rest for 10 minutes and then roll out on a parchment-paper lined sheet until flat; you don't have to worry about it being perfectly round. Poke holes in it with a fork, sprinkle the top with sugar and cinnamon and bake for 20 minutes or until brown. Place in the refrigerator to cool for 4 hours.

After everything has chilled, prepare as per your ice-cream manufacturer's instructions. When the ice cream is done, break the piecrust into small pieces and gently stir them into the ice cream until well distributed.

To make the blueberry swirl, layer 1/3 of the ice cream into an airtight 1-quart container and with a spoon evenly dollop 1/3 of the blueberry filling over the ice cream. Repeat the process until all of the ice cream and blueberry puree is in the container. Freeze covered for at least 2 hours before serving.