Pinto bean and hominy salad
Since I don't have a backyard in New York, I've always had to rely on the kindness of others when it comes to outdoor dining. Fortunately, however, I have friends with yards who enjoy inviting people to their homes for smoked briskets, sausage, and ribs. Since you can't arrive empty handed I have long learned that a good side dish is always welcome, and this time of year I'm making them often.
While I do have my old favorites that are always appreciated, I'm always looking for new ones to keep things interesting for both my friends and me. While I have a lot of recipes to choose from, sometimes I'll find myself throwing stuff together at the last minute, hoping that it works. But this is the beauty with salads—as long as the components complement each other, it's hard to go wrong.
One dish I love is a Texan standard made with black-eyed peas, peppers, and tomatoes. It's commonly known as Texas caviar, a name bestowed upon it by the late, great Dallas chef and cookbook author Helen Corbitt. Last summer, however, I saw a black-eyed pea salad made with hominy, an addition that isn't usually found. Since you don't often see hominy in a cold preparation, I was intrigued.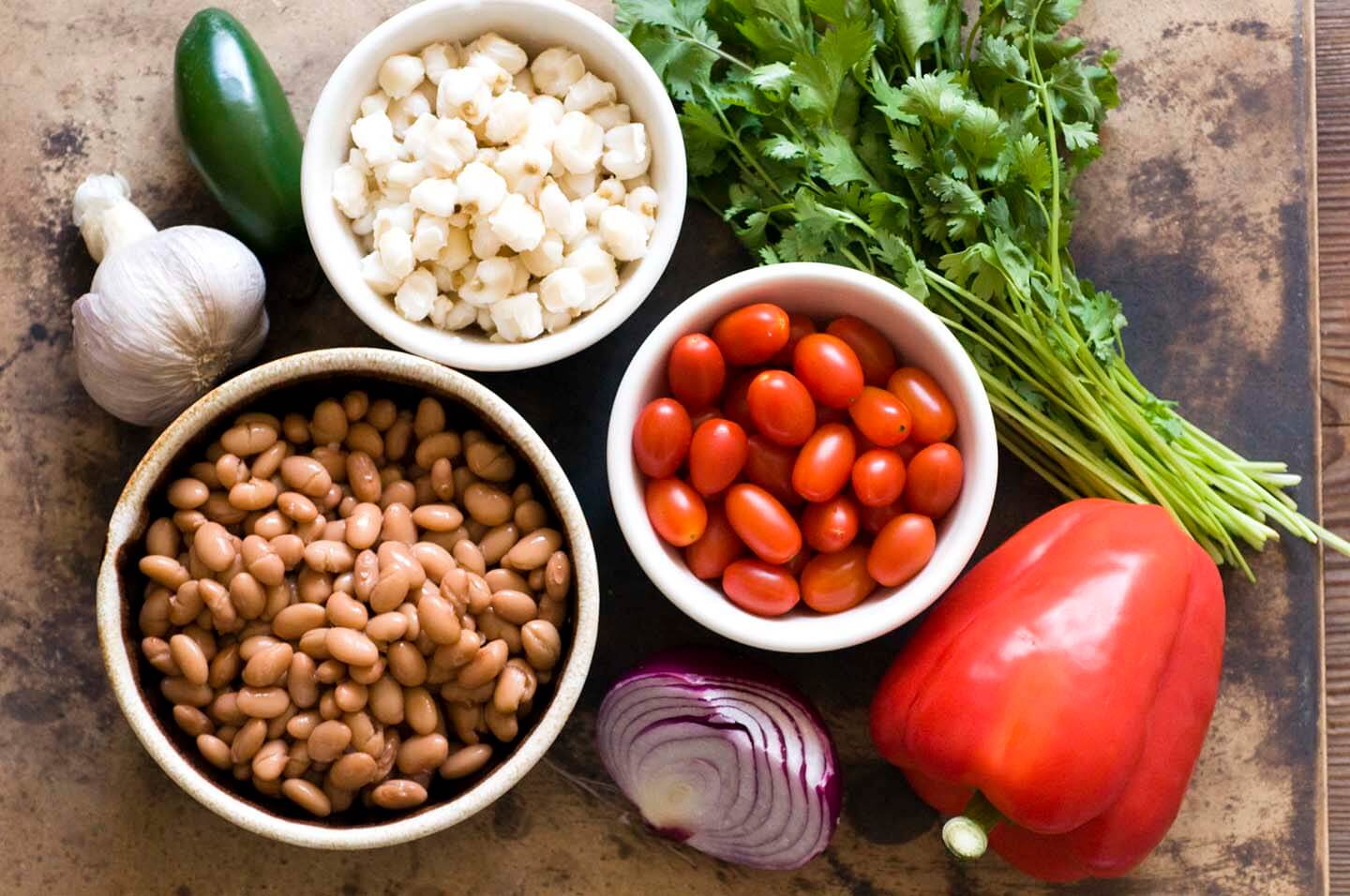 That said, I soon learned that this wasn't a completely new thing as hominy salads have been on record since the 1800s. In old cookbooks you'll see hominy salads made like a potato salad, where instead of said tubers you toss the hominy with the dressings, aromatics, peppers, and eggs. Cold hominy salads mixed with proteins such as boiled chicken or lobster were also popular back in the day, as well.

Hominy, which is corn that has been treated with the mineral lime until it blooms and puff, has a distinct toasted flavor. And as this treated corn is also the same used in making masa for corn tortillas, I find that hominy pairs especially well with beans, so adding it to a black-eyed pea salad made sense. Yet I have to admit that I prefer hominy with pinto beans, so when I set out to make a salad with hominy, that's what I chose to use instead.
To make my pinto bean and hominy salad, I took a few cups of leftover pinto beans, drained them, and then tossed them with some hominy. (While you could make the hominy from scratch, I took the easy route and used canned.)
I then threw in some red bell pepper, jalapeño, tomatoes, red onion, garlic, cilantro, and lots of lime juice. For a bit of depth, I also stirred in a few dashes of earthy cumin and smoked paprika. To finish, I garnished the salad with salty, tangy Cotija cheese, though crumbles of feta cheese would work just as well.
My instincts were correct and the salad was very satisfying. Though I'm not surprised as it's hard to go wrong with creamy beans, chewy hominy, and crunchy vegetables all tossed with a bright and lively dressing.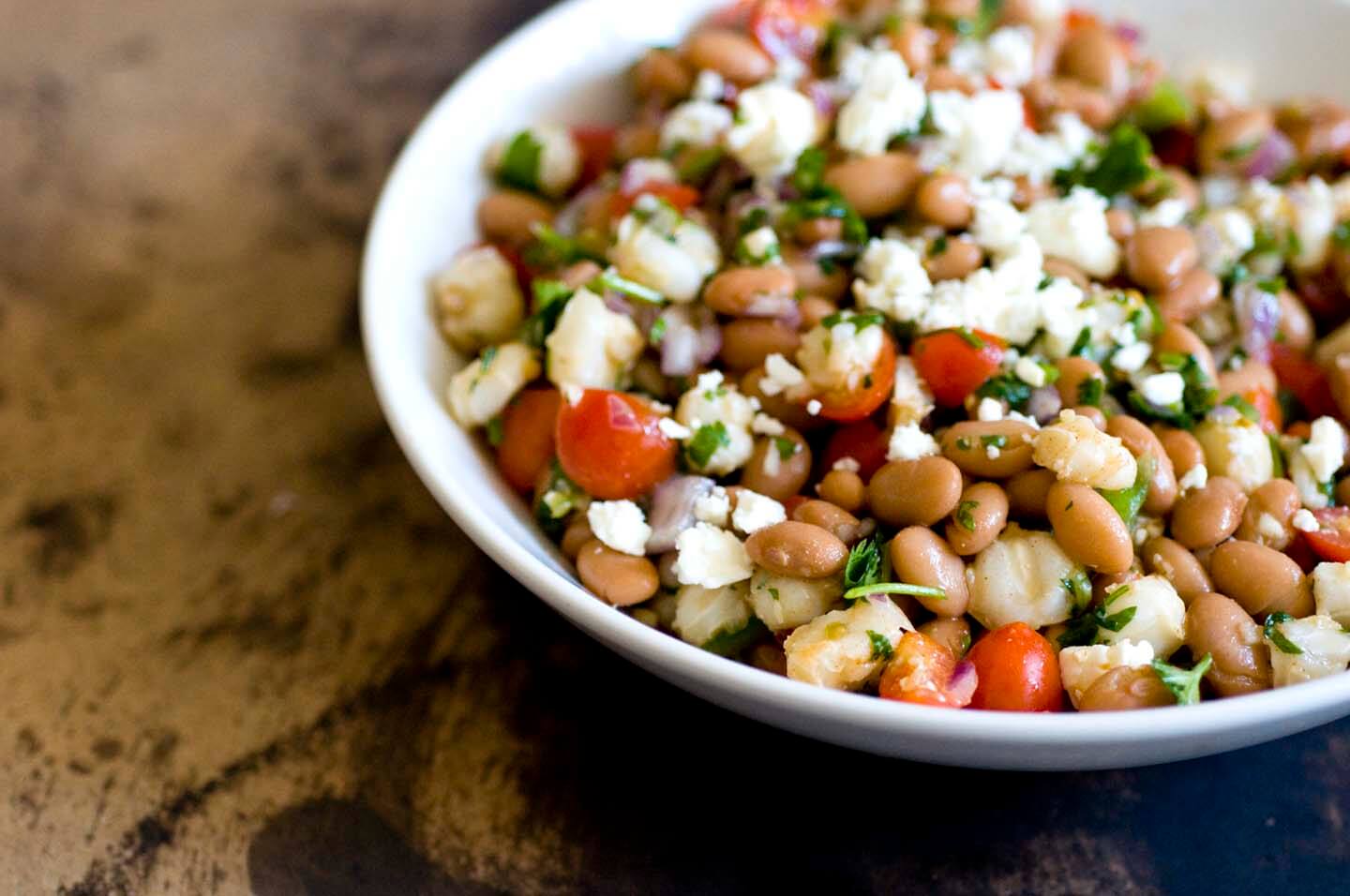 While I had a hard time stopping myself from sneaking bites, I did manage to bring most of it to a gathering and everyone concurred—this pinto bean and hominy salad was a keeper. And when you make this (and I think you should), you'll have a fresh side dish that will be the hit of your next barbecue. Matter of fact, if you love pinto beans, this pinto bean and hominy salad might just become the main event.
Pinto bean and hominy salad
Ingredients
4

cups

cooked pinto beans,drained or 2 (15-ounce) cans pinto beans, drained

1

15-ounce can hominy, drained

1/4

red onion, diced

2

cloves

garlic, minced

1

cup

grape tomatoes, quartered or 2 ripe plum tomatoes, seeded and diced

1/2

cup

cilantro, chopped

1

small red bell pepper, seeded and diced

1

jalapeño, seeded and diced

2

tablespoons

freshly squeezed lime juice

4

tablespoons

olive oil

1/2

teaspoon

ground cumin

1/4

teaspoon

smoked paprika

1/2

cup

Cotija chees, crumbled or 1/2 cup feta cheese, crumbled

Salt
Instructions
In a large bowl, add the pinto beans, hominy, red onion, garlic, tomatoes, cilantro, red bell pepper, and jalapeño. Toss until well combined.

Whisk together the lime juice, olive oil, cumin, and smoked paprika. Pour over the beans and stir until evenly distributed. Stir in the Cotija or feta cheese. Add salt to taste.

While you can serve it immediately, it tastes better if covered and chilled for at least an hour.