Peppery pinto beans with sausage
I love beans. Soupy beans, refried beans, beans in a dip, or beans in a salad—it doesn't matter how you serve them, I will eat beans and be happy. Like most Texans, they've long been a staple on my family's table and I make a pot at least once a week. Matter of fact, I love them so much that I once preferred a side dish of pinto beans over some world-famous barbecue.
It happened last year. I was at the annual Foodways Texas symposium and renowned pitmaster Aaron Franklin served us dinner one night. Yes, his brisket was indeed exceptional, but it was his peppery pinto beans that I wanted to brave the line for yet another round. I know this may sound strange but I couldn't stop eating them! And actually, I wasn't alone in this opinion as others agreed his beans were superb. For me, it was the beans that were worth the long wait.
Without access to a smoker or an outdoor space, I knew that I couldn't even begin to replicate his barbecue, but I figured Franklin's beans were probably more doable. So after dinner, I went up to Aaron and asked him how he made his addictive beans. He shrugged and said it wasn't anything complicated—he just threw into a pot some pinto beans along with some chopped brisket and a few shakes of pinto bean spice and let it simmer for a long time.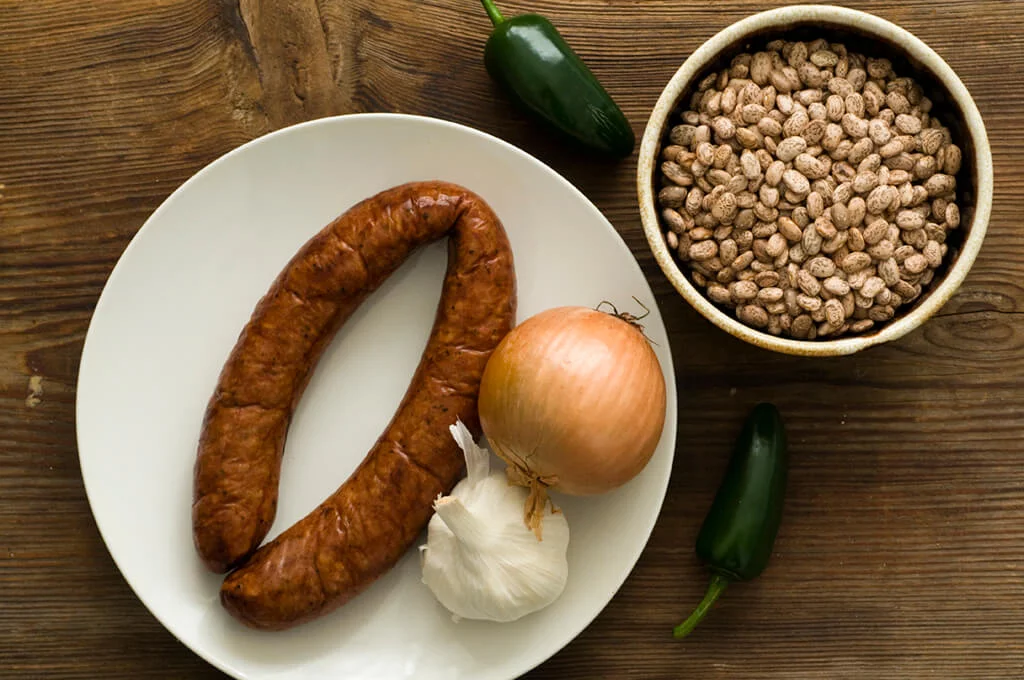 Well, I decided it was probably his smoked meat that took his beans over the top. Yet there was certainly no reason why I couldn't at least try to make a similar pot, especially since most of his ingredients—save for the brisket—I always have on hand in my kitchen.

As I was beginning to make my pot of beans, I recalled my mom used to make pinto beans with smoky kielbasa sausage. It wasn't sweet like beanie wienies but was instead more like a Texan take on that Cajun favorite, red beans and rice. The heartiness of the sausage coupled with the spicy, rich beans made for a mighty fine meal. It was then I realized that my mom's beans were what Aaron's beans had reminded me of, and explained why I loved his so much. It was time to bring this old family favorite back into my regular rotation.
Now, some people think that beans are complicated, but they're not as long as you let them slowly do their thing. This pot was no different, and after stirring together pintos with sausage, jalapeños, aromatics, and a handful of spices, I then let them hang out on the stove for a few hours they until they gently came to life. When the beans were tender and the broth rich and savory, I then finished with a few dashes of smoked paprika for a final burst of smoke. It was a perfect pot of beans.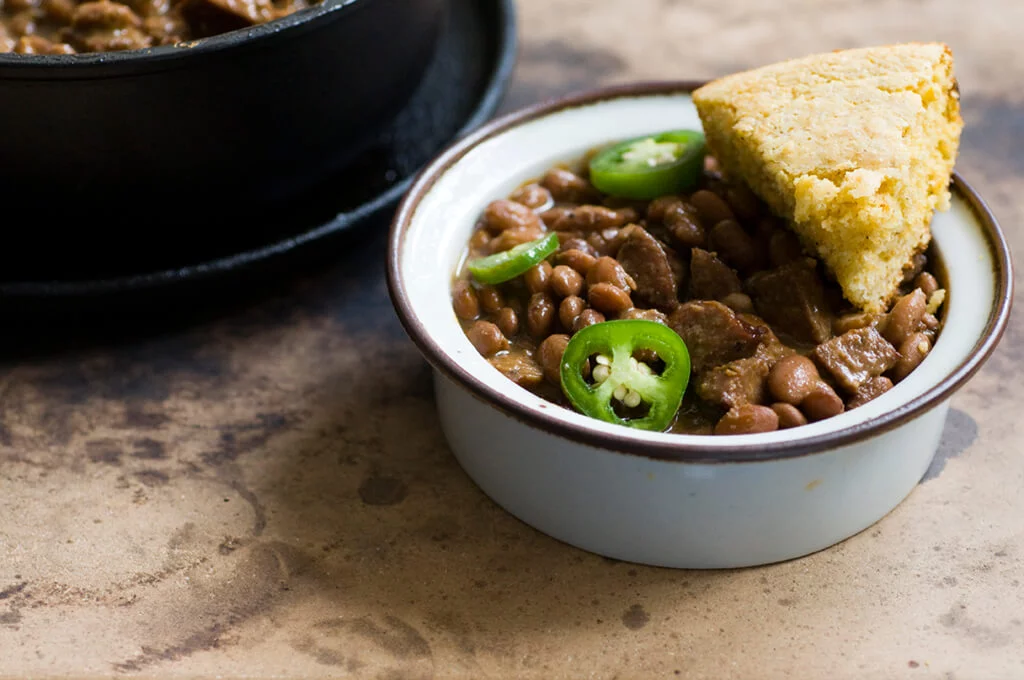 A bowl of beans is Texas-style comfort food at its best, and these peppery beans with sausage are no different. You can present them as a side dish and they will be the hit of your barbecue, or you can ladle them into big bowls and serve with wedges of warm cornbread for a satisfying supper. And yes, you must be patient while beans slowly reveal their true nature. But it's okay because like all good things, beans are well worth the wait.
—————
Would you like more Homesick Texan? Well, I've started offering additional recipes for paid subscribers to help with the costs of running the site. While I'm not taking anything away, if you'd like to support Homesick Texan and have access to exclusive, never-seen-before subscriber-only posts, please consider becoming a member; annual subscriptions are as low as $25. Thank you for reading, your consideration, and your support!
—————
Peppery pinto beans with sausage
Ingredients
1

pound

dried pinto beans

1

tablespoon

vegetable oil or bacon grease

1

pound

smoked kielbasa, cut into 1/2-inch dice

1

medium yellow onion, diced

2 to 4

jalapeños,seeded and diced

4

cloves

garlic, minced

2

cups

water

1/4

cup

chopped cilantro

1

tablespoon

chili powder

2

teaspoons

ground cumin

2

teaspoons

dried oregano

1

teaspoon

smoked paprika

1

teaspoon

black pepper

1

tablespoon

kosher salt

Sliced jalapeños, for serving
Instructions
Rinse and sort the beans. Place in a large pot or Dutch oven, cover with two inches of water, bring the pot to a boil then turn off the heat, cover the pot, and allow the beans to soak for an hour. After an hour when the beans have almost doubled in size, drain and rinse the beans and rinse the pot.

Place the pot back on the stove and add the oil. Heat up the oil on medium-low heat. Add the sausage, and while occasionally stirring, cook until it just begins to crisp and some of the fat is rendered, about 3-5 minutes. Add to the pot the onion and jalapeños and cook until softened, about 5 minutes. Add the garlic and cook for 30 more seconds. Pour in the water and deglaze the pot, scraping the bottom of the pan to incorporate any stuck bits.

Return the beans to the pot and add enough water to cover the beans by 1 inch, about 6 more cups. Stir in the cilantro, chili powder, cumin, oregano, smoked paprika, black pepper, and salt, turn the heat up to high and bring the pot to a boil. Once it's boiling, turn the heat down to low and then cook partially covered until tender, which can take anywhere from 2 hours to 3 1/2 hours, depending on the age of the beans.

Keep an eye on the beans as they cook, making sure the liquid doesn't get too low (if it does, add about 1/4 cup more water to the pot) and gently stir every half hour or so. I also like to taste the broth after 1 1/2 hours and see if the seasonings need any adjusting. You'll know they're done when the broth is rich and brown with most of the vegetables dissolved, and the beans, of course, are tender.

When the beans are done to your satisfaction, taste again and adjust the seasonings—at this point I usually add a few more dashes of salt, black pepper, and smoked paprika. Serve the beans warm topped with sliced jalapeños, though if you have the time, let the beans rest overnight in the refrigerator and then reheat, as they only get better the next day.
Notes
While I haven't tested the recipe in a slow cooker (there is no room for one in my small kitchen), I think this recipe would work well in one. To make it, I would cook the sausage, jalapeños, onions, and garlic in a skillet before adding them along with the soaked pinto beans and the rest of the ingredients.