Spicy chocolate pecan cookies
Valentine, Texas is a squint of a town in far West Texas. If you're heading to Marfa from El Paso, then you'll drive through it as you head to your destination. Though if you're not paying attention, you could very well miss it.
While Valentine is indeed small, it is large enough to have a post office. And every year people send their valentine cards to Valentine, Texas to get a special postmark. That post office, however, is the only business around. So, for instance, if you're hungry then you'll have to keep on driving. But that's okay, as Marfa is only a few more miles down the road.
Now Marfa isn't large either, but it does have a fair number of places to eat. You'll find Mexican food, American food, Italian food, falafels, grilled cheese sandwiches, a Dairy Queen, and pizza. There's also a quirky cafeteria, which has delicious proteins, sides, sandwiches, and homemade cookies for dessert.


The last time I was in Marfa, I ate lunch at the cafeteria, which is called Future Shark. It was a fine meal and after a week of stuffing my face with nothing but cheese, tortillas, and chili gravy, it felt good to get some fruits and vegetables (besides chips and salsa) into my system. As good as my meal was, however, I declined grabbing one of the cookies on display because I was too full.

This turned out to be a mistake. And as I drove out of town and continued on my road trip, I kept wondering if perhaps I should turn around and go back for a cookie. Well, that didn't happen. The West Texas sky was magnificent that day and I was soon caught up in taking pictures of clouds. And the nice thing about Texas is that there is an abundance of good food so I found plenty to eat once I hit Alpine, the next town down the road.
But I kept thinking about those cookies. Fortunately, when I got back to New York, a little research lead me to a recipe for a spicy chocolate cookie by the cafeteria's chef, Krista Steinhauer, which I found in the book Sweet on Texas by Denise Gee. I'm not certain if it was one of the desserts on display when I ate at the cafeteria, but I knew that I could at least bake one of her tantalizing creations at home.
In my haste to make the cookies, however, I soon realized that I didn't have all the ingredients on hand, such as pepitas. But I did have pecans, which make for a fine substitution, and I found that the rest of the recipe was also extremely adaptable.


Are you a fan of chocolate along with a little heat? Then this spicy chocolate pecan cookie is for you. Starting with a rich cocoa base, the cookie gets additional jolts from espresso powder, cinnamon, vanilla, and orange zest, along with pinches of ground clove and cayenne for a bit of fire. And then to keep things texturally interesting, you add handfuls of oatmeal and toasted pecans, along with some chocolate chips.
Each crisp yet tender bite is rich with deep, nutty chocolate. Though speaking from experience, you might have to eat several cookies in a row to confirm that this is indeed the case. Also know that if you're a dunker, these go extremely well with a glass of milk or a cup of creamy morning coffee.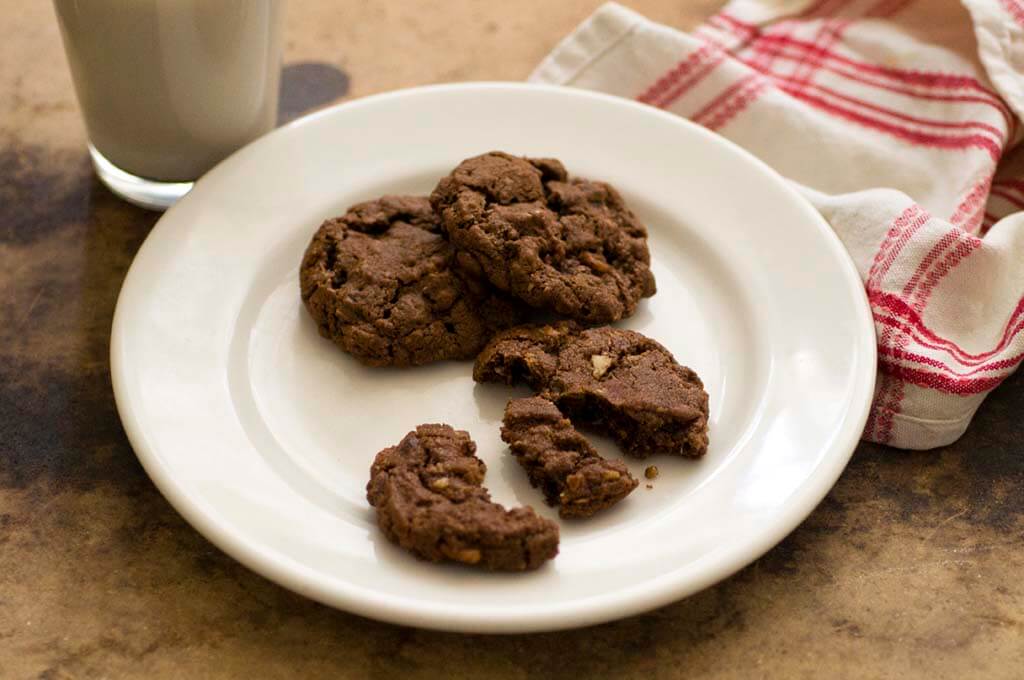 As chocolate and valentines go together like rice and beans, what could be more appropriate than a chocolate cookie inspired by a Texas town also named after that particular saint? (Okay, admittedly its inspiration was a few miles down the road, but it's close enough.)
You'll want to share these spicy chocolate pecan cookies with someone you love—on Valentine's Day or at anytime, because like love, cookies are always welcome. And if the big sky and vast, scratchy dessert of far West Texas are also in your heart, then perhaps eating a plate of these will keep you satisfied until it's time to hit the road again.
Spicy chocolate pecan cookies
Ingredients
1/2

cup

1 stick unsalted butter, room temperature

1/2

cup

packed brown sugar

1/2

cup

granulated sugar

1

large egg

1

teaspoon

vanilla extract

1

tablespoon

orange zest

3/4

cup

all-purpose four

1/4

cup

cocoa powder

1

teaspoon

espresso powder

1/2

teaspoon

kosher salt

1/2

teaspoon

baking powder

1/2

teaspoon

baking soda

1

teaspoon

ground cinnamon

1/8

teaspoon

ground cloves

1/8

teaspoon

cayenne

1/2

cup

rolled oats, not instant

3/4

cup

semi-sweet chocolate chips

3/4

cup

chopped roasted pecans
Instructions
Preheat the oven to 350°F. Lightly grease or line with parchment paper two baking sheets. Cream together the butter, brown sugar, and granulated sugar until smooth. Add the egg, vanilla, and orange zest and beat until creamy.

Whisk together the flour, cocoa power, espresso powder, salt, baking powder, baking soda, cinnamon, cloves, and cayenne. Add the dry mixture to the liquid mixture. Stir until well combined. Stir in the oats, chocolate chips, and pecans.

Working in batches, form the dough into walnut-sized balls (if it's too soft, you can place it in the refrigerator for 10 minutes) or scoop out the dough using a 1-tablespoon cookie scoope, and then place on the prepared baking sheets 2 inches apart.

Bake one sheet at a time, for 10 to 12 minutes or until the cookies have expanded and puffed. When they come out of the oven, the cookies will still be soft but as they cool, the cookies both harden and flatten. Cool on the sheet for 5 minutes then transfer to a wire rack to continue cooling. Repeat for the remaining cookie dough.
Notes
Espresso powder is a dark, finely ground instant coffee. You can usually find espresso powder next to the regular instant coffee at the supermarket or at gourmet stores. If you can't find it, then finely ground coffee beans, preferably a dark roast, can be substituted instead.