Often I'll hear about new restaurants in Texas to try and because I'm thousands of miles away, I can only look at the menu and imagine how the food must taste. One such place is this new taco stand in Austin that my friends have been buzzing about called Taco Ranch. It's nothing fancy but instead Tex-Mex favorites such as crispy tacos, breakfast tacos, queso, and chips.
One item on the menu that does appear novel, however, is the restaurant's sole dessert. It's something called a churro brownie, and I the first time I read this I had no idea what that meant.
For instance, a churro is fried dough dusted in cinnamon and sugar. The pastry is originally from Spain but it's now common in Mexico, too. Yet beyond Spain and Mexico, churros are also found at many Mexican restaurants in the U.S. and there are even churro vendors on the subways in New York. Then there are brownies, which are crisp and fudgy chocolate bar cookies that sometimes veer into cake territory.
But what is a churro brownie?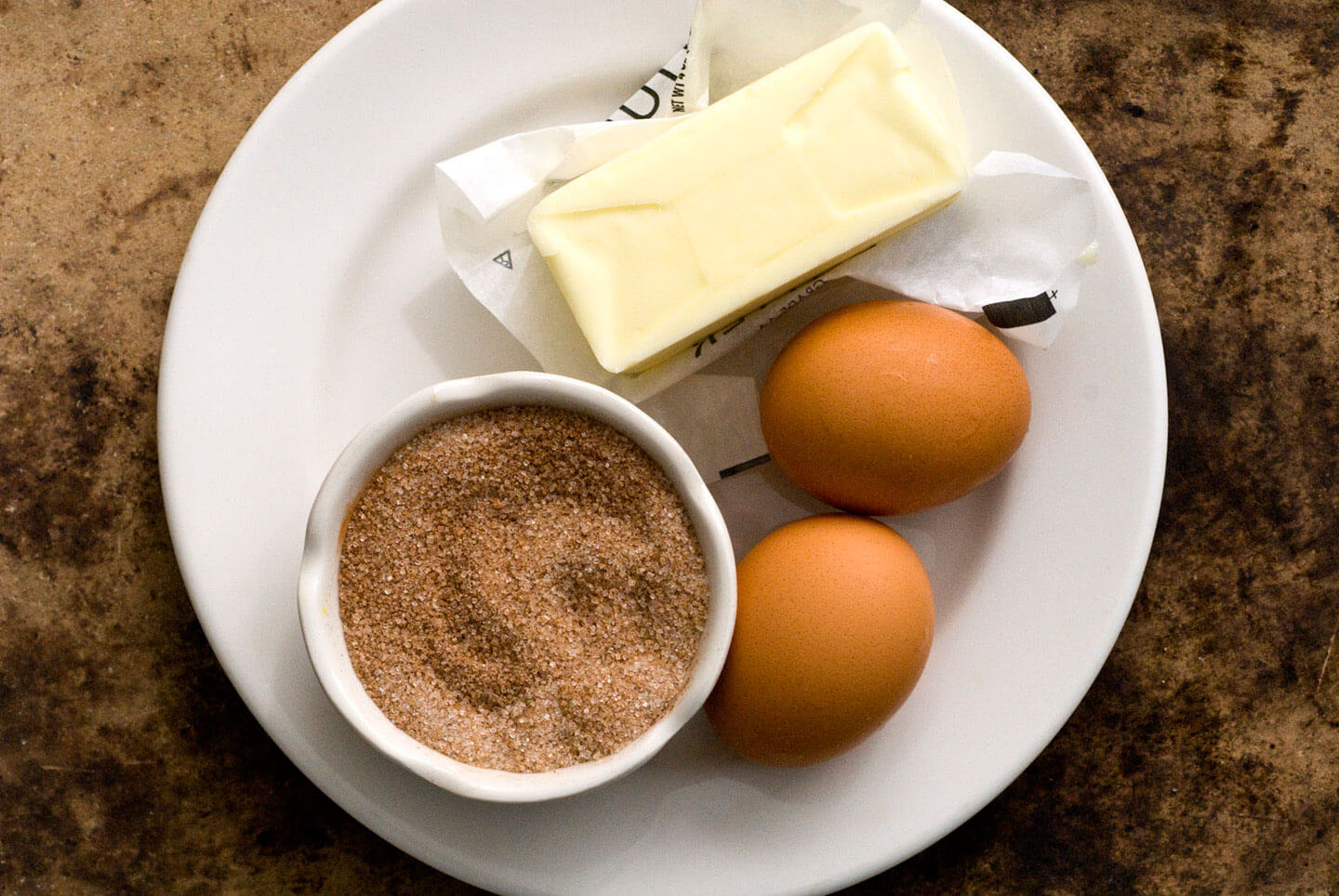 I figured it was a brownie coated in cinnamon sugar, and I was close. But when I finally got a full report on this confection, I learned that the churro brownie is not a chocolate-based bar but instead brown-sugar based, much like the treat we sometimes call blondies. Indeed, before blondies were known as such, a term that came into vogue in the late 1960s, they were called butterscotch brownies, recipes for which started appearing in publications in the 1930s.
So, without having had this restaurant's rendition, I decided to go ahead and attempt to make my own. First, I adapted my family's butterscotch brownie recipe from my second cookbook, and then before baking, I generously smothered it in a cinnamon-sugar topping. The result was good but a bit flat. It needed more sparkle.
For the next batch, I added a pinch of salt, which improved things but they still lacked something. Doing research on churros, I learned that in Mexico orange zest is occasionally used to flavor the dough. Thinking that was a good idea, I shredded some fresh orange peel into my batter, dialed down the sugar, and slid my pan into the oven. After they had baked, for a final boost of flavor, I lightly sprinkled them with flaked sea salt.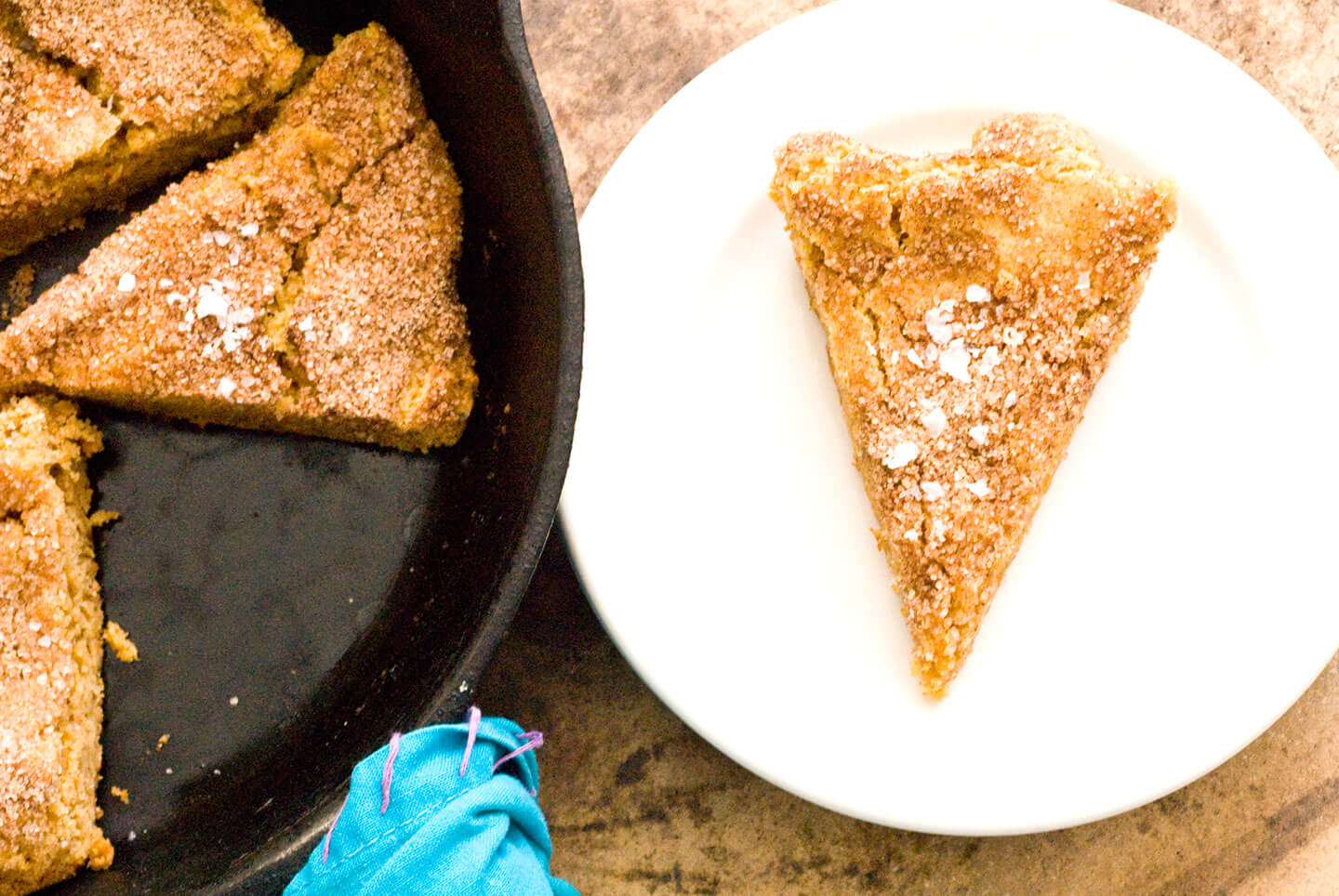 After allowing my churro brownies to cool, I cut off a wedge. (I had baked it in a skillet but the recipe would work fine in a baking pan, too). The topping was sweet and sandy with a hint of salt, while the base was soft with caramelized notes from the butter and brown sugar along with some brightness from the zest. They were excellent and I could have eaten them all but restrained myself to only eating half.
Is this what they serve in Austin? I have no idea but that's okay, for if you enjoy the flavors of cinnamon, orange, and brown butter then you'll find that these churro brownies are very fine indeed.
—————
Would you like more Homesick Texan? Well, I've started offering additional recipes for paid subscribers to help with the costs of running the site. While I'm not taking anything away, if you'd like to support Homesick Texan and have access to exclusive, never-seen-before subscriber-only posts, please consider becoming a member; annual subscriptions are as low as $25. Thank you for reading, your consideration, and your support!
—————
Churro brownies
Ingredients
8

tablespoons

(1 stick) unsalted butter

1 ½

cups

brown sugar

2

large eggs, beaten

1

teaspoon

vanilla extract

1 ½

cups

all-purpose flour

2

teaspoons

baking powder

Pinch

kosher salt

2

tablespoons

fresh orange zest

¼

cup

granulated sugar

1 ½

tablespoons

ground cinnamon

Flaked sea salt, for garnishing
Instructions
Preheat the oven to 350°F and line with parchment paper or grease a 9-inch square-baking pan or 9-inch cast-iron skillet.

On low heat, melt the butter. Remove from the heat and allow to cool, about 10 minutes.

Once cool, add to the melted butter the brown sugar, eggs, and vanilla extract. In a separate bowl, whisk together the flour, baking powder, salt, and orange zest until well combined.

Add the dry ingredients to the liquid ingredients and stir at least 20 times until a thick, light batter is formed. The batter should not be runny or soupy! The stirring is an important step because if it the batter isn't mixed enough, it won't be filled with enough air, which can lead to it not setting. Feel free to use a mixer if you prefer not to stir by hand.

Spread the batter into the baking pan. Stir together the sugar and cinnamon then spoon evenly over the batter. Bake uncovered for 20-25 minutes or until the edges are set. (Be sure to not overcook as the churro brownies will harden as they cool.) Lightly sprinkle with the flaked sea salt, then allow to cool for at least 20 minutes before slicing and serving.