Brown sugar and coffee glazed ham
Ham has long been a favorite celebration dish in my family. We usually serve it on big feast days such as Easter, Thanksgiving, and Christmas, though it's also been known to make an appearance on Sundays, too. For instance, whenever my great-grandma Blanche didn't have time to prepare fried chicken for her Sunday guests, she would instead offer them ham when they got home from church.
Back when my family were working farmers, they would cold smoke their hams themselves after butchering their hogs. These days, however, the hams we enjoy come from the grocery store, already cured and perhaps smoked, as well. (Though if you'd like to someday cure your own ham, here's my method for doing that.)
Since not all store-bought hams are created equal, I tend to look for ones that have minimal processing with the bone still intact for the best flavor and texture. Though if you're worried about carving a ham with a bone, I recommend getting one that's been spiral sliced.
Cured hams have already been cooked, so all you're doing is heating it up in the oven. Ease of preparation is part of ham's appeal, which is why it's important to invest in one of quality. Even though it's already cooked, however, you can add your own touch with a glaze brushed on at the end of heating. While the glazing process won't penetrate deep enough to change the flavor of the meat, it does add an appealing flourish to the ham's edges.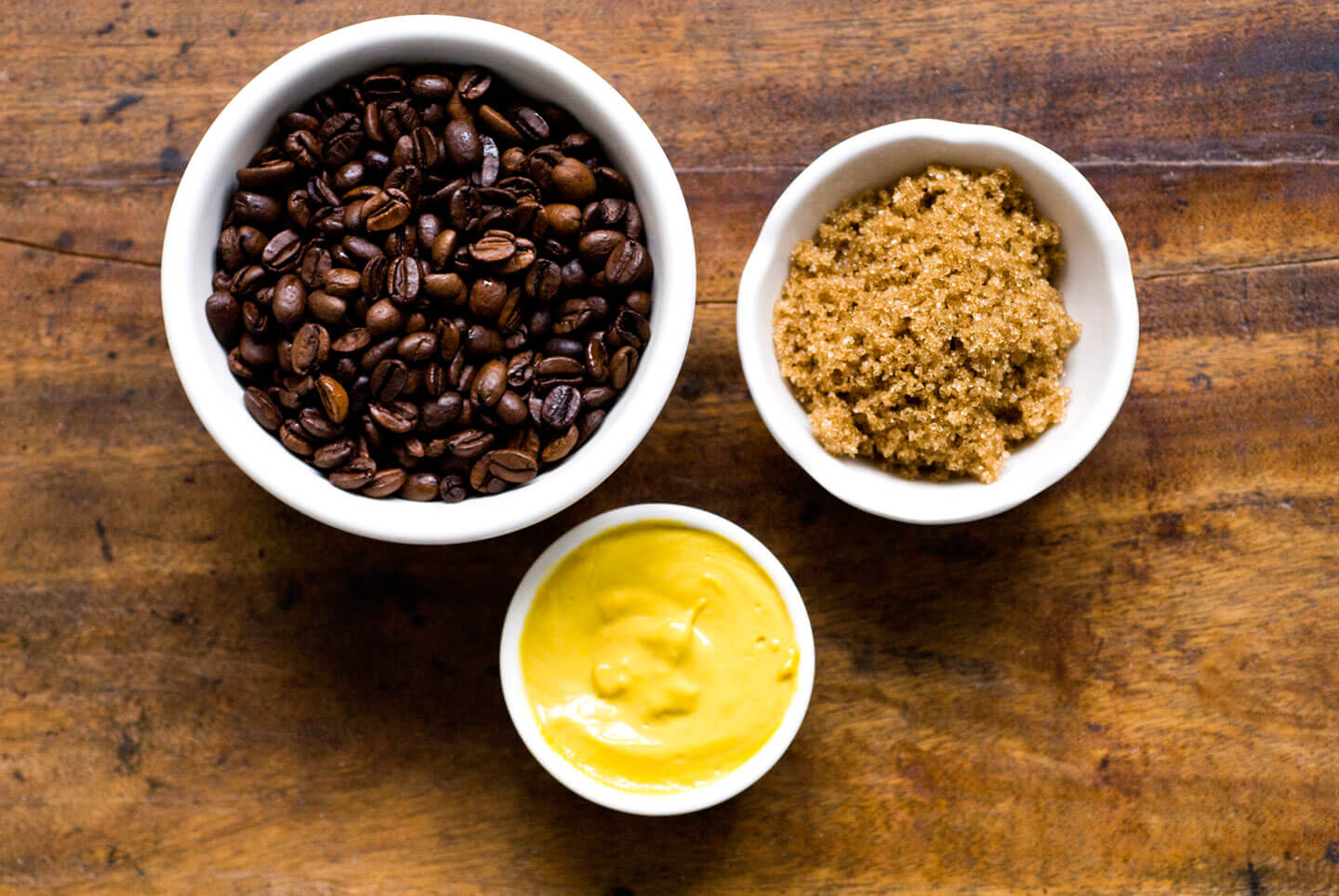 Typically, glazes skew super sweet in Texas, with molasses, honey, or brown sugar commonly used as the base. In my second book, I included a recipe for a balsamic one with tarragon that was both sweet and herbal, which is always appealing in the spring. Though sometimes I like to go for a more intense caramelized flavor, and in this case I stick with the classic combination of brown sugar and mustard.
Brown sugar and mustard glazes are syrupy with just a hint of tang. Warming spices such as cinnamon and clove are usually included, and I also throw in a hearty shake of black pepper, too. It's a classic finish.
That said, recently I decided to pour some coffee into my usual brown sugar glaze. Coffee and pork have long paired well together, such as in this Texas pulled pork or the coffee-rubbed bacon I've been spotting recently in Houston grocery stores. Not to mention, I was also inspired by red eye gravy, a sopping sauce whipped up with black coffee and the pan drippings from a fried ham steak.
After cooking the glaze down on the stove until slightly thickened and glossy, I tasted it and it had a hint of bitterness that offset the heaviness of the brown sugar. Its dark flavors were a surprising yet familiar contrast. I shellacked my baked spiral-sliced ham and then slid it back into a hot oven to let it caramelize a bit more. As it finished, my kitchen was fragrant with the sweet and savory coffee glazed ham.
Once I removed the ham from the oven, it had a handsome dark shine. I let it cool then sliced off a piece to taste. The glaze wasn't overpowering and the bitterness had mellowed a bit in the final cook. Indeed, it added a good balance to the ham's rich, sweet flavor without overtaking the meat. The juices at the bottom of the pan were excellent too, so I served them on the side for additional dipping.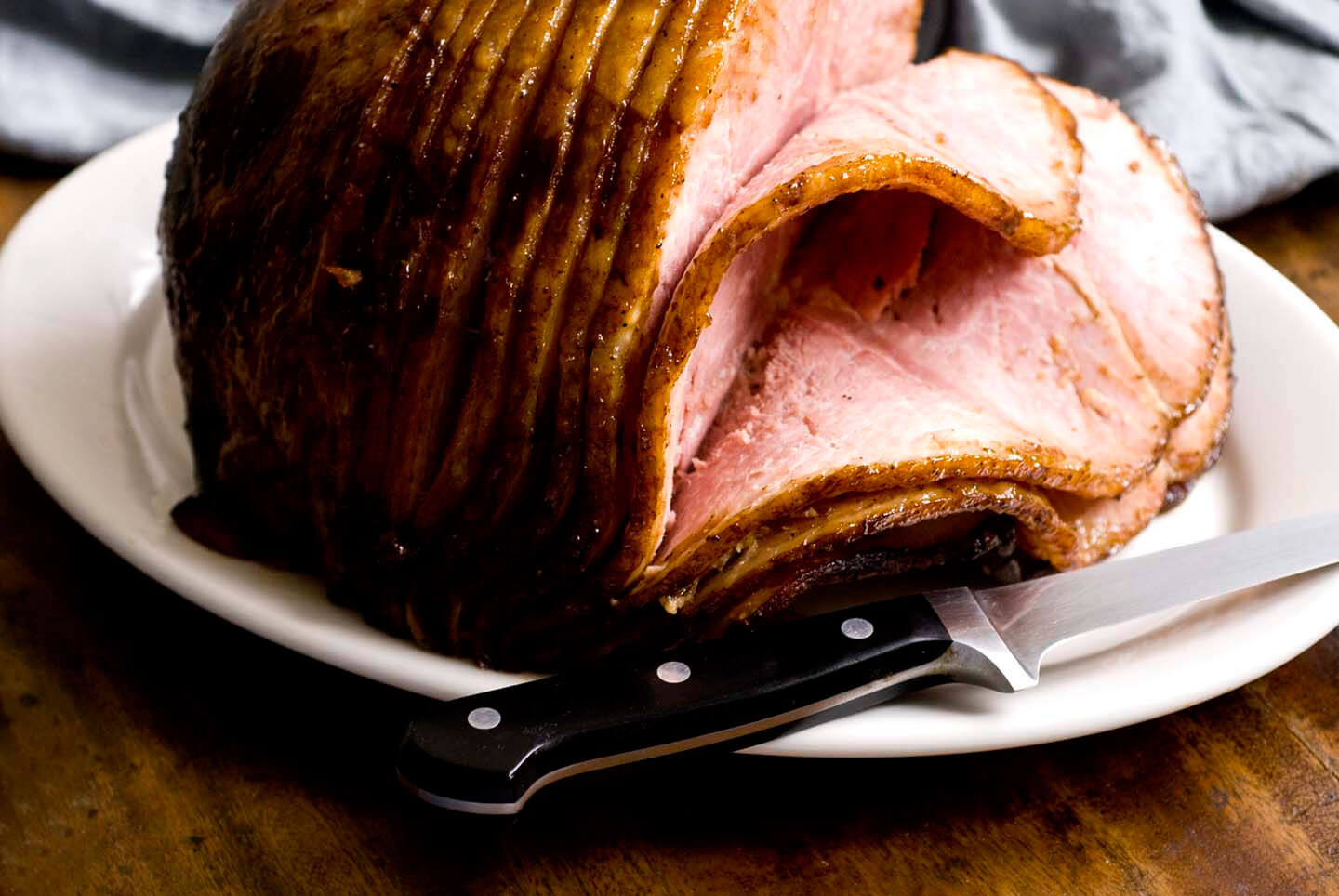 Ham is a favorite as it's such a cinch to prepare yet still makes for a fine and dramatic main course. And there are usually leftovers, and the coffee and brown sugar in this ham make it an excellent contender for breakfast, either nestled into hot biscuits or served with eggs.
—————
Would you like more Homesick Texan? Well, I've started offering additional recipes for paid subscribers to help with the costs of running the site. While I'm not taking anything away, if you'd like to support Homesick Texan and have access to exclusive, never-seen-before subscriber-only posts, please consider becoming a member; annual subscriptions are as low as $25. Thank you for reading, your consideration, and your support!
—————
Coffee and brown sugar glazed ham
Ingredients
1

(5-6 pound)

spiral sliced, bone-in ham

1/2

cup

packed brown sugar

1/4

cup

brewed dark coffee

2

tablespoons

yellow mustard

1

teaspoon

ground cinnamon

1

teaspoon

black pepper

1/2

teaspoon

kosher salt

1/4

teaspoon

ground cloves
Instructions
Preheat the oven to 275°F and line a deep roasting pan with foil. Place the ham flat-side down in the pan and then cover loosely with foil. Cook 15 minutes per pound or until an inserted thermometer reads 135°F.

Meanwhile, in a pot whisk together the brown sugar, coffee, mustard, cinnamon, black pepper, salt, and clove. While stirring, cook on low heat until slightly reduced and glistening, about 5 minutes.

Once the ham is warmed, remove it from the oven and turn up the heat to 425°F. Brush all sides of the ham with the glaze, and then return the ham to the oven. Cook uncovered for 15-20 minutes or until the glaze is browned and glossy. Allow the ham to rest for 20 minutes before serving. Serve with the pan juices on the side, if you like.