If you're old enough to remember, you may recall a time when fish tacos were not popular in Texas. While I'm sure some people served them at home, my family did not nor did you see them very often on restaurant menus, even along the coast.
In hindsight it seems odd that my family didn't think to make fish tacos as my dad often grilled fish for dinner and there were always plenty of tortillas in our kitchen, both corn and flour. Not to mention, my mom made us fish burgers, so why we didn't make the more appetizing leap to fish tacos is a mystery.
But indeed, it wasn't until I was living in New York and visiting my mom in Houston that I had my first fish taco at a place called Berryhill's. The tacos there were all the rage and everyone was talking about them. In hindsight, that chatter reminds me of how people acted over fajitas when they hit the scene in the late 1970s. Moving beyond the Tex-Mex standards of cheese enchiladas and chili con carne was a revelation!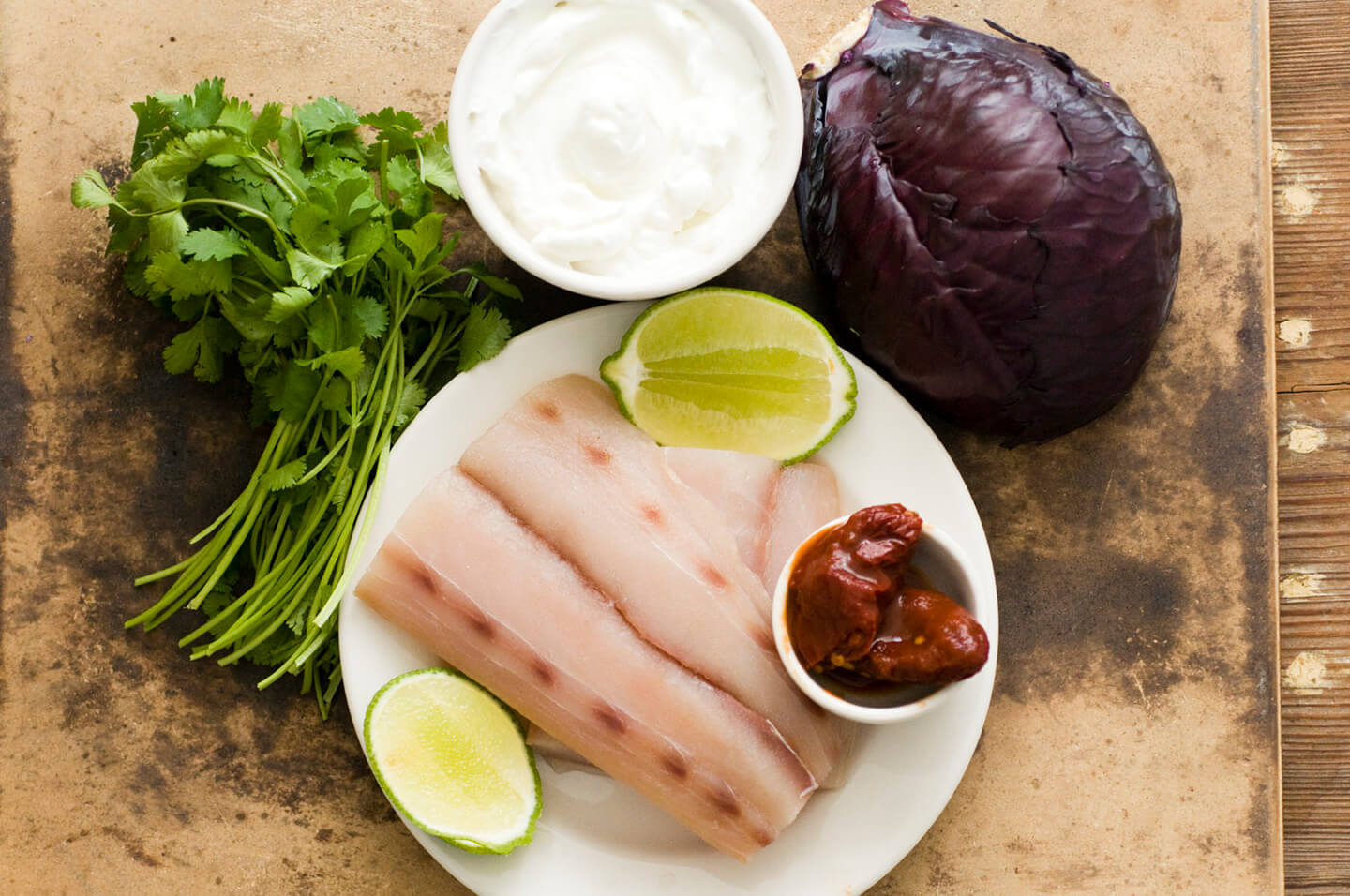 Berryhill's fish tacos were in the Baja style popularized in Southern California by a man named Rick Rubio. The fish was battered and fried then served in tortillas topped with crunchy cabbage and a creamy dressing. It was stupendous. Of course, fried food is always a pleasure, but fish can be just as delicious when it's marinated in a flavorful sauce and then quickly cooked in butter.

My first cookbook has a marinated fish taco recipe that calls for a sauce made with guajillo chiles and I love it. (If you want a fried taco, my second book has a beer-battered fish taco that's also incredible). Though with that guajillo-chile recipe you have to soak the chiles before you can make the sauce, which means a bit of foresight is in order. It's not too much planning, mind you, but if you're looking for a fast meal, waiting for the chiles may be a deal breaker.
Enter these chipotle lime fish tacos. During the past few weeks, I've been making these at least once a week and they've become a favorite addition to my dinner rotation as they take little time and effort to put together. In under an hour, I can have a healthy meal that takes me away from the city and back to the beach.
First you whip up a yogurt dressing with canned chipotle chiles, garlic, cilantro, and lime juice. (If you prefer, you can do this a day or so ahead.) Then as you spoon some of the dressing over some firm white filets such as Mahi Mahi, you toss a few more spoonfuls with some shredded cabbage for a smoky, creamy slaw.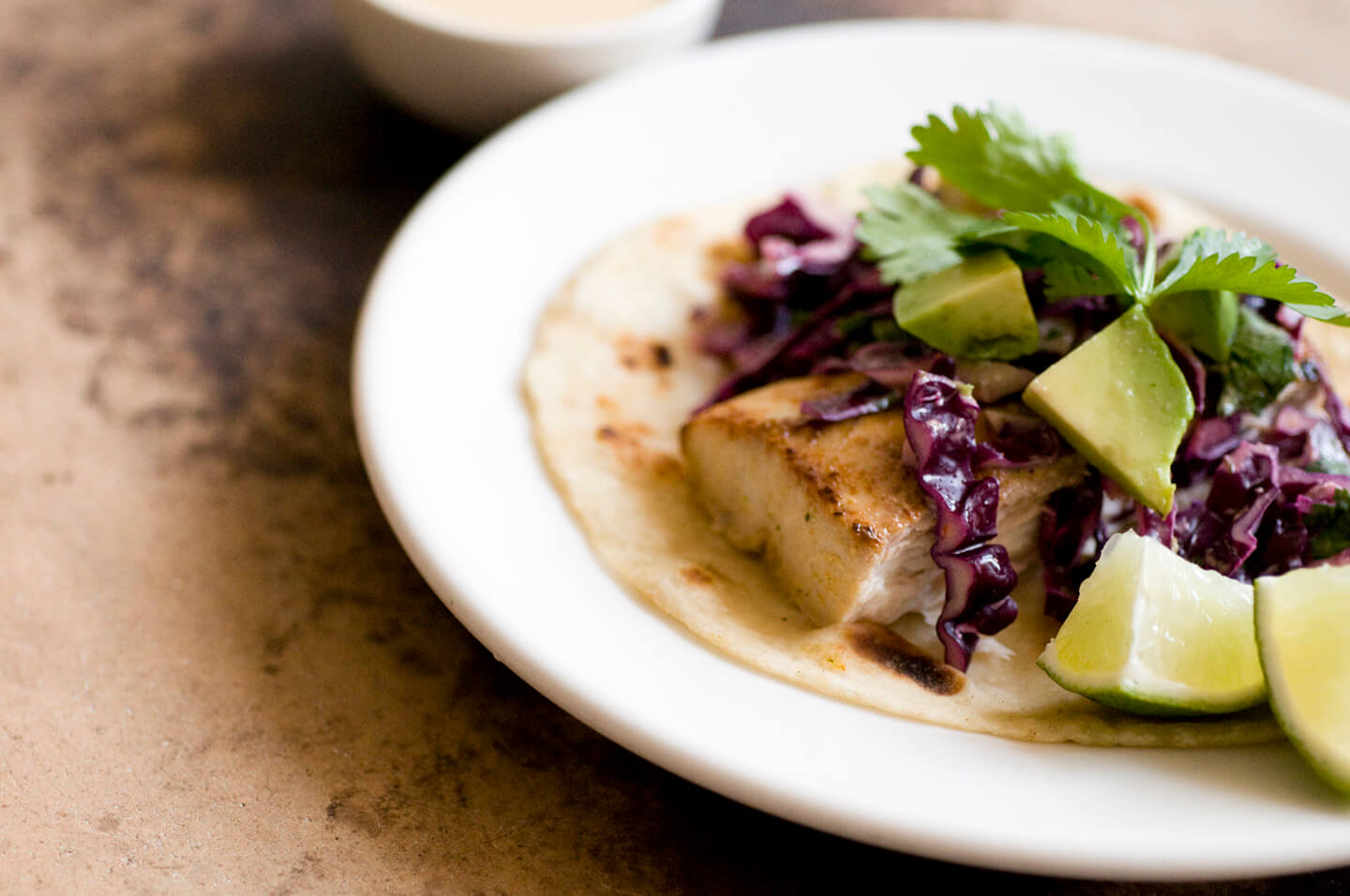 You don't want to keep the fish in the dressing too long as it might turn into ceviche. So after you've made the slaw, heat up some tortillas, melt some butter in a hot skillet, add the fish, and in a few short minutes your spicy, satisfying tacos will be done.
And if you're not a seafood person, I suggest you at least give the chipotle lime yogurt dressing a try. It's like a spicy, smoky, creamy ranch dressing but with fewer calories. And besides fish, it's terrific on salads, with chicken, and as a dip for tortilla chips, too.
Chipotle lime fish tacos
Ingredients
Ingredients for the chipotle lime yogurt dressing:
3/4

cup

Greek yogurt

1/4

cup

mayonnaise

1

chipotle chile pepper in adobo sauce

1

tablespoon

freshly squeezed lime juice

1

tablespoon

olive oil

2

cloves

garlic, chopped

2

tablespoons

chopped cilantro

1/2

teaspoon

ground cumin

1/4

teaspoon

ground allspice

Pinch

cayenne

Salt
Ingredients for the fish tacos:
4 6-

ounce

Mahi Mahi filets or other firm white fish

4

cups

shredded red cabbage

1/2

cup

chopped cilantro

1/4

small red onion, finely diced (about 2 tablespoons)

1/4

cup

chipotle lime yogurt dressing

1

tablespoon

freshly squeezed lime juice

1/4

teaspoon

ground cumin

Salt

2

tablespoons

unsalted butter

8

flour tortillas or corn tortillas

1

avocado, peeled, pitted, and diced, for serving

Cilantro, for serving

Salsa, for serving

Lime slices, for serving
Instructions
To make the chipotle lime yogurt dressing, place into a blender or food processor the yogurt, mayonnaise, chipotle chile, lime juice, olive oil, garlic, cilantro, cumin, allspice, and cayenne. Blend until smooth, scraping the sides down if necessary. Taste and adjust seasonings and add salt. You should have about 1 cup.

For the tacos, place the fish in a food-safe, non-reactive container, and pour 1/4 cup of the dressing over the fish and toss to coat. Cover the fish, and let it marinate in the refrigerator from 30 minutes to 1 hour. (I wouldn't go longer than that as the lime juice may begin to cook the fish.)

Meanwhile, toss the cabbage with the cilantro, onion, lime dressing, lime juice, and cumin. Taste and adjust seasonings and add salt.

To cook the fish, remove it from the marinade and lightly sprinkle the filets with salt. Heat a large skillet on high, and when hot, add the butter. Once the butter has melted, add the filets to the skillet and turn the heat down to medium. Cook the fish for 2 minutes and then gently flip it over. (If the fish doesn't release easily from the skillet, let it cook for a few more seconds until you can move it.) Continue to cook on the other side for 2 more minutes or until the fish begins to flake.

Remove the fish from the skillet and cover to keep warm. Heat up the tortillas and then either cut or flake the fish and evenly divide it between the 8 tortillas. Top the tacos with the cabbage slaw, avocado, and cilantro, and serve with salsa, limes, and the remaining chipotle lime dressing on the side.