Ham and cheese croissant casserole
When I was a senior in high school, I worked in a clothing store. (If you're curious, it was a Laura Ashley shop. Yes, I realize this dates me.) For a part-time job it was hard to beat as my co-workers were fun and I got a clothing discount. I have to admit, however, that while creating window displays, ringing cash registers, and hanging up clothes was all well and good, the best part of the day was my lunch break. During this time, I would head to a café in the mall, grab a table, and enjoy a ham and cheese croissant.
The café wasn't fancy, but since it was away from the main food court it was a quiet spot, which was heaven to me after working with people all morning. There were also large black and white pictures of Paris hanging on the walls, which made it feel very sophisticated. As I ate my ham and cheese croissant, I would look at those pictures and dream about life after high school.
Even though I still have a soft spot for ham and cheese croissants, for some reason I seldom eat them anymore. I'm not sure why. Then, the other day when researching ways to use up leftover ham, I came across Nigella Lawson's ham and cheese croissant casserole, something she calls "French Lasagne." It appeared to be a casserole dish made up of croissants, ham and cheese, with a savory egg custard holding everything together. Making it became my top priority.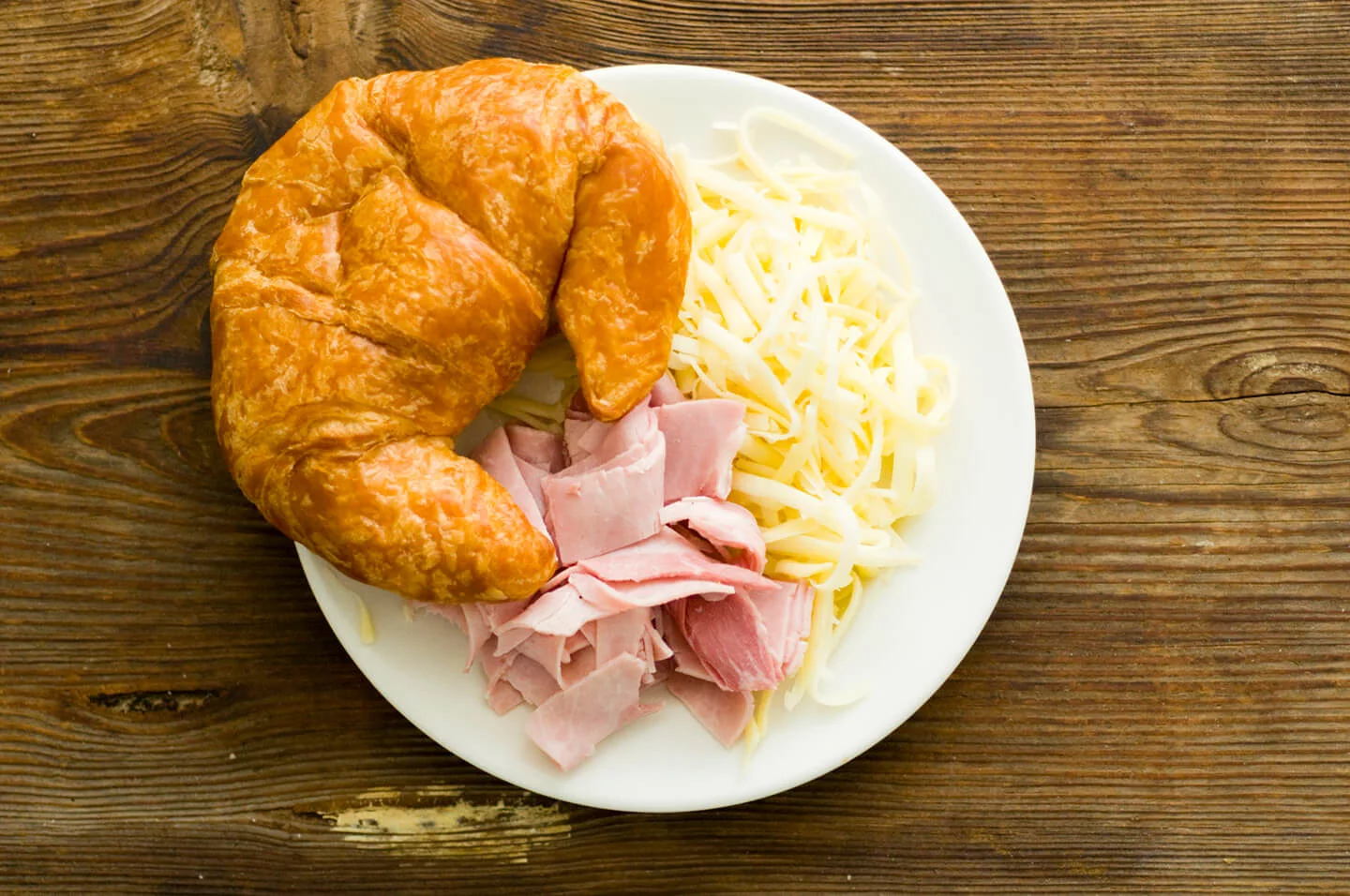 The casserole is very simple. You take day-old croissants and slice them into smaller pieces so they will fit into your preferred baking vessel. (I used a cast-iron skillet, but any two-quart baking dish will do.) You add layers of smoky ham and sharp cheese such as white cheddar and Swiss, then pour over everything an egg and milk mixture seasoned with fresh chives.
When adapting recipes, my natural inclination is to throw in a lot of spices along with some chile peppers. While embellishments such as asparagus, spinach, and jalapeños would not be out of place here, I was seeking to make a ham and cheese croissant casserole that harkened back to the classic pastry I enjoyed as a teenager.
With that in mind, I only added to the original egg base some mustard powder, cayenne, and herbs for a bit of piquancy and spice. I also swapped in Swiss cheese for the mozzarella called for in the original recipe instead. The end result was hearty and comforting, buttery and soft, with just enough sharp and smoky notes to keep things interesting.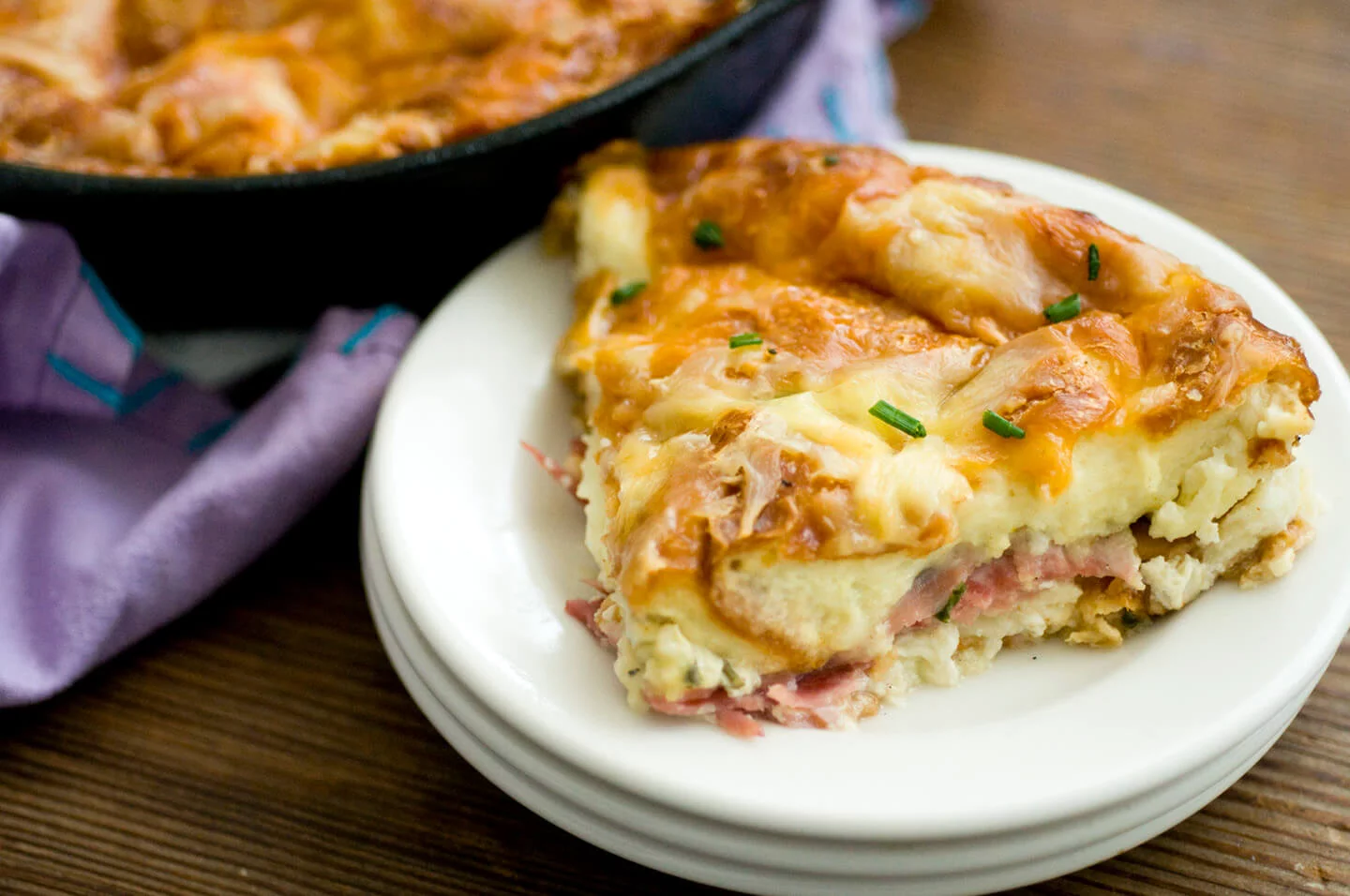 If you love quiche or stuffed croissants, then this is a casserole for you. While it's not overly complicated in its pleasures, this is a large part of its charm. It's perfect for breakfast, but with a side salad it works well as a lunch or supper, too. And while it's best served warm, I've snacked on cold leftovers that were also satisfying. The casserole is a cinch to put together, but if you're short on time you can prepare it the night before and then bake it in the morning, which will give your busy day a gracious beginning with little effort at all.
Ham and cheese croissant casserole
Ingredients
4 or 5

croissants (12 ounces)

8

ounces

chopped ham

4

ounces

(1 cup) shredded Swiss cheese

4

ounces

(1 cup) shredded white cheddar cheese

1

teaspoon

finely chopped fresh chives

3

cups

whole milk

4

large eggs

1

small clove garlic, minced

1/2

teaspoon

mustard powder

1/2

teaspoon

kosher salt

1/4

teaspoon

black pepper

Pinch

cayenne
Instructions
Cut each croissant in half lengthwise (as if you were opening it to make a sandwich) and then cut each cut half into 4 more pieces.

Lightly grease a 10-inch ovenproof skillet or any other 2-quart baking dish. Lay along the bottom of the dish half of the croissants. Top the croissant layer with the ham, half of the shredded cheeses, and the chives. Top the ham and cheese layer with the remaining croissants, tearing them into additional pieces, if necessary, so they fit snugly.

Preheat the oven to 350°F.

Whisk together the milk, eggs, garlic, mustard powder, salt, pepper, and cayenne until well combined. Pour the eggs evenly over the casserole and then lightly press the top croissant layer into the egg mixture. Allow to rest for 20 minutes or until the bread has absorbed the egg mixture. (If you prefer, you can do this overnight. Just keep the casserole covered and refrigerated.)

After it's rested, top the casserole with the rest of the cheese and bake uncovered for 40-45 minutes or until puffed and golden. (The casserole will deflate a bit as it cools). Serve warm.