Sweet potato biscuits with chorizo cream gravy
On Wednesday mornings, I take a tour of Texas's foodways via its newspapers. I may learn about Mexican cookies being baked in San Antonio; a chile pepper rivalry between El Paso and New Mexico; a sausage festival in Lubbock; the effects of extreme heat on the Valley's citrus industry; and how this year's crop of Galveston oysters have finally arrived.
Foodways is defined by Merriam-Webster as "the eating habits and culinary practices of a people, region, or historical period." And Texan foodways are an endless source of fascination for me, a topic I never tire of consuming whether it's through research, discussion or by simply sharing Texan food at the table.
I've mentioned my association with the Southern Foodways Alliance (SFA), a group dedicated to preserving Southern food culture. And while I do consider Texas part of the South, I also consider it beyond being simply Southern as Texas, with its diverse foodways that span from the Mexican border, along the Gulf Coast, through the Piney Woods and Hill Country on up to the panhandle plains, is a place unique to itself.
Back in July, I was part of a group comprised of restaurateurs, writers, ranchers, farmers, fisherman, brewers and academics that met on the campus of Texas A&M with the purpose of creating a group dedicated to preserving, promoting and celebrating our rich food culture. And by the end of the day, we had formed a new group known as Foodways Texas.
We're still in the early stages, but we have an executive director—Marvin Bendele, an academic and author who worked on the fine book, "The Republic of Barbecue." We also have a web site, foodwaystexas.org; two upcoming fundraising/membership-drive events—one in Houston and one in San Antonio; we have produced our first film on Texan sorghum syrup; and we are planning a symposium on Gulf seafood to be held next spring. We also have an alliance with the University of Texas, which will support our oral-history projects, films and other documentary work; and we also have a relationship with Texas A&M, which through its various statewide campuses will help with hosting our events.
I'm excited about Foodways Texas because we'll be able document our state's great food stories, such as the wonderful ones my grandmother shares about our family's farming history. But beyond being an historical endeavor, we'll also have fun gathering and sharing our state's cuisine. If you love Texan food and culture, I urge you to join Foodways Texas so together we can share and celebrate the great state of Texas's amazingly rich and diverse food cultures.
Now, before I let you go, please let me share with you a dish that could be considered emblematic of Texan foodways: sweet potato biscuits with chorizo gravy.
My family has long grown sweet potatoes. And they'll definitely be on the table at Thanksgiving, as they are every year. We mash them and use them in sweet potato pie, but let me tell you—they also make for an excellent biscuit as well. I got the idea for these from the SFA symposium—they were served at a breakfast at the symposium that I missed. But just the thought of sweet potato biscuits had me curious so as soon as I returned to New York, I took to my kitchen to try making them.
I have an old recipe for potato biscuits and I simply swapped the sweet potato for the regular potato. If you're a fan of the tender sweetness of potato bread, I know that you'll love these biscuits. And because many of us enjoy drowning our biscuits in cream gravy, I decided to take this Texan classic and throw in some Mexican chorizo and cilantro as a nod to Texas's various heritages.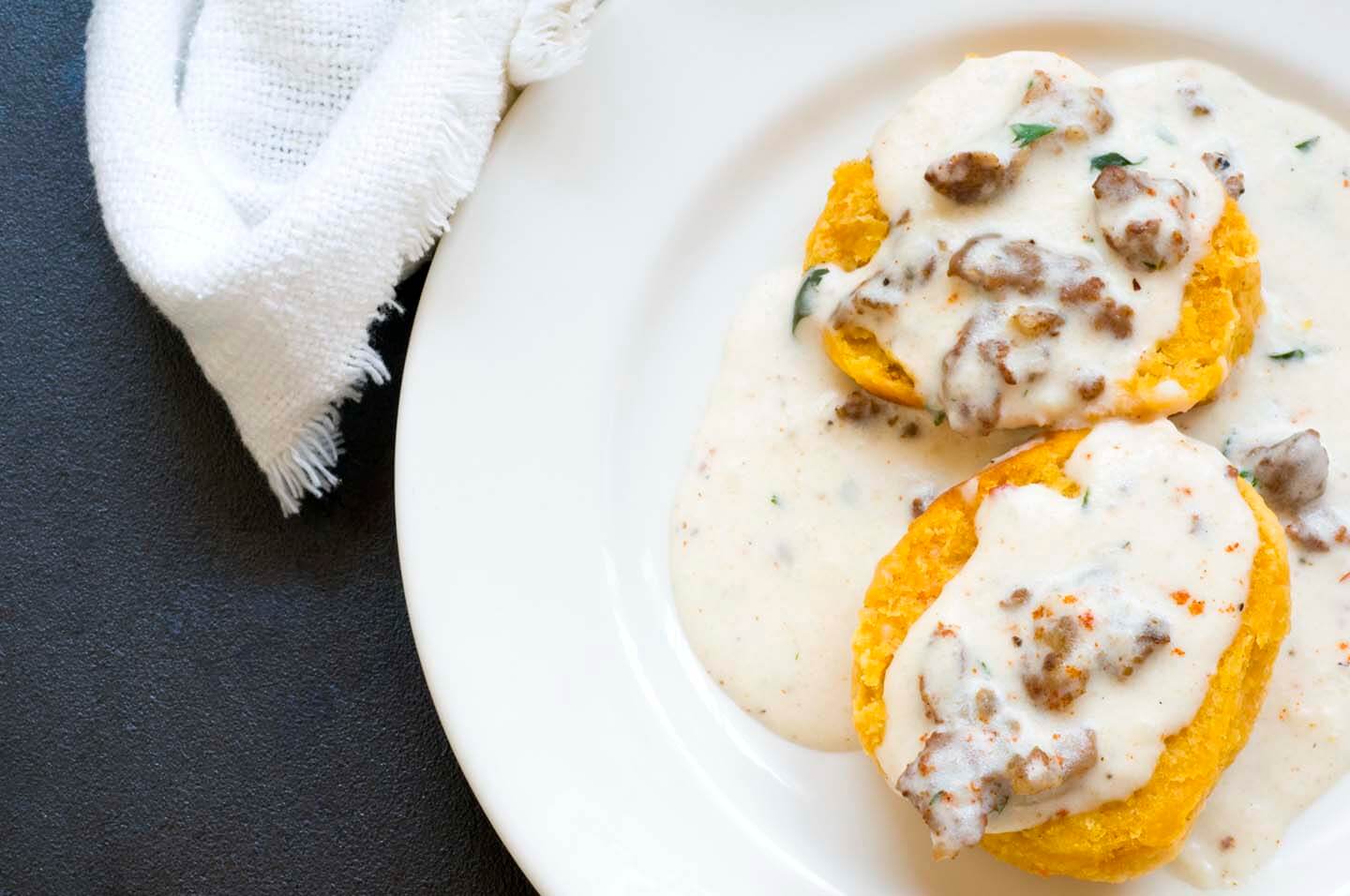 Please enjoy these sweet potato biscuits and the chorizo gravy. And please also think about joining Foodways Texas, so we can all preserve, promote and celebrate the diverse food cultures of Texas.
Sweet potato biscuits with chorizo cream gravy
Ingredients
Ingredients for the sweet potato biscuits:
1

sweet potato (about 1/2 pound)

2 1/4

cups

all-purpose flour

1

tablespoon

baking powder

1

teaspoon

kosher salt

1

teaspoon

granulated sugar

1/4

teaspoon

chipotle powder

8

tablespoons

1 stick cold butter, sliced

1/2

cup

buttermilk or half-and-half
Ingredients for chorizo cream gravy:
1

tablespoon

vegetable oil

1/4

pound

Mexican chorizo

2

tablespoons

all-purpose flour

1 1/2

cups

whole milk

1

tablespoon

chopped cilantro

Salt

Black pepper

Chipotle chile powder
Instructions
Preheat the oven to 400 °F. Poke holes in the sweet potato with a fork and place on a foil-lined sheet. Place in the oven and cook until tender, about 1 hour.

Leaving the oven on, remove the sweet potato and slice in half, lengthwise. Scoop out 1/2 cup of flesh, reserving the rest for another use.

Mix together the flour, baking powder, salt, sugar, and chipotle powder. Cut the stick of butter into pieces, and work into the flour mixture with your hands or a pastry blender until it resembles pea-sized crumbs. Stir in the 1/2 cup of cooked sweet potato and the buttermilk, mixing until a bit loose and sticky.

Pour dough out on a floured surface, and knead for a minute. The dough will be smooth but a bit wetter than regular biscuit dough, so you can sprinkle more flour on the surface if you find it's sticking too much. Take the dough into a ball, and hit it with a rolling pin, turning it and folding it in half every few whacks. Do this for a couple of minutes. Roll out dough until it's a quarter of an inch thick and then fold it in half.

Using a round cutter (can use a glass or a cup if don't have a biscuit cutter) cut out your biscuits from folded dough. Place on a greased baking sheet or in a cast-iron skillet close together (so they rise up not out) and bake for 15 minutes or until the tops are golden brown.

While the biscuits are baking, make the chorizo gravy. Warm the oil in a skillet on medium heat, and cook the chorizo until browned. With a slotted spatula, remove chorizo from the skillet and place on a plate. Drain the oil from the pan reserving 2 tablespoons in the skillet.

Combine the oil in the pan with the flour in a hot skillet and while continuously stirring cook on medium low for a couple of minutes until a roux is formed. Add milk slowly to skillet and mix with the roux using either a whisk or wooden spoon (be sure and press out any lumps). Turn heat to low and continue stirring until mixture is thickened, a couple more minutes.

Stir in the chorizo and cilantro, and add salt, black pepper, and chipotle powder to taste. If gravy is too thick for your taste, you can thin it by adding either more milk or water a tablespoon at a time.

To assemble the biscuits and gravy, slice each biscuit in half and drizzle with gravy.