Cactus casserole with rice, ancho chiles and cheese
Every year at this time, I face the same problem. See, I'm a bit lackadaisical when it comes to buying my plane ticket home for Thanksgiving. And now that it's so close to the date, prices have risen to insane heights. Oh, you'd think that I'd get wise and start buying my ticket early, but much to the consternation of my family I do this to myself every year.
Of course, I tell myself that if it's meant to happen I will be with my family. I am patient and calm. But one person who I know for certain won't be at the farm for Thanksgiving this year is my cousin Andrew, who will be with his girlfriend's family instead. And since Andrew is always in charge of green-bean casserole, I just don't know if we'll be serving it this year or not.
Well, this got me thinking.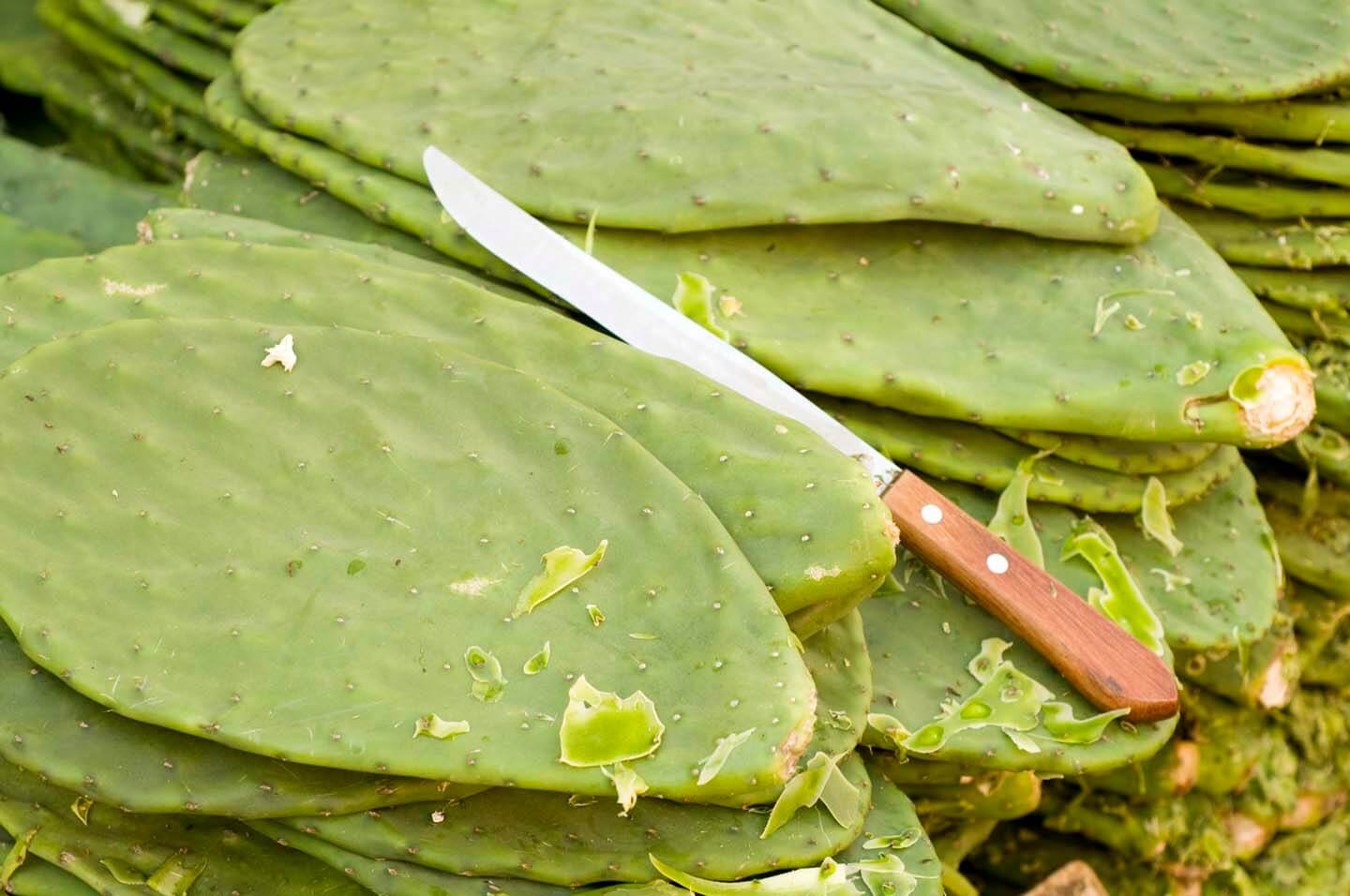 Have you ever eaten cactus? Edible cactus, which in Spanish is known as nopal, comes from the prickly pear cactus, a beautiful plant that dots the landscape of West Texas. The plant has wide paddles that resemble a beaver's tail and with a little care (yes, you remove the thorns) the paddles make for a delicious vegetable. It's also extremely nutritious, as some studies have noted that eating cactus helps treat diabetes and lower cholesterol levels. Though health benefits aside, I simply like to eat it because it tastes so darn good.

Eating cactus is pretty common in Texas, especially in San Antonio and along the border. The most frequent application is cactus scrambled with eggs, which makes for a fine breakfast taco filling. But you can also make cactus salad, cactus soup, cactus relleno, or simply grill it and serve it with roasted meat.
When people ask, "What does cactus taste like," the best answer is that it's similar to green beans. And so with this in mind, I decided to make a cactus casserole to replace the green-bean casserole we won't be eating this year.
Another popular way to serve cactus is to cook it in a chile cream sauce, which is what I used as the base for my casserole. But taking a nod from that other popular Southern holiday staple, broccoli and rice casserole, I decided to add some rice and cheese to my cactus casserole as well.
I have to admit, when I made this I had no idea how it would taste as I was just acting on a whim. But it's hard to go wrong with a combination of cheese, rice, sour cream and chiles, and even if you think you don't like cactus, this is an excellent way to try it for the first time.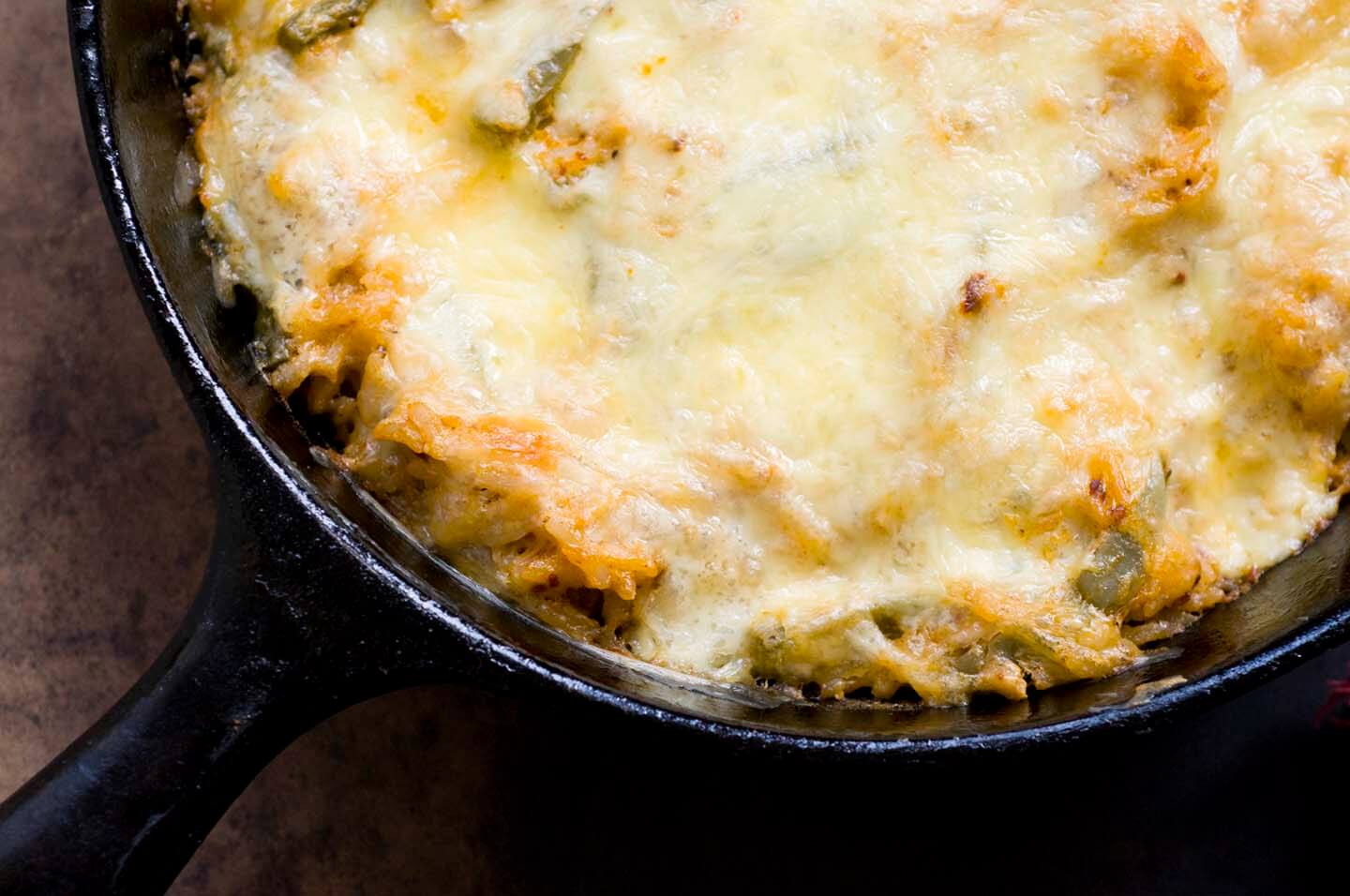 For the past couple of weeks we've been bombarded with reminders that Thanksgiving is coming soon, so perhaps your Thanksgiving menu is already planned. But you certainly don't need a holiday to eat this cactus casserole, just an urge to eat something that's a little strange but at the same time is also a little familiar. If it is your first time eating cactus, I hope that you enjoy it and want to try it again. And if you do eat cactus, how do you like to prepare it?
Cactus casserole with rice, ancho chiles and cheese
Ingredients
2

dried ancho chiles, seeds and stems removed

3/4

pound

cactus paddles or 1 15 ounce jar of cactus paddles

1

tablespoon

canola oil

1/2

medium yellow onion, diced

3

cloves

garlic, minced

2

cups

sour cream

1

teaspoon

ground cumin

1/2

teaspoon

ground oregano

1/4

teaspoon

ground allspice

1/4

teaspoon

cayenne

3

cups

cooked rice

1

pound

Monterrey Jack cheese, shredded

Salt to taste
Instructions
In a dry skillet heated on high, toast the ancho chiles on each side for about 10 seconds or just until they start to puff. Fill the skillet with enough water to cover the chiles. Leave the heat on until water begins to boil and then turn off the heat and let the chiles soak until soft, about 20 minutes. Once hydrated, discard the soaking water and rinse the chiles. Place the chiles in a blender with 1/4 cup of water and blend until a paste forms.

Preheat the oven to 350 degrees.

For the cactus, if you're using fresh cactus paddles, first you'll need to remove the thorns. To do this, trim off the thick base and the edges of the paddle, about 1/8 of an inch all around. Wearing a glove, one at a time, hold each paddle over the sink and while running water over it, scrub it with a vegetable or pot scrubber on both sides until all the thorns are gone. You can also scrape the paddle with a paring knife, but be careful not to also scrape off too much of the green skin.

Slice the cleaned paddles into thin (about 2 inches by 1/4 inch) strips and place in a pot of water. Bring to a boil and then simmer uncovered for 15 minutes. Drain and rinse well under cold water. If using canned paddles, simply drain them and then rinse with cold water.

In a large cast-iron skillet, heat up the canola oil on medium heat. Add the onions to the skillet and cook until translucent, about 5 minutes. Add the garlic and cook for one more minute. Remove the skillet from the heat.

In a bowl, mix together the sour cream the ancho chile paste, the cumin, the oregano, the allspice, the cayenne and half the shredded cheese. Then stir in the cooked rice and the cactus. Taste and add salt and adjust the seasonings. Spoon the sour cream, rice and cactus mixture into the greased skillet, stirring well to combine with the onions and garlic. Top with the remaining shredded cheese.

Bake uncovered for 30 minutes or until brown and bubbling.
Notes
Cactus paddles, both fresh and canned, can be found at any Mexican grocery. Canned ones can be found at many regular supermarkets as well. In Spanish, they are called nopales or nopalitos, which is how they will be probably labeled at a Mexican grocery. And you can substitute 2 tablespoons chili powder for the ancho chiles if you prefer.