Poblano chorizo potato salad
Going on a picnic or having a cook out? I'd like to offer you a suggestion—this bowl of poblano chorizo< potato salad.
Now, when I lived in Texas, my friends and I went on a lot of picnics. These were never fancy, overly planned affairs. Instead, we'd simply decide that we'd rather eat at a park rather than at home. And just like that, we'd raid our refrigerators, grab a blanket and dine outside.
The key to these joyful meals was their spontaneity. Sure, we were busy people with school or jobs to occupy our time. But for some reason, it didn't seem strange to just drop in on someone and suggest going on a picnic—or whatever the whim was that day. Gathering with people was a whole lot easier
When I moved to New York, however, I learned that this was no longer the case. Schedules have to be coordinated, reservations have to be made, histories have to be considered. Sometimes you can spend a month trying to coordinate a one-hour meeting. It's exhausting.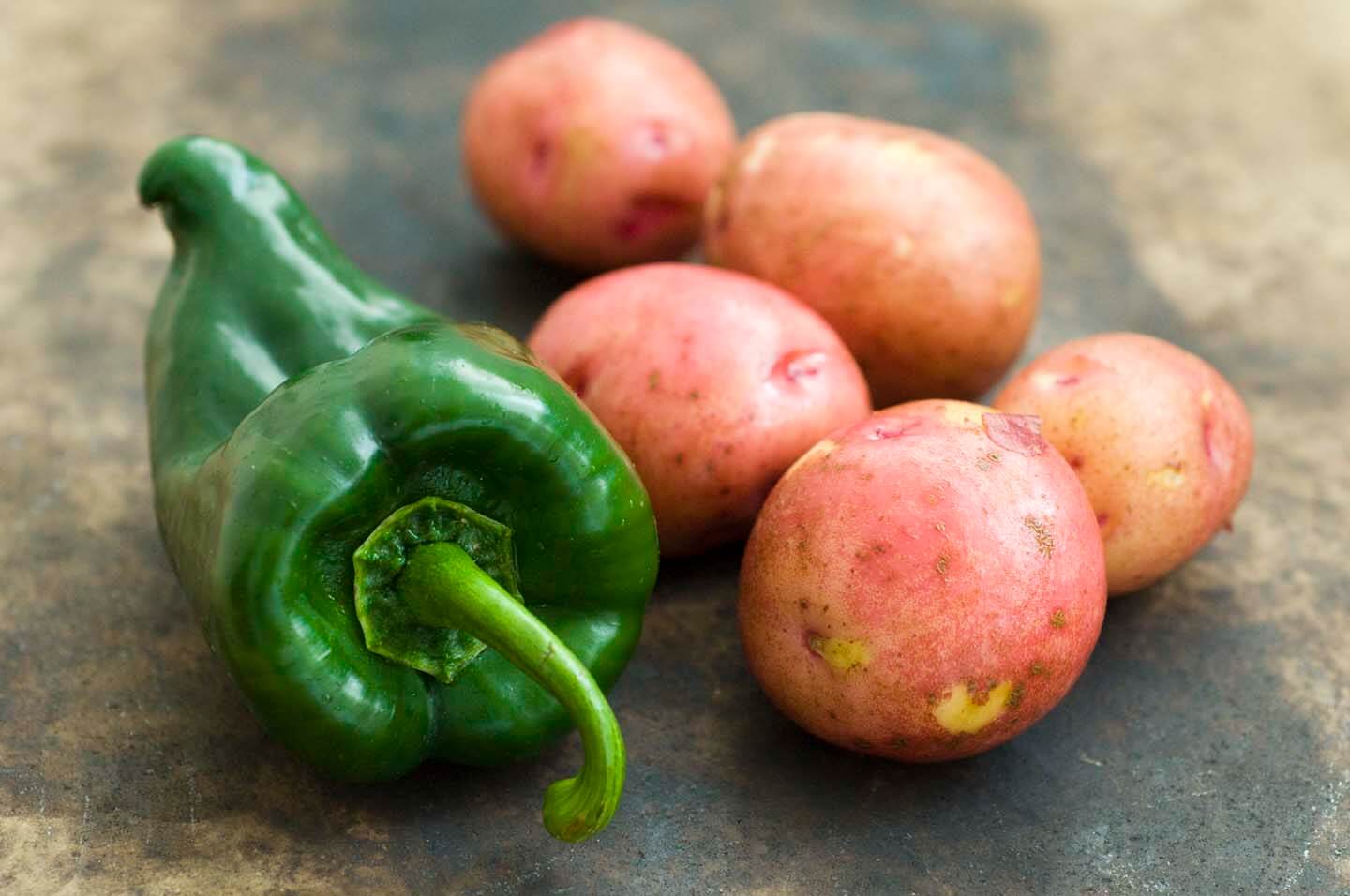 At first, I thought I was the only one who felt this way about New York, and I was simply being nostalgic for those relaxed summer evenings eating outside back in Texas. But after consultation with other Texan transplants, I learned that the challenge in getting together with friends is common amongst all New Yorkers. It's just the way things are done here.
That's not to say that people don't get together. But the only time I've ever dropped by unannounced to someone's apartment was after the 2003 blackout. There was no power, of course, and my phone had died. In order to communicate with people, I had to walk to where they lived and visit them in person. Sure, it was kind of a hassle not having any electricity, but if you ask people who were in New York City during the blackout, you'll hear the same thing—most people had a blast.
Unlike previous blackouts that had been defined by violence and crime, the 2003 blackout was peaceful and calm. People just took the parks, sat on the ground and ate perishable foods before they went bad. We were carefree. When the power returned, however, things were back to normal. And if I showed up at someone's house unannounced, they'd think I'd lost my mind.
Now, if I were going to go on a spontaneous picnic today, when raiding my refrigerator I'd grab this poblano chorizo potato salad, which has become my new favorite for outdoor dining. I love it. As you may know, the tangy spice of Mexican chorizo goes very well with the earthy, mild heat of roasted poblanos. And when you add some potatoes, sour cream, cilantro and lime juice, you have a side dish that just might upstage the main event.
Of course, you certainly don't need a spontaneous gathering to appreciate this dish, nor do you need to eat outside. But if you're fan of chorizo with roasted poblanos, I will insist that you make a plan to try this—because I do believe that you just may love it, too.
Poblano chorizo potato salad
Ingredients
2

poblano chiles

2

pounds

red potatoes, cubed

1/2

pound

Mexican chorizo, cooked and crumbled

2

cloves

garlic, minced

1/4

cup

chopped cilantro

1/2

teaspoon

ground cumin

1/4

teaspoon

cayenne

2

tablespoons

freshly squeezed lime juice, plus more to taste

2

tablespoons

mayonnaise

2

tablespoons

sour cream

Salt and pepper, to taste

Cotija cheese, for serving
Instructions
Roast the poblano chiles under the broiler until blackened, about 5 minutes per side. Place chiles in a paper sack or plastic food-storage bag, close it tight and let the chiles steam for 20 minutes. Take the chiles out of the bag and rub off the skin. Remove seeds and stems and dice.

Meanwhile, place the potatoes in a pot and cover with cold, salted water. On medium heat, bring to a boil and then cook until tender, about 20 minutes. Drain and rinse with cold water.

Mix together the diced chiles, cooked potatoes, cooked chorizo, garlic, cilantro, cumin, cayenne, lime juice, mayonnaise, and sour cream. Adjust seasonings and add salt and pepper to taste.

Can serve either warm or chilled. When serving, top with crumbled Cotija cheese.