White chicken poblano chili
When I was working in Midtown Manhattan at a magazine, I used to visit a small Mexican joint for lunch. The food was good for a quick meal but it was decidedly not Tex-Mex, as it specialized in burritos and served two chilis that were both made with beans.
The beef one was the usual ground meat, kidney bean, and tomato affair that people in the Northeast like to pass off as chili. I tried it once and that was more than enough, as it was not only absent any chile peppers but the ingredients that were included had little flavor. If anything, the chili skewed more sweet than spicy. I was not a fan.
The other chili was a white chili. Since I am a chili purist, I've always thought that white chili was a silly name. If the stew isn't made with dried red chile peppers and beef, how can you call it chili? Indeed, white chili is typically a chicken based soup made with green chiles and white beans. It's not a bad combination, but it's not Texas chili. No matter, the white chili at this particular restaurant was excellent, and naming issues aside, I ordered a bowl of it at least once a week.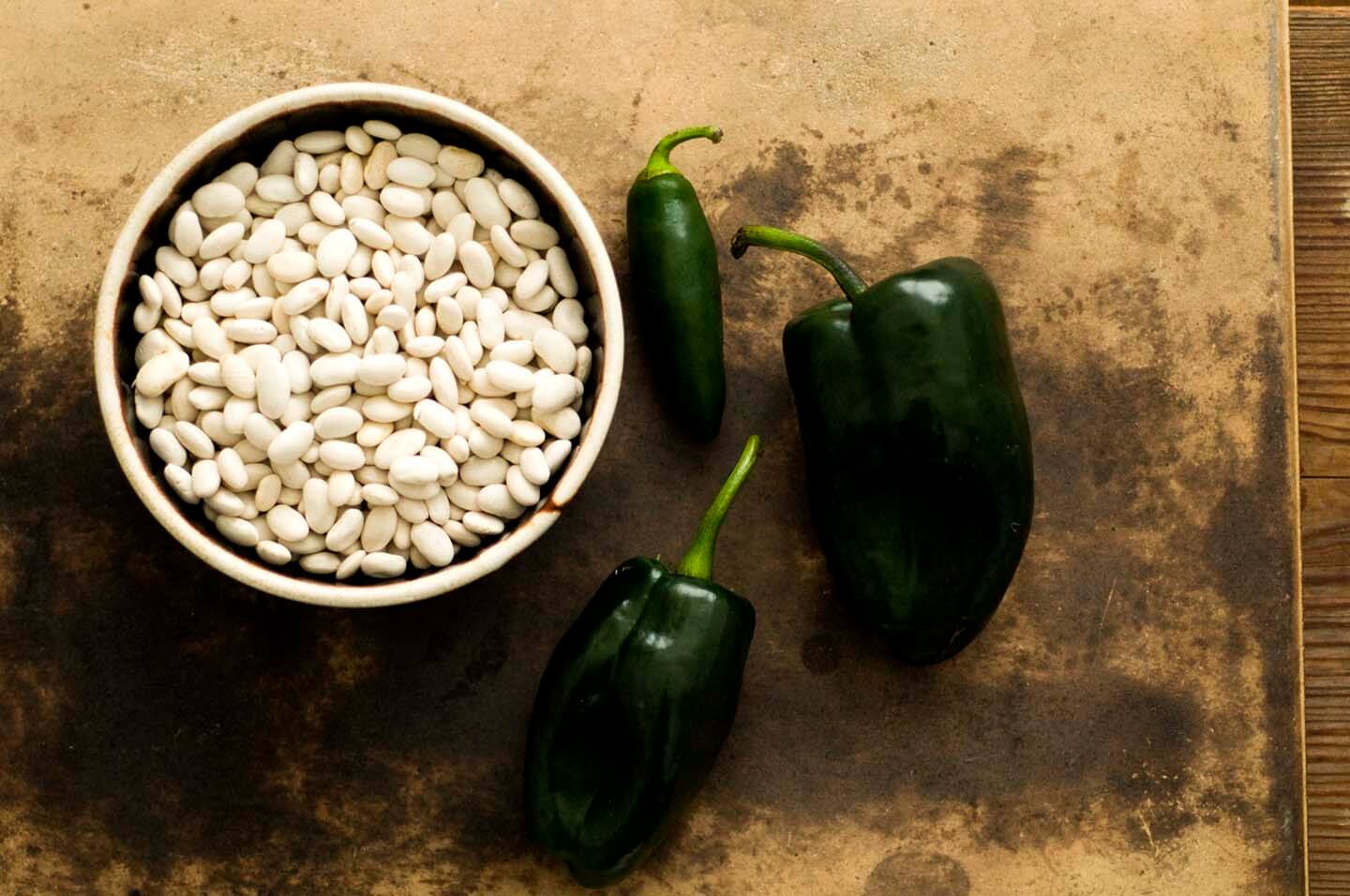 As is typical of the white chili genre, the stew was made with chicken, green chiles, and white beans. After being slowly cooked for hours, it turned into a rich thick concoction that would keep me warm on cold days. I'd top it with cilantro and a dollop of salsa and be in white chili bliss.

While I haven't worked near that burrito place in quite some time, when the weather was getting nippier the other day I recalled that white chicken chili. I've never made one myself and I thought it could be interesting to try. And just as I began my research, Robb Walsh's new book The Chili Cookbook arrived.
Now, I'm sure Robb doesn't need much introduction around here, but if you're not familiar with him he's written some wonderful books on Texan cuisine, such as The Tex-Mex Cookbook and The Legends of Texas Barbecue. His new book, as the title implies, is all about chili. While normally he tends to keep his focus primarily on Texas, in this book he goes beyond the state's borders and explores regional chili styles from around the world—everything from Hungarian goulash to Cincinnati's Greek-inspired chili.
White chili, which he says originally hails from the Midwest, also makes an appearance. There are two white chili recipes but the one that interested me the most was a slowly cooked stew made with dried (as opposed to canned) Great Northern beans and a whole chicken. A large number of roasted Poblano and jalapaeño chiles, spices, and aromatics were added as well. It was just what I was craving.
As is my wont, I did make some changes to his original recipe. First, because my store was out of whole chickens, I bought chicken thighs instead—a fine substitution, as I prefer dark meat. I also increased the number of chiles he recommended and threw in some cilantro, as well. The beans ended up taking longer than expected to cook, so I increased the cooking time. And the original recipe called for a bit of milk to be added at the end, but after making two batches with the milk I found that it was just as good without, and that serving the chili with sour cream was plenty of dairy for me.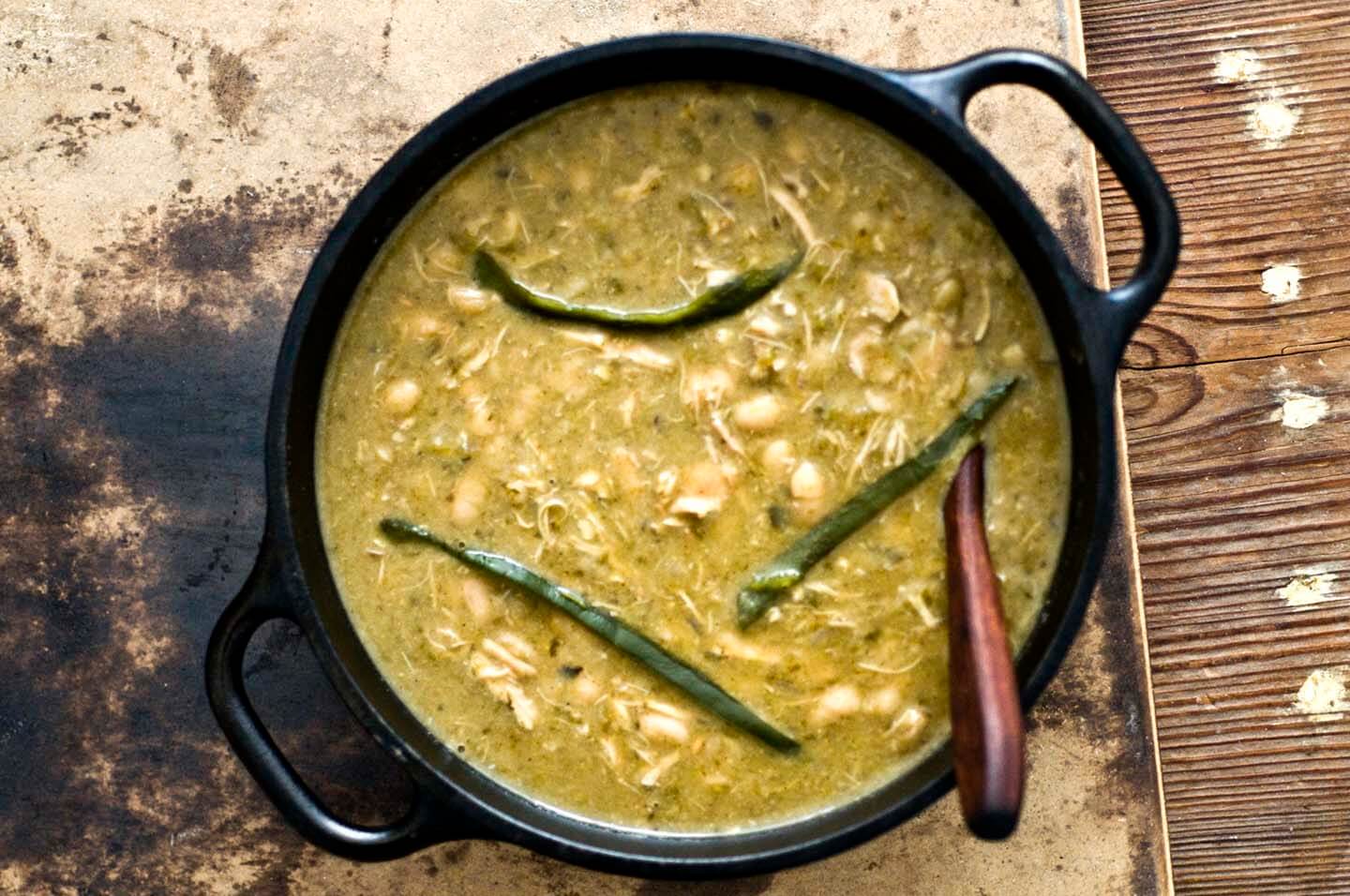 Since you're starting from scratch, this white chicken and poblano chili does take some time, but the results are worth it as you end up with a soulful, savory stew. Of course, if you're a Texan-chili purist like myself, you may argue if this is chili or not. I wouldn't let that stop you from making it, however, as no matter what you call it I think you'll agree that this is a hearty, rewarding dish perfect for crisp autumn days.
—————
Would you like more Homesick Texan? Well, I've started offering additional recipes for paid subscribers to help with the costs of running the site. While I'm not taking anything away, if you'd like to support Homesick Texan and have access to exclusive, never-seen-before subscriber-only posts, please consider becoming a member; annual subscriptions are as low as $25. Thank you for reading, your consideration, and your support!
—————

White chicken Poblano chili
Ingredients
1

pound

Great Northern beans

2

tablespoon

kosher salt

8

Poblano chiles

3

pounds

chicken thighs, with skin and bone

2

tablespoons

unsalted butter

1

medium yellow onion, diced

6

cloves

garlic, minced

2

jalapeño chiles, seeded and diced

2

tablespoons

ground cumin

1/2

teaspoon

chili powder

1/4

teaspoon

cayenne

1/2

cup

chopped cilantro, plus more for serving (optional)

2

tablespoons

masa harina

Sour cream, for serving

Sliced limes, for serving
Instructions
Cover the dried beans with 2 inches of water and add 1 tablespoon of salt. Soak for at least 8 hours. Once soaked, drain and rinse before cooking.

Roast the Poblano chiles under the broiler until blackened, about 5 minutes per side. Place the chiles in a paper sack or plastic food-storage bag, close it tight and let the chiles steam for 20 minutes. After the chiles have steamed, remove from the bag and rub off the skin. Remove the stems and seeds from the chiles and dice all the chiles but one. For the final chile, cut into thin strips for garnishing.

Meanwhile, in a large pot, cover the chicken thighs with 1 inch of water, Stir in the remaining 1 tablespoon of salt. Bring to a boil, then turn the heat down to low and simmer for 20 minutes. Turn off the heat and remove the chicken from the pot, placing it in a large bowl. Strain the broth. You want to have 10 cups, but if you don't just add enough water to make up the difference.

Rinse out the pot and return it to the stove. On low heat, melt the butter, add the onion and jalapeños and cook until softened, about 5 minutes. Add the garlic and cook for 30 more seconds. Add to the pot the soaked beans, diced Poblano chiles, cumin, chili powder, cayenne, cilantro (if using), and reserved 10 cups of broth. If the liquid doesn't cover the beans by 1 inch, add more water until it does.

Bring the pot to a boil and then turn the heat down to low. Partially cover the pot and gently simmer for 1 1/2 hours.

While the beans are simmering, when the chicken is cool enough to handle, remove the skin and bones and shred the chicken. You should have about 4 cups. Refrigerate the shredded chicken until it's time to add to the chili.

After 1 1/2 hours, test the beans. Are they softened? If so, add the chicken and then cook uncovered for 30 more minutes or until the chicken is warm and the chili has reduced.

After 30 minutes, scoop out 1/4 cup of the liquid and mix it with the masa harina until well blended. Stir this back into the pot along with the reserved thin Poblano chile strips, and continue to cook for 15 more minutes. Taste and adjust seasonings, adding more salt if needed. Serve warm topped with sour cream and cilantro with limes on the side.

In the event that your beans are not softened after 1 1/2 hours, continue to cook until they are softened, then proceed with the recipe.

If you want to use a slow cooker, add everything to the pot, including the shredded chicken, and cook on low for 8 hours. (You will only want to use 8 cups of liquid, however). Thirty minutes before it's done remove the lid from the slow cooker, scoop out 1/4 cup of the liquid and mix it with the masa harina until well blended. Stir this back into the pot along with the thin Poblano chile strips, and continue to cook uncovered for 30 minutes.