When looking at a friend's barbecue menu, I saw that one of the side dishes to accompany her smoked ribs, brisket, and chicken was green spaghetti. "You see it at all South Texas cookouts," she said about this vibrant dish.
Green spaghetti, as the name implies, is pasta coated with a green sauce. The color comes from the main ingredient, which is roasted poblano chiles. Dairy is also a prime component, with some cooks use cream cheese to bring it all together, while others go with sour cream, milk, or Mexican crema. No two recipes are ever the same.
It's popular along the border, and seen often at backyard gatherings, church potlucks, and weeknight dinner tables. My friend is from Brownsville, though I have friends from the entire border up to El Paso, who also grew up eating this dish. It's served in Mexico, too.
Since I'm not from that region of Texas, I didn't grow up with green spaghetti. This is a shame, as it's a dish that calls to me. My guess is it appeals to many of us who love the earthy piquant flavor of roasted poblano chiles.
My friend was coy about sharing her exact recipe, which is understandable as she aims to open a barbecue trailer in Austin (it will be called Barbs-B-Q, so keep an eye out for it). Though, she gave me her general method when I asked some questions.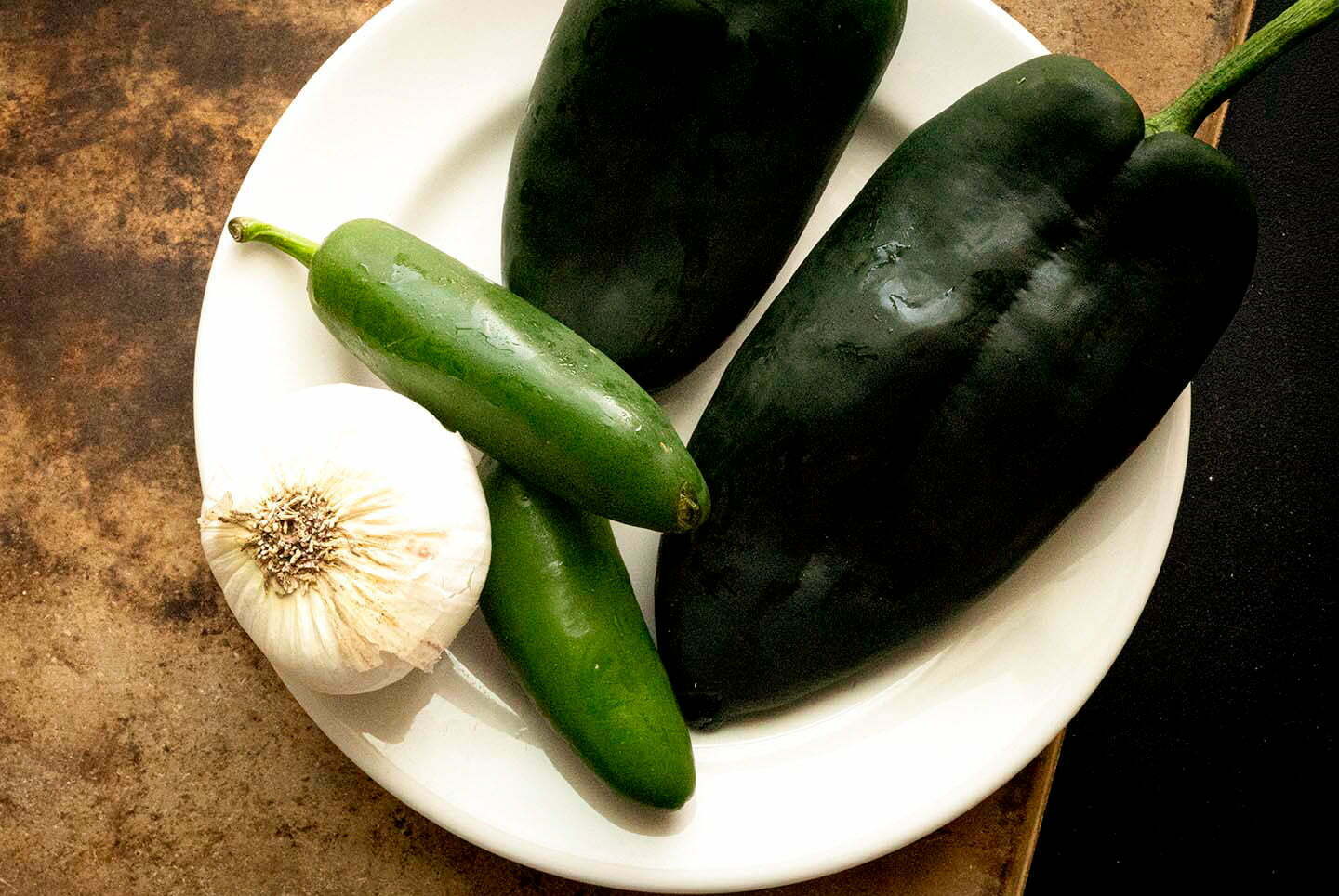 Craving a quick weeknight dinner, I decided to try my hand at making my own green spaghetti. First, I roasted a couple of poblano chiles along with garlic and jalapeños. While the poblanos were wrapped and resting to make them easier to peel, I boiled water for a pot of spaghetti.
As the pasta cooked, I peeled my chiles then blended them with the garlic and jalapeños, along with sour cream, cilantro, Parmesan cheese, green onions, cilantro, and spices. When the pasta was done, I tossed it with the sauce, plated it, then sprinkled it with more cheese and cilantro. Dinner was served.
The one thing that delights me the most about green spaghetti is how beautiful it looks. The color is stunning. The flavors are also welcome and bright. It's tangy, creamy, earthy, and savory, and I enjoyed it very much. The fun thing about the dish is that there is no right or wrong way to prepare it.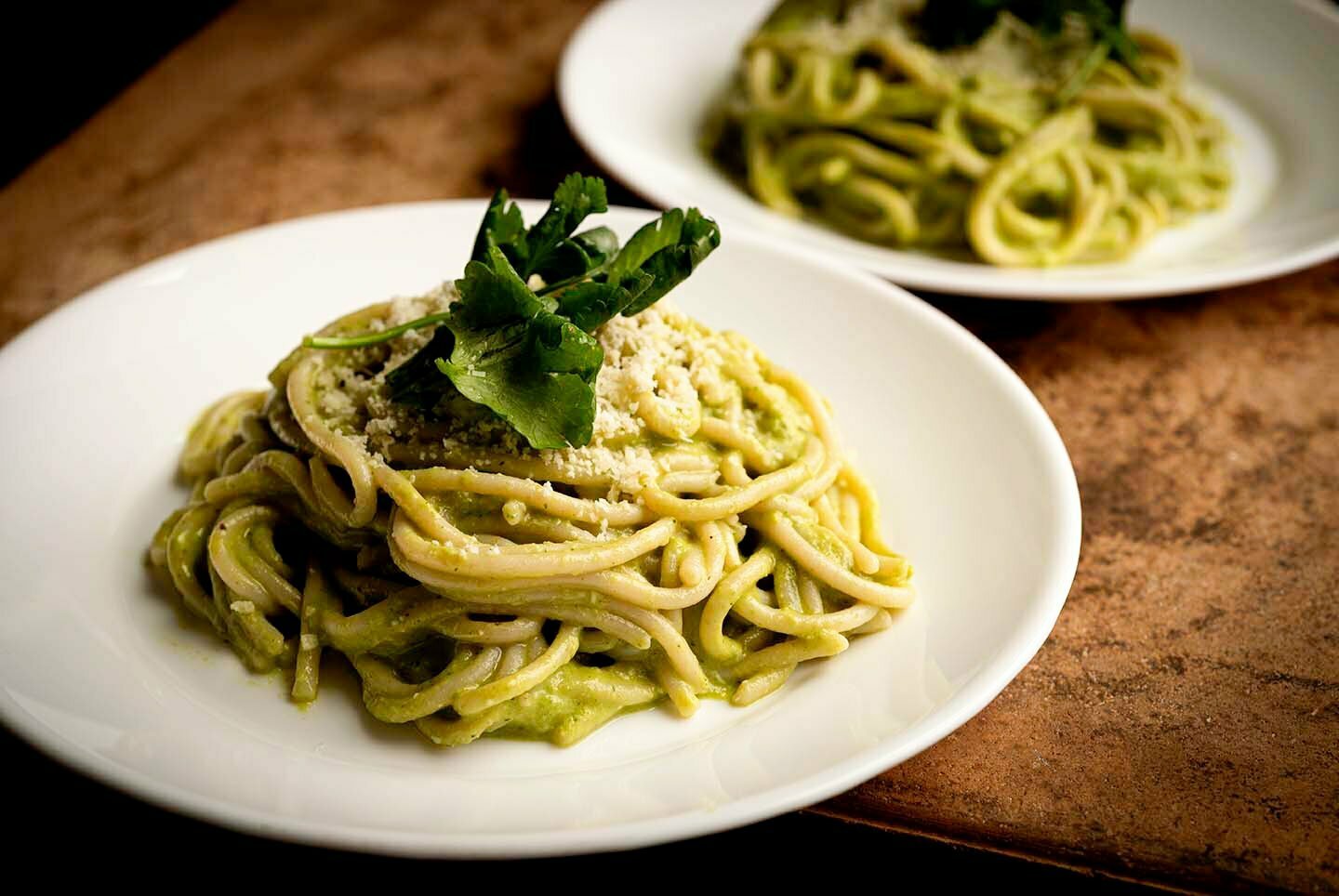 It can also be served as a side dish, as they do in South Texas, though it can also be a vegetarian main dish. Adding chicken, shrimp, or black beans would make it an even heartier dish.
—————
Would you like more Homesick Texan? Well, I've started offering additional recipes for paid subscribers to help with the costs of running the site. While I'm not taking anything away, if you'd like to support Homesick Texan and have access to exclusive, never-seen-before subscriber-only posts, please consider becoming a member; annual subscriptions are as low as $25. Thank you for reading, your consideration, and your support!
—————
Green spaghetti
Ingredients
2

poblano chiles

1 or 2

jalapeños

6

cloves

garlic

¼

cup

cilantro

2

green onions, green part only, chopped

½

cup

(4 ounces) sour cream

1

teaspoon

ground cumin

½

teaspoon

kosher salt

Pinch

nutmeg

Pinch

allspice

1/4

cup

grated Parmesan or Cotija cheese, plus more for serving

1

tablespoon

freshly squeezed lime juice

16

ounces

dried spaghetti
Instructions
To make the green spaghetti sauce, turn on the broiler and place a rack 5 inches away from the heating element. Line a cast-iron skillet or baking sheet with foil and place the poblano chiles, jalapeño, and garlic on the skillet. Cook under the broiler for 7 minutes, and then remove the skillet from the oven. Remove both the garlic and the jalapeños from the skillet. Turn over the poblano chiles and return the skillet to the oven.

Continue to broil the chiles for 7 to 8 more minutes or until nicely charred. After this time, remove the skillet from the oven. Wrap the poblano chiles in the foil and let them steam for 20 minutes.

Place the garlic in a blender. Peel the skin from the jalapeños (it's okay if not all of it comes off the pepper), then cut in half and remove the seeds. Place the jalapeños in the blender. After 20 minutes, peel and seed the poblanos and add them to the blender, too.

Also add to the blender the cilantro, green onions, sour cream, cumin, kosher salt, nutmeg, allspice, Parmesan cheese, and lime juice. Blend until smooth, then taste and adjust seasonings.

Meanwhile, bring a large pot of water to a boil, add salt, then cook the spaghetti according to the package directions until done.

When the spaghetti is ready, drain and rinse, then return to the pot. Toss with the sauce, then serve warm with Parmesan cheese.