An asparagus sandwich and a new attitude
The small Texas town where I went to college had a surprising bounty of good restaurants despite its size. While I ate the majority of my meals either in Slater's (what we called the cafeteria) or at home, once a week my friends and I would treat ourselves and go out to eat. Most of the time, we'd frequent joints that served those favorites that we hadn't quite mastered in the kitchen yet—dishes such as chicken-fried steak, cheese enchiladas or fried catfish. But even though it was a small Texas town, contrary to the state's beef-loving stereotype there was also a vegetarian café called The Tiffin Shop, which was housed in the back of the local health-food store. And in spite of my notions about health-food stores, I grew to love this little place, especially its asparagus sandwiches.
When I left home to go to college at 18, after a childhood filled with carob milk, gnarly sprouts and wheat germ, I had had my fill of health-food-store fare and vowed to never step foot in one again. But in the spring semester of my freshman year, some fellow classmates and myself decided to take our English professor to lunch so we could get to know her better. And being benevolent, we let her choose the spot. So what did she choose? But of course—the dreaded Tiffin Shop. I groaned to myself about the prospect of eating a meal at a health-food store, but I also knew that to make a fuss or, even worse, to not attend the luncheon would be bad form. So I went, but was convinced I would hate the food.

I wish I had a better memory of how I ended up ordering the asparagus sandwich, but it's been, ahem, a few years since that fateful meal. I reckon it was either the cheapest thing on the menu (I was a poor college student, after all) or it was a choice between either asparagus or sautéed seitan slapped between two slices of bread, and at least I'd heard of asparagus. But no matter why I ordered it, I'm just thankful that I did.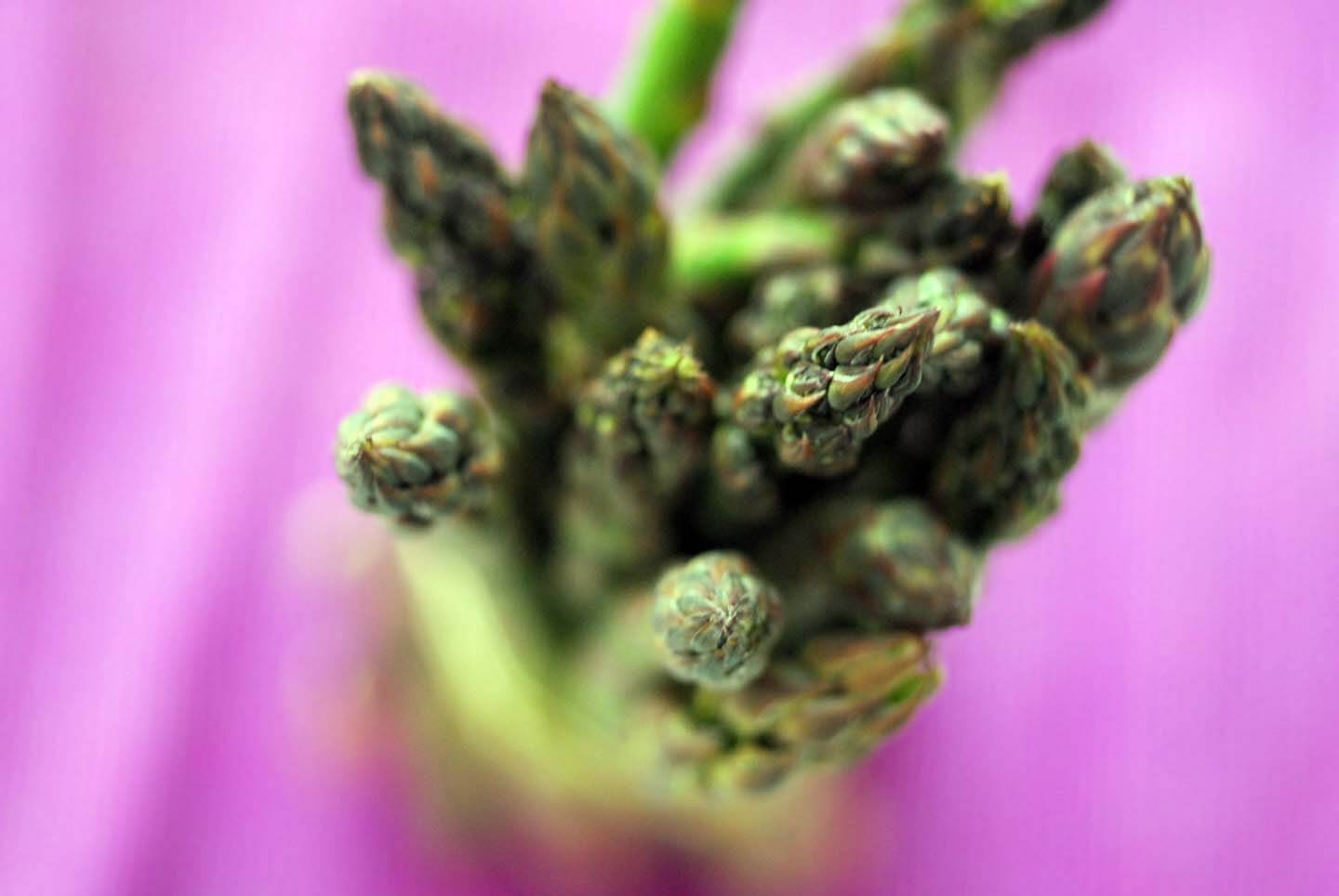 It was a simple sandwich—just cream cheese, herbs and lightly cooked asparagus all nestled between Parmesan-coated toasted bread. But while there wasn't much to it, somehow the combination of these ingredients made for a rich and flavorful experience. And for me, this crunchy, creamy, oh-so dreamy sandwich was a revelation: after a lifetime of being down on health-food stores, I decided the food on offer wasn't all that bad. (Of course, all that cheese didn't hurt either!)
Throughout the next three years, my friends and I often included the Tiffin Shop on our regular going-out rotation. The café offered a spectacular Indian menu as well, but I always opted for my beloved asparagus sandwich, as it was so superb. And after I graduated and first moved away from Texas, besides green sauce and flour tortillas, that special sandwich was one of the things I missed the most and was eager to recreate.
Making the filling was a cinch, but the crispy Parmesan crust eluded me. Because I didn't know squat about cooking back then, the first time I tried to make it I sprinkled the cheese on the bread sans any fat, but the cheese just fell off when I took a bite. So I tried spreading olive oil on the bread before adding the cheese, which was fine, but not quite the creamy crunch I was aiming for. There were also some attempts using eggs and milk to create the cheesy crust, which lead to disastrous and disgusting results. Finally, I decided to dip the bread in melted butter before doing my cheese dredge and hurrah! At long last I had the asparagus sandwich of my dreams!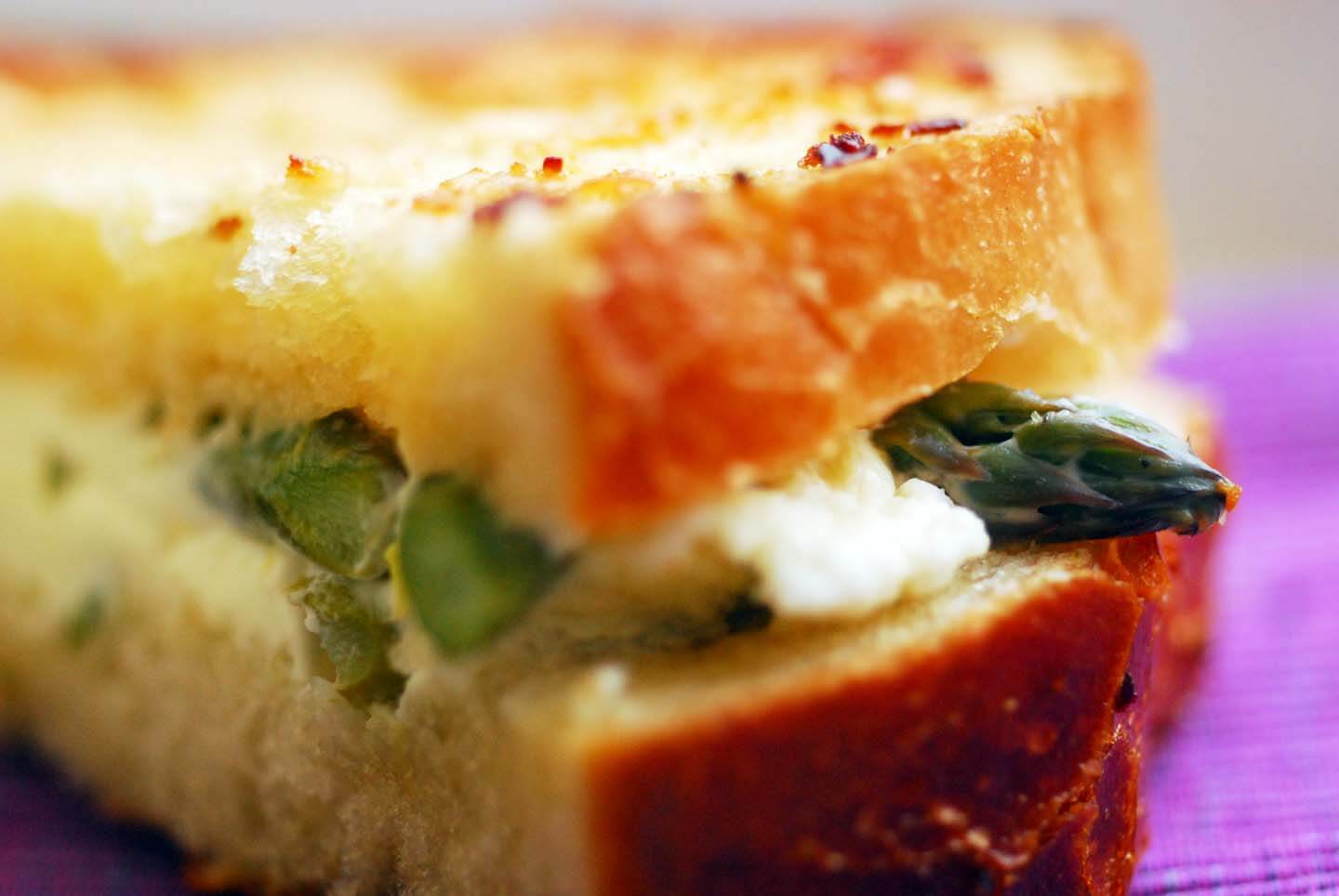 So, yes, this isn't the lowest-calorie meal (which is probably why it was my favorite dish at the health-food store) but it is decidedly delicious. And during those few weeks when the local asparagus make their appearance at the market, I always whip up a batch or two. It's been quite a few years since I had the original inspiration for the sandwich and, well, I can't recall if the one I make tastes like The Tiffin Shop's or not. But no matter, I've made it my own and even if it's not quite what I ate all those years ago, it's no less amazing. Plus each beautiful bite still takes me back to the moment when I realized not all health-food-store fare is something to shun and, instead, is something to embrace. Just don't make me go near the alfalfa sprouts!
Asparagus and cream cheese sandwich
Ingredients
1

pound

fresh asparagus, chopped into 1-inch pieces

1

pound

cream cheese, softened

1

tablespoon

dried tarragon

Salt

Black pepper

1/2

cup

finely grated Parmesan cheese

1/2

cup

unsalted butter

8

slices

sandwich bread
Instructions
Preheat the oven to 400° F.

Boil or steam the chopped asparagus for 3 minutes and then submerge in cold water. Mix the cooked asparagus with the softened cream cheese and tarragon, then add salt and pepper to taste.

Melt the butter in a saucepan. Take each slice of bread and dip it into the melted butter and then sprinkle Parmesan cheese on one side of each piece.

Spread about 1/2 cup of the cream-cheese/asparagus filling on a slice of bread on the non-coated side, and top with another slice, leaving the Parmesan-coated sides on the outside.

Place assembled sandwiches on a greased sheet and bake in oven for 15-20 minutes, turning over once so both sides are browned.
Notes
I use tarragon because I have that lovely herb growing in my kitchen and I enjoy it freshly snipped, but the sandwich is also good with lemon thyme, chives, rosemary or whatever other herbs you fancy with your asparagus. But please be aware—the real stars of this sandwich are the crisp, cooked asparagus and Parmesan-coated bread—everything else is secondary.