I don't have Italian blood flowing through my veins and I have to admit when I was little, my knowledge of that country's vast cuisine ended (and began) with pizza, lasagna, ravioli (usually canned) and spaghetti. But when I was in my teens and started venturing beyond my limited culinary sphere, I discovered the joy of many new Italian flavors, including butter-and-cream sauce, which I became obsessed with creating at home. My mom has called this my white phase since most of what I ate was, of course, white. And one of my favorite snacks was baked ricotta cheese smothered in the cream sauce, garlic and freshly chopped rosemary, no pasta necessary (though it's also sort of white and wouldn't have been completely unwelcome). It was so rich, creamy and delicious, it could make me weep. And heck, I was still a kid so I had no concern about either my heart or my waistline and could indulge guilt free in such a decadent dish.
I've since moved beyond the white-food phase, and fortunately am now an equal-opportunity eater of foods of all colors. And while nobody would have predicted this 20 years ago when thoughts of fruits and vegetables were anathema to my diet, I now not only frequently shop at the farmer's market but also am even (gasp!) toying with the idea of committing to a CSA share for the summer and fall. I'm excited about the prospect of getting a ton of fresh vegetables every week while also helping out a local farm, but I hesitate to sign on the dotted line because I'm afraid I'll miss shopping at the market, which I'd be less inclined to do if I already have a fridge full of vegetables at home.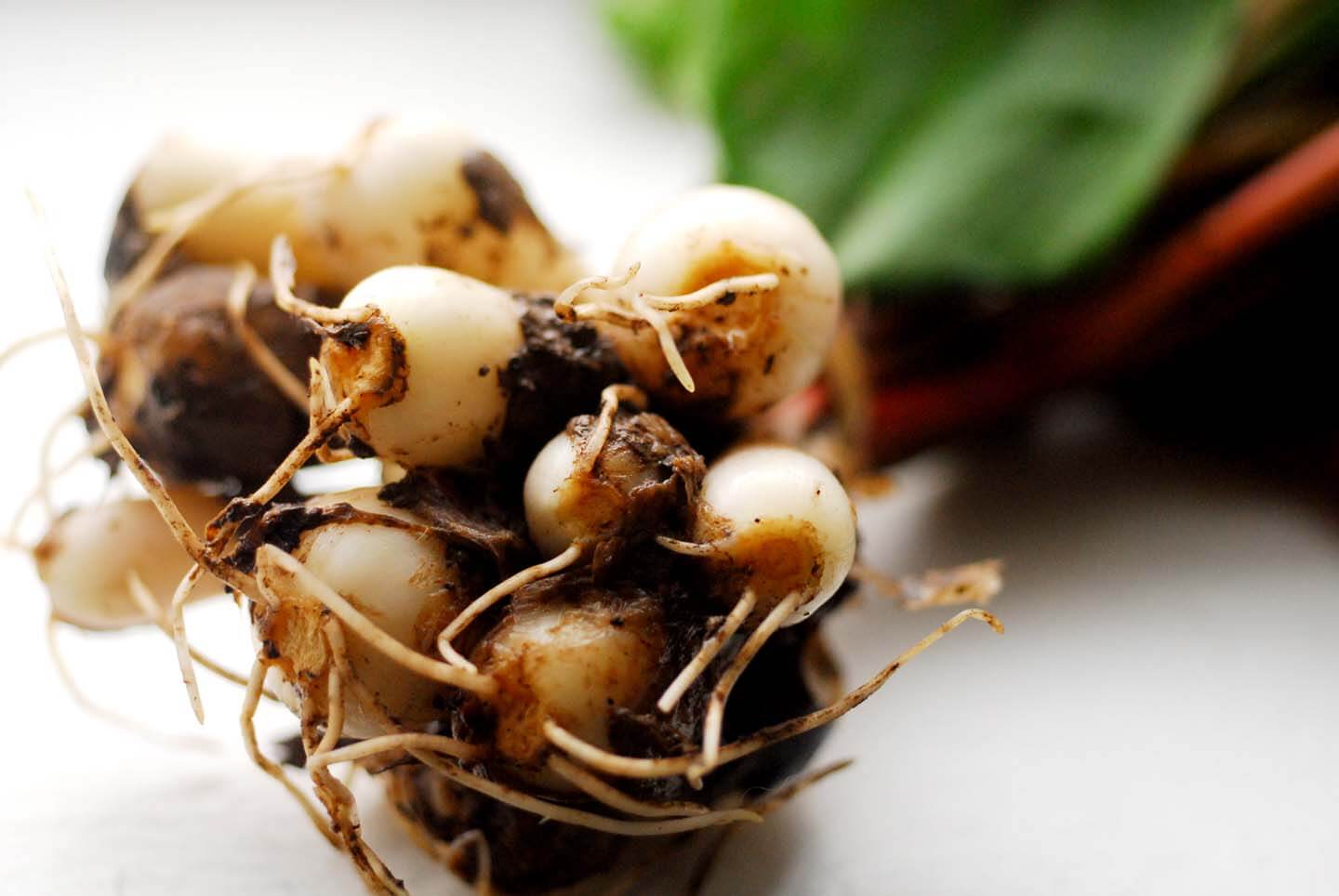 There's just something about seeing the vendors selling the fruits, vegetables, grass-fed meat, cheese and seafood that fills me with such joy. And it's become my favorite way to spend a lunch hour. My options would probably be better if I was one of those early risers (I keep missing the scallops and bacon, for instance) but I take what I can get, which is part of the fun. And while there are more vendors at the Union Square Greenmarket, the market I frequent by my office has a tenth of the crowds and much cheaper prices. Plus, most of my fellow shoppers are United Nations employees so, for instance, when two people are reaching for that last basket of strawberries, an air of diplomacy hangs over what could have turned into an ugly interaction.
This week they finally had ramps. My heart skipped a little when I saw them in all their muddy, leafy, white, green and aromatic glory. I have never cooked with ramps, which are also known as wild leeks, and have only eaten them on rare occasions. In college we had wild onions growing in our yard that would stink up the joint something fierce after a rain (a good stink, mind you, if you like the smell of onions). We'd pull them out of the ground and eat them raw, in ramen noodles or with beans and rice. But I don't know if those were technically ramps or not, so this bundle marked my first official foray into the world of working with these lovely lilies.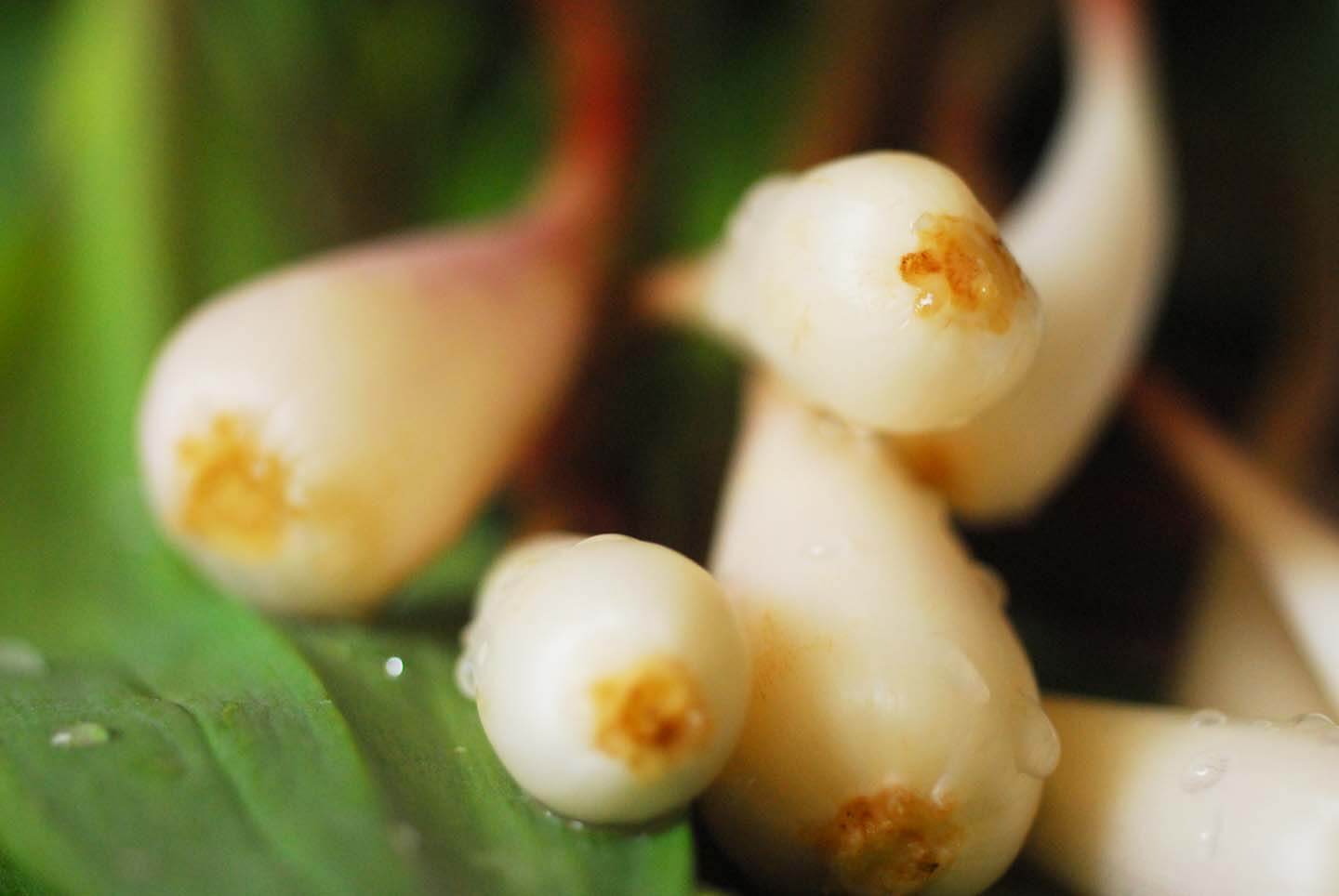 As I tried to decide what to cook with my ramps, I petitioned friends and scoured the Internet for ideas. I saw many recipes that scrambled them with bacon and eggs or added them to biscuits, which sounded tasty but a bit uninspired. And one friend said her brother makes a zesty ramp and potato salad, but there were no young potatoes to be found at the market when I shopped.
But lately I've been slightly obsessed with gnudi (yes, it's pronounced nudie) that pillowy Italian dish made up of creamy poached ricotta cheese. If you're not familiar with it, think ravioli filling without the pasta (hence the name, which means naked in Italian) or gnocchi without the potatoes. Tender yet firm on the outside but oozing on the inside, it's slightly naughty but oh so heavenly. And since ramps taste like the marriage between onions and garlic, I thought they'd be the perfect addition to this luscious, rich dish.
My hunch did not disappoint. The ramps were a spectacular match for the cheese and since I sautéed them before adding them to the ricotta mixture, they were pungent but not overpowering. As I ate the gnudi, I realized that I probably love it so much because it reminds me of that baked ricotta dish I made back in my teens; it took me back to a time when the culinary horizon was vast and filled with much uncharted and delicious territory. Yet even though back then my baked ricotta was a vehicle for cream sauce, I decided for this recipe that such a heavy garnish would be gilding the lily (and the arteries) so I opted instead to top my gnudi with just a simple brown-butter drizzle mixed with more ramps.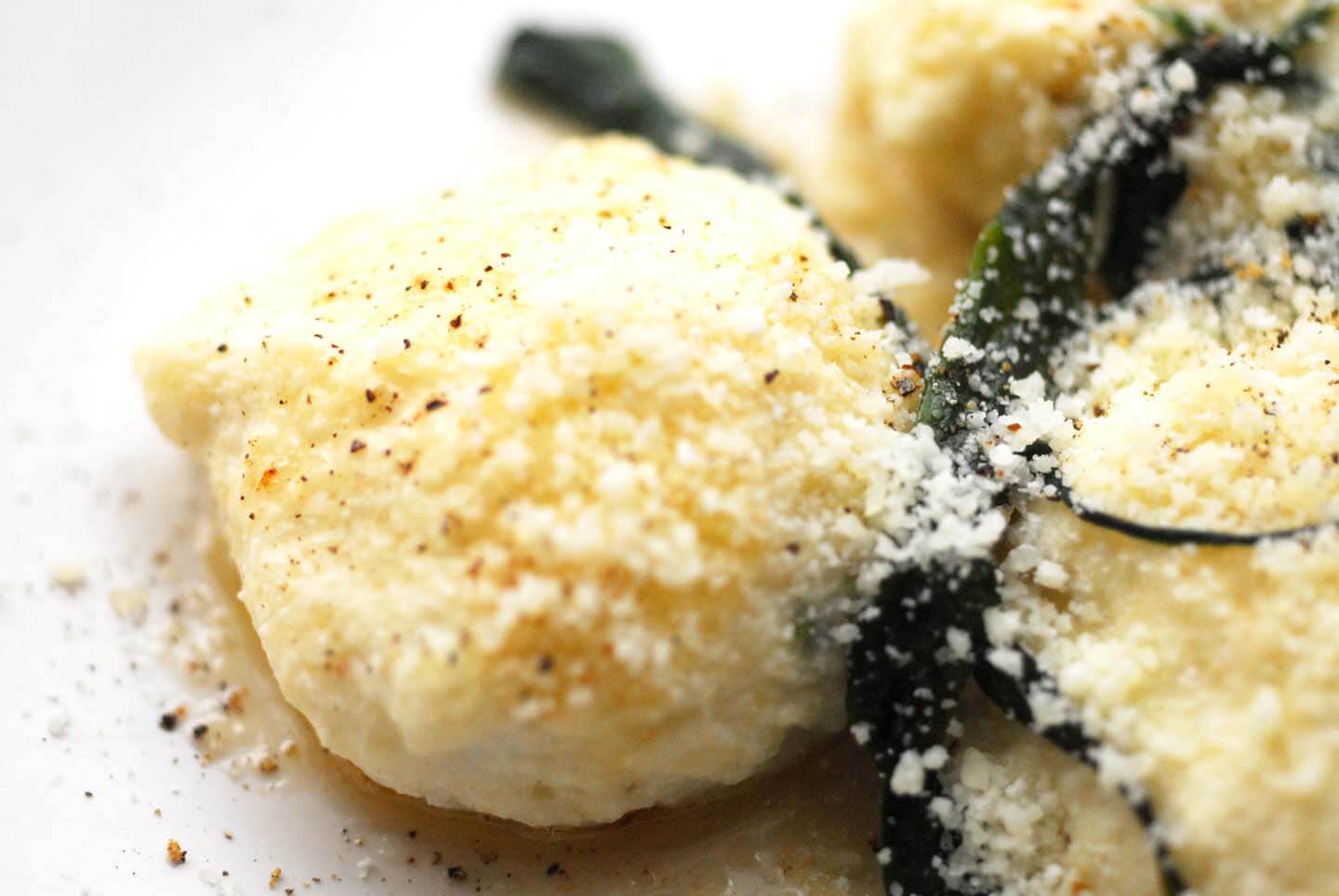 Unfortunately, ramps have a very short season. But I know I'll be back at the market this week to grab some more as they are my newfound taste of spring. Plus, I'm eager to try that salad my friend mentioned and I bet the fingerling potatoes should be arriving soon. But more than that, cooking with ramps has reminded me that the culinary horizon remains vast, despite my years, and it's always a joy to discover new flavors.
Are you a fan of ramps? What do you like to make with them? And help me make a decision—do you participate in a CSA and what do you find to be the pros and cons?
Gnudi with ramps and brown-butter sauce
Ingredients
1

bunch

ramps (about 12)

1

tablespoon

olive oil

1

pound

ricotta cheese

1

large egg

3/4

cups

all-purpose flour, plus more for a dredge

1/2

cup

grated Parmesan cheese

1

teaspoon

salt

1

teaspoon

pepper

1/2

teaspoon

nutmeg

1

stick of butter
Instructions
Clean the ramps and remove the roots.Finely dice the bulbs and julienne the leaves.

On medium heat, sauté the diced bulbs in one tablespoon of olive oil until soft, about 3 minutes. Add the julienned leaves and sauté another minute or so until soft but still green. Set aside.

In a large bowl, mix together the ricotta cheese, egg, 3/4 cup of flour, Parmesan, salt, pepper, nutmeg and half the sautéed ramps (about 1/4 cup).

Bring a pot of salted water to a boil and then reduce heat to a simmer.

Meanwhile, form gnudis by taking a tablespoon of the cheese mixture in floured hands, roll it into a ball, flatten it, and then dredge in flour to coat.

Gently place gnudis 4 at a time in simmering water, and when they float to the top (about 3 minutes), gently remove with a slotted spoon and place on a plate. They will be very delicate, so handle with care and keep cooked gnudis separate. Repeat until all are cooked.

Melt a stick of butter in saucepan on medium until nutty brown. Place gnudis on a plate, drizzle with brown butter and garnish with remaining sautéed ramps. Serve warm.