Every spring I get an itch to return to Texas as it just might be the best time of year to be there. The bluebonnets and other wildflowers are in bloom, the temperatures are mild, and after winter there's an overall sense of joy throughout the state, perhaps best reflected in San Antonio's celebration known as Fiesta.
Fiesta occurs every April and it lasts for about two weeks. The festival was started in 1891 as a way to honor the heroes of the Alamo and the Battle of San Jacinto, from the Texas Revolution in 1836. It's a rich and complex festival with a royal court, parades, pilgrimages, and countless other events.
If you ask any homesick San Antonian what they miss most about their hometown, you'll usually hear a tale about Fiesta. And while there are many traditions surrounding the celebrations, the thing people discuss the most is the splendid array of foods.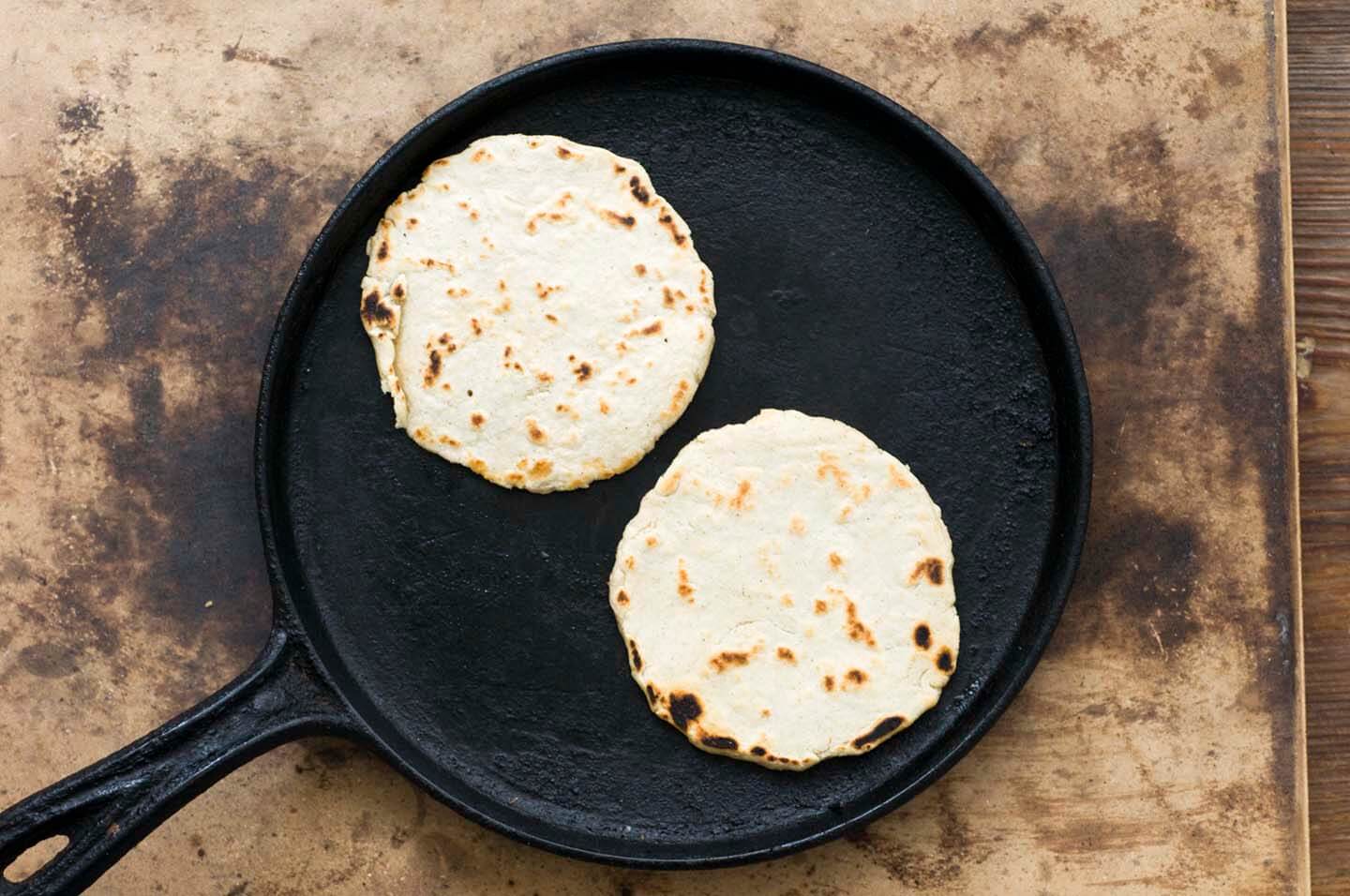 On offer at Fiesta are tacos, kebobs, queso flameado, tamales, sopapillas, Mexican corn, and more. But the dish my friends deem the most beloved are the gorditas—round, thick masa cakes that have been fried, split in half, and then stuffed with a variety of fillings. I had friends from San Antonio in college who would skip classes in order to make the six-hour drive just to get their fix. They are that good.

Now, you can stuff gorditas, which in Spanish translates to little fat ones, with just about anything. And in Texas, you'll most commonly find them stuffed with meat, cheese, iceberg lettuce, and tomatoes. Basically, it's your traditional crispy taco fillings sandwiched between a thicker, slightly crisp round shell.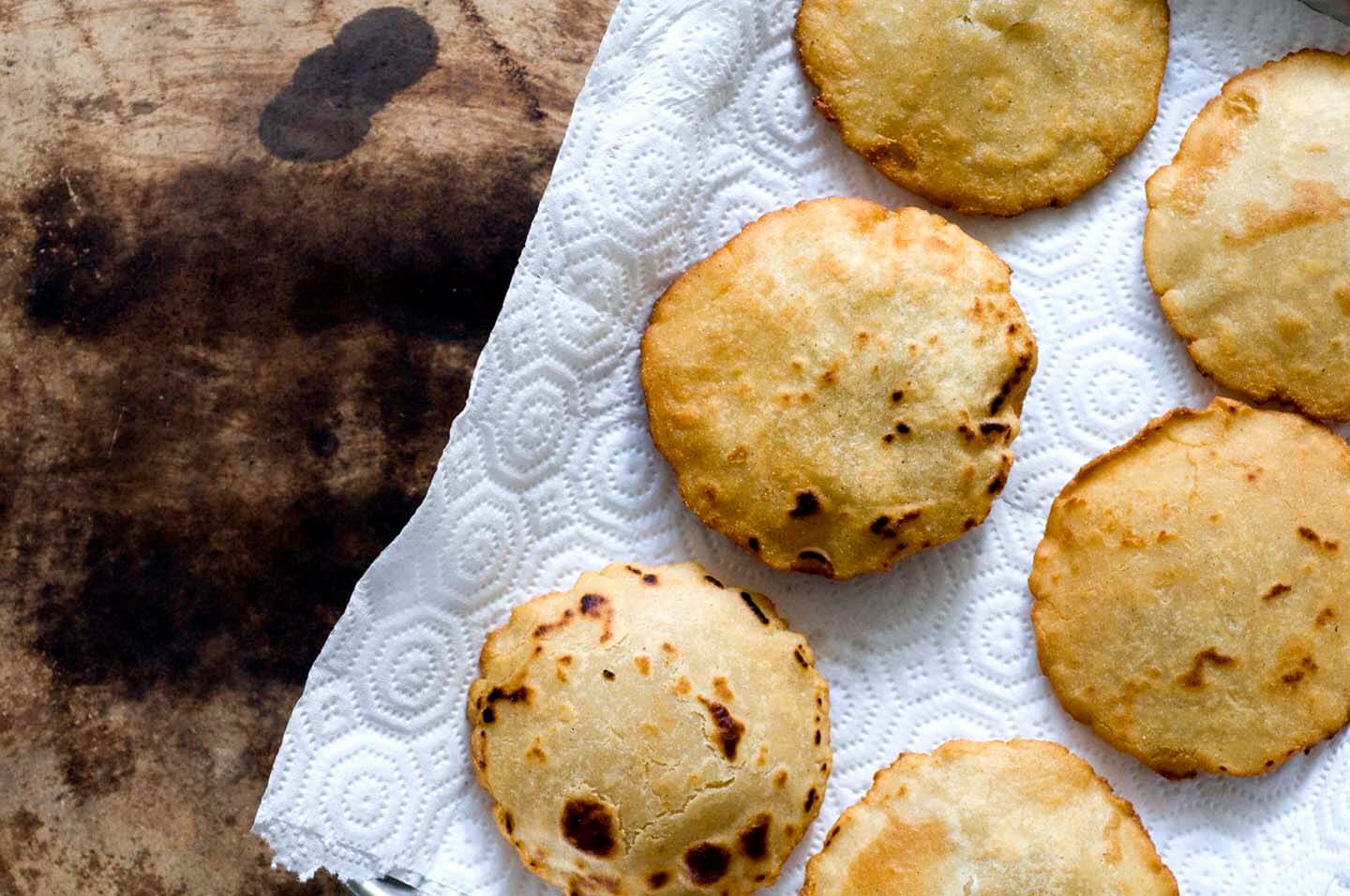 While they're becoming more common throughout the state, gorditas are most prominent in San Antonio and in West Texas towns such as El Paso. And like many Tex-Mex dishes, there is indeed a Mexican counterpoint also known as gorditas, though the difference between those and what you find in Texas is that in Mexico they stuff there's with meat or beans, cilantro, onions, and maybe a sprinkle of cotija cheese.
In New York, I can often find Mexican gorditas at both taco trucks and in taquerias. However, they are always done the Mexican way, which is fine but sometimes I have a craving for a Tex-Mex-style gordita. So in honor of Fiesta and thinking forward to Cinco de Mayo, I decided to make a batch.
You'll see gorditas stuffed with a variety of proteins, such as taco meat, refried beans, and chili colorado—anything goes. So for mine I decided to use shredded chicken tossed in a simple tomato and jalapeño salsa. As for making the gorditas themselves, if you've made homemade tortillas you can make gorditas, as it's basically the same process except you include a frying step at the end to make them puffy and crisp.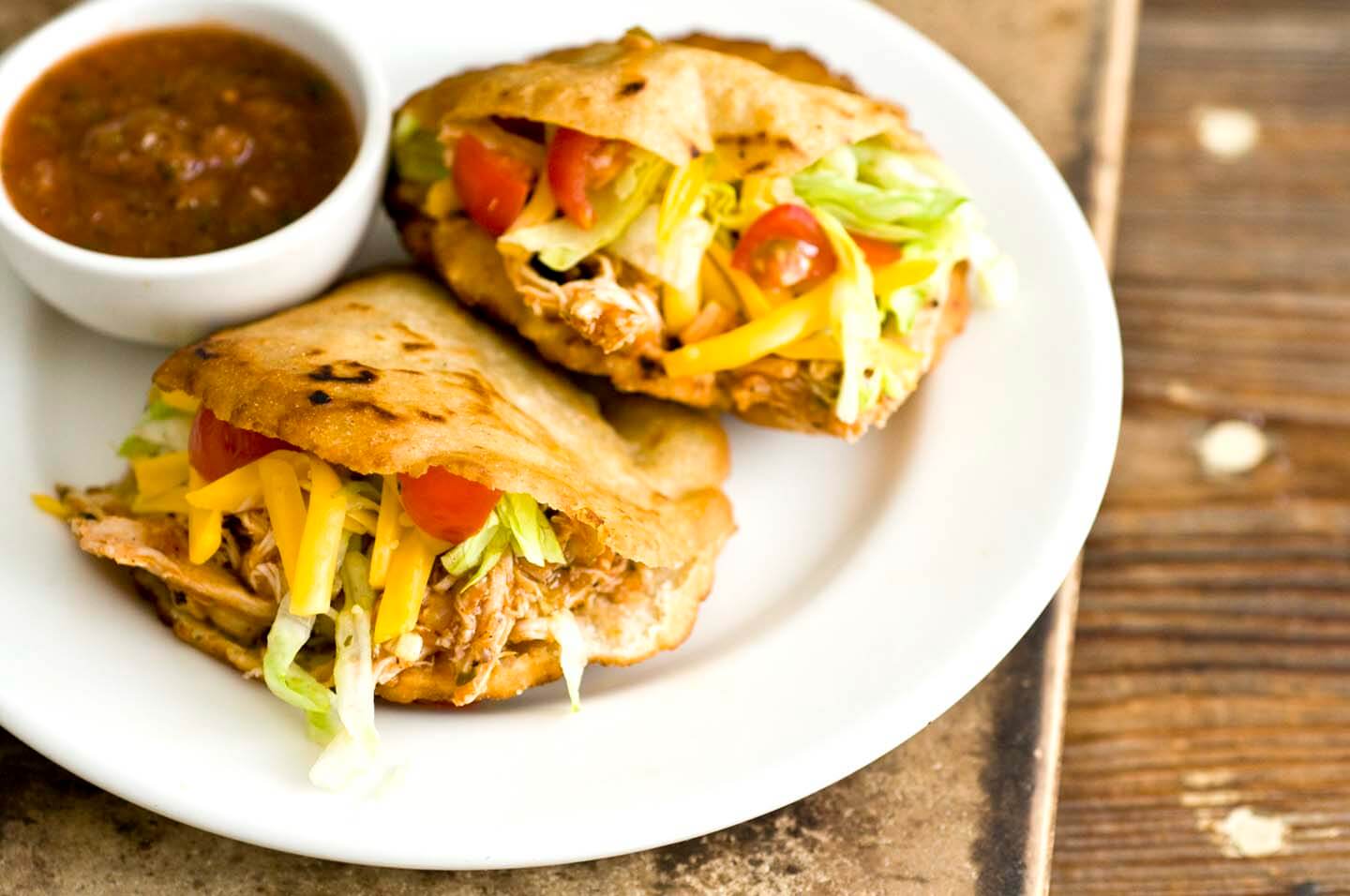 To serve, you simply slice in half the gordita and then stuff with the chicken, cheese, and vegetables. Then you take a bite, think of old San Antonio, and say to yourself you are so happy that spring is finally here.
—————
Would you like more Homesick Texan? Well, I've started offering additional recipes for paid subscribers to help with the costs of running the site. While I'm not taking anything away, if you'd like to support Homesick Texan and have access to exclusive, never-seen-before subscriber-only posts, please consider becoming a member; annual subscriptions are as low as $25. Thank you for reading, your consideration, and your support!
—————

Chicken gorditas
Ingredients
Ingredients for the chicken:
1

3-pound chicken

1

sprig cilantro

1

jalapeño, cut in half

1/2

tablespoon

kosher salt

1

teaspoon

black peppercorns

Or

1 3-

pound

cooked chicken, roasted or poached, shredded

1/4

cup

chicken broth
Ingredients for the salsa:
1

(14-ounce)

can diced tomatoes, preferably fire roasted

1/4

medium yellow onion, peeled

2

whole cloves garlic, peeled

2

jalapeños, seeded and cut in half

1/2

cup

cilantro

1/2

teaspoon

ground cumin

Salt

1

teaspoon

freshly squeezed lime juice
Ingredients for the gorditas:
1 3/4

cups

masa harina

1/4

cup

all-purpose flour

1

teaspoon

baking powder

1/2

teaspoon

salt

1

tablespoon

lard or shortening, melted

1 1/4

cups

water

Oil for frying
Ingredients for serving:
Shredded iceberg lettuce

Diced tomatoes

Shredded cheddar cheese

Salsa
Instructions
To cook the chicken, place the chicken in a large pot and cover with 1 inch of water. Add to the pot the cilantro, jalapeño, salt, and peppercorns. Bring the pot to a boil and then turn the heat down to low. Simmer uncovered for 45 minutes. Remove the chicken with tongs from the water and place in a large bowl. When cool enough to handle, remove the skin and bones and shred the chicken. Toss the chicken meat with 1/4 cup of the cooking broth (reserving the rest of the broth for another use if you prefer), then taste and add salt if needed.

Alternatively, if you want to skip making the chicken you can shred an already cooked 3-pound chicken and toss with 1/4 cup of chicken broth.

Meanwhile, to make the salsa, place the tomatoes, onion, garlic, and jalapeños in a medium pot. (Don't worry about chopping the garlic, onion or jalapeños, as you'll be putting it in a blender or food processor after it cooks.) Bring the pot to a boil and then turn the heat down to low and simmer for 15 minutes or until the onion, garlic and jalapeño are softened.

Turn off the heat and cool for 10 minutes. When cool, pour into a blender and add the cilantro and cumin. Puree until well blended and everything is chopped. Add salt to taste.

Pour the salsa back into the pan and add the shredded chicken. Stir to combine the chicken with the salsa, turn the heat on low, and cook the two together until fragrant, about 5 minutes. Add the fresh lime juice. Cover the pot and turn off the heat. (After you make the gorditas, you can reheat the chicken on low if it's not warm enough for your tastes.)

To make the gorditas, whisk together the masa harina, flour, baking powder, and salt. Add the lard and water and stir until a soft, smooth ball is formed. If the dough is too dry, add more water, 1 teaspoon at a time. Divide the dough into 12 balls. Roll or press out each one until it's about 4-inches wide.

Cooking the gorditas is a two-step process, where you first cook them in a skillet before frying. So first, in a lightly oiled skillet, on medium heat cook each gordita for 1 minute on each side. Transfer the cooked gorditas to a tray and repeat until all are cooked.

For the frying, line a sheet pan with paper towels. Heat up 1/2 inch of oil in a skillet to 350°F. One at a time, gently lower the gordita into the oil and fry on one side for about 30 seconds or until it's golden brown and puffed. With tongs, flip the gordita and fry for 10 more seconds. Remove from the oil and drain on the paper-towel-lined tray. Repeat until all are fried.

When cool enough to handle, split open the gordita by slicing it on one end with a small, sharp knife halfway around its circumference. Stuff the gorditas with chicken, shredded lettuce, tomatoes, and cheese, and serve with salsa on the side for garnishing on top.
Notes
It's best to serve the gorditas immediately after frying, though if you want to do some of the work ahead, you could do the first skillet step and then store the gorditas for a couple of days in the refrigerator, then bring back to room temperature before frying. You can also make the chicken ahead of time—it will keep in the refrigerator for 3 days. If you're making the entire dish at the same time, often I'll make the salsa and do the first step of cooking the gorditas as the chicken is cooling before shredding it. Then after I've tossed the chicken with the salsa, I'll then do the second, frying step for the gorditas.