Chorizo and jalapeño breakfast pizza
"You need to start blogging again," said my grandma.
"Yes," I replied. "I know."
If you look at the last post I published, it was back in late February. But that wasn't even a recipe or a story; it was simply a round-up for Texas Independence Day. The last recipe I shared with you was way back in January. And while it was a fine dish, it certainly wasn't hearty enough to keep you satisfied for this long.
This year has been a whirlwind for me, and it wasn't until I spoke with my grandma that I realized so much time had passed. It's always good to try new things but after a few months of being away, I realized that my favorite place to be is in my kitchen at home.
During that same conversation with my grandma, she talked about a pizza that Uncle Austin had made her recently at the farm. "I loved it," she said. As she described the pizza, she mentioned that it had been topped with sausage. She paused for a minute and then said, "I love sausage on pizza. And you know what would also be great? A breakfast pizza also with sausage on it. There could be eggs, too," she added.



That was a mighty fine idea. And so I decided to try making a breakfast pizza for myself. For the sausage, I love the spicy tangy flavor of Mexican chorizo so I chose to use that. As for a crust, I toyed with the idea of tortillas but the hearty flakiness of a biscuit dough not only tasted better but could stand up to more ingredients being piled on top, as well.
For the eggs, I made a couple of pizzas with eggs cracked whole onto the top, but I missed the crispy edges that a whole egg gets when fried in a skillet; instead, the egg whites were just kind of gummy. There had to be eggs on the pizza, though, so for my next attempt I made the pizza with scrambled eggs. This turned out to be the way to go, as the scrambled eggs not only had more consistent coverage over the pizza, but they also melded better with the other toppings, too.
For the final flourishes, diced red onions and jalapeños added a bit of piquancy to the pizza, and a thick layer of creamy Monterey Jack held everything together. While the pizza tasted terrific on its own, I decided to top my slices with some bright pico de gallo, salty Cotija cheese, and rich avocado to make it even more healthy and filling.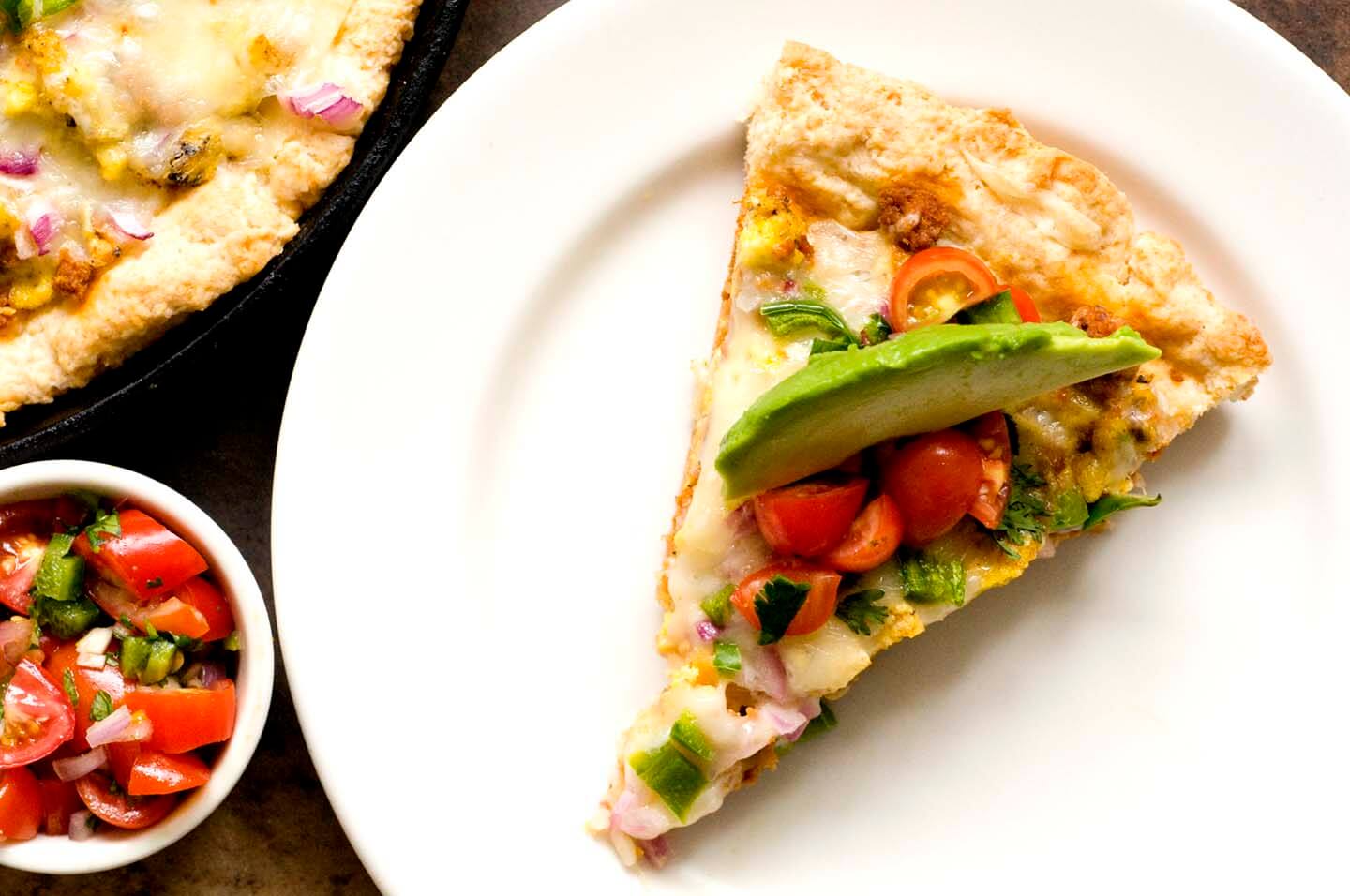 All together, it was an excellent combination of ingredients and a wonderful way to begin my day. My grandma's theory turned out to be correct. Breakfast pizza is not only delicious but also a mighty fine way to return to my kitchen.
It's good to be back.
Chorizo and jalapeño breakfast pizza
Ingredients
Ingredients for the crust:
1

cup

all-purpose flour

1/2

tablespoon

baking powder

1/2

teaspoon

kosher salt

4

tablespoons

cold butter

6

tablespoons

half and half or whole milk
Ingredients for the pizza:
2

ounces

Mexican chorizo, removed from its casing

4

large eggs

2

tablespoons

half and half or whole milk

2

tablespoons

unsalted butter

Pinch

kosher salt

1

jalapeño, seeded and diced

1/4

small red onion, finely diced

1

cup

4 ounces shredded Monterey Jack cheese

Cilantro leaves, for garnishing

Pico de gallo, for serving

Avocado slices, for serving

Crumbled Cotija or feta cheese, for serving
Instructions
Heat the oven to 425°F and lightly grease a 9-inch round griddle, skillet, or baking sheet.

To make the crust, whisk together the flour, baking powder, and salt. Cut the cold butter into cubes and then add to the flour. Working quickly with your hands or a pastry cutter, work the butter into the dough until the dough is crumbly. Pour in the half and half and stir until everything has come together and a shaggy dough is formed.

Pat the dough out evenly into the griddle or skillet. (If using a skillet, don't work the dough up the sides—leave it just on the bottom). If using a baking sheet, pat out a 9-inch circle. Poke the dough with a fork about 4 or 5 times, and place the dough into the oven. Cook it uncovered for 5 minutes then remove from the oven.

Meanwhile, heat a large skillet to medium-low heat. Add the chorizo and while occasionally stirring, cook for 5 minutes or until it changes from a bright red to a more brownish red. Leaving on the skillet, remove the chorizo with a slotted spoon and place it in a bowl. (It's okay if there is some chorizo grease in the skillet, as this adds flavor. If there is an excess of grease, however, feel free to drain and discard it.)

Add to the skillet the butter. Whisk together the eggs, half and half, salt, and pepper. When the butter has melted, pour in the eggs. Let them sit for 1 minute then add the chorizo back into the skillet and gently stir until they are loosely set. Taste the eggs with the chorizo and add a pinch of salt if you think it needs it, though I find that usually the chorizo adds enough flavor and salt isn't necessary.

Turn off the heat and then spoon the eggs out of the skillet and spread evenly onto the partially baked pizza crust. (You did remember to remove it from the oven, didn't you!)

Top the eggs evenly with the cheese, then top the cheese evenly with the onions and jalapeños. Return the pizza to the oven and cook uncovered for 8 to 10 more minutes or until the cheese is melted and the crust is lightly browned.

Remove the pizza from the oven and sprinkle fresh cilantro leaves over the baked pizza. If you like, serve each slice topped with pico de gallo, avocado slices, and/or crumbled Cotija cheese.