Michelada flank steak sandwiches with poblano buttermilk dressing
Back in 2011, a group of old friends reconnected at our class reunion. While we'd kept up with each other's lives via social media, that gathering was the first time all of us had spent time together in person since school.
We had an amazing time, but the reunion was far too brief, so a friend from the Panhandle invited us to come and stay at her ranch. It took a few months, but we were finally able to find a weekend where we could coordinate our busy schedules and enjoy her gracious hospitality.
After packing wisely (our friend had advised us to bring our boots as it was rattlesnake season), most of us met in the terminal at DFW and proceeded to fly our last leg to Amarillo.
We rented a car then met our friend halfway to the ranch. She pulled out a cooler of Shiner Bocks, and we popped the caps and toasted a fine beginning to our weekend.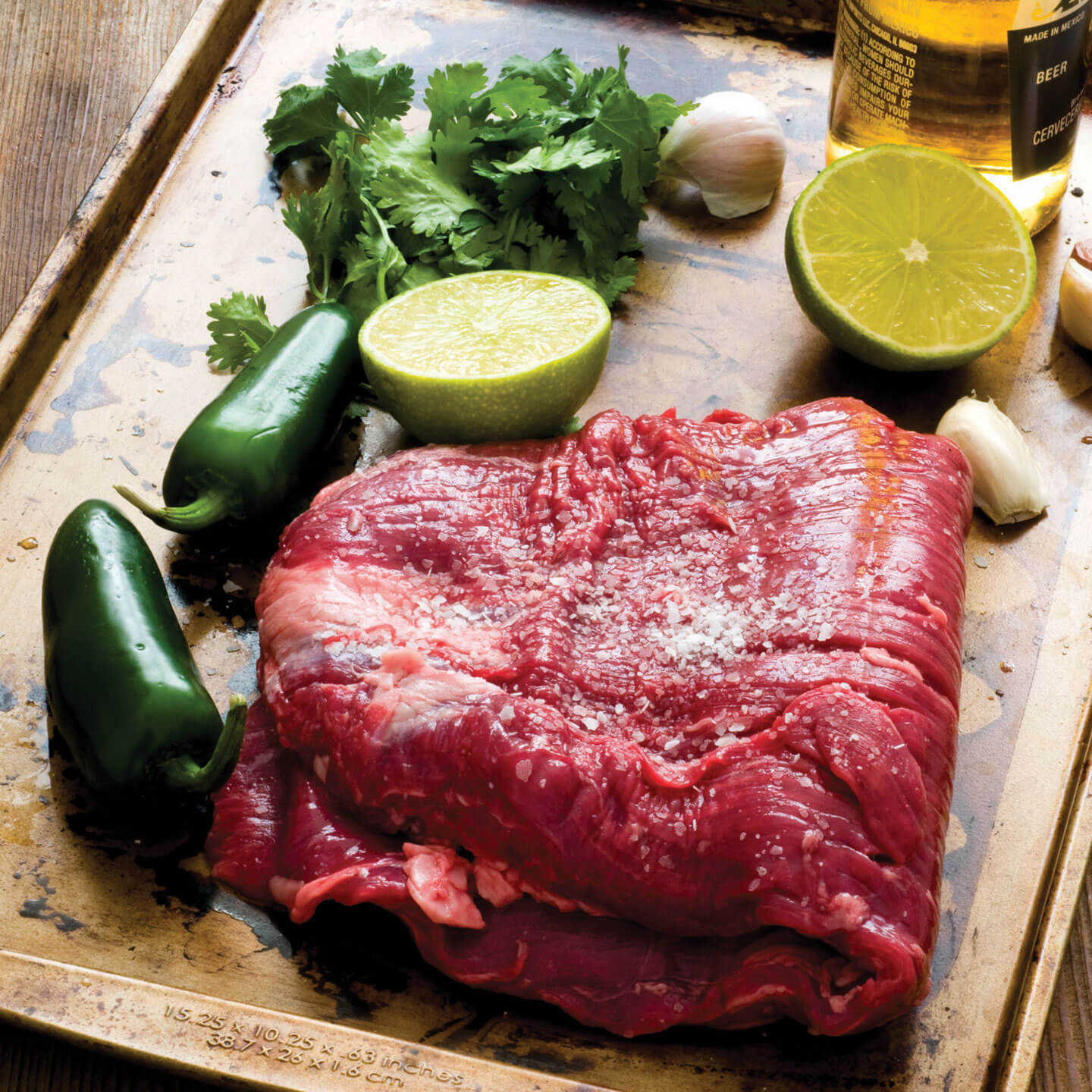 Shortly after we arrived, my friend went into the kitchen and prepared an oversized sandwich that was suitable for sharing. I watched her as she put it together and it was loaded with meats, cheese, avocado, and red onion. After slicing it, we enjoyed the sandwich sitting at a picnic table outside under the big blue sky.
The sandwich and the camaraderie inspired me, and when I returned home, I decided to concoct a similar sandwich that would be good for groups and gatherings. For mine, I decided to give it a Tex-Mex twist with a Michelada-marinated flank steak and a poblano buttermilk dressing. All agreed it was a hit.
The Michelada flank steak is so-named because of the ingredients found in the marinade—beer, Worcestershire, and lime juice—all of which are ingredients in a beer cocktail called the Michelada.
This tender, flavorful flank steak is terrific on its own but when combined poblano buttermilk dressing, along with the jalapeños, avocados, and red onions, this sandwich becomes extraordinary. It tastes just as good after a long day of traveling as it does on game day or for dinner, too.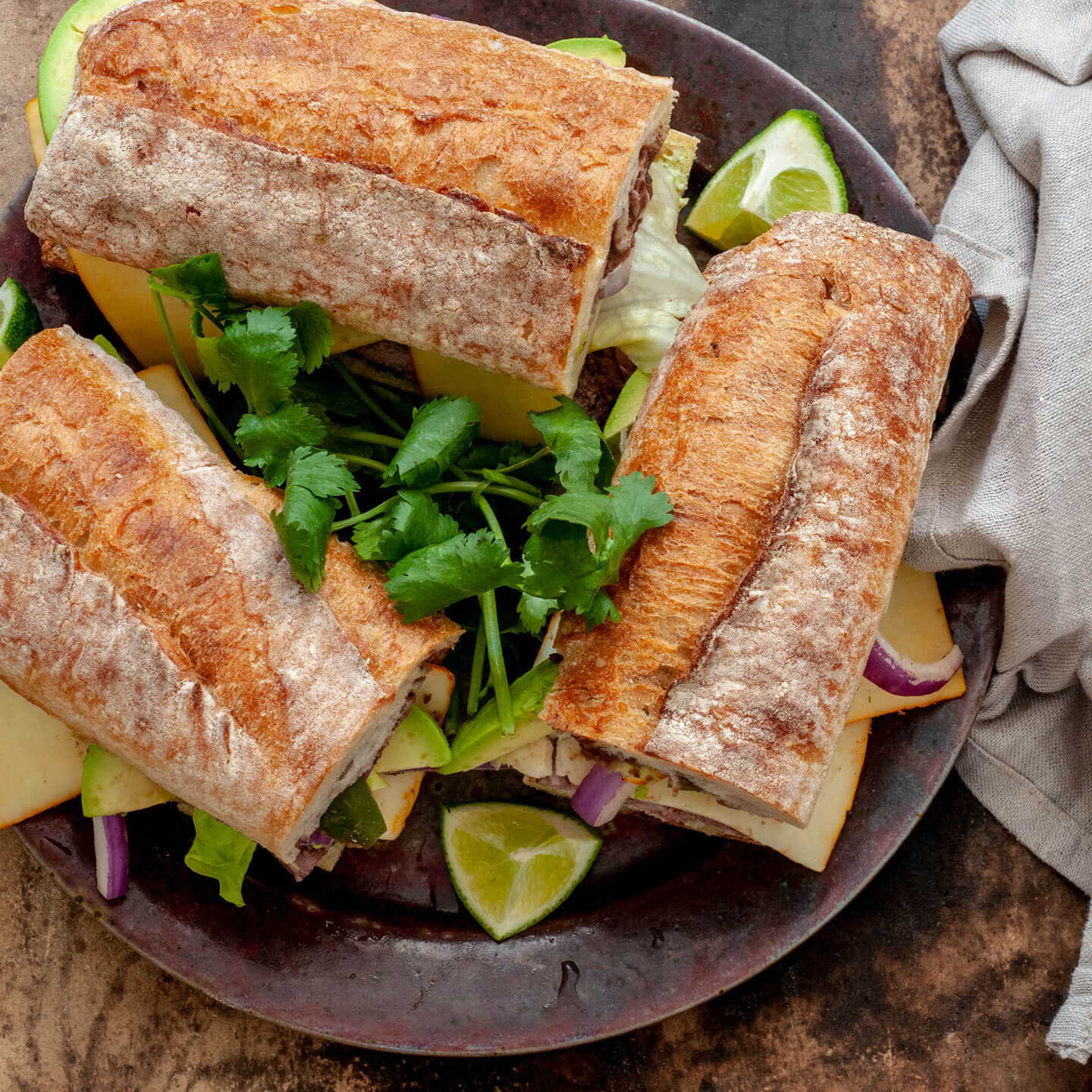 I first published this recipe in my second cookbook, The Homesick Texan's Family Table. This weekend, my dear friend who inspired this sandwich is celebrating a milestone birthday. So, in honor of her and those cherished people who feel like family, I now share it here with you.
Michelada flank steak sandwiches with poblano buttermilk dressing
Ingredients
For the Michelada flank steak:
4

jalapeños, halved lengthwise

6

cloves

garlic, chopped

2

tablespoons

kosher salt

1

teaspoon

black pepper

1

tablespoon

brown sugar

2

tablespoons

fresh lime juice

1

sprig fresh cilantro

1

teaspoon

Worcestershire sauce

1

(12-ouncbottle Mexican lager

1

(1 1/2 to 2 poundflank steak

Water

1

tablespoon

unsalted butter
For the poblano buttermilk dressing:
1/2

cup

buttermilk

1

poblano chile, roasted, peeled and seeded

1/2

cup

fresh cilantro

2

cloves

garlic

4

green onions, green part only

1/4

teaspoon

ground cumin

Pinch

of cayenne

1/2

cup

mayonnaise

1/2

cup

sour cream

Salt
For the sandwiches:
1

baguette, about 20 inches long

6

ounces

Muenster cheese or Monterey Jack cheese, sliced

1/2

red onion, cut into rings

2

cups

mixed salad greens

1

avocado, pitted, peeled, and cut into wedges

2

pickled whole jalapeños, stemmed, seeded, and sliced into rounds
Instructions
To prepare the steak, first make the Michelada marinade. In a large, nonreactive container or food-storage bag, mix together the jalapeños, garlic, salt, pepper, brown sugar, lime juice, cilantro, Worcestershire sauce, and beer. Place the flank steak in the container and then add cold water until the steak is covered. Place the container in the refrigerator, and let the steak marinate for at least 4 but no longer than 24 hours.

While the steak is marinating, make the dressing. Combine the buttermilk, roasted poblano, cilantro, garlic, green onions, cumin, and cayenne in a blender or food processor. Blend until well combined. Pour the buttermilk mixture into a bowl and stir in the mayonnaise and sour cream until well combined. Add salt to taste and refrigerate until serving.

An hour before cooking the steak, remove it from the refrigerator, drain, and rinse. Pat the steak dry, line a plate with paper towels, and place the steak on the towels so any excess surface liquid can drain off the steak. When the steak is dry and at room temperature preheat the broiler, and heat a large ovenproof skillet over high heat. (If your steak doesn't fit into the skillet, feel free to cut it in half and work in batches.)

When the skillet is hot, add the butter, then add the steak. It should hiss when it hits the skillet. Cook for 2 minutes on one side. With tongs, flip the steak and cook it for another 2 minutes. Place the skillet under the broiler and cook it for 1 minute for medium-rare and 2 to 3 minutes for medium. Remove it from the oven and allow it to rest for 10 minutes. Slice the steak against the grain.

To assemble the sandwiches, slice the baguette in half. Spread some of the dressing on both sides of the loaf. Layer on the steak, cheese, onion, greens, avocado, and jalapeños. Cut the sandwich into 4 to 8 servings and serve.
Notes
The steak can be served either warm or cold, if you want to make it ahead of time. And if you prefer, the flank steak easily can be grilled. And here are instructions for roasting the chile.