Hatch green chile cornbread
When I arrived at the church potluck in Chambersville, Texas, on the counter was the usual assortment of luncheon dishes such as deviled eggs, meatballs, brisket, corn pudding, casseroles, salads, and brownies. There were also a slices of Hatch green chile cornbread, which my grandma said my uncle had made.
In typical potluck fashion, I piled up my plate with a little bit of everything. While I usually prefer cornbread with beans and greens, it went well with the eclectic assortment of dishes. I'm guessing it was because the cornbread was rich and tender with a just a whisper of heat from the roasted chiles.
The next time I visited my grandma at her farm, my uncle had made a pot of field peas for dinner, along with a salad and sliced ripe tomatoes. Green chile cornbread was on offer, as well. This time, the skillet bread went very well with the meal, as savory legumes and cornbread are natural partners.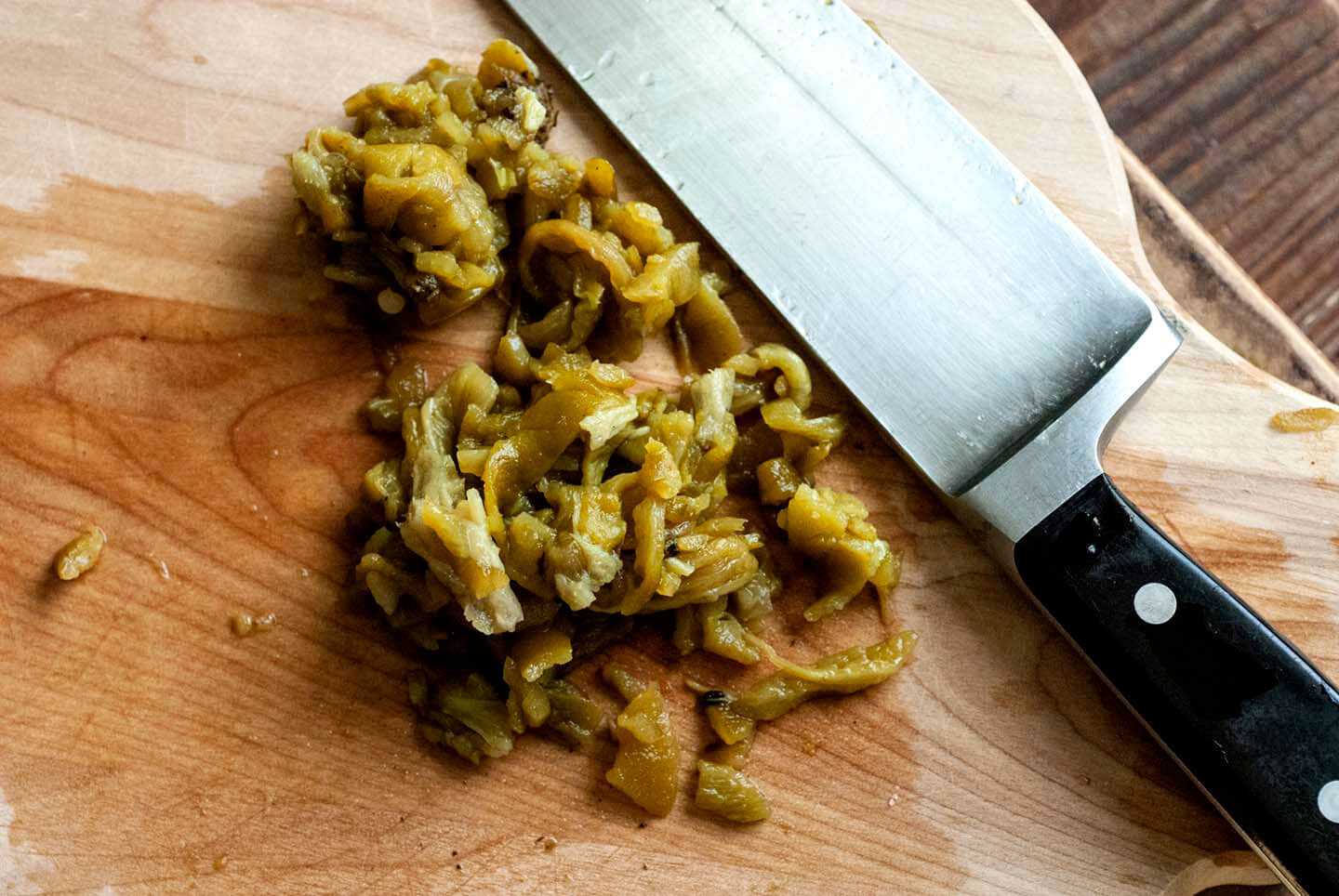 After dinner, I again commented on how much I enjoyed the cornbread as it had such an inviting texture and a good balance of heat. Usually, my uncle's recipe for a dish is simply a guide without many specifics, but when I asked how his cornbread was prepared he surprised me. He said the recipe was from Luby's.
He told a story about how one night he had dinner at a friend's house, and they served a jalapeño cornbread. He marveled at its flavor and asked for the recipe. They gave it to him, citing the beloved cafeteria as its original source. He then began tweaking it himself.
When I looked at the Luby's recipe, I noticed sugar was included. I asked my uncle if he used it and he said yes, which surprised me as classic Texas cornbread doesn't call for sugar, so I decided forgo it when I made my batch. I made a few other changes, such as swapping in bacon grease for the oil, using all buttermilk, and increased the amount of chiles while leaving out the corn, which I don't usually enjoy in my cornbread.
Some chile cornbreads can be embellished with cheese and creamed corn but this one stayed true to the bread's form, with the addition of peppers giving it just enough pep to be a little more exciting yet still very traditional and true to form.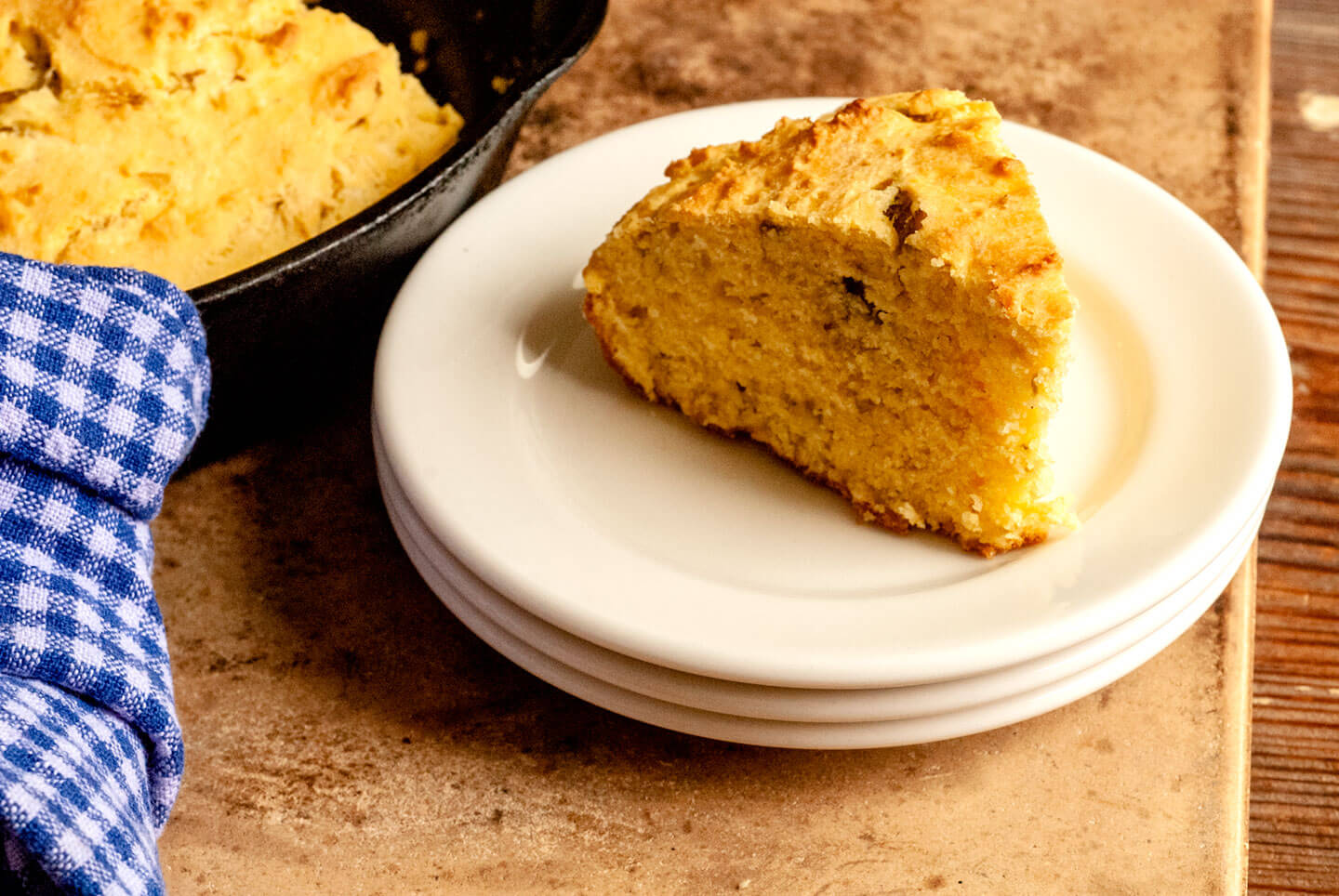 The result was a luscious bread that's crisp on the outside and soft within. There were plenty of peppers to give it a kick, yet it wasn't overpowering. And it was fine on its own, but a pat of sweet butter warm and melting into the cornbread's crevices made it especially good.
—————
Would you like more Homesick Texan? Well, I've started offering additional recipes for paid subscribers to help with the costs of running the site. While I'm not taking anything away, if you'd like to support Homesick Texan and have access to exclusive, never-seen-before subscriber-only posts, please consider becoming a member; annual subscriptions are as low as $25. Thank you for reading, your consideration, and your support!
—————
Hatch green chile cornbread
Ingredients
4

long green chiles, such as Hatch or Anaheim

1/4

cup

bacon grease or vegetable oil

1 1/2

cups

finely ground cornmeal

1

cup

all-purpose flour

2

teaspoons

baking powder

1/2

teaspoon

baking soda

1

teaspoon

kosher salt

2

eggs

2

cups

buttermilk
Instructions
Roast the chiles under the broiler until blackened on both sides, about 10-12 minutes, turning once. Once blackened, place the chiles in a paper sack or plastic food-storage bag, close it tight and let the chiles steam for 20 minutes. After the chiles have steamed, remove from the bag and rub off the skin. Remove the stems and seeds from the chiles and chop. You should have about 1 cup.

Preheat oven to 450° F. While the oven is heating, put the bacon grease or oil into a 10-inch cast-iron skillet and place in the oven while the oven preheats.

Meanwhile, mix together the cornmeal, flour, baking powder, baking soda, and salt. Whisk together the eggs and buttermilk and pour into the dry ingredients. Stir until well combined.

Take the cast iron skillet out of then oven, and pour the hot oil into the batter and stir until well combined. Add the Hatch green chiles to the batter and gently stir until evenly distributed.

Pour the batter back into the hot skillet and bake for 18-20 minutes or until the top is lightly browned and an inserted knifes comes out clean. Serve warm.
Notes
If you don't have access to fresh green chiles for roasting, or have roasted ones already, use 1 cup of chopped green chiles. You may also substitute a 4-ounce can chopped green chiles with its juices.