When I hear bad news, my first inclination is to eat. While that's perhaps not the most constructive way to deal with stress, it does make life better, at least temporarily. Some people like to indulge in sweet things when they're feeling anxious, but I've always leaned towards the savory. I'll take starch over sugar any day.
Recent events had me feeling out of sorts, and true to my nature I wanted a comforting dish. My first thought was to make macaroni and cheese, but I checked my inbox and saw a letter from a reader inquiring if I had a recipe for green chile corn casserole to share. He explained that he'd been craving it, and since he had lots of sweet corn and Hatch chiles, he wanted to put to them to good use.
Corn casserole or corn pudding, as it's traditionally known, is an old Texan favorite. While these days we typically think of pudding as being dessert, hundreds of years ago it was defined as a dish thickened with grains, which meant puddings could be both sweet and savory.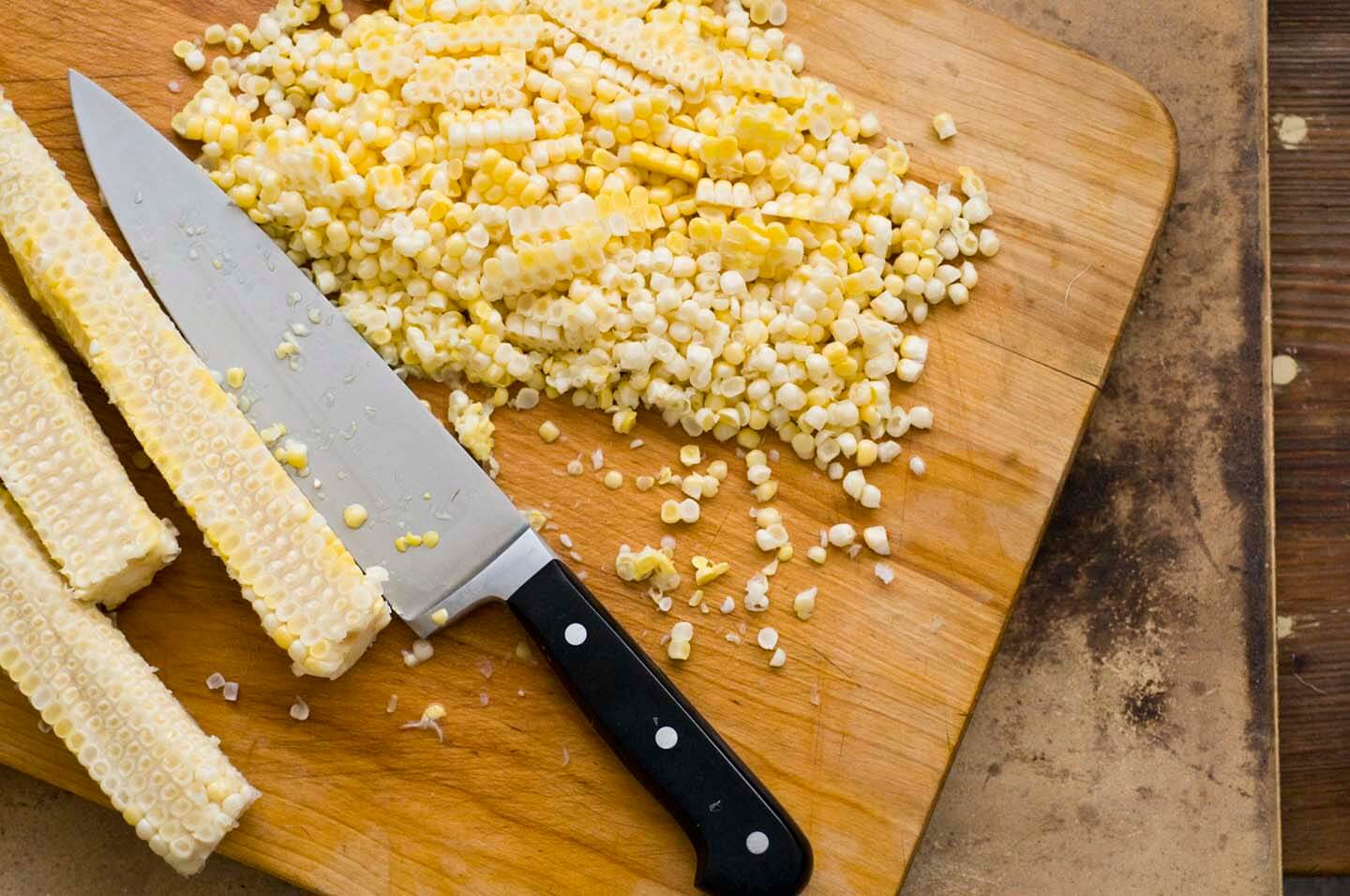 Early Texan recipes for corn pudding were made with only corn, eggs, and cream with maybe a touch of sugar. Along the way, however, recipes evolved and people started adding aromatics, cornmeal, cheese, and sometimes even chiles, too. Indeed, when all those ingredients come together, it does make for solace in a dish. My reader had the right idea, and I knew what I would make.
For my green chile corn pudding, I started with a Taylor County recipe from the late 1800s that called for corn, eggs, butter, and cream. Using that as my base, I took the lead from other recipes and added a little bit of cornmeal to thicken the custard. I added some garlic and spices for more flavor and then threw in roasted green chiles for a touch of earthy heat. To finish, I topped the casserole off with Monterey Jack cheese.
The result was like a happy marriage between quiche and creamed corn, with the sweet corn and green chiles nestled in a cheesy, custardy base. Each bite was soft and yielding, but there was enough fire and spice to keep things interesting. Likewise, it was luxurious without being heavy and it took little time to make, all of which made it terrific for late summer. This was Texan comfort food at its finest.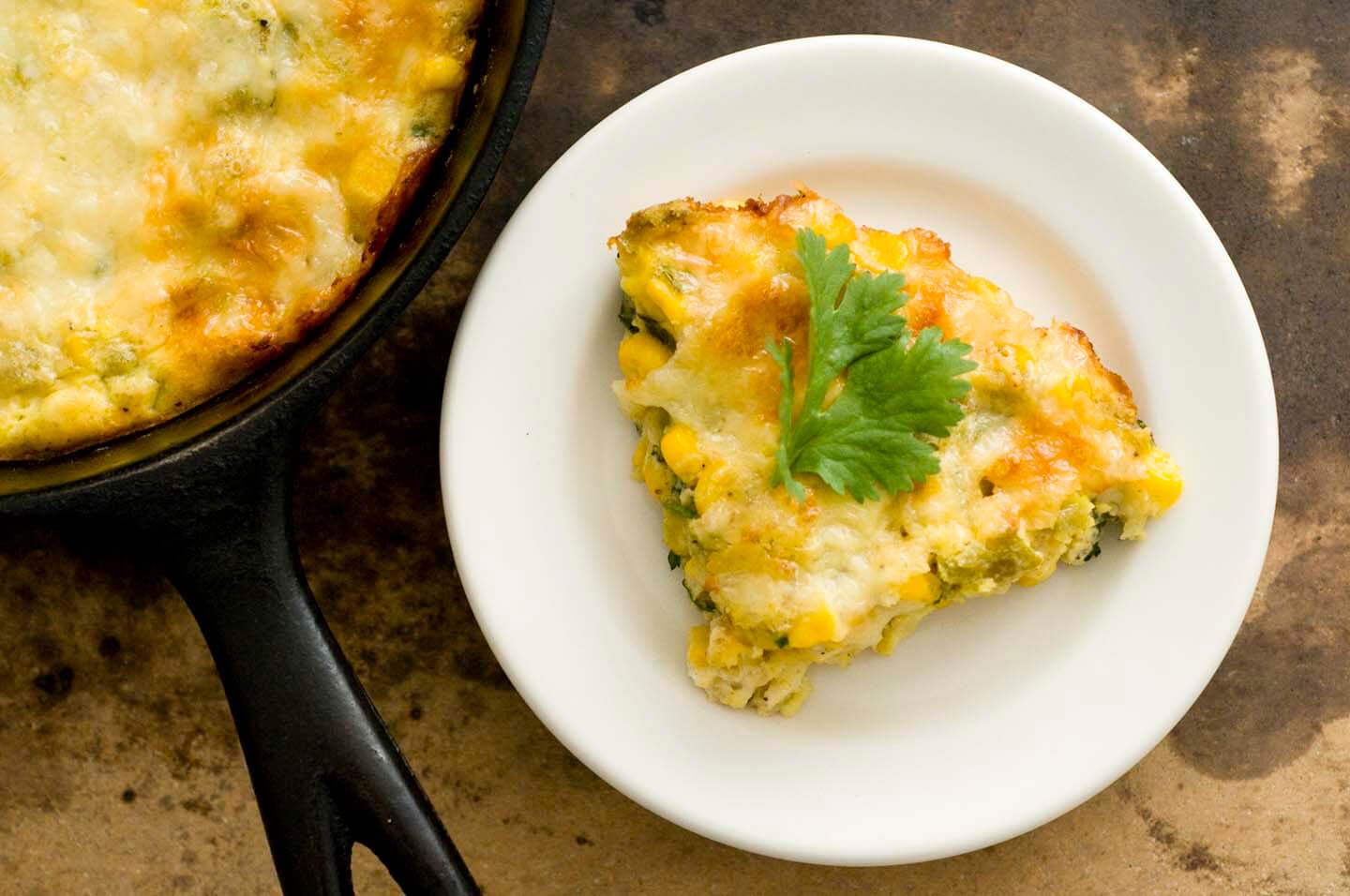 Typically, corn puddings are served as a side, though it works well as a light main dish, too. And while it's not traditional breakfast fare, I find it delicious in the mornings, either warm or cold. But no matter if you're looking for a way to use up an abundance of corn and green chiles, or simply seeking some cheer in a dish, this green chile corn pudding has just what you need.
Green chile corn pudding
Ingredients
2

Hatch, Anaheim, or Poblano chiles

2

tablespoons

unsalted butter

3

ears of corn, kernels removed or 2 cups fresh corn kernels

2

cloves

garlic, minced

2

tablespoons

chopped cilantro, plus more for garnishing

3/4

teaspoon

kosher salt

1/2

teaspoon

ground cumin

Pinch

of cayenne

6

ounces

(1 1/2 cups) shredded Monterey Jack or pepper Jack cheese

1/2

cup

cornmeal

1

teaspoon

baking powder

2

large eggs

beaten

1

cup

half and half
Instructions
Roast the Hatch, Anaheim, or Poblano chiles under the broiler until blackened, about 5 minutes per side. Place the chiles in a paper sack or plastic food-storage bag, close it tight and let the chiles steam for 20 minutes. After the chiles have steamed, remove from the bag and rub off the skin. Remove the stems and seeds from the chiles and dice.

When the chiles are ready, preheat the oven to 350°F.

In a large ovenproof skillet, preferably a 10-inch cast-iron skillet, on low heat melt the butter. (If you don't have an ovenproof skillet, lightly grease a 9-inch square-baking dish for the pudding, and melt the butter in a saucepan.) Once the butter has melted, turn off the heat and swirl the butter around the base of the skillet and the sides to lightly grease it.

In a large mixing bowl, stir together the diced chiles, corn, garlic, cilantro, salt, cumin, cayenne, melted butter, and 1/2 cup of the Monterey Jack cheese. Taste and adjust seasonings. Stir in the cornmeal and baking powder. Whisk together the eggs and half and half, and then pour them over the corn. Stir until everything is well combined.

Pour the corn mixture back into the skillet (or a baking dish if using that instead) and sprinkle evenly over the top the rest of the cheese. Bake uncovered for 30 to 35 minutes or until the edges are lightly browned and the custard is set. (The color may be a little lighter in the center, but that's okay.) Allow the pudding to rest int the skillet for 15 minutes. Garnish with cilantro before serving.