Corn and green chile soup
The legendary cookbook author Fannie Farmer once wrote that corn is not worth eating unless it's August. I wholeheartedly agree and enjoy my fair share this time of year. If you're like me, your kitchen has probably been covered in corn silk the past few days.
Most of the time, I'm content to simply broil it and then slap it with some cheese, chili powder, and mayonnaise and call it a day. Or sometimes, I may get a little more fancy and make a batch of jalapeño creamed corn. Lately, however, I'd been craving corn soup, so last week I set out to make one I could enjoy.
In search of inspiration, I spent some time leafing through my cookbooks. Most had at least one recipe to choose from with Diana Kennedy's "The Cuisines of Mexico" offering three. Lest someone think that was excessive for one book, she wrote, "I make no excuses for including recipes for three corn soups." Indeed. Though after browsing through all my books it turned out that the soup I sought could easily be done with an adaption of one of my own.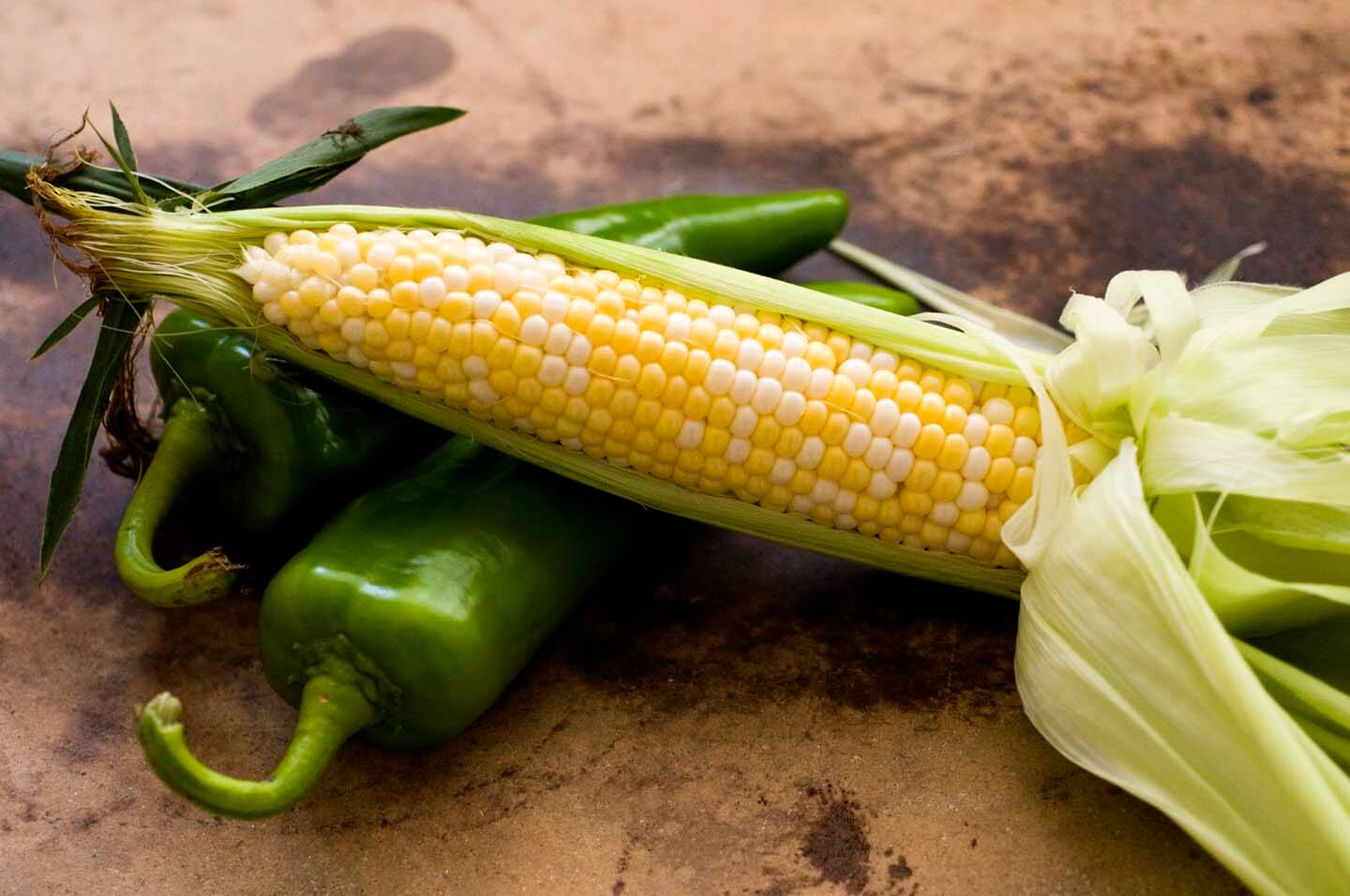 In my first cookbook, I have a corn soup made with bacon and jalapeños. It's creamy, smoky, and rich, and many of you have told me that it's one of your favorites. While I also agree that it's very good, I wanted to give it more of a Tex-Mex flair and turn it into something new.

My first change was to use corn broth in the soup. If you're not familiar with this, it's simply a quick broth made with corncobs and aromatics. When you have fresh corn, after you're removed the kernels the cob still holds a lot of flavor and starch. It would be a waste not to extract every last bit of this, as the cob not only lends flavor to the final soup but also helps thicken it as well. If you can stand the extra heat, making a batch of corn broth is well worth the effort.
Second, if you're in Texas, then you are probably aware that it's Hatch chile time. To celebrate, I wanted to use flavorful long green chiles in my soup instead of fiery jalapeños. I also took out the bacon, which does make a fine addition to corn soup, but it can quickly dominate and I wanted the soup to have a more pure corn flavor. For tang, I added a quick pour of buttermilk to the pot. And lastly, I topped each bowl with crumbles of queso fresco. In short, my new soup tasted like Mexican street corn had become more relaxed, fluid, and free.
This corn and green chile soup is wonderful on its own, as it's rather filling with all the corn kernels and green chiles swimming in the creamy broth. You can also serve it alongside a quesadilla for a Tex-Mex take on soup and grilled cheese. A salad on the side works, too. And if you have a big appetite, throwing in some fish, shrimp, or cooked chicken to the pot will easily turn the soup into a hearty one-pot meal.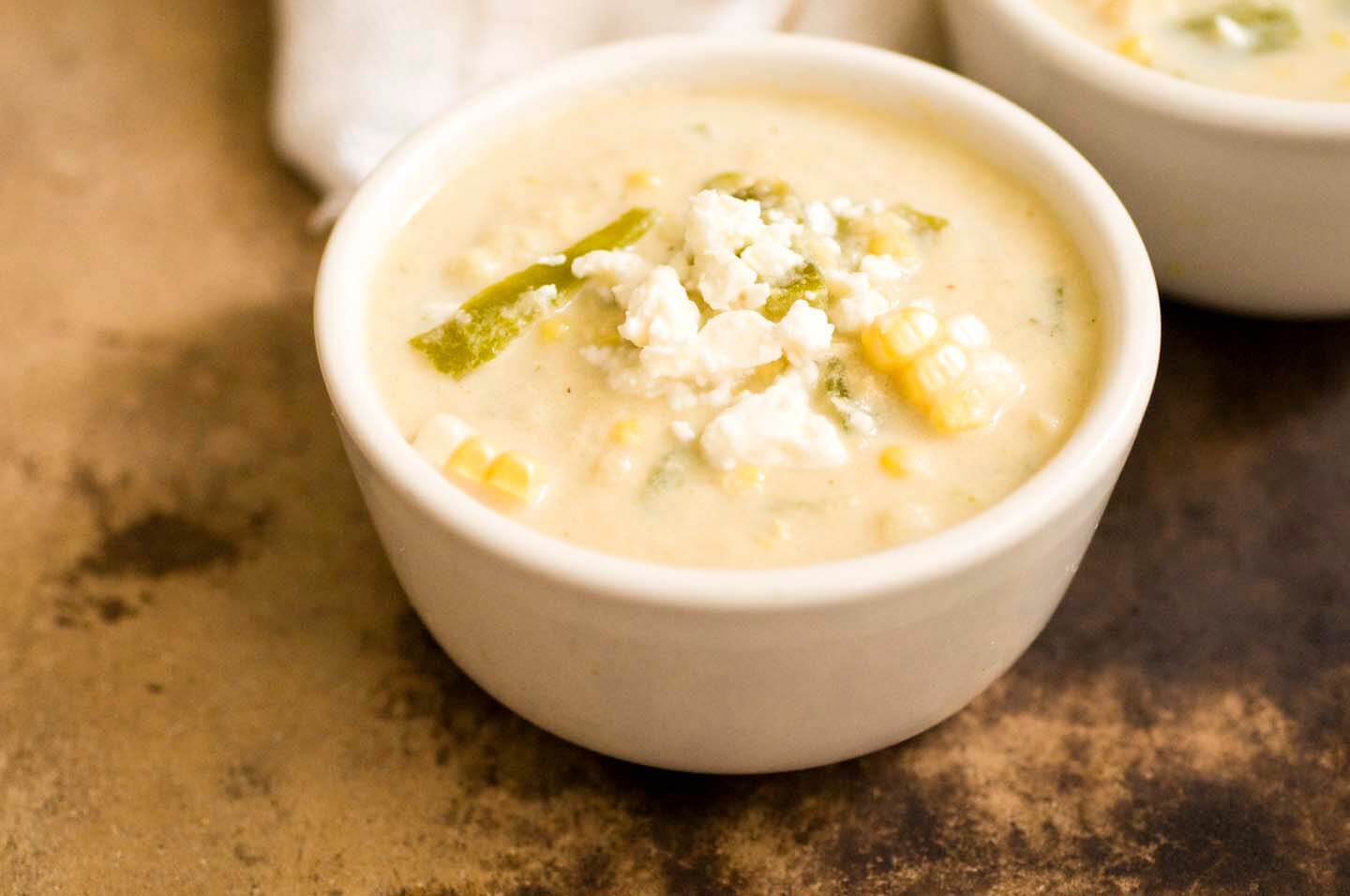 Either way you serve it, however, I think you will agree this corn and green chile soup is late summer in a bowl. And since it's August and busy days will be here soon enough, my plan is to savor the season for as long as I can.
—————
Would you like more Homesick Texan? Well, I've started offering additional recipes for paid subscribers to help with the costs of running the site. While I'm not taking anything away, if you'd like to support Homesick Texan and have access to exclusive, never-seen-before subscriber-only posts, please consider becoming a member; annual subscriptions are as low as $25. Thank you for reading, your consideration, and your support!
—————
Corn and green chile soup
Ingredients
Ingredients for the soup:
4

Hatch or Anaheim chiles

6

ears corn, shucked or 4 cups corn kernels

2

tablespoons

unsalted butter

1/2

small yellow onion, diced (1/2 cup)

2

cloves

garlic, chopped

1/2

teaspoon

ground cumin

Pinch

cayenne pepper

Pinch

ground nutmeg

3

cups

corn broth, recipe below or chicken broth

1/2

cup

half and half

1/4

cup

buttermilk

Salt

Pepper

Crumbled queso fresco or feta, for garnishing

1

lime cut into slices, for serving
Ingredients for the corn broth:
4

corncobs, kernels removed

1/2

small yellow onion

1

bay leaf

1

teaspoon

kosher salt
Instructions
Roast the Hatch or Anaheim chiles under the broiler until blackened, about 5 minutes per side. Place the chiles in a paper sack or plastic food-storage bag, close it tight and let the chiles steam for 20 minutes. After the chiles have steamed, remove from the bag and rub off the skin. Remove the stems and seeds from both the chiles and cut into thin, inch-long strips.

Meanwhile, while the chiles are roasting and steaming, if using fresh ears of corn, remove the kernels with a knife. If you don't have a preferred corn-removal method, here's mine: I like to lay the cob horizontal on the cutting board with the cob pointing away from me. While holding the cob in one hand, I place a 10-inch knife down the length of one side of the cob and slice off the kernels. I then rotate the cob, placing the newly cut flattened side on the board for stability and keeping it pointed away from me, I repeat until all the kernels are off the cob. I can usually remove the corn from each cob in 4 to 5 cuts.

Once you've removed all the kernels, if you're feeling ambitious you can make a quick corn broth. (If it's too hot to have a pot going on the stove for 20 minutes, or you're not using fresh corn, skipping this step and using chicken broth is fine, too.)

To make the corn broth, take 4 of the cobs (discarding the rest), and one at a time, stand each cob upright in a 3-quart pot and run the flat side of a knife down the cob to extract all the corn milk. Once you've done that for all the cobs, lay the cobs in the pot along with the onion, bay leaf, and salt. Pour in 4 cups of water, bring to a boil, then simmer on low for 20 minutes, and then turn off the heat and strain the broth. You should have about 3 cups. If you have more than that, you can either reduce it or save it for another use. If you have less than 3 cups, just add water until you have that amount.

To make the soup, in a 3-quart pot melt 1 tablespoon of the butter on medium-low heat. Add the onions and cook until translucent, about 5 minutes. Add the garlic and cook for 30 more seconds.

Turn off the heat and transfer the onions and garlic to a blender. Add to the blender 3 cups of the corn kernels (reserving the remaining 1 cup), cumin, cayenne, nutmeg, and 2 cups of broth. Blend until smooth, which depending on your blender can take anywhere from 30 seconds to 4 minutes. That said, if the corn is tough, it might never get velvety smooth. If that's the case, you can either leave it a little lumpy or strain the puree through a mesh strainer.

Melt the remaining 1 tablespoon of butter in the pot on medium-low heat and pour in the corn puree. Cook for 2 minutes while occasionally stirring, then add the final 1 cup of broth, the reserved 1 cup of corn, the green chiles, the half and half, and the buttermilk. Cook for 3-5 more minutes or until the soup is warm and the corn is tender. Taste and adjust seasonings, adding salt and pepper to taste.

Serve warm topped with queso fresco and with limes on the side for additional flavor, if desired. Alternatively, you can refrigerate the soup for at least 4 hours, and enjoy it chilled.