Over the weekend, I went to a family barbecue at my Uncle Bubba's house. He was celebrating a milestone birthday, and all his siblings, including my dad, and their spouses came into town to honor the occasion. There were cousins and grandkids on hand, as well. It was a fine time.
Bubba is quite creative and has built himself a beautiful pit to smoke pounds and pounds of meat. It's made from cinder blocks and metal, which he welded himself, and it produced for the family a bounty of smoky proteins, including brisket, pork ribs, beef ribs, sausage, and chicken, along with a big tray of pulled pork.
When he and I were talking about his spread, he showed me some store-bought sauces he had for those who may require it, though he and I agreed that if properly done, smoked meat doesn't need any enhancement. Indeed, I ate brisket, chicken, and ribs, and each bite was perfectly seasoned and tender and moist. I was satisfied.
The next day, we returned to his house and we enjoyed another round of the barbecue. I noticed that the pulled pork was simmering in sauce on the stove, though the day before it had been unadorned like the other meats.
I asked about it, and Bubba laughed and told me it had dried out from sitting over warmers, and the only way to resurrect it was to drench it in sauce. Curious how it tasted, I spooned some of the pork onto my plate, and it was still excellent with the sauce along with some pickles my cousin had made.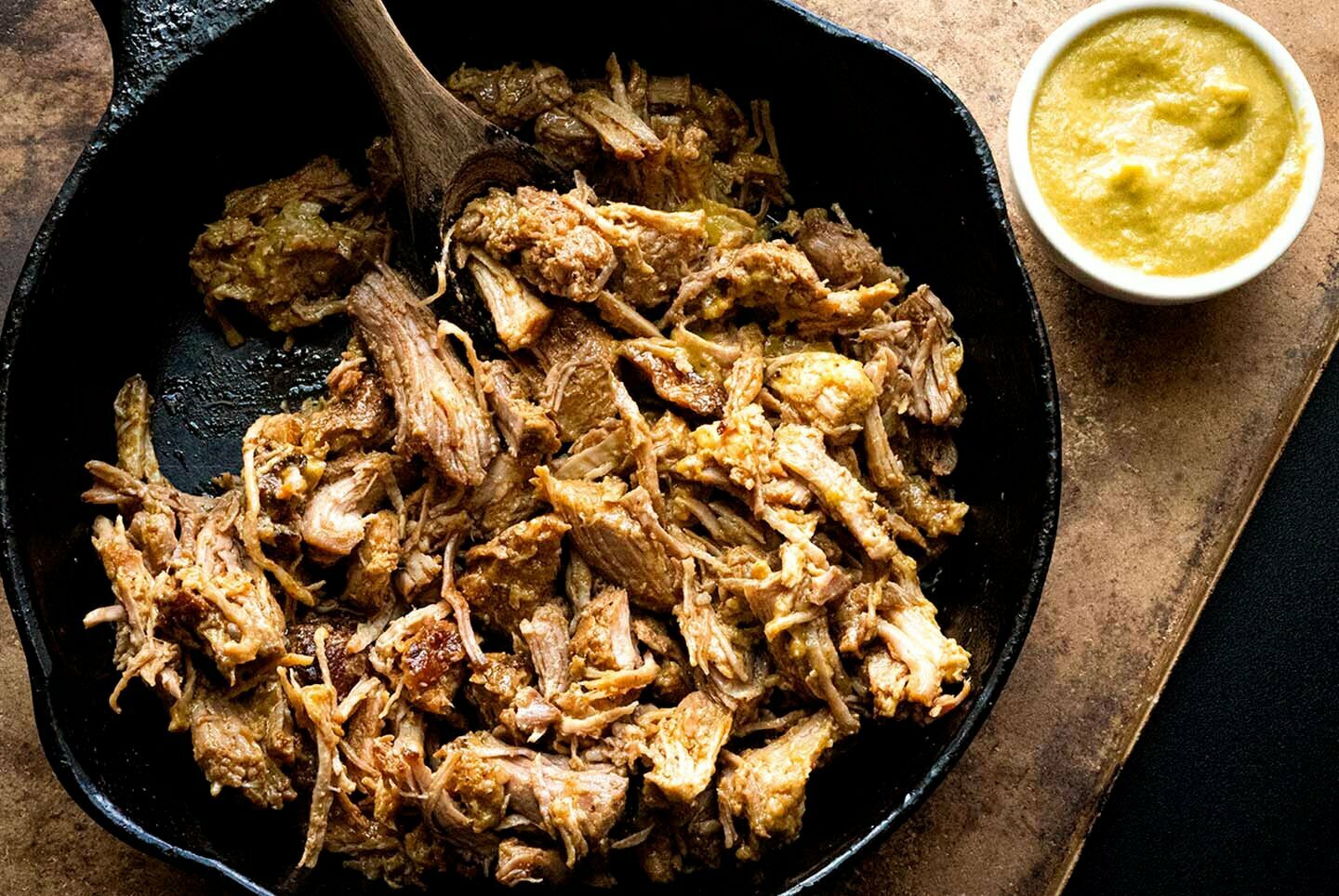 Now, I don't have a yard so I haven't taken on smoking my own meats yet (though with family members who do enjoy it, perhaps it's time to learn!) but making a pork shoulder and saucing it is a good approximation of barbecue that can be done anywhere.
Bubba sauced his pork with a tomato-based sauce, which is a classic Texan flavor that's delicious. Though El Paso-native John Lewis, who is a pitmaster that honed his craft in Austin with Aaron Franklin and at LA Barbecue before moving to Charleston and opening his own Texas-style place, serves a sauce made with his hometown's green chiles instead of tomatoes. He's shared his recipe with several publications, so I recently made a batch then applied it to shredded pork that I'd slowly roasted in the oven.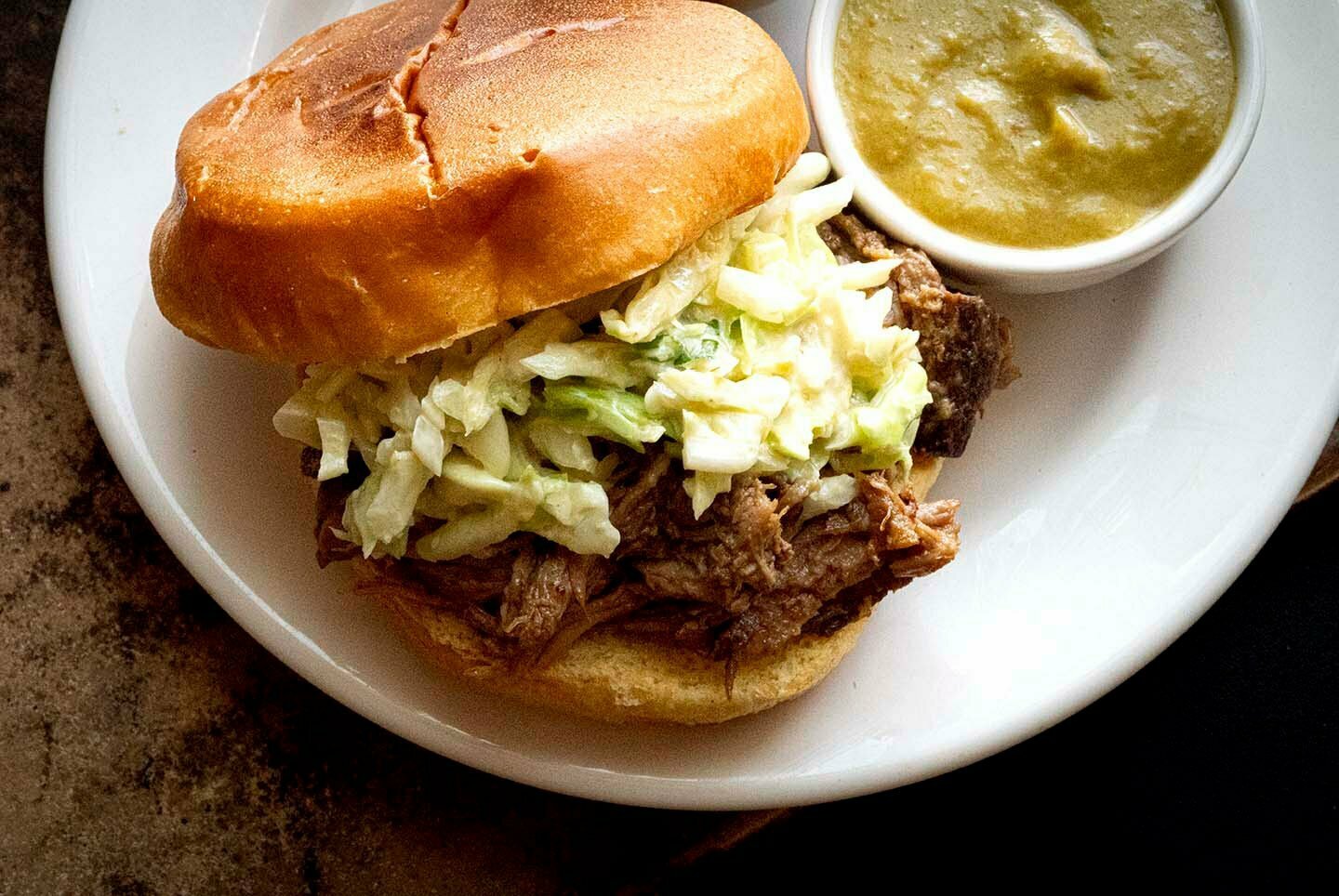 The sauce is a blend of mustard and green chiles, which goes very well with pork, along with seafood and poultry. It has a tangy kick that's a touch sweet from honey and ketchup, though it's not cloying at all. I applied it to an oven-based roast that had been pulled, though it would work well with one that had been smoked, too.
—————
Would you like more Homesick Texan? Well, I've started offering additional recipes for paid subscribers to help with the costs of running the site. While I'm not taking anything away, if you'd like to support Homesick Texan and have access to exclusive, never-seen-before subscriber-only posts, please consider becoming a member; annual subscriptions are as low as $25. Thank you for reading, your consideration, and your support!
—————
Hatch chile pulled pork
Ingredients
For the Hatch chile barbecue sauce:
1

tablespoon

unsalted butter

¼

medium yellow onion, chopped

4

cloves

garlic, chopped

1/4

cup

white vinegar

1/4

cup

yellow mustard

2

tablespoons

safflower oil

2

tablespoons

honey

1/2

tablespoon

ketchup

1/2

tablespoon

kosher salt

½

teaspoon

ground cumin

Pinch

cayenne
For the pork:
3

pounds

pork butt, cut into 2-inch cubes

Hatch chile barbecue sauce (recipe above)

2

teaspoons

kosher salt

2

teaspoons

black pepper

1

teaspoon

smoked paprika

1

teaspoon

garlic powder

1

teaspoon

Worcestershire sauce

Water

Buns, for serving,

Pickles, for serving

Sliced onions, for serving
Instructions
Preheat the oven to 350°F.

To make the Hatch chile barbecue sauce, heat the butter in a skillet on medium-low and add the onions. While occasionally stirring, cook for 5 minutes until fragrant then stir in the garlic. Cook for 1 more minute then remove from the heat.

Place the onions and garlic into a blender along with the Hatch chiles, vinegar, mustard, oil, honey, ketchup, salt, cumin, and cayenne. Blend until smooth then taste and adjust seasonings if needed.

To make the pork, place the meat in a Dutch oven, and toss with 2 tablespoons of the Hatch barbecue sauce. Evenly season the meat with the salt, pepper, smoked paprika, garlic powder, and Worcestershire sauce. Add enough water to the pot to almost reach the top of the meat, without covering it.

Place in the oven and cook uncovered until fork-tender, 2 to 2.5 hours.

When the meat is done, remove the pot from the oven. When cool enough to handle shred the meat, stirring in some of the pan juices to taste, if desired.

Toss the meat with ¼ cup of the sauce, then serve on buns with pickles, onions, and coleslaw with more sauce on the side.
Notes
While you may use any coleslaw that you prefer, I have found that 4 cups of shredded cabbage, 2 tablespoons of the Hatch chile barbecue sauce, 2 tablespoons of mayonnaise, and sliced green onions, along with salt and pepper to taste, makes a fine coleslaw and topping.