The room was silent. Barbecue expert and writer Lolis Eric Elie, author of Smokestack Lightening, had just been asked what he thought about New York City barbecue. He paused for a little too long and then said, "Well, to give the city its due, the sides are much better in New York than they are in the South."
Unfortunately, he is correct. Barbecue is about the meat, not the sides and, well, it's hard to find brisket and sausage here that can compare with their Texan brethren. But this weekend I had the good fortune to eat Elgin hot guts and juicy, smoky brisket right here in my own urban backyard thanks to the Big Apple Barbecue Block Party.
I have to admit, while this block party has been happening for five years, I'd never attended. I don't like lines, I don't like crowds and I'd much rather eat barbecue in its native environment. But my magazine was sending a reporter to cover it and my boss asked if I'd like to take the photos. Curious what all the fuss was about, how could I refuse? I only had one request: the chance to eat lots of barbecue. My wish was not denied.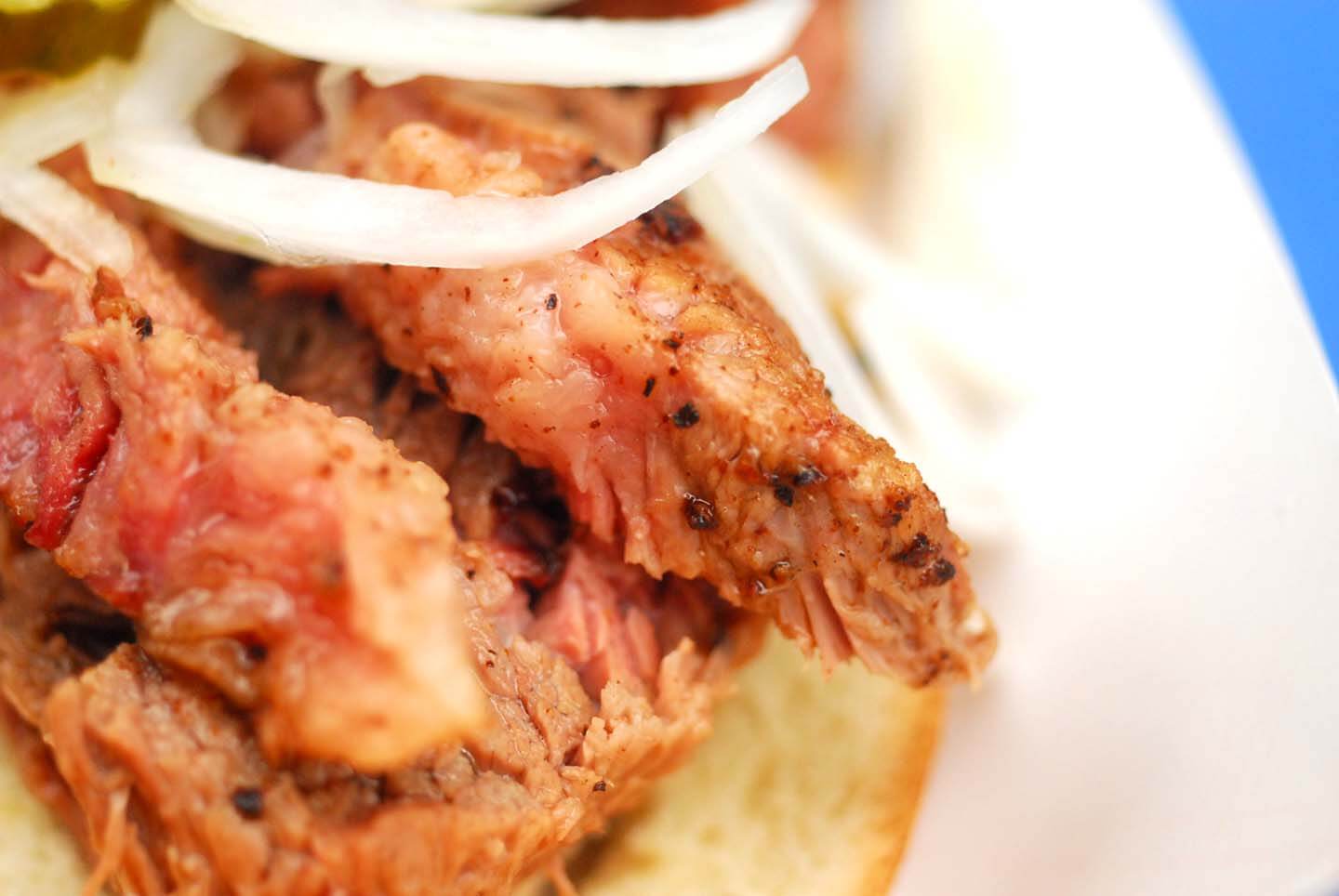 This event is vast and impressive as it invites pitmasters from all over the South to showcase their barbecued meat in the middle of Manhattan. And with so many pits fired up, as I approached Madison Square Park mid-morning on Saturday, I could smell the smoke two blocks away. There was pulled pork shoulder from South Carolina, Mississippi and Alabama, whole hog from North Carolina, baby-back ribs from Illinois (OK, that's not the South but pitmaster Mike Mills is still a barbecue powerhouse), and of course, brisket and hot guts from Texas. Representing the home state were Hill Country legends Southside Market and The Salt Lick, along with Baker's Ribs from Dallas.
People are passionate about their barbecue and what made the Block Party so fascinating was how everyone wore their colors as if it were a sporting event. You saw Big Bob Gibson T-shirts, Peace, Love & Barbecue T-shirts (from Mike Mills' barbecue cookbook of the same name), University of Texas T-shirts, Ole Miss T-Shirts and, well, you get the idea. And you had people extolling the virtues of sauces, people shouting that sauce is for sissies, people debating the merits of pigs over cows and even amongst the Texans there were heated arguments over which was better—Salt Lick or Southside.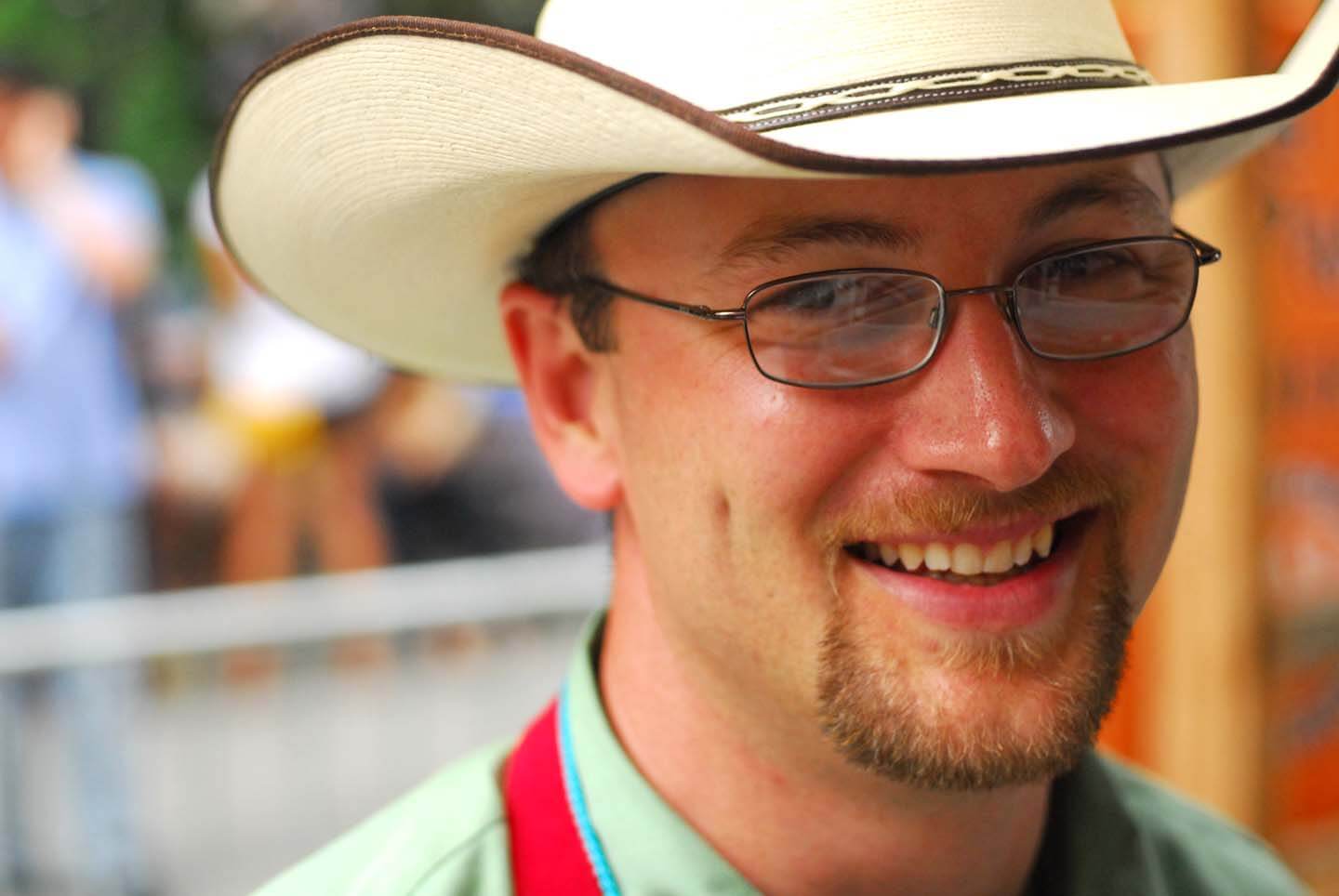 For me, it was no contest—Southside took top honors. The first thing that struck me was the three generations of Bracewells—the owners of Southside Market—on hand. There was Ernest and his wife Rene (classic Texans of a certain age who reminded me of my grandparents they were so full of smiles as they worked at the stand), their son Billy and Billy's son Bryan (pictured above)—the current pitmaster. This family touched me with their warmth, passion and generosity and seemed genuinely surprised and pleased when people complimented their food, even though you knew they'd heard it countless times before. But solid family values and pleasant dispositions aside, let's talk about the meat.
The Salt Lick served its decent brisket and links already covered in sauce (you had to request that they not douse the meat) along with some coleslaw. Whereas Southside served its superior peppery, juicy sausage and succulent, smoky brisket straight up Texas-style with just a slice of white bread, onions, pickles, cheddar cheese and a whole jalapeno. For me, sauce is just gilding the lily, which is probably what bothered me most about Salt Lick slathering the stuff over its wares. Another thing that struck me as strangely wrong was I saw the Salt Lick's pitmaster giving a demonstration to a small group on how to make coleslaw. As delicious as its slaw may be, I've never heard of anyone making a pilgrimage to the Hill Country for the side dishes, and if you have a pitmaster's attention, do you want to know how he makes coleslaw? I didn't think so.
Now don't get me wrong, I have nothing against side dishes in general or coleslaw in particular. It's just Texas barbecue is traditionally served sans sides, with just the aforementioned bread, pickles, peppers and onions and some cheddar cheese—if you're lucky. In cow country it's all about the beef. Even today, many Hill Country places still don't sell sides, though some have conceded to consumer demand and now offer, albeit begrudgingly, a few for their customers. But these are usually an afterthought to the excellent barbecue and not that terrific. Not that anyone really minds, however, because the miraculous meat is so sublime you really don't need anything else.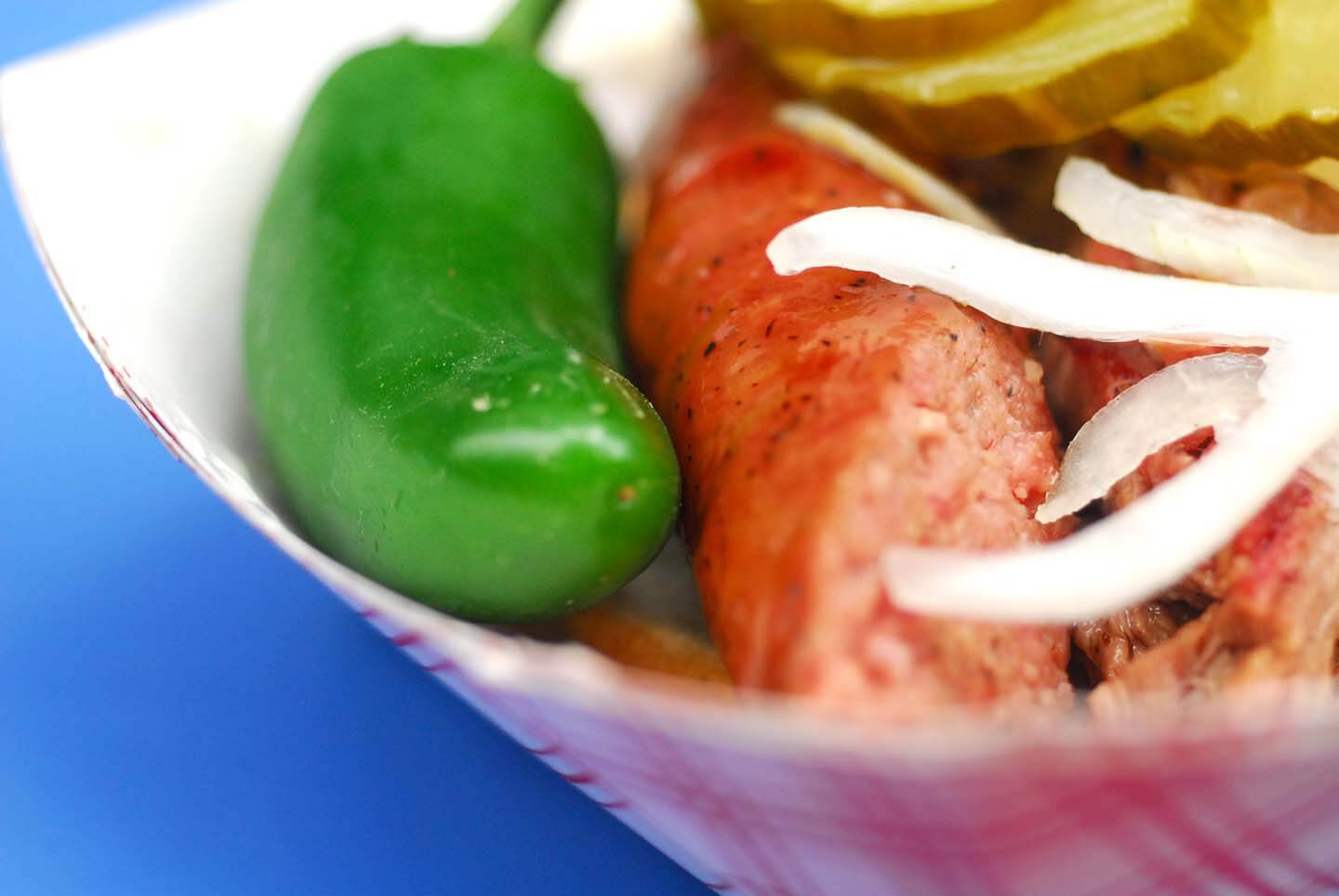 Which brings me back to Elie's comment about New York City barbecue. The meat in New York may not be a true taste of home, but check out the cornucopia of side dishes on menus here: you'll find creamed spinach, macaroni and cheese, sweet potato fries, fried-green tomatoes, cheese fries, creamed corn, sweet potato puree with bourbon, potato salad, corn pudding, green-bean casserole, and of course, the old standbys, coleslaw and barbecue beans. All are admittedly very delicious, but most of them have no place at a barbecue save for the coleslaw and beans. Plus, I can make these at home, but I can't smoke meat, which is the only reason why I go to a barbecue joint.
Nevertheless, I am very grateful for the eating opportunity I had this weekend. And I may complain about NYC barbecue occasionally, but it's not that bad and is improving all the time. Heck, a new place called Hill Country just opened and it's modeled after Kreuz Market in Lockhart. They smoke the brisket and beef ribs on site, but they fly in from Texas Kreuz's links, Blue Bell ice cream, Big Red, and Texan wines. (And are hoping to get a permit to sell Dublin Dr Pepper and Shiner Bock soon). I look forward to trying it.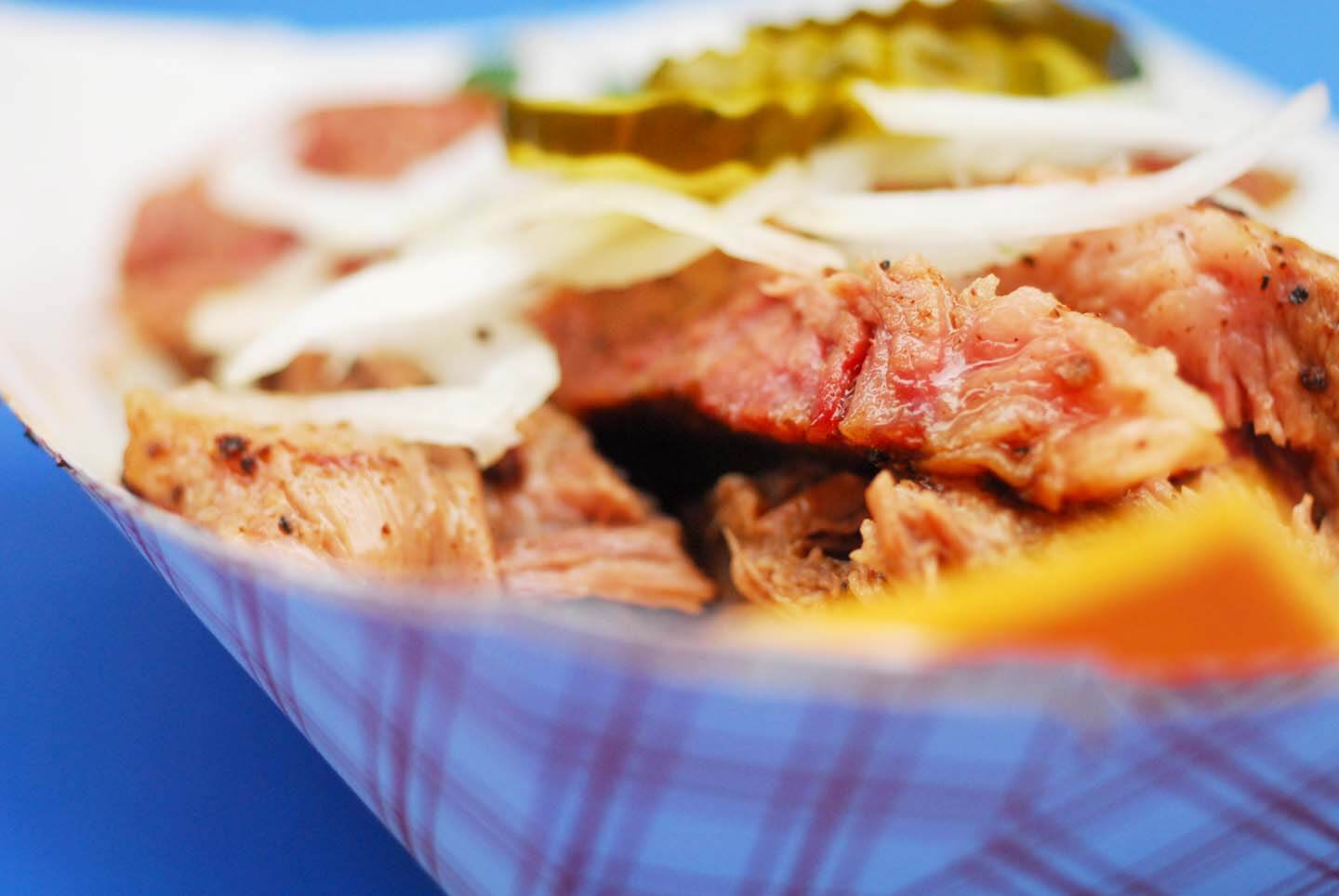 In the meantime, because you can't survive on a diet of meat alone, I'm going to whip up my preferred side dish, a spicy batch of jalapeño coleslaw. I realize I questioned the Salt Lick pitmaster for giving a lesson on how to make this dish, but that's probably because it's one of the quickest and easiest things in the barbecue side-dish canon to make. I toss my cabbage with a bit of mayonnaise, some lime juice, some jalapeños, and some cilantro, and after an hour or so it melds into a crisp, tangy, cool and spicy salad perfect for the warm-weather months. And while its a great addition for barbecue, it's also delightful on its own. And after all that marvelous meat I ate this weekend, I'm in dire need of some vegetables and this batch of slaw should provide just the relief I seek. Hopefully, my meat coma should subside in a few days so I can mosey on over to Hill Country, refreshed and rested enough to try their Texas-style barbecue fare. But for now, this weekend's Big Apple Barbecue Block Party satisfied my craving until I can return home again.
Jalapeño coleslaw
Ingredients
4

cups

shredded red cabbage

1/3

cup

mayonnaise

4

tablespoons

lime juice

1

tablespoon

apple cider vinegar

2

tablespoons

chopped cilantro

2

jalapeños, seeded and diced

2

cloves

garlic, minced

1

large radish, grated
Instructions
Mix all ingredients and chill for a few hours for the flavors to meld. Serve cold.