The first time I encountered fried green tomatoes was via the film of the same name. I had never heard of the dish and at first thought it was a joke. What were green tomatoes and why would you fry them?
Soon after, however, I found myself in a small East Texas cafe and they were on the menu. Curious how a fried tomato would taste, I ordered a batch. They appeared firm and crisp, with a craggy cornmeal coating. While I assumed that they would be mushy, as tomatoes typically are a soft fruit, I was surprised at not only how firm the green tomatoes were but also how tangy. They were delicious.
Like many discoveries, once you find something for the first time you begin to encounter it often. For instance, I started to see fried green tomatoes on menus, from places as diverse as fancy restaurants to burger joints. Friends would mention their love of fried green tomatoes, and as I did research on North Texas foodways, recipes for fried green tomatoes appeared as far back as the late 1800s. Not only was this hitherto unknown to me dish popular with a large swath of people, but it also had deep Texas roots.
Now, let me explain what exactly is a green tomato. While at first I thought that it was a ripe tomato that was simply green in hue, I learned instead that it's an unripe tomato that hasn't turned red yet. As it's not ripe, it's still firm and not too sweet, which not only makes it perfect for slicing and frying, but also lends itself to other applications such as pickles or chow chow (a recipe I have in my first cookbook).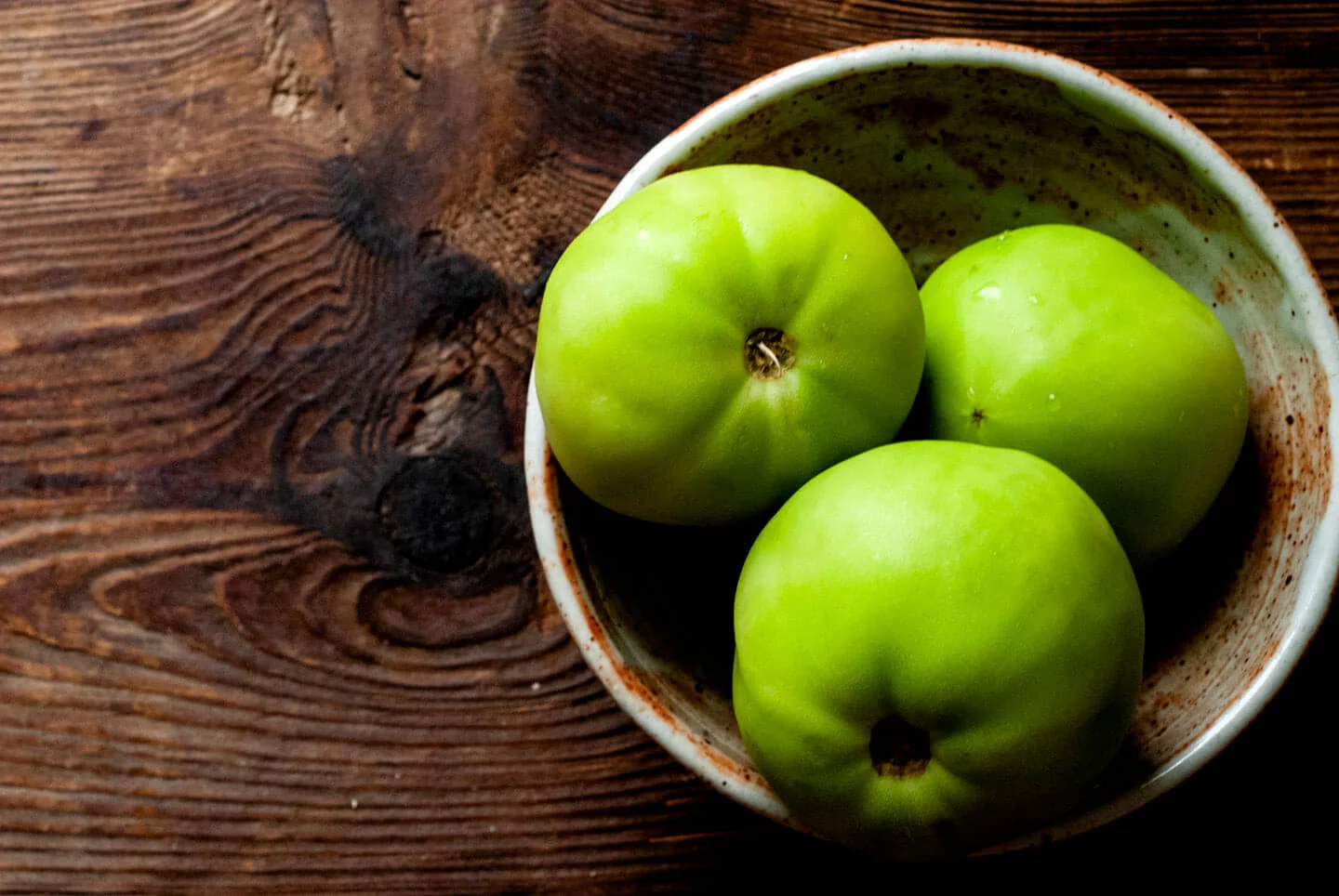 The trick, however, is finding green tomatoes. Typically, people would pick some of their tomatoes from their gardens before they ripened to control the harvest. If you didn't have a vegetable patch in your yard, you could probably find them at the farmers market, too. When I lived in New York, I would see them a couple of times a year and would always grab a basket as they were a rare treat.
In Texas, however, they seem to be everywhere. Not only are they at the farmers market but I also saw some recently at my local grocery store, too. Thrilled to have such easy access, I grabbed a couple of pounds. As I was checking out the cashier asked me, "Are you going to make fried green tomatoes?" I replied that indeed I was.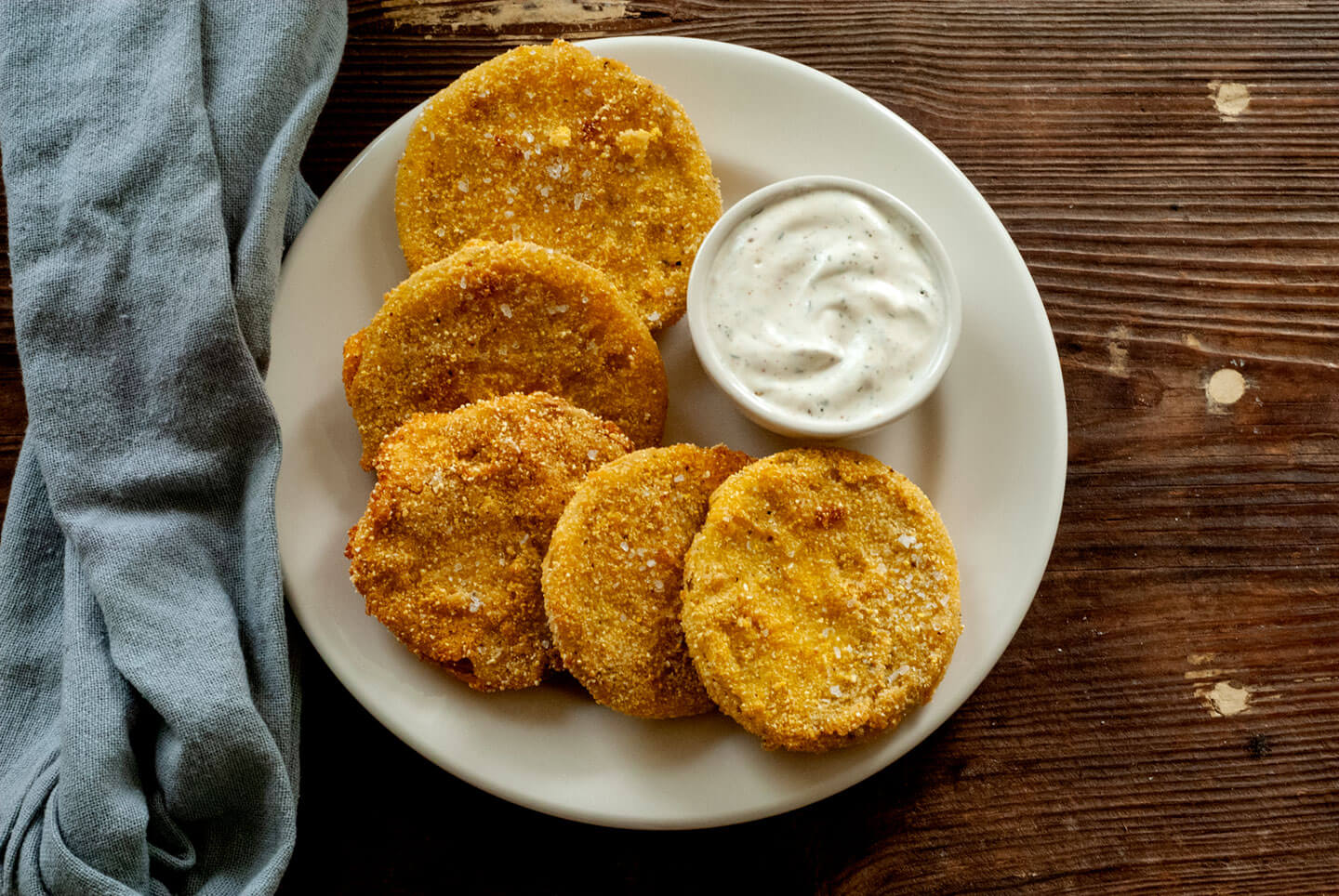 To prepare fried green tomatoes, you simply slice them, dredge them in flour, egg, buttermilk, and cornmeal then fry them. They take little time to cook and are best served hot.
You can eat them unadorned, though some serve them with a remoulade sauce while others, such as myself, prefer to dip them into buttermilk dressing. You can also stack them onto salads, sandwiches, and burgers. If you're feeling especially Texan, they make a fine vehicle for queso, too.
—————
Would you like more Homesick Texan? Well, I've started offering additional recipes for paid subscribers to help with the costs of running the site. While I'm not taking anything away, if you'd like to support Homesick Texan and have access to exclusive, never-seen-before subscriber-only posts, please consider becoming a member; annual subscriptions are as low as $25. Thank you for reading, your consideration, and your support!
—————

Fried green tomatoes
Ingredients
1

cup

flour

1

teaspoon

garlic powder

1

teaspoon

salt

1

teaspoon

black pepper

1/2

teaspoon

cayenne

2

eggs

1

cup

buttermilk

2

cups

corn meal

4

green tomatoes, cut into 1/4-inch slices

Oil, for frying
Instructions
In a large plastic food-storage bag, mix together the flour, garlic powder, salt, black pepper, and cayenne. Place the green tomato slices in the bag and shake until well coated.

Beat together the eggs with the buttermilk until well combined. Place the cornmeal on a plate.

Dip the flour-coated green tomatoes into the egg mixture then lightly dredge in the cornmeal. Place the cornmeal-coated tomatoes on a large plate or sheet. Repeat until all are done.

In a large heavy skillet heat 1/2 inch of oil on medium high to 350°F, about 5 minutes. If you don't have a thermometer, you can test the temperature by sticking a wooden spoon into the oil. If it bubbles around the spoon, it should be ready for frying. Line a large plate or sheet with paper towels.

Working in batches, slide the tomatoes into the hot oil and cook for 1 minute then turn and cook for another minute or until golden. Remove with a slotted spatula to drain on the paper-lined plate.

Lightly salt the fried green tomatoes, then serve warm with buttermilk dressing.