Hatch chile creamy rice casserole
In the mid-1990s, some Texan friends and I made the trek to the Upper East Side of New York City to eat at Zarela Martinez's namesake Mexican restaurant. Zarela is an El Paso native and we were excited to have food prepared by someone from home.
It was a cool night and the restaurant was lit and lively. It was two stories, which was luxurious for Manhattan, and as we squeezed into the bar area to wait for our table, we ate crisp chips dipped into a vibrant salsa roja while sipping cool margaritas on the rocks.
While I don't recall what we ordered that night, we had a wonderful time. Since this was the Upper East Side, which is an affluent area in the city, the prices were targeted towards the locals, and for my young friends and me, Zarela's was delicious but a splurge. We enjoyed ourselves, but we never returned since it was too expensive for us.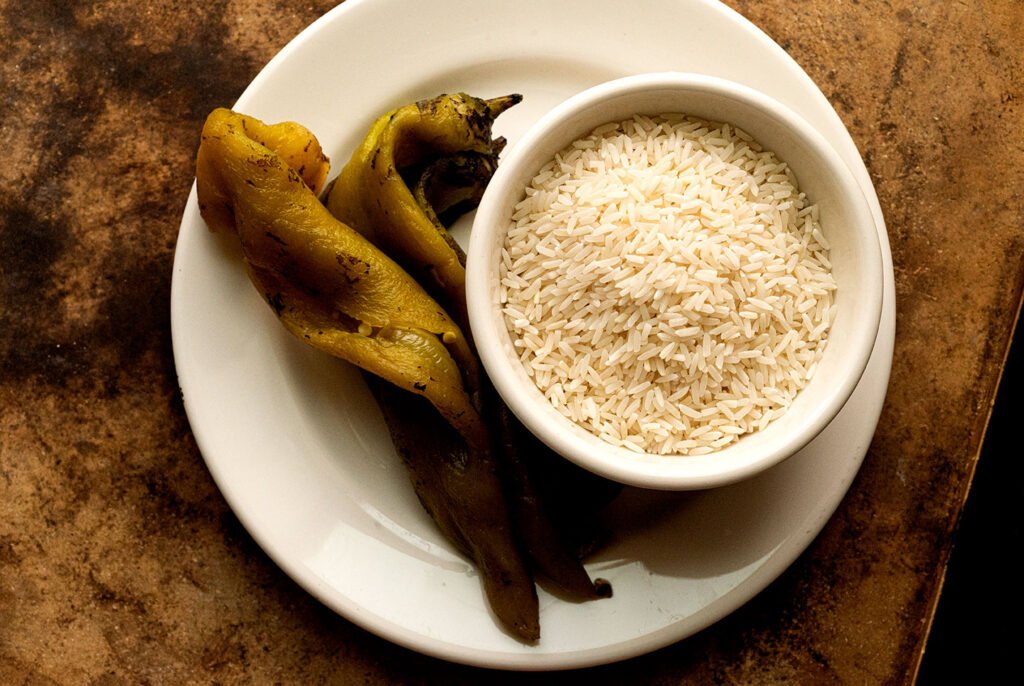 About ten years later, Zarela's announced that it was closing. Recalling our festive meal, I decided to go for lunch one last time. Even though it was daytime, the restaurant was dark and gloomy. I was the only customer and the energy had definitely shifted. It felt as if it had already been shut down. A waiter appeared and sat me at a two-top table by the door.
One of the reasons why I wanted to visit was because I'd heard about Zarela's creamy, cheesy rice with green chiles. It sounded like pure savory comfort. Unfortunately, it was not available, and so I ordered enchiladas instead. After my meal, I left feeling that it was time for that restaurant to say its final goodbyes.
Later, I came across the recipe when it was shared by Zarela's son, Chef Aaron Sanchez. As I read the method and ingredients, I saw that it was a comforting combination of tender rice, sour cream, corn, peppers, and cheese. A savory rice pudding indeed.
When I went to make this dish, I decided to swap out the poblano chiles that her recipe used for long green chiles instead. These peppers are native to the El Paso area, and they are abundant this time of year.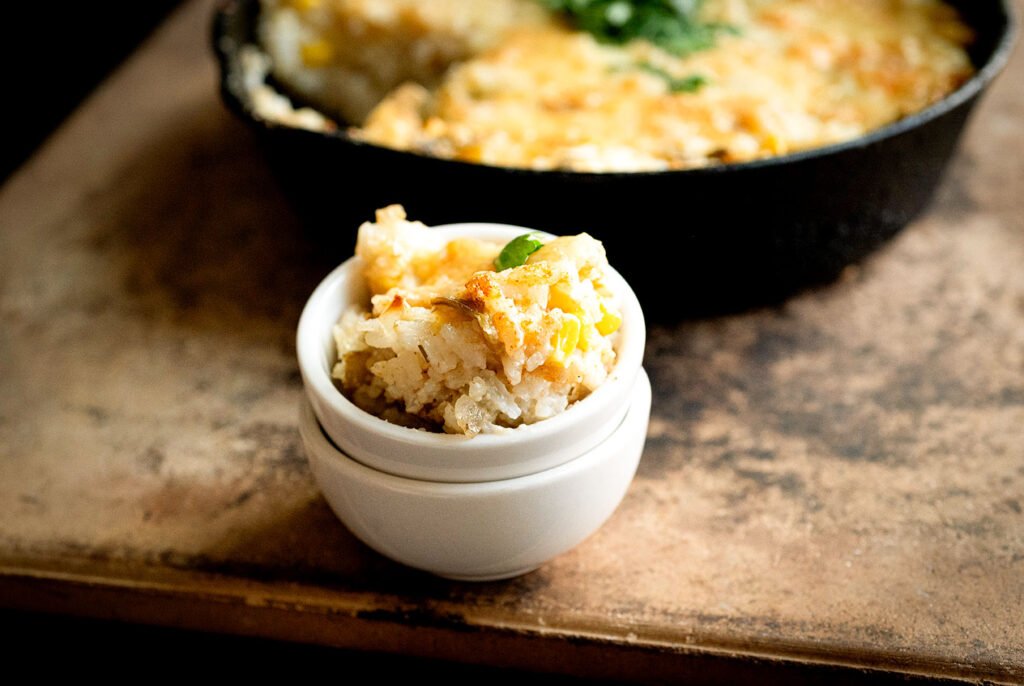 For added depth, I also added some spices and lime juice. Though the basic foundation that she originally presented was the same. It's a fine dish and it makes a good side to roasted meats or enchiladas. It can also stand on its own with perhaps some beans added for a vegetarian one-pot meal.
—————
Would you like more Homesick Texan? Well, I've started offering additional recipes for paid subscribers to help with the costs of running the site. While I'm not taking anything away, if you'd like to support Homesick Texan and have access to exclusive, never-seen-before subscriber-only posts, please consider becoming a member; annual subscriptions are as low as $25. Thank you for reading, your consideration, and your support!
—————
Hatch chile creamy rice casserole
Ingredients
1

cup

uncooked basmati rice

2

teaspoons

kosher salt

2

tablespoons

unsalted butter

½

medium yellow onion, diced

4

cloves

garlic, minced

2

cups

corn kernels, either fresh or frozen and thawed

2

teaspoons

ground cumin

2

teaspoons

dried oregano

Pinch

cayenne

1

cup

sour cream

6

Hatch chiles, roasted, peeled, and diced

(about 1 1/2 cups)

½

cup

chopped cilantro, plus more for garnishing

8

ounces

white Cheddar, shredded (2 cups)

2

tablespoons

freshly squeezed lime juice
Instructions
Cook the rice with 1 teaspoon of the salt, according to the package directions. When it's done, remove the pot from the heat, leaving in the rice.

After the rice is done, preheat the oven to 350°F.

In a large, cast-iron skillet, melt the butter on medium-low heat. Add the onions, and while occasionally stirring cook until softened, about 5 minutes. Stir in the garlic and cook for 30 more seconds.

Add to the skillet the corn, cumin, oregano, cayenne, and remaining salt. While stirring, cook until the corn is softened and fragrant, about 3-5 minutes.

Remove the skillet from the heat. Transfer the corn mixture to the rice in the pot, then add the sour cream, green chiles, cilantro, half the shredded cheese, and lime juice.

Stir until everything is well combined then taste and adjust seasonings.

Transfer the rice back to the skillet, then top with the remaining cheese. Bake uncovered for 30-35 minutes or until lightly browned.

Serve warm, garnished with more cilantro.